At first, Eye Bleach sounds painful. Your eye is the absolute last place you'd ever want to get bleach; it would require immediately flushing your eye with water and probably a trip to the emergency room.
But the r/EyeBleach forum on Reddit is the spiritual opposite of a chemical eye burn. The subreddit exists solely to please, entertain, uplift — a rare beacon of heartening internet content in a wasteland of anonymous trolling, coordinated harassment and endless bad-faith political debates.
Naturally, there are puppies and cats. The most popular in the history of the subreddit is a video of a blind dog and the device its owner created to prevent the pup from walking into walls. Another popular post is of turtle wearing a sweater that makes him look like Koopa Troopa from the Super Mario Bros franchise. One video even manages to do the impossible and make a moray eel seem adorable.
Collectively, the posts act as an antidote to the all vitriol the average internet denizen experiences on a daily basis. The bleach is not mean to harm you, but to cleanse your eyes of negativity. "After a long day of seeing what internet anonymity can do to people, you're bound to need some eyebleach," reads the subreddit's "about us."
R/EyeBleach is just one of a handful of positivity-driven internet communities that have been established or have spiked in popularity in the last year, and it's easy to see them as a reaction to the 2016 presidential election, and the contentious sociopolitical climate it exacerbated.
"I'd wager to say yes, [the subreddit has grown because of the political climate]," says Reddit user Awkwardtheturtle, one of several people who moderates the r/EyeBleach subreddit. "When faced with overwhelming negativity, it's nice to have somewhere friendly and fun to go."
Life on the internet has been hard for people of all political persuasions since Trump first announced his candidacy. In the midst of that venom — and an equally relentless news cycle — internet users have sought places that remind them there's still some good in this hellscape we live in.
R/EyeBleach was created 2013 (a generation ago by internet standards), but it accumulated the vast majority of its subscribers the past two years. At the beginning of 2016, there were 150,000 Reddit users subscribed to R/EyeBleach. By 2017, that number was 275,000, and the current subscriber base is more than 600,000. At its height this summer, the subreddit was adding upward of 4,000 subscribers per day, according to Reddit Metrics. It's now the 114th most popular subreddit on the platform.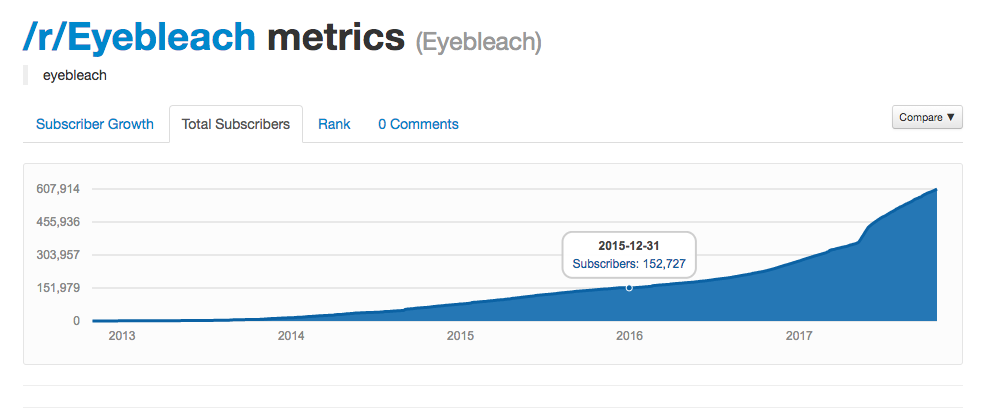 The self-explanatory subreddit R/WholesomeMemes has been on an even steeper trajectory. The subreddit was established in September 2016 and has already grown to just less than a million subscribers (953,776 as of last count, to be exact). The sub added more than 11,000 members one day this January. Over the summer, it was consistently adding thousands more per day.

Even more expressly political subreddits — such as R/The_Mueller, which celebrates FBI special investigator Robert Mueller, and is intended as a counterbalance to the Trump supporters on R/The_Donald — are urging their subscribers to abstain from divisive political commentary and just have fun.
"There are a lot of places on Reddit for serious stuff," DragonSandman, the Reddit user who created R/The_Mueller, told MEL in September. "But there's not a lot of places for funny, silly stuff nowadays, and there's nothing specifically for memes about Robert Mueller."
It's not exclusive to Reddit, either. As MEL staff writer Miles Klee has been meticulously documenting for the past several months, there's been a number of lighthearted communities cropping up on Facebook and Twitter lately, including, but not limited to:
The popular subreddit R/HumansBeingBros operates under a similar, albeit more Upworthy-esque ethos: celebrating men who are decent and generous.
There are other other online forums that were intended as havens of positivity but have actually been torn apart by our nation's divisive politics, such as this Seinfeld meme Facebook group that was ruined by shitposts about Nazism, Trump and white supremacy.
What the other groups — the decidedly pure, encouraging ones — have in common, however, is a myopic focus on providing a much-needed break from discord. And god bless them. Cat GIFs are the only thing holding this divided nation together.