On Friday afternoon, BuzzFeed dropped a (very minor) bombshell by revealing evidence that Donald Trump had once been in a porno. The anecdote was big news on Twitter, even inspiring a comment from the Clinton campaign. Despite the shock value, it's pretty innocent: The Republican presidential candidate appears in the 2000 video Playboy Video Centerfold: Playmate 2000 Bernaola Twins for all of about 10 seconds.
We'll let BuzzFeed describe the plot:
On a bus tour hunt for the 2000 Playmate of the Year around the country, the Playmates travel to different cities including New York, Las Vegas, Chicago, Nashville, and San Diego. Trump welcomes the Playmates in New York and pops a bottle of champagne to kick off the New York stop. Trump then pours it over the Playboy bunny logo.
"Beauty is beauty, and let's see what happens with New York," Trump says.
Since we haven't seen Playmate 2000 Bernaola Twins, we decided to roam the web looking for reviews from those who have. Thankfully, Amazon did not disappoint. Not only do they provide a helpful link to where you can buy the film on DVD for only $79.95 (pricey!), but their customer reviews are top-notch.
Apparently, Playmate 2000 Bernaola Twins is a divisive addition to the Playboy Video Centerfold canon. When the movie became available on VHS in 2000, "Johnny Dark" expressed his profound disappointment.

Umph! But "Michael Patrick Boyd" wasn't having it, and responded to Dark's dismissive review…nine years later: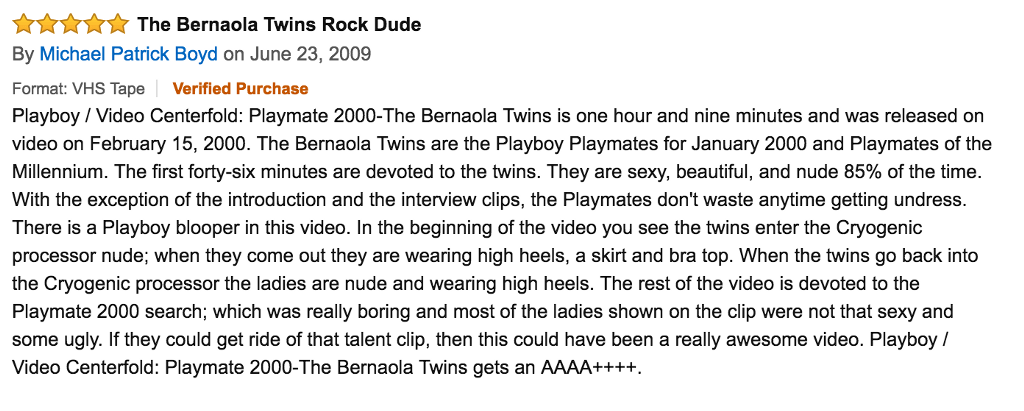 (By the way, other videos that Mr. Boyd has given five stars on Amazon? Logan's Run, Abbott & Costello Meet Frankenstein and Yoga for Beginners: Poses for Strength, Flexibility and Relaxation.)
Both critics make persuasive cases, so we're still a little unsure about whom to trust. Thankfully, there is one more review, for the movie's DVD site on Amazon:

Good service, indeed. No matter his service, Donald Trump is a terrible person, and of course he's in a Playboy video. We're sure he won't spend the whole weekend tweeting about this.