The stretch of I-90 between Chicago and Seattle can be a long and lonely stretch of road, but hidden just off the highway, there's a lot more to see than vast stretches of prairie and treacherous mountain passes. Within a five-hour drive along Route 90 lie two museums commemorating one of the American frontier's most essential professions: prostitution.
When thousands of men flocked to western mines in the mid-19th century, few women accompanied them. By some accounts, the ratio of men to women in early frontier towns reached 200 to 1. Working women, as they were called, soon followed the miners and their money; by the time other women moved west in real numbers, prostitution was well established as an integral part of frontier life, and it remained that way for far longer than most of us realize. The Dumas Brothel in Butte, Montana, ceased operations as a house of prostitution in 1982 after nearly a century of continuous operation, and the Oasis Bordello in Wallace, Idaho, followed suit in 1988 after almost as long a run.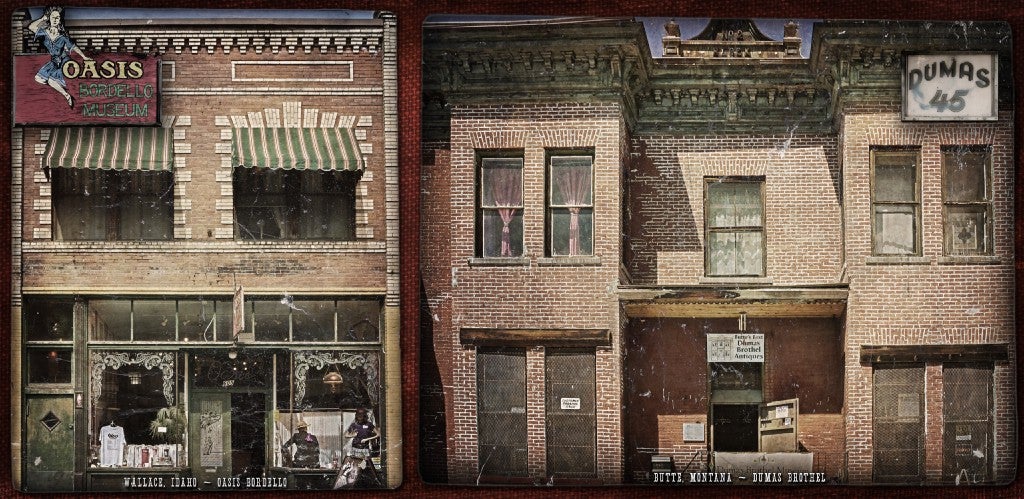 When copper mining picked up in the Silver Bow County seat of Butte, Montana, in the late 19th century, prostitutes arrived to keep the often-lonely miners company. Butte being the largest city for hundreds of miles around, the boomtown soon earned a reputation for a "wide-open" menu of vices including gambling, drinking and sexual excess. Street walkers, saloon girls and call girls also made a living in Butte, but live-in brothels provided an in-house experience that attracted a range of clientele from the social elite, who entered the brothels by way of a city-wide underground tunnel system that also ran to the courthouse, to the lowly mine workers who perused the tiny "cribs" that less-exalted prostitutes rented from brothel owners along "Venus Alley" behind the big parlor houses.

The Dumas was built at 45 East Mercury Street, at the heart of the budding Butte red light district, in 1890. It was constructed specifically as a brothel, with 43 private rooms on three floors that were stratified by price and elegance, and it never operated as anything else until the building was turned into a museum. Despite numerous temporary shutdowns due to politics and federal intervention during world wars, Butte's sex industry flourished well into the 20th century, even as mining in Butte began to wane. The Dumas's last madam (who was also the last known madam in Butte), Ruby Garrett, was known in the community for her kindness and philanthropy, but also for her checkered past that included the murder of her abusive husband, for which she served a nine-month sentence in 1959. When she purchased the Dumas in 1972, Ruby proceeded to take, by all accounts, excellent care of it and its employees until unwanted attention brought on by a brutal robbery led to charges of federal income tax evasion in 1982. Despite vocal protests from Butte citizens, Garrett went back to jail in 1982, at which point the Dumas closed.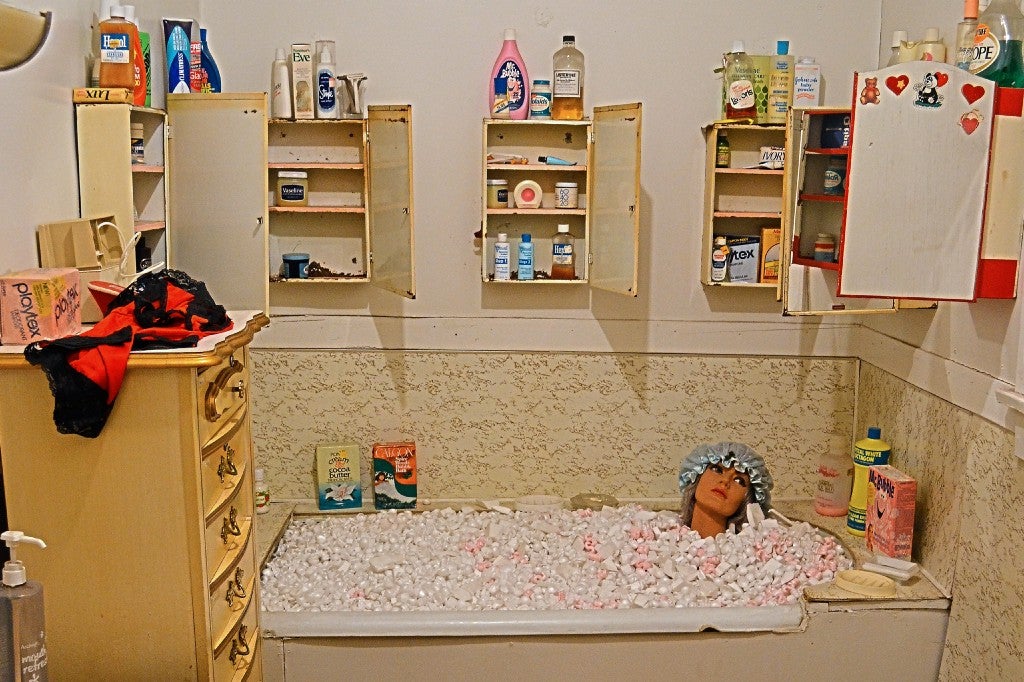 In 1991, Ruby sold the building, and it reopened as a museum. Today, the Dumas stands as an allegory for Butte itself. The town's last copper mine shut down in 1982, but left the legacy of a gaping, mile-long hole in the ground — the Berkeley Pit — that seems to be eating Butte from the inside. And the legacy of the town's glory days is likewise told in buildings like the Dumas — still standing, but just barely. Efforts to restore the Dumas have been under way since the museum was founded, but aside from a $25,000 gift from a former customer in 2007, funds have been as difficult to maintain as the crumbling edifice itself.
The Dumas is now afflicted by peeling wallpaper, stained and crumbling ceilings, and a ragtag display of artifacts — some original, others purchased, and many (like the antique vibrator in the gift shop) donated. The sad state of the building, however, lends it an unmistakable air of spookiness, which is reason in itself to visit. The building is famously haunted, and the environs are thus exceptionally appropriate. The ghost of a former madam, Elinore Knott, who committed suicide in her room in 1955, is said to roam the halls.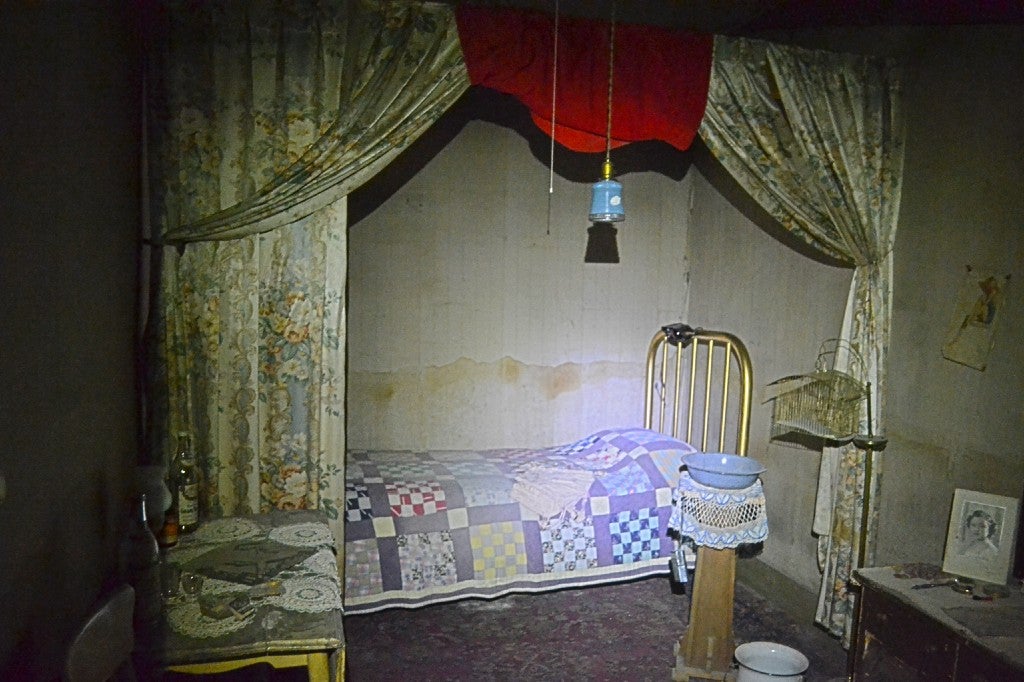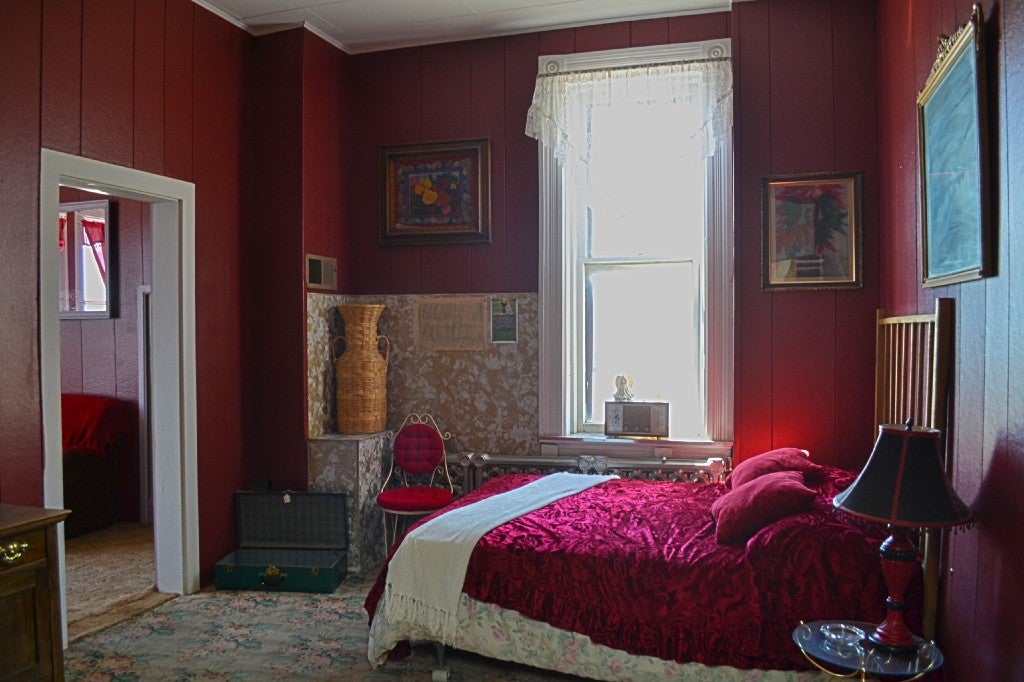 When MEL visited in July, we were given a private, handheld-lantern tour of the basement, because the museum had no electricity at the time. Down there, where older and less attractive women plied their trade, interior windows look into small, dark rooms where artifacts left behind over the years — tubes of ancient lipstick, medicine bottles of unknown provenance, letters of undying love from customers. The ladies used to sit at these windows to lure in customers, and photos taken in the past few decades have shown evidence that they are still there, waiting for their next job.
Whereas the Dumas's rundown condition transports visitors to the early days of a bawdy frontier mining town, a few hours' drive west, visitors can glimpse a more contemporary version western prostitution. In the small (and still shrinking) former silver-mining town of Wallace, Idaho, the Oasis Bordello Museum commemorates a jewel of a smaller but equally active red-light district. The Oasis was built as a hotel and saloon in the 1890s, but was converted to a brothel sometime in the early 20th century when its stretch of Cedar Street transformed into Wallace's seat of decadence.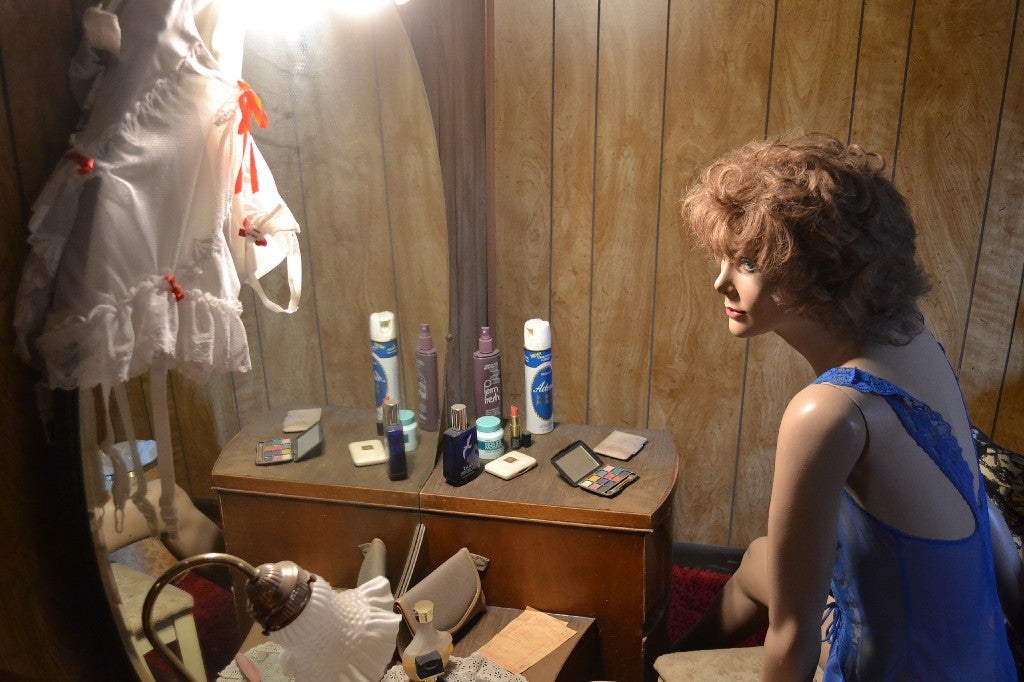 Not much is recorded about the Oasis until the mid-20th century, however, when its last madam purchased the establishment in 1963. Ginger, as she was called, was a former prostitute who ran a tight ship for the next 25 years and came to be known as a pillar of the Wallace community. Ginger's working girls were tested regularly for disease, paid handsomely for their work, and given one week off work every month to have their periods in peace. But, during their three "on" weeks per month, they were expected to service dozens of men every night and were prohibited from leaving the building, even during off hours. The madam's meticulous record-keeping is present everywhere: a list of sundry expenses my tour guide, Lee, showed me, listed "rubbers" along with groceries and laundry services; another records her utilities expenditures along with monthly protection payments to the town of Wallace, which kept local law enforcement looking the other way.
In 1988, a hundred years after the town of Wallace was incorporated, an FBI investigation came to the Shoshone County Sheriff's Office, which had also been taking payoffs from brothels for decades. Expecting the heat to stay on for only a few days, the residents of the Oasis left their belongings behind and closed the bordello down. The investigation turned into a months-long affair, however, and the Oasis stood abandoned until it was purchased in 1993. The new owner found the interior exactly as it had been when the madam and her employees took off — cigarettes still in ashtrays, medicine in cabinets, and untouched groceries in a paper bag on the kitchen counter. The Oasis was almost immediately converted to a museum, and repopulated by as a small army of mannequins clad in the clothing its former residents left behind.
While sex work of various kinds continues in America today, our cultural discomfort with sex keeps it relegated to the shadows. At these museums, however, visitors are reminded that the West wasn't won by cowboys or miners or industrialists alone — the women of the frontier were just as integral a part of America's past. Today, "ranches" in Nevada are the only publicly surviving members of the live-in brothel institution in America, but the Dumas and Oasis stand as astonishingly recent testaments to the rich history of that tradition.