The colder it gets, the more my thoughts turn to a winter getaway on a tropical beach, margarita in hand, chill tunes on, my girlfriend laid out beside me in her favorite black bikini. But even in this fantasy, it's hard not to be jealous — of the bikini, I mean. Let's face it: I could drop $300 on a pair of swim trunks from Vilebrequin and still look like I bought it off a discount pile at Ross Dress for Less. There's gotta be something better. Something similar to a Speedo, but a tad more revealing, with suspender-like straps.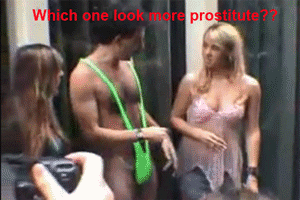 Ah, yes — the mankini. Made famous in the 2006 mockumentary Borat, the full-body thong is trending again thanks to the arrest of six Czech tourists who wore them out on a below-freezing day in Astana, Kazakhstan. Now Sacha Baron Cohen, the comedian behind the Borat character, has offered to pay their indecency fines, which amount to roughly $400. This is a good first step toward the normalization of the mankini, though a small one. It will take a concentrated effort to shift the culture on this, and I'm prepared to do my part by converting to the style myself. Join my consumer's journey, won't you?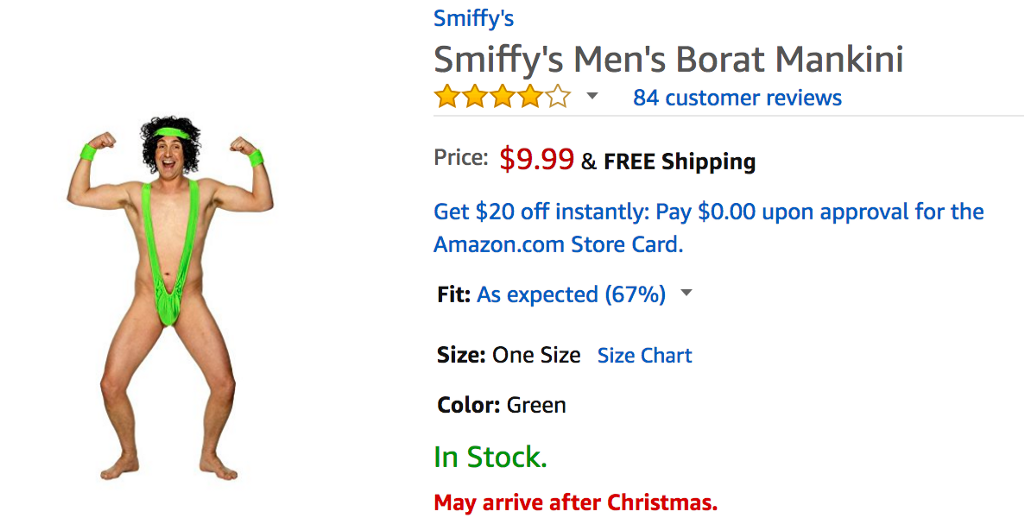 To begin with, we have Amazon's standard Borat-edition mankini, complete with sweatbands. The price is right, and the reviews are solid — apart from the one that begins: "Some what small kind of hard to fit all the franks and beans in." (How many franks does this guy have? Do I really want to know?) Dry-clean only, unfortunately, which seems like a hassle. Plus, it's too recognizable; most people buy this as a Halloween costume and end up taking selfies with drunk strangers who love the movie. I don't want to be Borat. I want to be myself, independently wearing a cool mankini.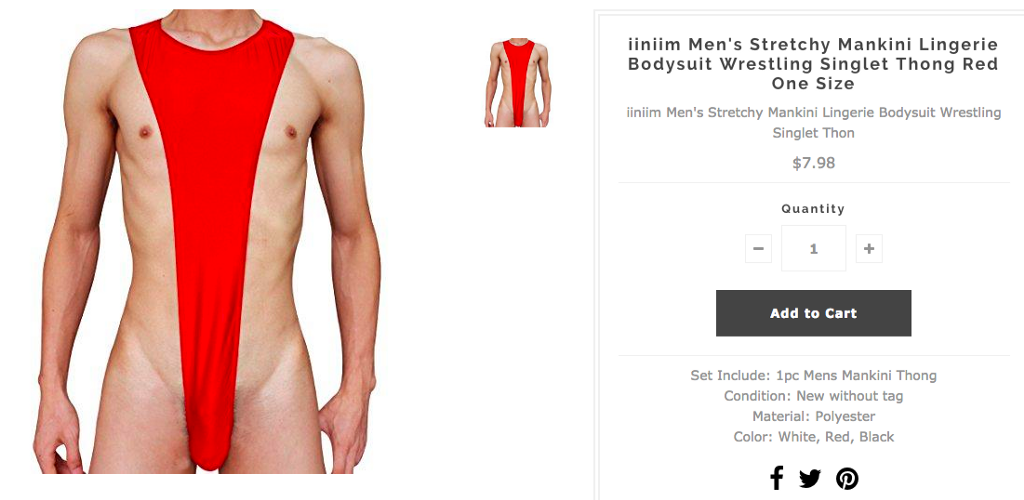 Cerise's "Mankini Lingerie Bodysuit Wrestling Singlet Thong" is doing a lot of work in its name alone, and I dig the dramatic Greco-Roman contours. You're not gonna go broke buying this, either — I could get one for each day of the week. I worry, however, that the centralized line of package support makes testicle spill-outs more likely, and there's just too much torso coverage. My chest hair is one of my best attributes, so why hide it? At least the nipples are exposed. Absolutely no shame about rocking this at a water park.

Holy shit, yes. Leave it to some Chinese wholesaler on eBay to nail the perfect blend of 1890s-era unisex swimwear and 21st-century "ready for assplay" insouciance. Total security for your package and absolutely nothing to keep you from pooping in the ocean. Love the way it strips off for a skinny-dip or mid-day sunblock reapplication. No idea what my "Asian Size" would be, but if it doesn't fit, I can always donate to Goodwill for a tax deduction. A little confused that it's marketed as a "gay" bodysuit, given that I'm a straight man who would look fantastic in it. Should I wait for the hetero model?

It's official: The Chinese have cornered the premium mankini market. As with the previous garment, I'm not too enthused about having to bid against other dudes for the chance to roll up to my friends' next pool party clad in this hydrodynamic number, yet I can't resist the game-changer of a pitch: athletic fishnets. Can't you picture Michael Phelps winning another 15 gold medals in this? I imagine putting it on would make me feel like the animorph kid who can transform into a shark. You know what, fuck it: Give me this mankini and a tank at the Monterey Bay Aquarium and I'll be the star attraction.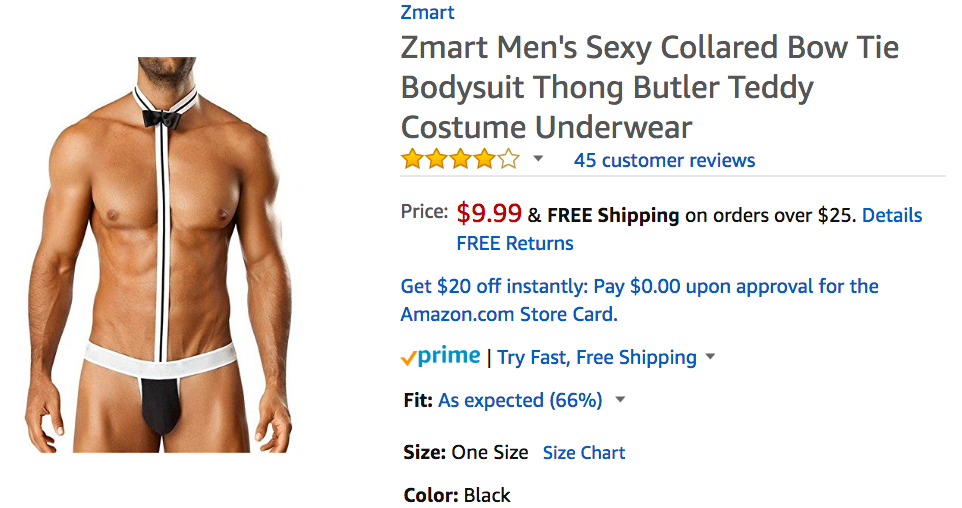 Hold up a minute. Hold. The. Damn. Phone. You're telling me the TUXEDO MANKINI is an option? I have wasted every single Casual Friday in my life up to this moment. I am in awe. It is the James Bond of man-thongs: so sleek, so timeless, so elegant. Reviewers say it falls apart after a few uses, though what else can you expect — the ladies probably mob and tear at you when they get a glimpse of such effortlessly masculine flair. "If they only sold the body to go with it," one buyer lamented; I choose to think of it as aspirational. Hell, you could do CrossFit in this gear. Catch me wearing one to the Oscars and then jumping in a hotel fountain at the Vanity Fair afterparty.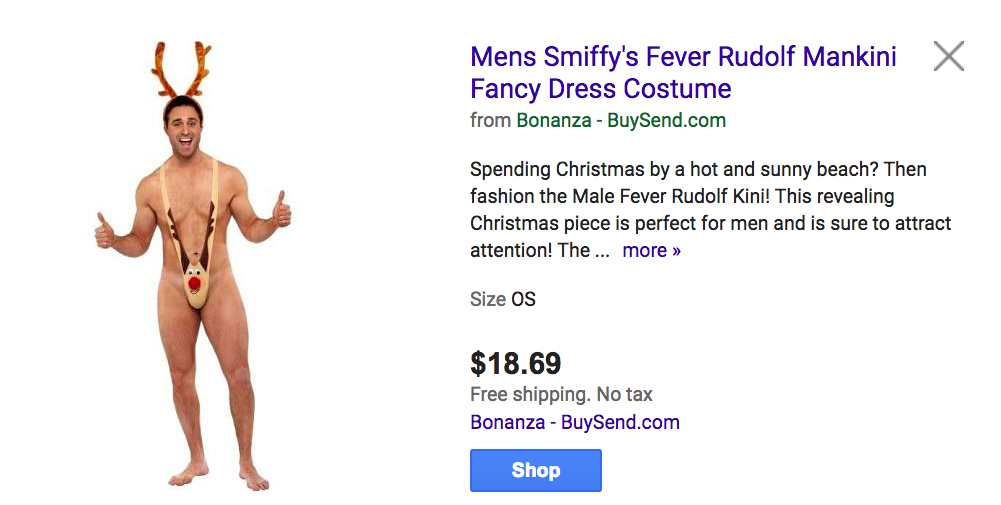 Sorry, no. I am not a fan. Is this really how I want to come downstairs to greet my family on Christmas morning? Is there a high-end orgy at the North Pole I can get invited to? I just don't see the point in a mankini that stays in the closet 11 months a year. Pass.