Maurice "The Pirate" Greene apprehensively weighed in for his April 27th MMA title bout against the reigning Legacy Fighting Alliance heavyweight champion, Jeff "Lights Out" Hughes. He's even bigger in person, Greene thought as they flexed for the camera. He knew Hughes was capable of knocking him out with one punch — as he'd demonstrated against Richard Odoms months earlier to win the heavyweight title — and now he was even more swole.
As waves of insecurity swept over the 6-foot-7, 265-pound Minnesotan, all Greene could think was: Where are my crochet needles?
Greene, aka "TheCrochetBoss," crochets to calm his nerves before fights and credits yarnwork with his creativity in the ring. "It's a feeling-out process," he tells me. "When the bell rings, you touch gloves and dance around looking for that opening. It's the same thing when I crochet." The beanies he makes are essentially the same every time; the variation comes from the creativity of the stitches. After the third row — and/or 30 seconds in the ring — he starts to mix things up; a purl stitch here, a double-leg takedown there.
Most importantly though, Greene says crocheting fills a nervous hole in his stomach. Instead of obsessing over ways to escape Hughes' submission moves — e.g., the guillotine choke and spinning back kick — Greene was silently debating a chevron or ripple stitch for the scarf he'd begun that morning, and designing a complementary free-flowing hood.
Greene is just one of more than two million men and boys who knit and crochet in the U.S. according to the Craft Yarn Council, knitting's de facto trade group, which adds that the number is steadily increasing. That's likely because today's man must be sensitive and masculine says Alla Myzelev, an assistant professor of art history at SUNY Geneseo and author of Here Comes the Knitting Men: Knitting and Masculinity in the Early 21st Century. And so, all at once, he should be intellectual, athletic, creative, good with children and happy to take on household chores — an amalgam of characteristics that knitting seemingly perfectly embodies.
Take, for instance, the case of Louis Boria, a 43-year-old administrative assistant in Brooklyn. He began knitting on the subway to pass time during his 90-minute commute. Last November, though, he went viral when Frenchie Davis (of American Idol, The Voice and Rent fame) sat across from him on a Brooklyn-bound B train train and shared a photo of him knitting on her Facebook page with the caption, "This brotha on the train is my hero today. #SelfCareOnTheSubway."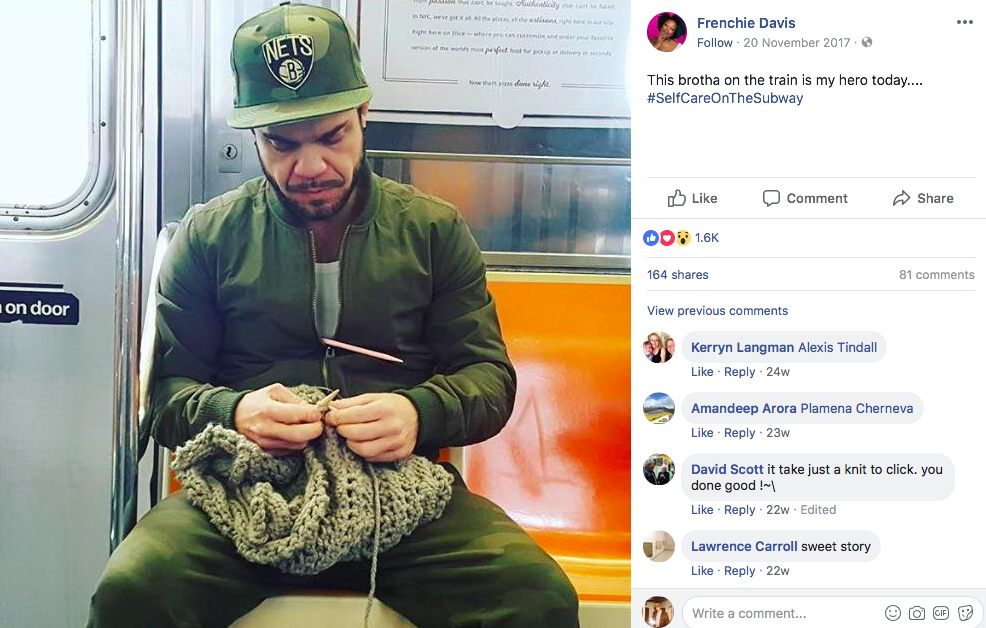 Other such heroes include Ryan Gosling, who picked up knitting on the set of Lars and the Real Girl, set in a retirement home surrounded by old ladies; Sufjan Stevens, who was a freelance knitter for Martha Stewart; Russell Crowe, who began working with yarn as a way to deal with his anger; Harry Styles, who knits on the road to help him relax; David Arquette, who appeared on the cover of the book Celebrity Scarves 2 to support breast cancer research; and Christopher Walken, who was peak Christopher Walken silently knitting by a crackling fire in a commercial for the Danish men's fashion brand JACK & JONES.
There's also been a cavalcade of male-only knitting support groups cropping up online recently. Such as:
Eric Lutz, a Gen X-er in Toronto, went one step further two years ago and launched Rib Magazine, a publication devoted to men who knit (and the women who knit for them). "I feel like I'm doing my part to break down what the gender stereotype might be," he says. "Men have to break down barriers and get over themselves. The 'unmanly' stigma of knitting is completely unnecessary. Men were the originals knitters! It started with fishing nets and finding ways to tie different pieces of string together. From there, it became a way of creating functional garments." (One quick clarification: It actually started with a pair of socks in Egypt sometime between A.D. 250 and A.D. 420.)
More recently, in the last 100 years, the most influential events in convincing men and boys to knit were the respective World Wars, as governments around the world encouraged civilians to support their troops by knitting them garments. "When I was at boarding school during World War II, everyone knitted — including the headmaster, the teachers and the whole football team," writes Clinton W. Trowbridge in When Knitting Was A Manly Art. "'Knitting for Britain' it was called. We knitted 9-inch squares, which somebody else sewed together to make blankets and scarves for British soldiers. It was a mindless sort of occupation, like mucking out a barn or shoveling snow. But it was wartime, so we all did extra things."
Stateside, artists like Mark Newport are employing needlecraft to pierce contradictions in what it means to be a man today. In a series of superhero costumes, Newport combines the campy machiso of Batman with knitting to bring softer elements to the work. In, for instance, He Knew That if He Could Finish It He Could Help, a man wearing something reminiscent of a knitted Batman costume is busy knitting something we can't see. Newport explains his work is about man's desire to provide safety and protection — the superhero as the ultimate (male) protector, combined with the private, nurturing (female) protector of a hand-knit blanket.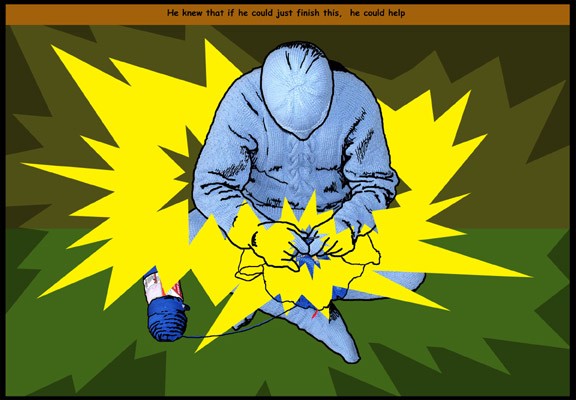 Whether or not he knows it, Greene likely incorporated knitting into his pre-fight ritual due to the therapeutic benefits associated with needlecraft. Knitting simultaneously activates both hemispheres of the brain, explains Karen Zila Hayes, a sensory wellness specialist in Toronto and a leading expert in the field of therapeutic knitting, which results in increased serotonin and endorphin levels that make the knitter feel happy, peaceful and safe. "Disease is just a manifestation of when the body is out of alignment," she says. "The more we can get our body back into its optimal alignment, the more we will impair disease."
Studies have found a positive correlation between knitting and a seemingly endless array of maladies including schizophrenia, anxiety, depression, insomnia and high blood pressure. Additionally, a 2007 study conducted by Harvard Medical School's Mind and Body Institute found that knitting lowers the heart rate by an average of 11 beats per minute and induces an "enhanced state of calm" similar to that found in a daily yoga and meditation practice.
In pursuit of such enlightenment and calm, I've spent the past three Friday nights in a knitting circle at a cozy yarn store in L.A. called the Little Knittery. The owner, Cat Coyle, designed the infamous "pussy hat" for the Women's March following Trump's election. "Everyone was so upset about that 'Grab 'em by the pussy' comment," Coyle tells me, including two of her students, Jayna Zweiman and Krista Suh, who were headed to D.C. to participate in the march. Zweiman had a vision of everyone wearing the same hat and asked Coyle to help design one. "I knew it had to be easy," Coyle says. "So I designed a simple scarf that created two small pussycat ears when folded in half and named it the 'pussy power' hat."
It seemed only appropriate to make one myself, proud ally/cuck that I am (though I opted for blue). Thanks to Coyle's unending patience — and generous assistance from my fellow spinners — I eventually strung together a dozen or so rows, each stitch built upon the one before.
As a recovering alcoholic, I'm liable to become addicted to just about anything — and woven yarn proved no different. Within moments of waking up the next morning, I reached for the knitting sticks on my bedside table and got my fix. "I'll just do a couple lines," I reasoned, ironically echoing my 2004 coked-out morning self. The difference, of course, was that after two hours of knitting, I entered the aforementioned zen-like fugue state and created something from nothing, as opposed to spending $500 doing the exact opposite.
I wasn't surprised, then, to learn from Hayes that knitting has proven to be effective for other recovering addicts in their quest to stay clean. That's because, simply put, the goal of addiction is to feel better. When you remove the addictive substance — whether it be booze, drugs, cards, food or sex — it must be replaced by something else. This is particularly true for cigarette smokers, she adds, which is why she created a Knit to Quit program for nicotine, the effects of which almost identically match those of knitting brain. "Holding knitting needles also provides an ideal replacement for the tactile habit of holding a cigarette," Hayes says.
Lynn Zwerling was well aware of the therapeutic benefits of knitting and resolved to share them with men who needed them most. So the 67-year-old retired car saleswoman stood before 600 male prisoners at the Pre-Release Unit in Jessup, Maryland, and asked if anyone wanted to learn how to knit. "They can't go from one day doing hard time and the next day being on the street," she told NPR in 2012. "They have to make a transition somehow." The men were reluctant at first and complained that knitting was too girly. But Zwerling assured them men invented the craft before giving them a five-minute knitting tutorial.
Before long, the men "found the zen," and now, every Thursday from 5 p.m. to 7 p.m., they come to class, leaving their crimes and prison life behind. Knitting Behind Bars, Zwerling's nonprofit, has since taught more than 100 male convicts how to knit and dozens remain on a waitlist. They started by knitting comfort dolls, which they gave to children removed from their homes because of domestic violence issues. Next, they moved on to hats for kids at the elementary school many of the prisoners attended. "I feel calm," says Brodie, who is serving a 10-year sentence for armed kidnapping. "It gives you a peace of mind and takes you away from prison. We did a lot of wrong in society so this is a way of giving back."
True to his moniker, Jeff "Lights Out" Hughes cut the cord on Maurice "The Pirate" Greene in a unanimous decision. "Didn't go my way," Greene says, despite his best efforts to knit himself to victory, "but we're past that and onto the next avenue, maximizing every opportunity." That avenue looks to be paved in yarn, as beanie orders continue to flood in via Greene's Instagram account. "I'm a brand, and what I do is very unique," he explains. "Plus, that's what I wanna do. I'm the Crochet Boss."