In 2008, Steve Lockhart was working on cars at a dealership in Durand, Michigan. He got his start on the service side — changing oil, replacing tires, working on brakes, etc. Gifted with the kind of thick black hair Elvis could only achieve with hair dye, Lockhart sported a buzz cut so when he got grease from the cars in his hair, "it was easy enough to go home and wash it out."
Before long, though, Lockhart rose through the ranks and became a salesman. "I wanted to look more personable," the 32-year-old tells me. He decided to grow out his hair and soon he had himself a classic men's side part. This being 2008, the goal, Lockhart tells me, was Don Draper's hair: "sleek and timeless."
But drug-store-brand goop was no match for the sweltering summers of Durand where temperatures rise as high as 95 degrees. And on the blacktop — where Lockhart was walking around for nine or ten hours a day showing cars to customers — it could be anywhere from 10 to 20 degrees hotter. "Everything would just melt, and my hair would look like a disaster by the end of the day," he says.
As such, Lockhart was forced to get creative. Gleaning what he could from the ingredient list on the side of pomade jars that were available at his local Rite Aid, he went searching for beeswax, petroleum jelly and coconut oil. "I didn't know where to get castor oil locally so I got the raw castor oil they sell at the pharmacy for constipation issues," he explains. At night, he could be found in his kitchen destroying pots and pans chasing after the right formula.
The first couple of iterations of Lockhart's homemade pomade was "real basic" and "extra greasy." It was extremely frustrating to develop, but after a few unusable batches, Lockhart shared his primed concoction with friends in 2013, before throwing some up on Etsy.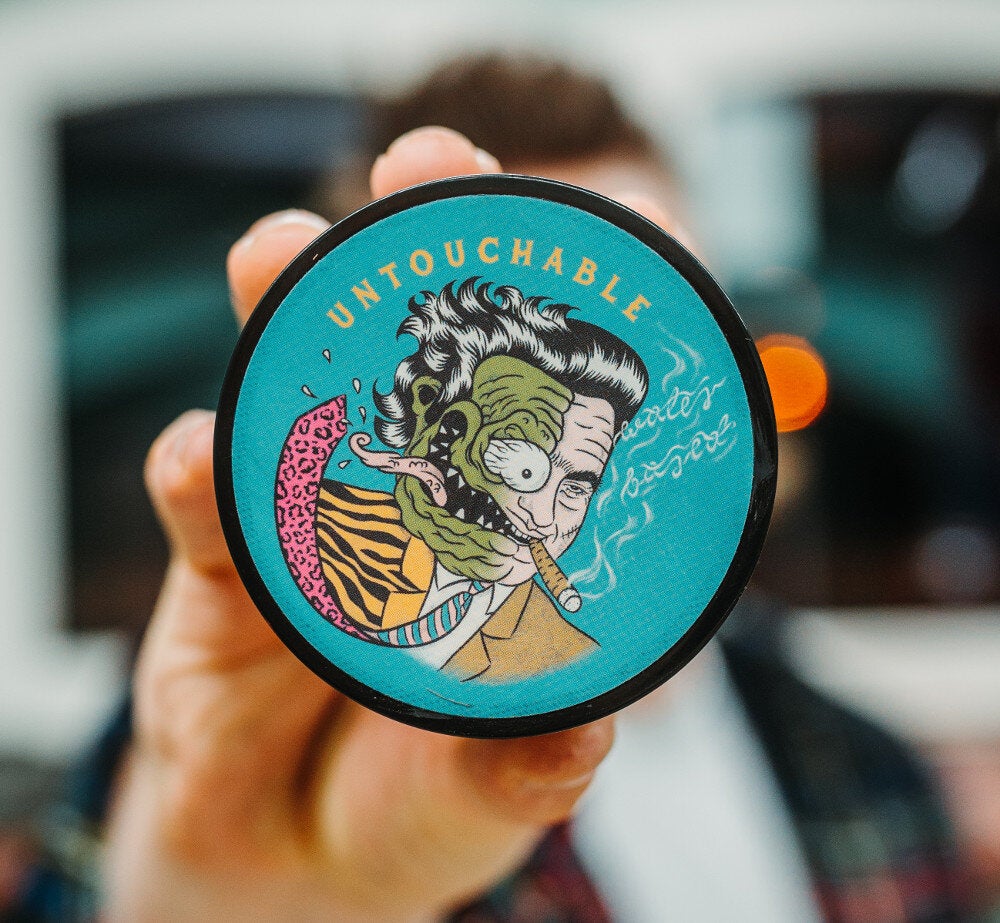 Around the same time, over on Facebook in a group called Addicted to Pomade, (mostly male) hair-product enthusiasts would discuss their latest DIY pomade creations. "We saw that there's a little bit of interest in homebrewed hair products and stuff like that," says Lockhart. "So we were like, 'Oh, cool, this might be a good place for us.'"
Lockhart attributes the use of the term "homebrew" to describe these kitchen-made products as potentially born out of "some sort of subconscious masculine tilt." Unlike actual brewing, however, there is no fermentation process for pomade creation. But, he explains, the fairly prominent crossover between the artisan pomade scene and craft beer also played a part. "If you're looking at the people who follow our brand, you're looking at 90 percent plus male," says Lockhart.
Cody Branson, also 32, the founder and creator of Flagship — an award-winning homebrew pomade known for using only vegetable byproducts — says that the craft-beer scene has definitely served a major role in the terminology. But he also thinks that "homemade" makes the product "sound like it's less professional."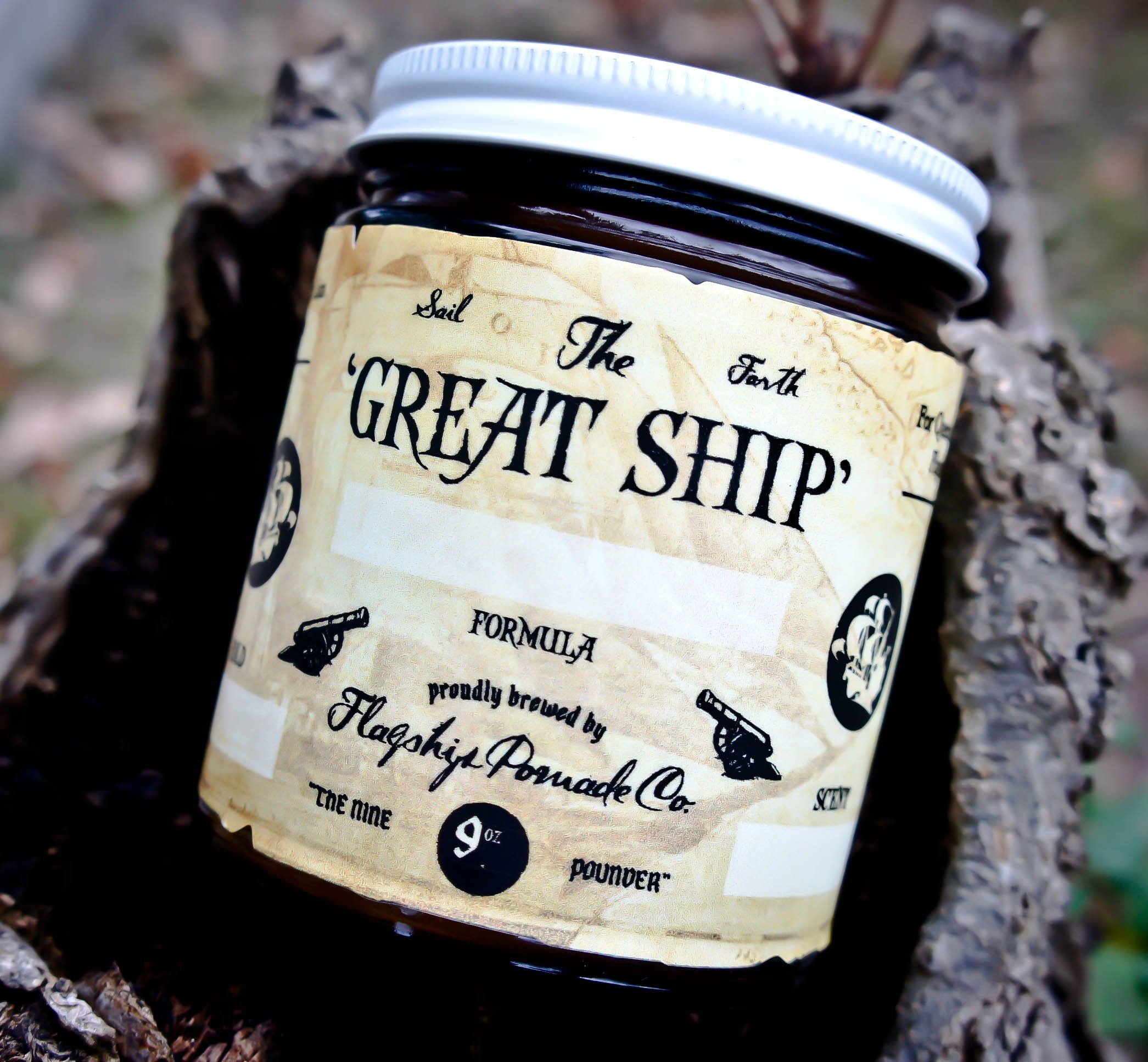 Back in 2013, while the pomades were still being made in tiny kitchens all across the country, Addicted to Pomade was the place to talk shop. It served not only as a forum but a marketplace where creators could connect directly. Brewers like Zachary West, 33, of Shear Revival, describes the Facebook group as being born "out of necessity for people looking for something new, and coming together under this umbrella to really find out what's working and what's not." In that sense, he says, it was a very "grassroots sort of thing," and the place on the internet for men to talk about their hair.
"I think of the homebrewed pomade scene as the old punk rock scene, lots of that DIY ethos, a lot of guys from different walks of life, but some of them maybe a little more outcasted than others that find a level of comradery within these groups," says Lockhart.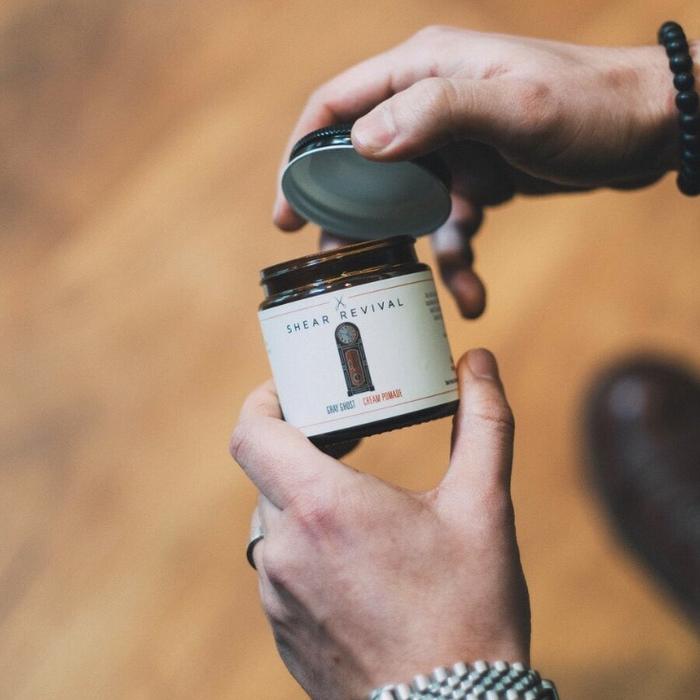 Per Branson, the private pomade group was a place for guys to feel comfortable posting pictures of their hair and collect pomades like they were baseball cards. "People started getting these different things," he says. "They wanted to show off how they were used. They also want to just look good in general."
But not long after Lockhart's initial bout of success, he noticed a change in the tone of the discourse. For those that don't know, generally speaking, there are two different types of hair pomades — oil-based and water-based. Oil-based pomades are considered the classic type of pomade since they've been around in some form or another since the 1800s and typically have fewer chemicals. Water-based pomades are considered "new age" and offer the benefit of being easily rinsed out with water. And though most homebrewers at the time were largely working with both types, according to Lockhart, there was quite a bit of antagonism between the oil-based die-hards and the rest of the members just trying to find the best product for their hair. "If anybody wanted to talk about [water-based pomade], [the administrators] would say, 'You're a noob, you're a poser. Take your gel shit and get out of our group,'" Lockhart says.
West also remembers the inner-group drama that quickly plagued Addicted to Pomade. "Which is pretty funny to say when you're talking about men's hair-care products or hair-care products in general," he says. "They came up with all these really weird terms." For example, the "gatekeepers" of the homebrew pomade scene would refer to Layrite — a popular water-based pomade — as "ringing gel" because it "wasn't grease, and when you tapped on the can, it would, I guess, ring."
With Lockhart's products growing in popularity, he found himself increasingly at odds with the administrators who he says were treating his customers like "they were nobody." That's when the group fizzled out and Lockhart, along with two other homebrewers, started the group Everything Pomade. "With Everything Pomade, if you post your stuff there, there's an understanding that you're going to be slightly respected," says Branson.
Prior to the establishment of the new Facebook group, which currently has nearly 10,000 members, Lockart tells me that most of the homebrew scene was just "dudes who were just making 24 tins of it in their kitchen every couple of weeks." But by 2014  and in conjunction with the newly established Facebook community, the homebrew scene was gaining momentum. "A lot of our success is due to those early Etsy days," Lockhart argues. "We had just heard about Etsy at the time, it wasn't really a big thing yet." Better yet, he adds, "There were very few people that were making pomade who had a following on Etsy, and we instantly drove up to the top of pomade searches."
In 2015, Lockhart left the car dealership, and today, he operates out of a 2,500-square-foot facility in Durand. For his part, Branson, who's developing his own pomade while formulating products for other burgeoning homebrewers, has a 3,500-square-feet warehouse in Pearland, Texas. "And we're starting to run out of space," he says.
He believes it's the adept consideration of harmful ingredients that distinguishes homebrew pomades from larger company products. Previously a bank manager, Branson tells me that brands like Suavecito and American Crew have exhaustive lists of chemicals "and some of the stuff, you have no idea what it is"; meanwhile, homebrewers are looking for the simpler, more straightforward recipe. Blackship — Flagship's signature pomade — has only 12 ingredients, the first five of which are various types of wax, oils and water. For comparison, American Crew's water-based pomade has more than double that number.
Along those lines, Branson says that if Big Hair Product tried to replicate homebrew products in "one of these large labs, they wouldn't be able to," in part because the people making them are "too chemistry-minded."
Homebrewers, he says, know what each ingredient does and how it will affect the product without worrying about things on a molecular level. "It can be argued that it's the same concept, but I think you lose the personality and you lose a little bit of that eclecticism," Branson tells me. "It's getting craft beer versus Miller Lite."
In that sense, the homebrew pomade boom, according to Branson, is just like the craft-beer boom. "Bud Lite is always going to sell," he concludes. "But if you want to go down to the local brewery and get something that's more unique and more artisan than that, that's what you get with our handmade stuff."