After the Women's March on January 21, The Washington Post published an op-ed with the headline "At the Women's March, it's the men who mattered most."
A number of tweets and blog posts immediately called out The Post for a tone-deaf, insulting headline that placed men at the center of a movement that was started by and for women.
Russell Brown felt similarly enraged. As co-creator of the Los Angeles men's activist group the Fallopian Dudes, Brown aims to get guys involved in standing up for women's rights — without necessarily putting themselves at the heart of the story.
"Part of the DNA of this group is acknowledging that too often men think we are the center of the conversation, or that our opinions are the most important ones," Brown says. "And I want so much to counteract that mentality, especially as it relates to female health."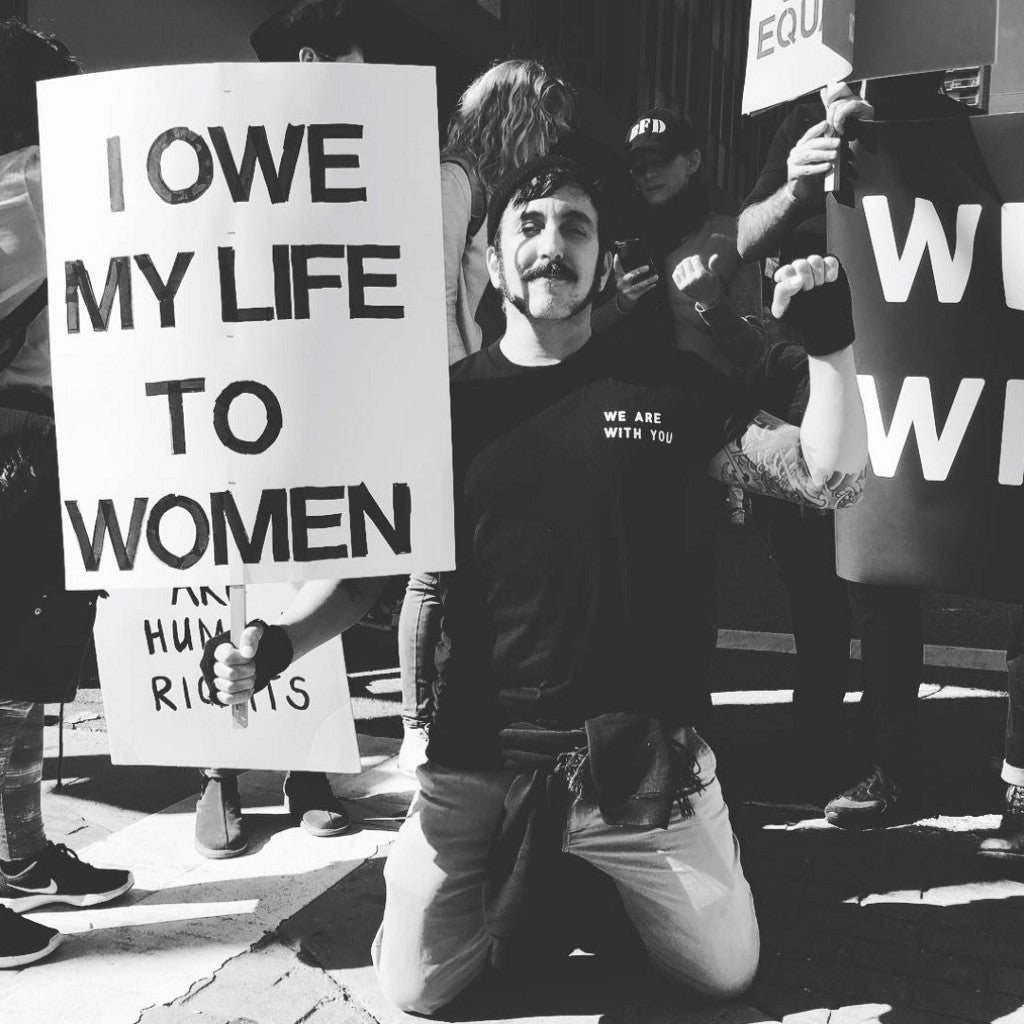 Brown is the co-founder of Poke Acupuncture, where women's health issues are an important part of his practice. He formed Fallopian Dudes with writer/creative director Mark Jacobs, initially as an effort to get guys to participate and show solidarity at the Los Angeles Women's March. Brown and Jacobs reached out to their community — particularly gay men — in an effort to get them to recognize women as political allies and not simply family members, peers, co-workers, or "party friends."
The two created a Facebook group inviting guys to join them at the Los Angeles Women's March. "We had no idea what the turnout would be in terms of anyone, let alone men or certain kinds of men," Jacobs says. "So it was really about just creating a group — an access point for people to show up."
On the sunny Saturday morning of the march, more than 100 men joined the Fallopian Dudes meet-up spot near downtown Los Angeles.
Brown and Jacobs were prepared.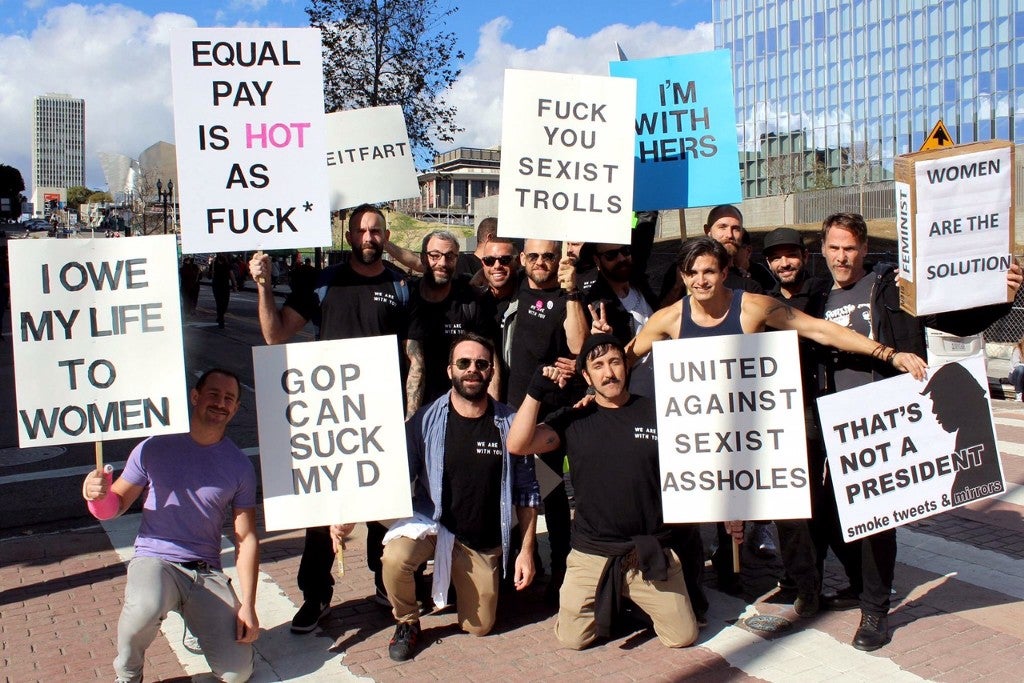 The Fallopian Dude co-founders handed out more than 70 black shirts that read, "We Are With You," and made dozens of signs with stenciled letters and a stark white or yellow background, recalling 1960s-era protest signs. Their striking signage varied from heartfelt to angry with phrases like: "I Owe My Life to Women, "Equal Pay is Hot as Fuck" or "Mike Pence Kills Women."
"We were really specific as gay guys. There would be marches where signs would say 'Trump Sashay Away'—we didn't want to play into that trope," Jacobs says between sips of coffee at a café on Sunset Boulevard.
The two wanted to make shirts that read "Men for Menses," but they encountered a problem. "Most gay men did not know what menses was; they thought that menses was plural for men." (It's actually menstrual flow.)
It's conversations like this one that Brown and Jacobs feel are more needed in their community.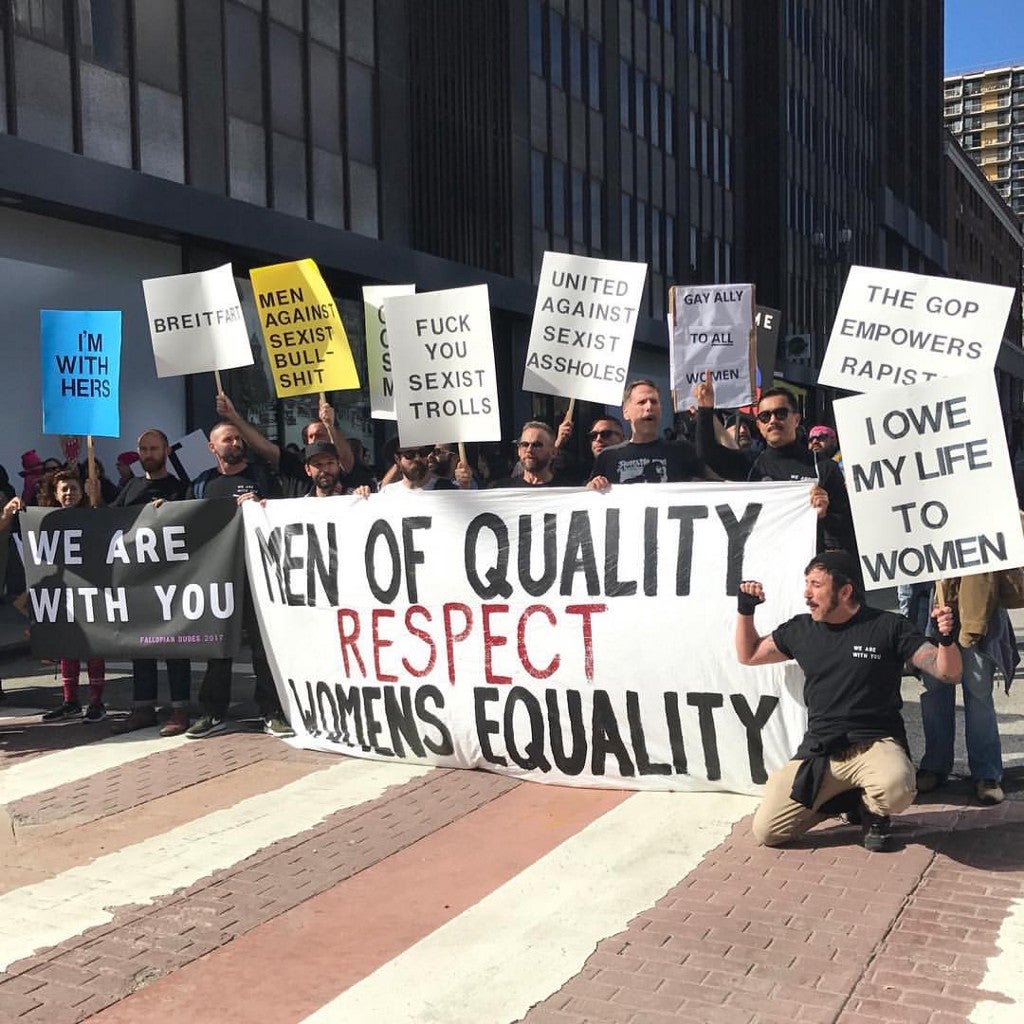 "In the gay communities a general misogyny is sometimes accepted toward women; there is a way that gay men talk about women's bodies — and all these jokes, you know, a period, icky," Jacobs says. "So one of the reasons we ended up with the name Fallopian Dudes is that it's silly, it's playful, but it was also making these people say [words related to] female anatomy."
Brown recalls the post-election 60 Minutes interview in which Trump announced that he didn't plan to dismantle same-sex marriage but he was working to overturn Roe v. Wade and repeal the Affordable Care Act (which provides free birth control for many women). Brown's Facebook echo chamber of gay men erupted with celebratory posts. He refreshed his newsfeed to find update after update with posts such as, "Maybe the next four years won't be so bad." Brown was furious. He couldn't believe his friends were popping bottles for gay marriage when the progress of women's health and autonomy was about to be steamrolled by the Trump administration.
Shortly after that agonizing interview, Brown went to social media to share his frustration. He wrote a post on his Facebook wall entitled "Dear Gay Guys, You Are Not a Friend to Women Unless You Know What an IUD Is."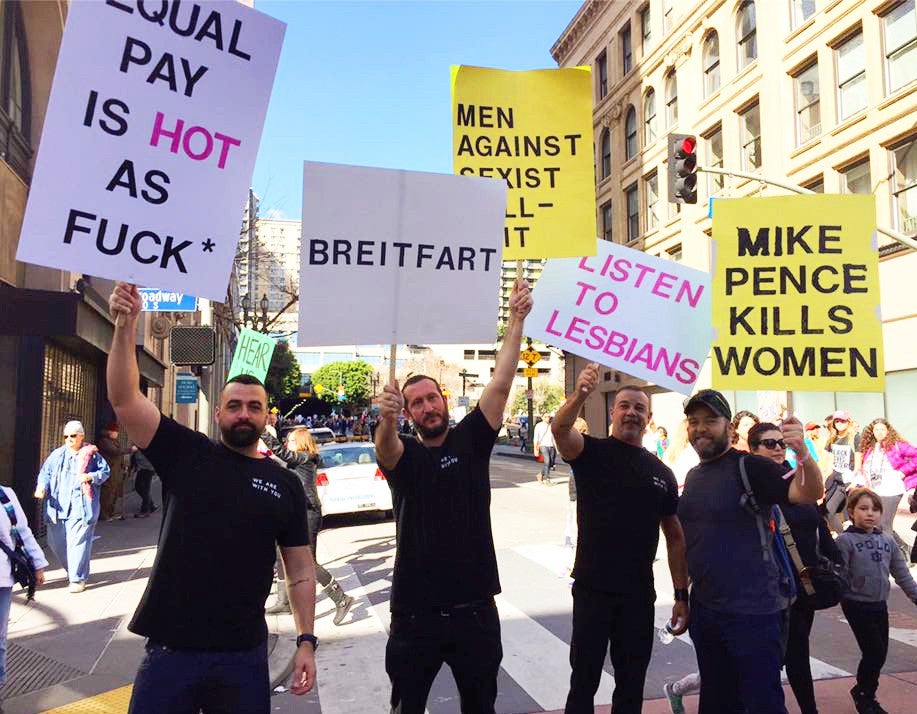 For those who've been sleeping under a rock, an IUD, or an intrauterine device, is a small t-shaped device inserted in a woman's cervix in an invasive and painful procedure. Brown added, "An IUD releases copper or artificial hormones to kill or block sperm and thin out the endometrial lining so periods are less intense." Another upside? IUDs prevent pregnancy for approximately three to seven years — and can outlast President Trump's term. (A repeal of the Affordable Care Act will likely mean access to many forms of birth control will be more costly, so IUDs have rapidly gained in popularity, as Brown pointed out.)
But Brown didn't want to simply vent to his Facebook friends. In his post, he added, "I promise you, gynecology is not a threat to your gayness or masculinity or whatever else you think you're defending. If you want to be a cunty queen, you can start by getting down with cunts." And then he led the way.
After their successful Women's March meet-up, the guys mostly congregate online in a Facebook group with more than 150 members, where they share articles about women's history and health and post messages about female political figures that they support and opportunities for activism. "We are not scholars in feminism or scholars in intersectionality but I feel like our heart is in the right place," Brown says. "The whole concept of this is less about the activity and more about the consciousness."
On the heels of the historic Women's March, the same organizers have declared tomorrow, March 8 the "Day Without a Woman," and they are calling on all women to take the day off work if they can, and not spend money or support only women-owned businesses during this strike. The planned action is set to take place alongside an International Women's Strike, and slated to take place in more than 30 countries.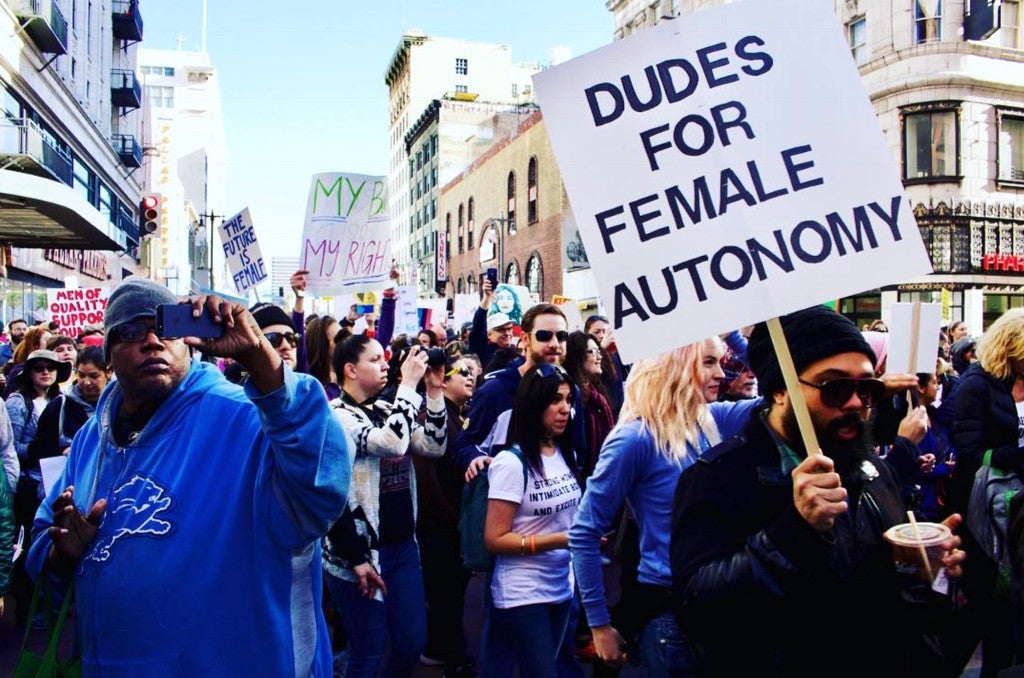 The Fallopian Dudes will be alongside their sisters in spirit. For his part, Brown plans to offer discounted acupuncture services to his female clients and donate proceeds from his business on March 8 to Fem Project, a nonprofit that provides menstrual products to homeless women in Los Angeles. He's also not planning on letting go of his post-election anger any time soon. "You should be pissed that they don't want the pill available to anyone but rich white ladies, you should be pissed that they want to overturn Roe v. Wade, you should be fucking pissed…. Everyone should be furious."