An ejaculating dildo that's revolutionizing the sexual lives of many men — from cisgender guys with erectile dysfunction to transgender men with body dysphoria — started with a clone-a-willy kit, a lesbian couple who wanted to conceive, and years of medical knowledge.
Stephanie Berman, the inventor of the POP dildo and the founder of Berman Innovations, co-owns a women's reproductive health clinic with her mother. "I've been working with couples in the medical sense for a really long time," she tells MEL just a few weeks after she won an AVN award — the highest honor bestowed by the adult entertainment industry — for Best Pleasure Product Manufacturer in the "small" category. ("They kind of break it down [by] the size of your business," she says. "Go figure. Size is everything, they say, right?")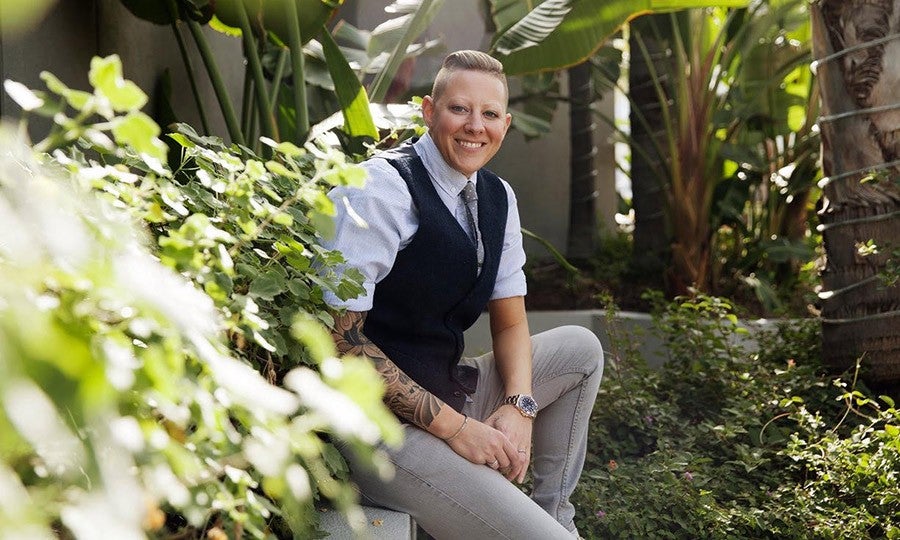 She'd been helping couples through the process of in-vitro fertilization and artificial insemination for years when she and her wife decided to have a baby. "It gave me this very keen insight on how the process goes," she reflects. "We knew for us as a couple that we didn't want to go to a doctor." And they certainly didn't have the budget for IVF, which can run into the thousands for each attempt. So they tried it at home. "We sort of just took what we had — turkey basters and syringes — and tried to start the process, but we were left feeling very unfulfilled."
Berman decided to get creative and bring some fun into what can be a very businesslike process for same-sex couples. With the help of her roommate's boyfriend and a Clone-A-Willy kit, she set about crafting a dildo that would ejaculate on command, which she and her wife could use more intimately and enjoyably. It worked so well — the couple has now conceived with it twice — that she decided to go public with what she dubbed the Semenette in 2012.
"When it comes to ejaculating dildos, there's definitely been others on the market before me," Berman says. "However, in the evolution of sex toys, the materials used to make sex toys were terrible" at that time.
The product hit the market as the only high-quality, body-safe ejaculating dildo with replaceable (and thus more sanitary) tubing.
And it succeeded. "I was at a barbecue over the summer," Berman tells MEL, "and there were six kids there that were all conceived with my product. That was surreal… There's a lot of kids that are being made! These families' dreams are being realized!"
She understood in that moment just how appropriate her longstanding nickname, "Spermin' Berman," really was. "It's been with me for many, many years," she laughs. "My business card is in the shape of a sperm… It's been one of the best business decisions I've ever made."
But what she didn't see coming (pardon the pun) was that her toy had potential beyond its intended role in lesbian couples' bedrooms. As she hit the trade show circuit with her invention, she says, she began to see a gap in the market that she was uniquely able to fill (don't pardon that one). "People were saying, 'Wow, there's a huge need for something like this.' I got e-mails on a daily basis from serodiscordant couples — mixed-status couples where one partner is HIV positive and the other is not. People were telling me, 'This is a great option for us to use!' It was totally mind-blowing to me, all these different utilizations for an ejaculating dildo!"
As demand grew among surprising new communities, Berman partnered with Fun Factory, a high-end German manufacturing company, reinvented the packaging and marketing to make the product more pangender in its appeal, and launched the POP dildo in late 2015, basically replacing the Semenette (though you can still get the original if you appeal to Berman for a "vintage model," as she puts it). "I did catch some flak for the name 'Semenette,'" says Berman. "People were saying that the '-ette' was a bit feminine, and they didn't really love the name. So 'POP' was something that was much more universal." ("POP" refers to the "pop shot," known in porn as the money shot.) "We really planted the seed, so to speak, in the LGBT market for same-sex couples, and then I really wanted to expand."
The POP dildo has earned accolades among numerous demographics in its first year on the market. As it turns out, basically anyone can find a use for this product, including the only market that Berman didn't initially anticipate: men. Since the AVN win in late January, Berman says, "I've already seen a spike in interest and in orders, and… I've noticed a lot more men ordering."
As it turns out, POP is a favorite with men of many stripes: those who enjoy pegging, for instance, and men with disabilities or erectile dysfunction are both growing markets. Berman has also seen a lot of interest from the trans community, who see it as an opportunity to connect with their bodies in a visceral way during sex. Trans male icon Buck Angel, a big proponent of POP, tells MEL, "When Stephanie Berman approached me with her product the POP dildo… I was very interested and thought it was a brilliant idea. There are many people who just want to experience that 'cum shot,' and that includes me." Angel has become an outspoken advocate for POP's use in his community, even as he's launched his own sex toy for trans guys.
Berman says of Angel's support, "In my first conversation with him, he was saying, 'Steph, this product is so important. It allows female-to-male folks not only to have sex, but it gives them that realistic finish that so many people are looking for.' It's one thing to be able to have sex and re-create that experience, but to really feel like you're finishing — there's a realistic connection that you're making to your body with your partner… I think that's something that's super unique for the [trans] community that's been embraced a lot."
A drawback for trans consumers is that the toy is not designed to "pack" — it's made out of hard medical-grade silicone, so it can't be worn under an ordinary outfit between sexy times. However, although Berman won't give away details, she tells MEL, "I'm working on some new versions of the toy, too, to make it even better for the trans community."
Another downside, especially for underprivileged demographics like transgender men, is the POP dildo's retail cost: At just under $140, it's in the price range of luxury sex toys. But POP isn't just a pleasure device; it's arguably a therapeutic and even medical product, as well. The toy includes three refill tubes and tips, as well as one replacement reservoir bulb. More replacements can be purchased at $45 for a kit of five tubes and tips and one more reservoir bulb.
For comparison's sake, you could purchase eight ounces of Spunk fake semen and a Sexflesh Deep Dickin' Derek ejaculating dildo from Amazon for the price of one POP dildo refill kit. The quality differential, however, makes the POP dildo seem like the safer investment (though the comments section at the Deep Dickin' Derek Amazon page is definitely worth a read).
Berman is also excited to expand POP "for gender expression and gender roleplay, non-specific to the trans community, just gender-fluidity. I love how the toy embraces that. POP dildo allows that creativity and freedom in the bedroom so you can play around and have fun with it in so many different ways." And she wants to show these possibilities to the world — explicitly.
There's a safe-for-work instructional video on the company's website, of course, but last year adult director Aiden Starr also filmed a hardcore porn scene in which Sovereign Syre used the POP dildo on costar Casey Calvert to great effect. (There's a BTS video from the film [Lesbian Anal Sex Slaves #2 from Evil Angel] if you're interested, in which the performers rhapsodize about playing with the toy.) "That was sort of the initial segue into the pleasure side of the toy," says Berman. "I wanted people to see how it could be used for BDSM, kink, all that kind of fetishy stuff… I would like to do some more movies." Winning an AVN was a great way to break the ice into adult content, she says. "So there's a lot more to come."*
(*Berman is excited about the many possibilities for her product, and she also appreciates the double entendres that permeate every conversation she has about it.)