It wasn't until very recently that I learned The Circle Game wasn't a regional custom, but in fact a game known to boys everywhere across this great Union of ours.
The game is as simple as it is timeless, immature and fun. A guy makes a circle (aka the "okay" symbol) with his fingers. He then tries to get a friend to glance at said circle, and if successful, he has free rein to punch that friend in the shoulder (because there's no better way to establish a male bond than with small acts of needless violence).
The rules governing the game are similarly basic. The person flaunting the circle must place it below their waist. Otherwise, it'd be directly in someone's line of sight, and that would ruin the whole trickery aspect. Similarly, a person can't suddenly flash the circle while they're mid-conversation with someone. Rather, they have to get the attention of someone they're not actively engaged with and hope that their gaze will immediately go to their extended arm.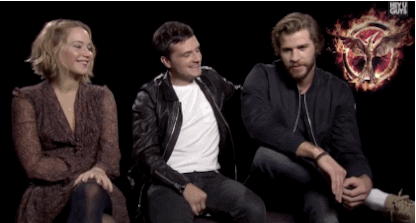 For nearly all my life, I assumed this was a game specific to the Midwest. The only pop culture representation of it that comes to mind is the early- to mid-2000s Fox sitcom Malcolm in the Middle, but I always assumed that show took place in some nondescript upper-middle class suburb such as mine. And so, the first time you unwittingly succumbed to the Circle Game, you felt like you were be initiated into a secreted club — one where dudes thought up elaborate schemes so they could punch you.
Fun!
But I've since learned that the Circle Game is a national phenomenon, and that there are men elevating the game to previously unthinkable heights. Specifically, the Circle Game has turned into a game of performative one-upmanship on Instagram, with men going to insane lengths to trick their friends into seeing their circles.
For example, this video of a water sports bro getting his bros with a circle after landing a backflip on a wakeboard:
(Technically, this is a breach of Circle Game rules, as it's illegal to flash the circle at someone when they're already looking at you, but the sheer athleticism is deeply impressive.)
Here, someone manages to get a sign of their circle broadcast live on College Gameday:
In this clip, a boxer fakes a broken wrist to his trainer, only to reveal a circle when the glove is pulled off:
This guy added the circle to his karate photo:
Some have managed to incorporate the Circle Game into Call of Duty:
One dude went so far as to make a circle when he was getting his hand X-rayed at the hospital, and then share the resulting image to his friends. Bravo.
And this University of Rochester football player threw down a circle in his team photo. Got 'em!
Many have even taken to spotting instances of the Circle Game that happen incidentally in the wild, such as this image of University of Alabama football coach Nick Saban unwittingly making the gesture during an on-field interview.
Or star NFL quarterback Aaron Rodgers doing the same as he gets tackled during a game.
Or Michael Jackson doing it onstage, mid-performance.
https://www.instagram.com/p/BcaunEAjtPB/
Or the Pope clowning a whole host of Catholics as he blesses a Lamborghini.
https://www.instagram.com/p/BcZeRxmDikX/
Even angels play the Circle Game.
Jesus Plays the Circle Game | Funny Meme on me.me
The cult of the Circle Game is so strong online that there are entire blogs and Instagram feeds dedicated solely to Circle Game memes. And once you start looking for the Circle Game, you can't help but see instances of it in everything you encounter, even the clouds.
https://www.instagram.com/p/BcUMbCGjmOp/
The prevalence of these memes and the lengths some guys will go to generate them proves a universal truth: Men will find just about any excuse to punch their friends, or in the absence one, concoct an elaborate ruse that allows them to do so.