Last October, the National Aeronautics and Space Administration released a study giving Los Angeles a 99.9 percent likelihood of experiencing a 5.0 earthquake in the next five years. Math was my least favorite subject in school — I had a nightmare about 11th-grade calculus this very morning — but 0.1 off from 100 seems awfully high to me.
But wait, you're thinking, didn't the U.S. Geological Survey dispute NASA's findings? Why, yes: Scientists at the USGS say the NASA estimate is incorrect; they believe the probability of a 5.0 earthquake in the next three years is only 85 percent. Well that's just great; I feel much better now.
So how should the City of Angels — filled with Lotus Eaters who down $17 cold-pressed kale juice, turn up their noses at actual food, worship the sun and the rays that fall on celebrities, and babble freeway directions in their sleep — prepare for a possible catastrophe? I have some thoughts on the matter.
First up, watch the Tommy Lee Jones film Volcano. Yes, earthquakes accompany volcanoes, and the La Brea Tar Pits are not to be trusted, according to noted seismologist Anne Heche. (Go rent it from Redbox.)
Your car must be stocked with disaster essentials at all times. Wait. You do have a car, right? You don't? How do you live in LA without a car? No, the Expo Line just opened; how were you getting around before? Go buy a car! I'll wait! Okay. Ugh, a 2010 Kia Soul? Just because it's easy to parallel park? Whatever, the earthquake is coming; there's no time to exchange it now.
Now that you've stretched the definition of/purchased a car, pack the essentials in the trunk:
Bottled water: Pack of 24, preferably Voss; in a pinch, Fiji will do.
Flashlight
Collapsible tent: Also, schedule a pre-earthquake appointment at REI to learn how to assemble a tent.
Two bars of solid gold: After the quake, gold will be worth its weight in, well, you know. Any Hollywood types looking to barter for supplies will step right up.
Xanax and/or Ativan
Soylent: It might well be people; there's no way to know for sure, but your local farmer's market is going to be closed for the foreseeable future, so you'll have to make do with possibly human-based meal replacements. But maybe first check with your mother to see if she's got any SlimFast lying around from 2003.
Condoms: Just because a 7.2 ravaged the Valley doesn't mean you can jump, unprotected, into a pile of rubble with any attractively dusty person who stumbles by.
Moleskine Earthquake Readiness Guide (MERG): Instead of using dates and days of the week, MERG is designed to help you write the screenplay about the earthquake: Day 1, Day 15 (The Day the Scientologists Came), Three Months Out. A FEMA Fuck-Up insert provides a place for you to list government response failures — again, crucial for that Oscar-winning screenplay. The address book insert has been altered to reflect emergency services, like Postmates, Eaze (weed), Swipecast (models—you're gonna want those condoms), Rinse (not only will they launder your Rag & Bone jeans, they'll also mend any rips and tears you might accumulate while emerging from the debris of a West Hollywood nightclub).
The collected letters of L. Ron Hubbard: See above: When the nutters come a-callin' (to consolidate power and establish a new order in L.A.), you'll want to look like you're on their side. Otherwise you might disappear—and not because of the earthquake.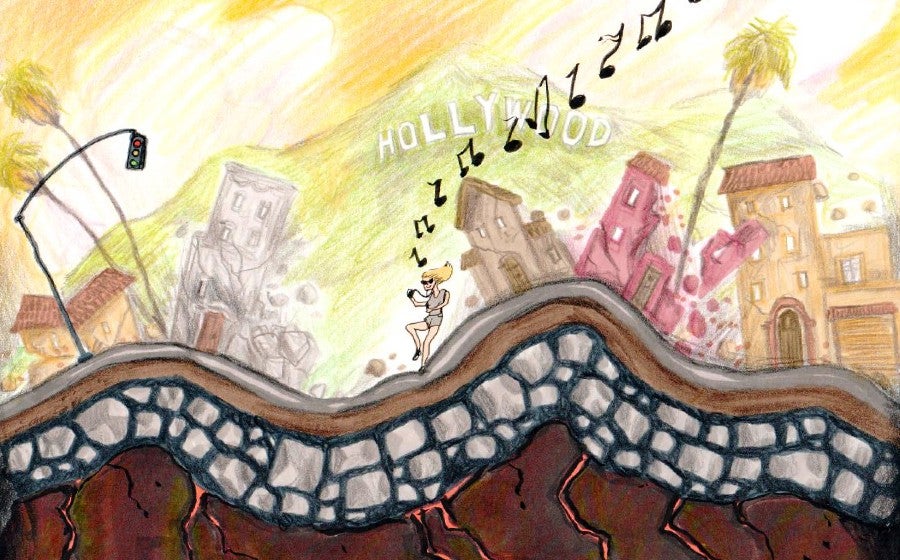 Now, make your earthquake Spotify playlist.
"Shake, Rattle & Roll" by Chuck Berry
"Rock Your Body" by Justin Timberlake
"Bust a Move" by Young MC
"Spirit in the Sky" by Norman Greenbaum
"Hold On" by the Alabama Shakes
"Don't Stop" by Fleetwood Mac
"Don't Stop Believin'" by Journey
"Three Little Birds" by Bob Marley and the Wailers
"Buggin' Out" by A Tribe Called Quest
"S.O.S" by ABBA
"Reach Out in the Darkness" by Friend & Lover
"Stuck in the Middle With You" by Stealers Wheel
"Water Fountain" by Tune Yards
"Feelin' Alright" by Joe Cocker
"This Town" by Frank Sinatra
Let's say you're in bed when you first feel the earthquake. Stay calm. Don't panic, even as your arranged-by-color books start slipping from their bespoke rescued wood shelves. Grab your freshly charged rose gold iPhone 6s. Check to make sure your earthquake playlist has been saved on Spotify. Text your most stylish friend to find out how they're dressing for the day: Is this a steampunk casual, black tee, distressed jeans, classic black Chucks, and arrow-shaped pendant necklace kind of temblor, or are you thinking this quake is calling for an Alice + Olivia sundress, Rainbow flip-flops, woven headband and a flip of mascara? Gents: All of the above counts for you too; sub out the necklace for a woven bracelet and the sundress for a linen shirt and bleached jeans. A flip of mascara could look good on you, too; it's a whole new post-apocalyptic world out there.
Measure out one-third of a cup of almonds in your gently rumbling kitchen, throw it in a fair-trade Tupperware, slide it into your shabbiest messenger bag. Add a banana to your bag; it's Nature's panacea!
Check KTLA's weather forecast, but pack the vintage Ray-Bans even if ash is raining from the sky. Car keys? Check. (Again, that Kia Soul will barely look decent even in a 7.0. Fair warning.) Head out to your car, and look alive! Because so far, you still are.
Oh, and good luck on the 10. It can't be that much worse than usual.
Nandini Balial is a staff writer at Lit Hub and the media editor at Queen Mob's Tea House. Her work has appeared in Pacific Standard, MidnightBreakfast,Men's Journal, Slate and the Los Angeles Review of Books.
More humor on MEL: