Each week, the box overflows anew. The letters stream in from various corners of California and its neighboring states, as they have for more than 20 years. They land in the nondescript mailroom of a squat, stucco-skinned building in Palm Springs, situated on a quiet side road next to dusty patches of for-sale land.
Each day, Art Laboe and his right-hand woman Joanna Morones go in this room and pick out another thick stack of letters, each encased in distinct but recognizable envelopes. The ones from Corcoran State Prison are a little wider, with a red border around the front. Wasco State Prison features blue ink for its stamped address. Chuckawalla Valley State Prison has slightly beige envelopes, and so on.
They hold letters from inmates, each inscribed with a short message for Laboe's radio show and often longer words of gratitude for the man himself. The messages range in tone, from hopeful to remorseful, mostly directed toward wives and husbands, significant others, daughters and sons. Reading these messages is the centerpiece of Laboe's radio work these days — and also the distillation of more than 75 years of pioneering in the radio industry as a deejay, programmer and record producer.
Laboe was always short of stature, standing at just a hair over five feet tall, but he's grown thinner in recent years. He's now 93 years old, and his frame looks especially delicate when you see him padding slowly through the hall of his Palm Springs studio. Some things, though, haven't changed: His immense eyes, blue-gray and globe-like, shine with crystalline intensity when you talk to him. And then there's the voice, nearly unchanged from his younger days on the mic, resonant and warm like burled maple: "Hello, you're on the Art Laboe Connection, and we've got a message here. Henry Cabrera in Corcoran sends a dedication to my beautiful reyna, Martha, in Salton Sea…"
Every night, Laboe's syndicated radio show sends out these dedications and song requests, and four generations of fans continue to tune in on more than a dozen stations, including 93.5 KDAY in Los Angeles, Old School 105.7 in Las Vegas and Mega 104.3 in Phoenix, Arizona. The longevity is fitting, considering Laboe invented the concept of reading listeners' messages, and even letting them speak live on the radio, way back in the 1950s. Connecting incarcerated individuals and their loved ones, however, first happened sometime in the 1990s. "It was on my night show, and I heard a baby making crying noises in the background of a caller," Laboe recalls. "She said, 'That's my daughter. Her daddy, he's incarcerated, but he wrote me a letter and wanted me to put her on the air. Will you do it? He's never heard his daughter's voice.'"
Laboe shakes his head. "The mother was crying, you know. I felt it. So we let her baby on the air to say, 'I love you, Daddy.' And I just thought it was a deeply emotional moment for her to be able to use me and my show as a conduit for a big thing. That baby is a twentysomething woman now."
Odds are, that woman grew up listening to Laboe, too. Such is the pull of this legendary broadcaster, who is on the Hollywood Walk of Fame and has influenced hundreds of radio stations all over the country. Laboe was simply the first to do so many things, and that work has made him an integral part of American entertainment history. Over that time, he's outlasted most of his competitors and even some of his protégés.
"Art was the first to play rock and roll on the radio in Los Angeles. He was the first to do a remote broadcast outside of the studio. He was the first to take dedications over the air. He was the first to become a promoter of concerts, after finding a broken-down auditorium in El Monte and bringing rock groups in. He was the first to own his own record company. None of us disc jockeys did that," says legendary radio DJ "Shotgun" Tom Kelly, who famously held court on K-Earth 101 and now has his own SiriusXM station. "Radio as we know it doesn't exist without what Art accomplished."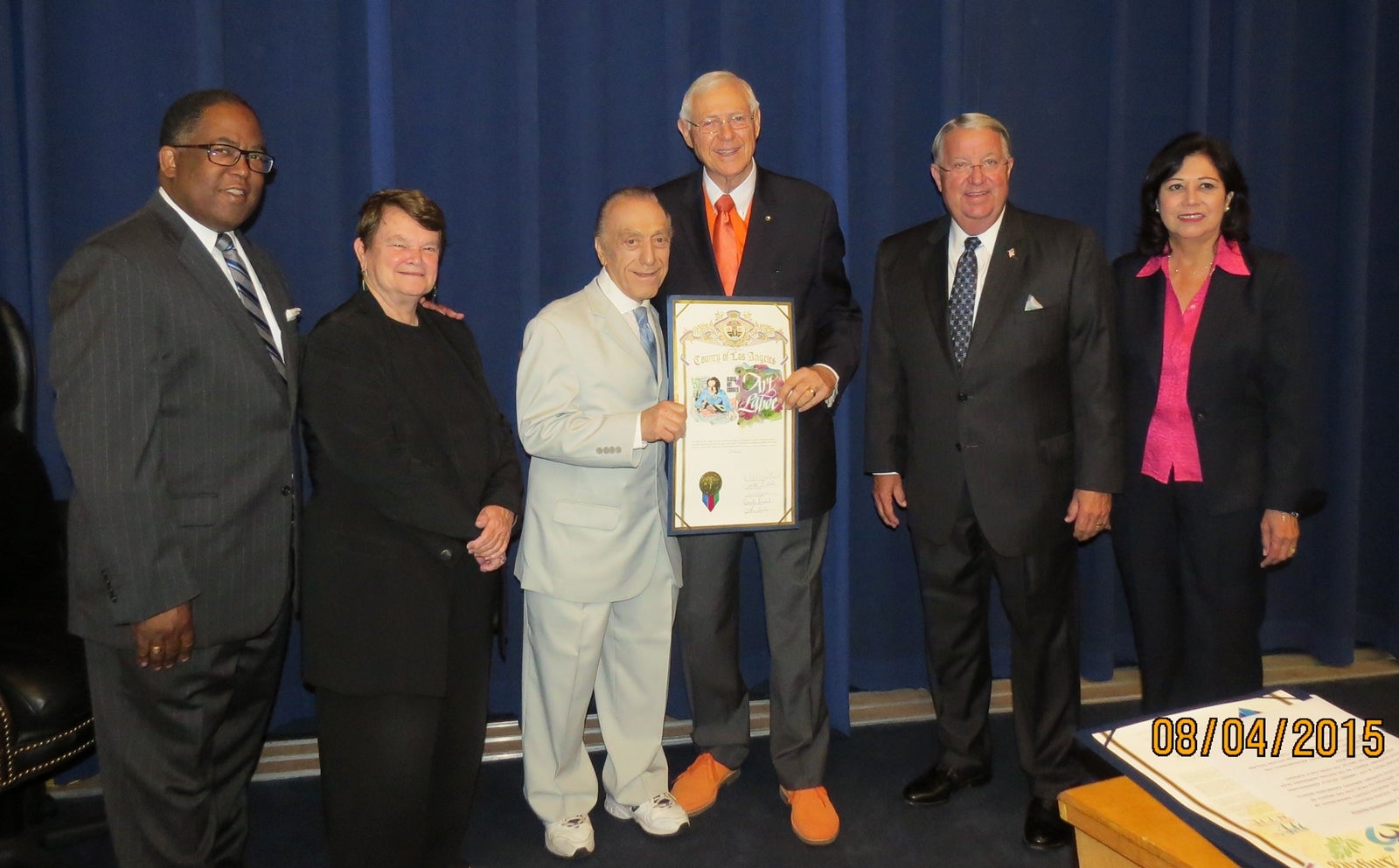 He has accomplished much, but the most impressive thing may be the quiet, unquestioning way in which Laboe helped integrate the music industry, championed black and brown artists and gave air time to the underprivileged. When I ask Laboe questions about whether he sees himself as an activist, or how he was motivated to do things others didn't, the look on his face suggests that I'm way, way overthinking things. "I just always cared, certainly about my fans but just the people that I met along the way, people I knew had talent and a story to share," he says. "I suppose you're right, that I saw some of these changes in society up close, but that wasn't the point. I just enjoyed bringing people together."
He's still steadily pushing toward a finish line that remains undefined, even at age 93. Laboe admits to thinking about retirement only out of necessity, and he dismisses the topic with a quick grimace. There are more dedications to record, and the evening's live show needs preparing. "He likes to say he has endless ambition, but physical limitations. It's about right," Morones tells me later. "He'd be like the Roadrunner again if not for his age. He's always thinking about the next thing he can do."
* * * * *
It's an hour before Laboe's Valentine's Day Super Love Jam at the Honda Center in Anaheim, California, but the hype is beginning to build outside of the box office. A long line of fans has already formed, and Morones pulls out her iPhone and begins recording as she walks past them. "Hey, guys! Say hello to Uncle Art!" she calls out.
The line erupts in greetings and general noise. "We love you!" one woman yells back. "Can't wait to see you, Uncle Art!" another man in an L.A. Rams jacket adds.
Laboe is famous for hosting concerts around Southern California, and the Valentine's Day show has pulled in a big crowd with a lineup of R&B legends like The Whispers, The Delphonics and Peaches & Herb. This won't be a sellout crowd for the 18,000-seat Honda Center, but later in the evening, when I look around the arena, it feels like the seats are filled up to the nosebleeds. The other thing that sticks out is the fact that so much of the audience is Latino, and of multiple generations — there are young couples in streetwear, as well as old-timers in wool suits and trilby hats, walking arm-in-arm with their glammed-up dates. Some have brought the entire family, including kids and grandma.
The comedian Paul Rodriguez once remarked that Laboe, who is of Armenian descent, is "more Chicano than some Chicanos," adding that "everyone from the toughest vato to the wimpiest guy would say the same." And it's typical that this cultural embrace happened without Laboe planning it. He admits he hardly understands why they've bonded to him; Laboe jokes sometimes he's the "only white guy" in the room when a Latino organization honors him. But the love is mutual, and has been for a long time.
I meet Rochelle Vargas while waiting in line for a beer, and she tells me that Laboe has been a staple in her house since her earliest memories as a child, growing up in a big Chicano family in the small city of Lynwood. Now 35, she's still enamored with the R&B and rock oldies Laboe plays, as well as Laboe himself. "I could hear the joy Art has for music, and sharing it with people," she says. "It's infectious. Not to mention he has impeccable taste, you know? But really, it's his demeanor that kept us coming back. Art was on at like, every family party!"
The radio show also helped her during low points, too. Vargas' father went to prison for a felony assault when she was just 10 years old, and while it was possible to get on the phone with him from time to time, the duo also sent messages to each other through Laboe's show. "It wasn't a super long sentence, just like a year, but every extra bit of communication helped so much," Vargas says. "I was so happy to get on air, because I knew they listened to the show every night in prison. And I got to hear a message from my dad, along with the song 'Isn't She Lovely' by Stevie Wonder. I still remember that."
Taking requests and reading dedications is a basic part of being a radio deejay these days, but Laboe was the first to figure out the technology and appeal of doing so. You could argue his entire radio career is defined by his DIY attitude and willingness to experiment. It started at an early age: Laboe was just 8 when he first began playing around with an amateur radio set at home, guided by his older sister's boyfriend. "You have to remember, there was a time when people couldn't believe what a radio was. I remember thinking, 'Wow, the big box in the room is talking,'" he tells me. "I never got over that initial fascination."
Born in 1925, Laboe grew up in Salt Lake City, Utah, persevering through the Great Depression ("What I remember is hunger, all the time") before later traveling out to California to join his older sisters and attend high school in L.A. Radio remained his passion, and he was handy enough as a self-taught radio engineer that he snagged a job at KSAN in San Francisco at the age of 17. Then came World War II, which put his civilian job on pause. Laboe ended up in the Navy working as, naturally, a radio operator.
He traveled mostly between the West Coast and Hawaii, helping shuttle officers and generals toward the South Pacific campaign, but also ventured farther to tiny islands near the Australian continent. Laboe avoided combat because of the nature of his job, but had friends who perished in bombings and firefights against Japanese forces. "It's hard to think about the bad things that happened, but I did learn a lot about radio in the military," Laboe says. "I operated radios but also went on to broadcast with the Armed Forces Radio Network, and it became clear that this is what I wanted to do when I was done with the war."
Laboe's career really gained momentum in the 1950s, when his on-air personality and style began to solidify. This was when Laboe first started broadcasting from Scrivner's Drive-In in Hollywood, a spot that attracted big groups of teenagers after school. That set the scene for one of his biggest innovations: Filling the space between records with dedications from those teenagers, their laughs and chatter ringing out in the background.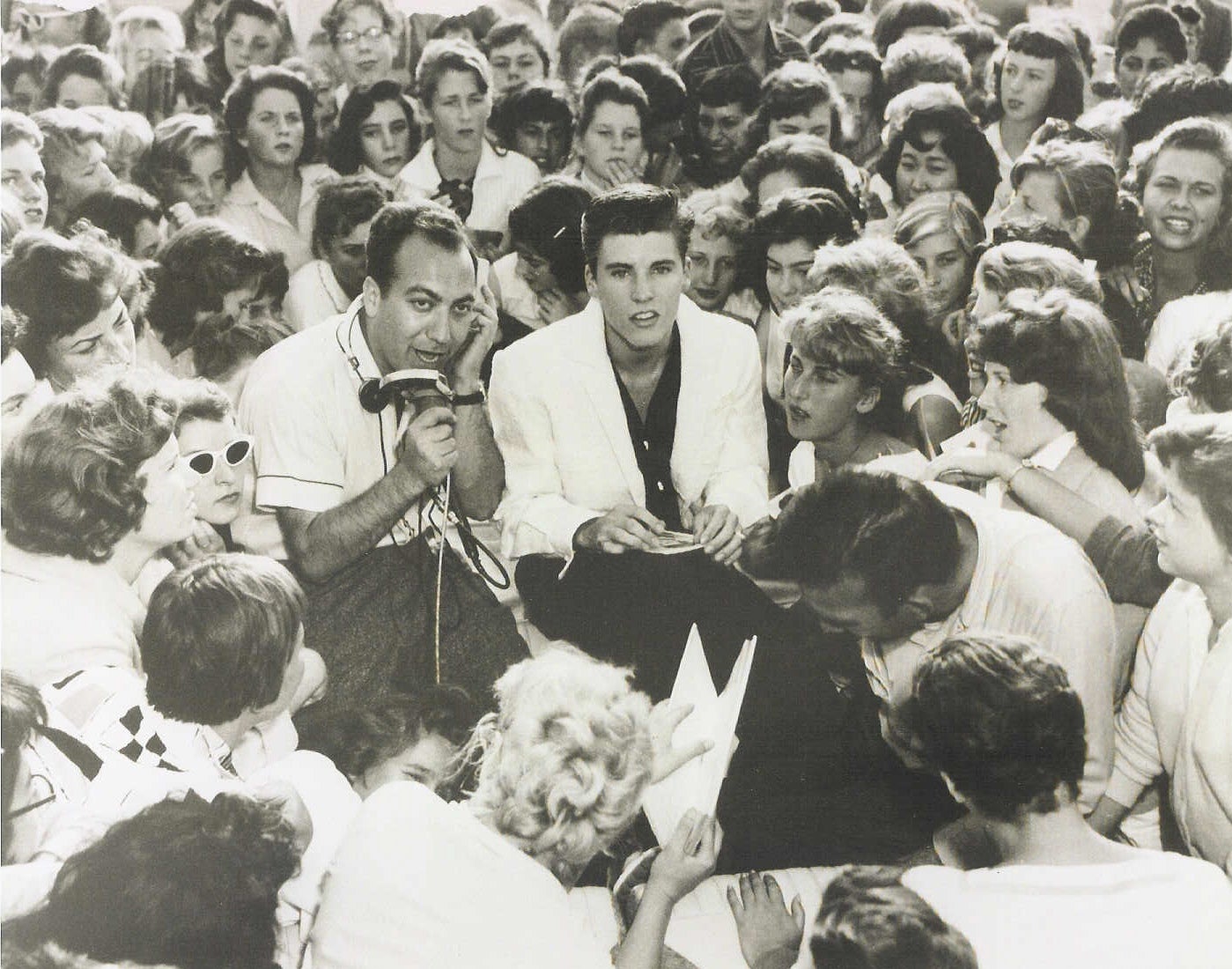 "I think the young people leaped upon me, even though I'm not big in stature, as a big brother kind of thing. I'd give them a list of songs to pick, they'd have their girlfriends with them in their cars. Cars played a big part in the society at that time, and this music culture just dovetailed right into it," Laboe says. "A lot of it was luck, to be honest, that I happened to be doing something that they liked and it kept going and then it filtered on over to the actual music scene. People would get on the air on my show, and next thing, they'd have a hit record."
What Laboe understates is the sheer amount of hustle it took to actually gain the respect of broadcasters as a young man and even just get the Scrivner's show on air. Laboe had to think of creative ways to just get paid, says Kelly, the radio veteran. "To be on the radio in those early 1950s days, Art had to pay the station. That's the way he got on the air, and he did it with a lot of stations, either buying the time or getting a sponsor like Scrivner's," he says. "I mean, that's really true pioneering. That's why he was able to work for himself."
Laboe also was the first to host his own dance parties, despite L.A.'s law banning night dances for anyone under 18 years old. He found an aged arena in the neighboring city of El Monte, about 20 minutes east of Downtown L.A., that operated under different rules. He invited the rock and doo-wop acts that he was spinning: Tony Allen, The Heartbeats, Marvin & Johnny. The teens showed up in their washed and waxed lowrider cars, preening for social status in the parking lot and shuffling on the dance floor. The cherry on top was that El Monte Legion Stadium had no dress code — a breath of fresh air compared to most social functions at the time. Many of the young people who showed up came from black and Latino backgrounds, and those El Monte dances were a real taste of the melting-pot culture starting to show up elsewhere in American life. And for artists of color, Laboe wasn't just a guy who could get them some airtime — he was the key to crossing over to white audiences and entering the mainstream.
Wallace and Walter Scott, the brothers who created and lead The Whispers, more or less tell me so when I meet them backstage at the Love Jam in Anaheim. "Art is incredible, because most acts needed a break back then. In our case, we were playing the Chitlin' Circuit. There weren't always spaces for black artists to perform, let alone get popular," Wallace says with a curt shake of his head. "So to have Art Laboe interested in me was extremely important. And I think most acts that you hear today on his show, they dreamed about Art playing their records."
Walter nods, and leans in. "Not only that, because of Art, they went on to bigger and better things. The truth of the matter is he really helped promote artists others wouldn't touch. He did more than even some of the black jockeys, though we understood why they weren't able to," he adds. "As far as I'm concerned, that's why we're still here today. Because of Art."
Eventually, Laboe funneled his programming skills into actual record production, putting together compilations of top songs and dubbing them Oldies But Goodies — a ubiquitous phrase on the radio that he invented. He also lent a hand to labels that had talent but needed more exposure, even helping Motown Records founder Berry Gordy with some early records, long before Motown became an industry titan. "I listened to this vinyl he gave me, of Barrett Strong's 'Money (That's What I Want),'" Laboe recalls. "I helped make it a big hit, and before you know it, we were in the middle of this whole Motown movement. I never got into business with Motown. Probably should have!"
Instead, Laboe ended up creating his own record studio, Original Sound on Sunset Boulevard. In typical Laboe fashion, the faces that showed up there came from all corners of the musical world. Frank Zappa cut tracks for his early albums there. Barry White showed up, looking to take advantage of Laboe's sharp ear for songwriting. Later, in the 1980s, the hip-hop trio Salt-N-Pepa stopped into Original Sound for a session. Once in a while, when he played in town, superstar Chuck Berry would come around, wanting to get some downtime with Laboe. "He always made me feel like a friend when we were together," Laboe recalls. "He was pretty shy and quiet, actually. You wouldn't expect that after seeing his shows. I enjoyed his company."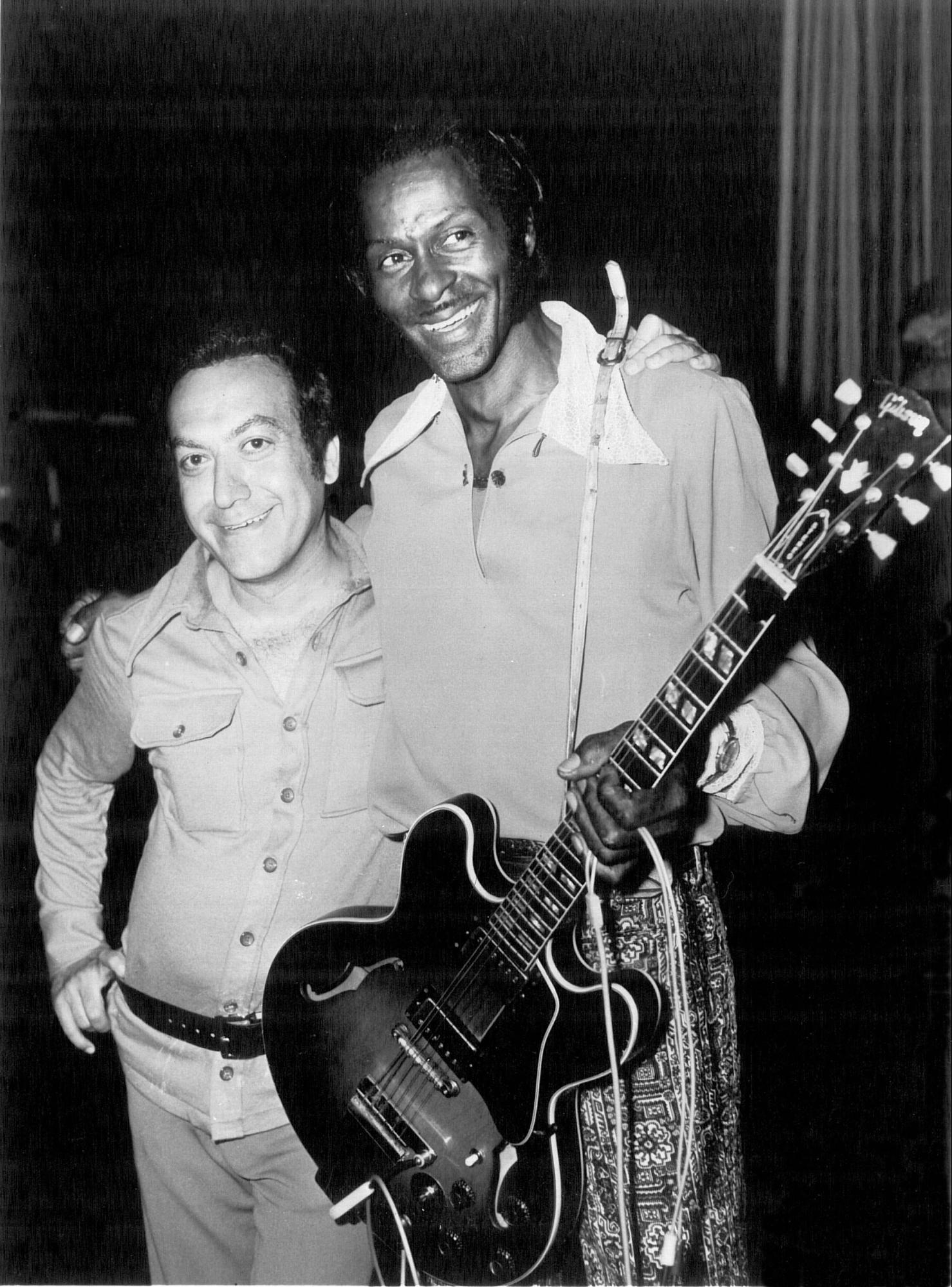 The only real difference in recent years is that Laboe sometimes can't make it out to host his big shows and hang out with musicians, despite the audience wanting to see him and hear his famous dedications live. Case in point: Halfway through the Love Jam, I run into Morones, who is sprinting from backstage to dressing rooms, making sure the artists know where to be. "I don't think Art is going to make it tonight, even though he wanted to be on stage. He's not feeling so well," she tells me apologetically. "It's not as easy these days, as much as Art tries."
* * * * *
These days, Laboe's closest companion is Morones, who is technically "head of marketing and promotions" but basically manages other parts of his life, too. She's been by his side for 25 years, and seen firsthand how he has inspired several generations of deejays and radio programmers, who seem to speak of Laboe in the same way a guitarist would consider Jimi Hendrix.
By the 1990s, Laboe was already a major force in the industry, having been inducted into the Hollywood Walk of Fame and the Radio Hall of Fame. Morones was only familiar with Laboe from a distance — she was working in radio at the time, too, though at smaller stations in San Bernardino. So when Laboe offered her a job in 1995 after several run-ins over the years, Morones wasn't sure how to take it. At first, she wondered if it was the right step for her career. Then she researched his legacy.
"I realized how big of an opportunity it was. And, you know, it changed everything for me. I noticed how listeners were enthralled with him and would listen to him every Sunday. His ratings were phenomenal, I mean, he outdid the whole station," she says. "And so he's made the dreams of radio come true for me. I've done everything, producing records with him, helping create concerts, everything. And he's been generous with his time and knowledge the whole way."
It's a take mirrored by Kelly, who recently celebrated Laboe's life and career at an event hosted by the organization Pacific Pioneer Broadcasters, of which Kelly is president. He only met Laboe in the 1990s, after Kelly's career had already taken off, but he recalls the immediacy with which the elder broadcaster praised Kelly's work and offered an open ear. Kelly, in turn, felt a rush of adrenalin from meeting the man who created a blueprint for the younger deejay's own path. "He's just incredibly humble about his work, and especially the ways that he's changed the game for us radio people," he says. "Art taught me how to be conversational on the radio. He's been a massive influence my whole life."
Laboe doesn't have much in the way of family himself today — he says his sons passed away in the 1970s due to drug problems, and he's been through a few marriages, though he won't elaborate. His older sister Isabelle celebrated her 100th birthday in January. "Maybe that'll be me, too," Laboe says, though I can't tell whether he's earnest. For now, the physical limitations are starting to cut into his work, and Morones notes that Laboe usually can't make it to midnight on his nightly shows like he used to.
His fans, meanwhile, remain as dedicated as ever. Morones puts me in touch with a loyal listener, Nora Escobedo, who has been calling in to Laboe's show twice a week, every week, for more than a decade. Escobedo tells me about her fiancé, Raymond, who began a life sentence in 2005 and is currently located in Kern Valley State Prison, 260 miles away from her home in San Diego. The couple do stay in contact with calls and letters, but creating a connection over the air on Laboe's show is a different experience, she says. The radio program is a thread to normalcy, perhaps because they get to share their relationship publicly, if only for a moment. Raymond's peers in prison like to rib him about the lovey messages they send each other: I love you, I'm thinking about you, and I'm here for you until the wheels fall off. The messages are often capped by a song request — eitiher "Hypnotized" by Linda Jones or "Happy" by Surface.
"People who are incarcerated can't wait for Art Laboe's show each week, because it's a connection to the past, to their memories of being out on the street, of being with families," Escobedo says. "And I don't know radio stations that put their listeners on the air like Art does. It's such a special thing. I'll redial for like, three hours sometimes to get on the line. For incarcerated people who write in, he's their chance to be heard to the world. I will always love what Art does for us."
The good news is that the ability to pre-record dedications means that his most important work continues, even if Laboe tires quickly compared to the old days. I watch as Laboe and Morones run through dozens of dedications in a single sitting, and Laboe's voice booms with vigor when he swings the mic to his lips and begins reading.
"And now, we have a dedication — a love song, of course — of 'We Belong Together' by Mariah Carey. To my husband, Noel Acevedo in Wasco, from your wife Gracie in Indio! Noel and Gracie, you belong together, and here's Mariah Carey to sing about it."
As I walk out of the studio and down the hall, I can still hear his voice, ringing out as clearly as it did 50 years ago. "You're in the Love Zone, and we've got one from Daddy, sending a song to his daughter, his girl Adrianna in Wilmington. From your dad Big Casper, daddy loves you and misses you, and dedicates 'My Girl….'"