The wafting smell of fast food permeates the air as the lovely bride, adorned in traditional white, marches down the wedding aisle toward the giant Taco Bell logo on the far wall. In order to create a more intimate atmosphere, the DJ's nail-scraping techno music from the next room has momentarily been turned down. A special day of holy matrimony is about to commence.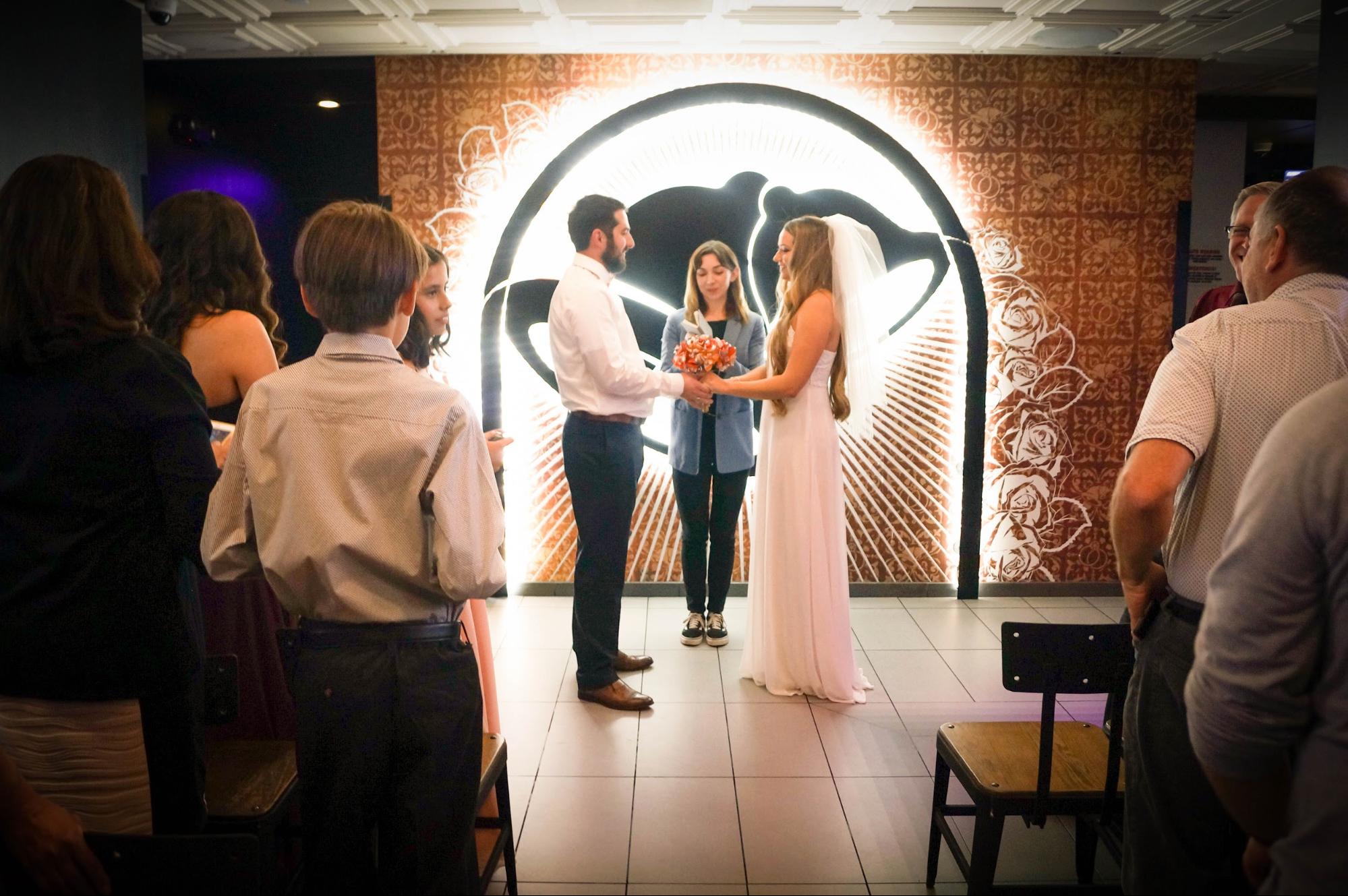 "On behalf of true love, and tacos, and true love for tacos, we're honored to celebrate this day," proclaims the marriage officiant as the couple gazes romantically into each other's eyes. The officiant turns to the groom: "Do you take Stephanie as your wife, to comfort her and honor her… and to not get mad if she takes the last bite of nachos?"
He does. She does as well. And then: "By the power vested in me by the lovely State of Nevada — and this Taco Bell cantina — I now pronounce you husband and wife." They kiss, and a large tray of hard-shelled tacos is brought out.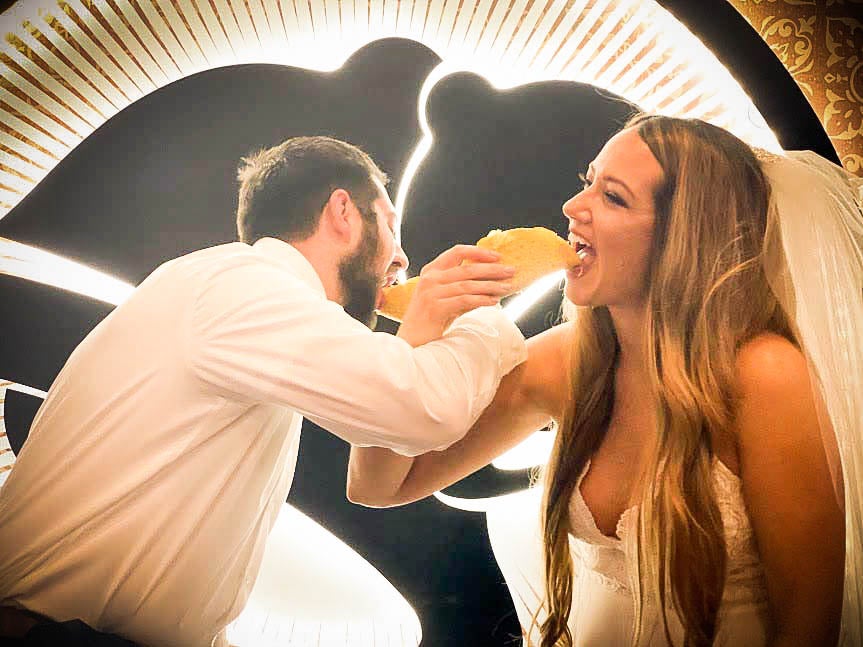 Is there anything more American than getting married at a Taco Bell in Las Vegas? It's a wedding that's been ordered off the fast-food menu, right next to the 7-layer burrito; a day more special than a Nacho Cheese Doritos Locos Tacos Supreme ($2.39); a celebration in which the "I dos" seem like they will inevitably lead to bad "number twos."
"We've been doing weddings for over two years now," says Victoria Hogan, whose company, Flora Pop, handles the "getting married" part of the Taco Bell ceremonies. "People have been getting married at this location probably about 10 to 20 times a month." 
In those two years, these Taco Bell weddings have snowballed in popularity like a Cheesy Gordita. "To date, we've had over 270 weddings take place at the flagship Las Vegas Cantina," says Tracee Larocca, SVP of Advertising and Brand Engagement at Taco Bell. "It's not uncommon to have four weddings in one day!" Indeed, the cantina has three other weddings booked for this very day.
Still having doubts? Here's the official pitch:
"One of the most memorable days of your life should be your wedding day. Kind of like how the most unforgettable memories you ever had were those that involved Taco Bell. So why not put the two together and have a Taco Bell wedding?" 
Wait, there's more:
"If the 'Marry Me' sauce packet is your idea of the perfect love letter and gives you all the feels. Or if you just can't imagine sharing the bliss of wedding bells without Taco Bell, then it's time to make it official with your very own Taco Bell wedding inside the chapel at our Las Vegas Taco Bell Cantina restaurant."
They're not the only chain offering such a seemingly bizarre service, either: Besides Taco Bell, couples have been sealing their vows at White Castle, McDonald's, KFC and Burger King. Domino's now has a pizza wedding registry, while Denny's Vegas locale also has a wedding chapel ("Allow us to put the 'Mmmm…' in matrimony," is their astute catchphrase).
As for Taco Bell, "Our fans led us here," explains Larocca when I ask her the marital bliss origin story. "We've known for years that some of our most creative fans have been incorporating Taco Bell into this momentous occasion." So when The Bell was looking to open a new flagship restaurant on the Strip, it was a perfect opportunity to also put weddings on the menu, allowing fans to take their love of tacos — and each other — to the next level of fast food amore. 
But why, exactly, would anyone want to get married in a fast-food chain restaurant, no matter how much they love the food? It certainly doesn't hurt the idea's popularity that, much like the Value Menu, getting married in a fast food joint is pretty inexpensive: You can get hitched at this Taco Bell for a mere $600, or the price of 162 Crunchwrap Supremes ($2.99). It even includes a matching hot sauce packet bowtie and garter belt for the bride and groom.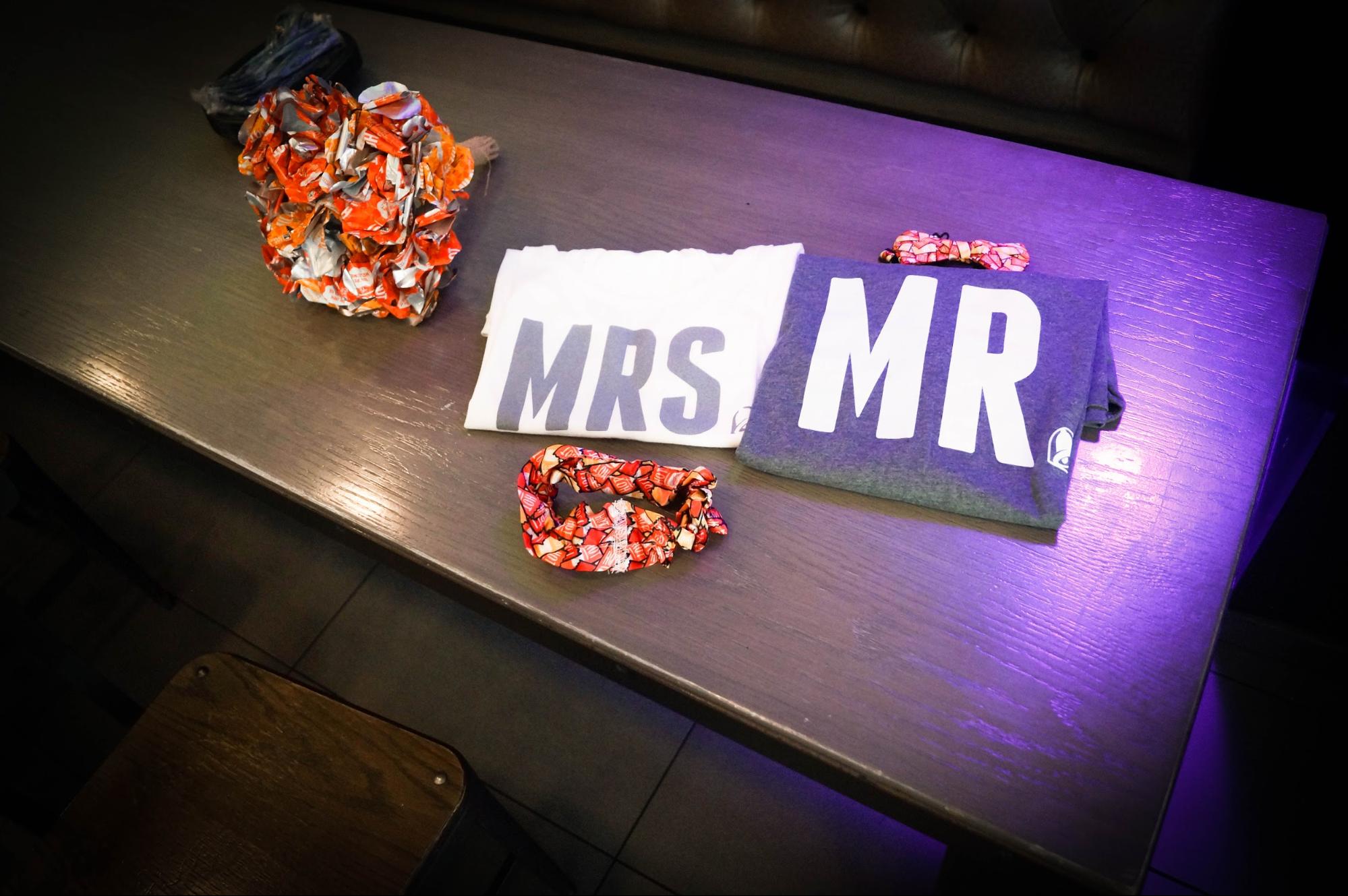 Couples can also get married with as little as four hours' notice, making for a truly spontaneous event. But for many Taco Bell enthusiasts, that's not the point: This is a true destination wedding — one they plan months in advance, flying their families out to join them in hard-shelled nuptial bliss. (Although, crunching the numbers, the typical couple seeking a Taco Bell wedding hails from the Midwest.) "One of the first weddings we ever did, the couple was from China," says Hogan. "They wanted to be the first Chinese couple to wed in a Taco Bell chapel." And they were. "Apart from loving Taco Bell, they don't personally have access to one, so it was also a fun travel experience for them."
"It's something people will talk about," continues Hogan, which, as the existence of this article shows, is certainly true. "I'd say the biggest connection is the (couple) met at a Taco Bell, they went on a first date at Taco Bell or they just want to have a light-hearted wedding that's not too serious. The common denominator is very simple — they just love Taco Bell."
Do people ever get truly emotional reciting nuptials at a Taco Bell in Las Vegas, though? "Absolutely," states Hogan. "We've had [everything from] people who don't want to say anything, to people who have written their own vows. Some people go with the tradition of having their dad walk them down the aisle."
Despite the uniformity of the food being served, the weddings themselves can vary wildly, too. "My favorite wedding was when the couple dressed up like Siegfried & Roy," Hogan recalls. "They had all their guests dress like Vegas performers — so we had Elvis — and it was real fun."
To this point, it's worth remembering that this is Vegas, and as such, no ordinary Taco Bell. In fact, it's a drunk-ass Taco Bell with a full bar trumpeting a plethora of colorful, frozen, boozy drinks. On Saturday night, right before the ceremony, the aforementioned blaring techno thumps throughout the cantina, which is illuminated by the blinding, flashing arc-lights from the Strip. Downstairs, a bachelor party of bros — drinking long cylinders of potent blue drinks — dances to hip hop with the proficiency that only white guys possess. Two wasted-looking women do the booty dance while simultaneously munching tacos. It is not, in short, your regular taco spot.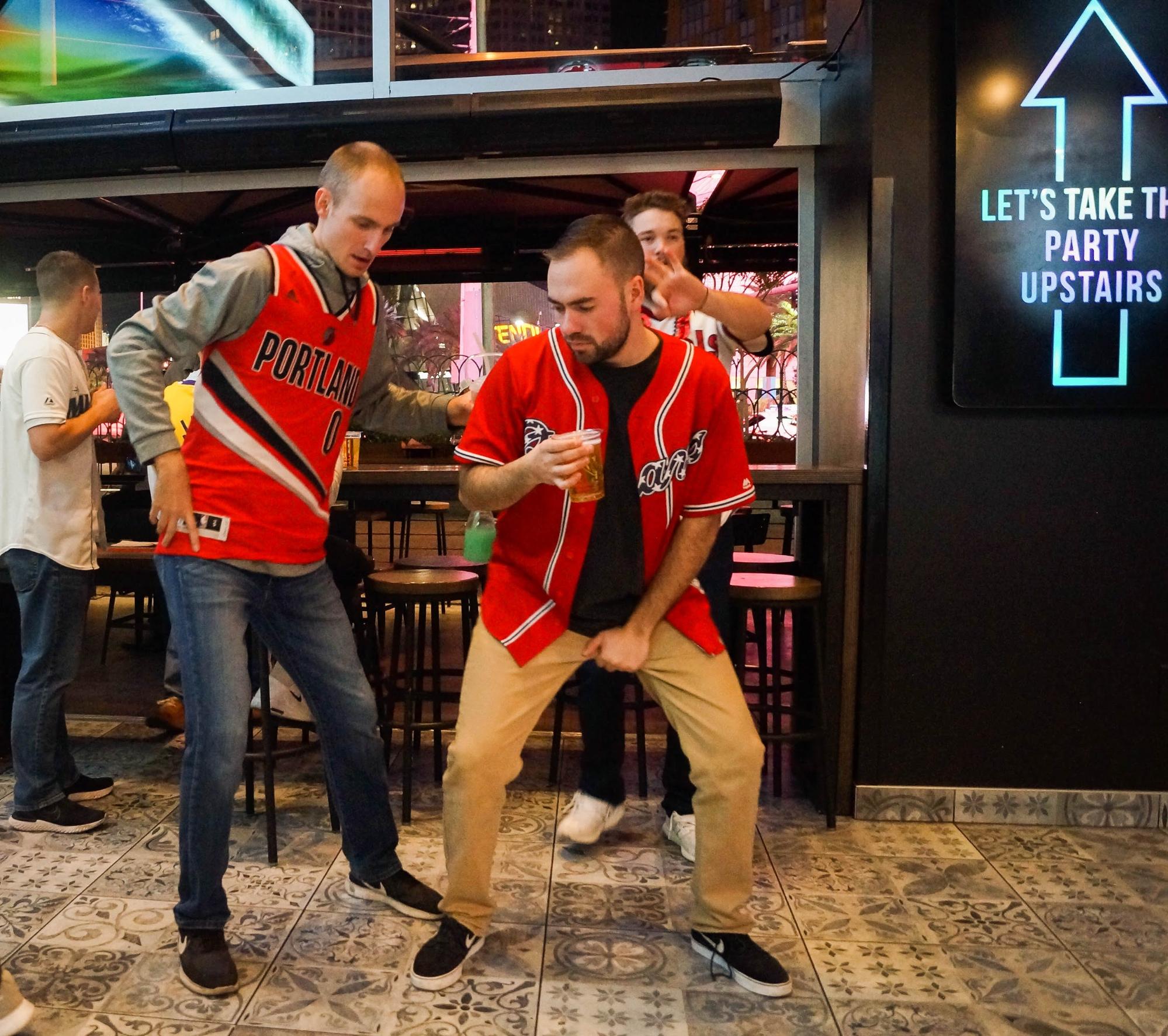 When the bride arrives with her wedding procession in tow, they make their way upstairs to the Taco Bell "wedding chapel" — a room that I'd more immediately think of as, say, "an upstairs backroom with lots of flat-screen TVs, usually used for watching sports." Roughly 15 people are in the wedding party (parents, grandparents, siblings, cousins), all dressed up and playing it for realsies, all of whom have traveled to Vegas from Colorado or Iowa. "I've been to Vegas millions of times; I've been to Taco Bell twice," says the father of the groom, who then humorously states his response when he heard about the couple's fast food franchise wedding plans: "What the hell were they thinking?!?!"  
The couple, Stephanie and Tanner — who met in 2015 and got engaged a year ago — resides in Bakersfield, California. Frankly, I'm thrown by them: They are perfectly nice. And normal. The lesson to be learnt — never prejudge those who center the most special day of their lives around a fast-food restaurant. "My family loves Vegas. We also like Taco Bell a lot," proclaims the nervous bride, who works for an oil and energy company.
Denny's was the couple's backup plan. "I love Denny's as well," Stephanie continues. "Then we debated, and we were like, Taco Bell is more fun. And it connected back to the first night we met."
Like previous couples here, Stephanie and Tanner have a Taco Bell backstory. "We were with a big group of friends, and of course, we got really drunk and ended up at Taco Bell," she recalls. "We went back to his place and ended up leaving several burritos on the table. … We ended up passing out and his roommate's dog, in the middle of the night, came downstairs and took one of the burritos and drug it though the entire house."
Now, because of that dog-dragged-burrito incident, everything has come full-blown Taco Bell matrimony circle. "A lot of people thought we were joking," says Tanner, who works as a petroleum engineer. "We haven't told a lot of friends yet. We were kind of keeping it to our family, so we'll see…"
And with that, it's showtime. The ceremony is projected on big screens throughout the restaurant — just another Vegas spectacle. You might imagine that a Taco Bell wedding would have a lot of hot sauce jokes, and you'd be absolutely right. "From this day forward, you two become a team," Hogan tells the couple. "The chip to your gauc." And later: "The importance of always remembering to provide your spouse with two fire sauce packets for every one taco."
A Taco Bell wedding cuts right to the bone — a few more menu item-related puns and then it's straight to the "I dos." Then kissing, then applause, then family members shouting "Live Mas!" (the marketing catchphrase of Taco Bell) as it echoes throughout the chapel with its big sports TV screens. At this point, I'm half expecting attendees to throw handfuls of grated taco cheese at the couple in lieu of rice, but instead, the hot sauce bouquet is thrown in the air toward the bridal party to determine which woman will be married next (presumably at Taco Bell). 
"Alright ladies and gentlemen, let's hear it!" pipes in the cantina DJ, who gives a shout out to the newlyweds then, once again, pumps techno throughout the building in celebration. It's probably stating the obvious, but from my outsider perspective, it feels less like a wedding than some sort of extravagant infomercial designed to get people to eat more tacos.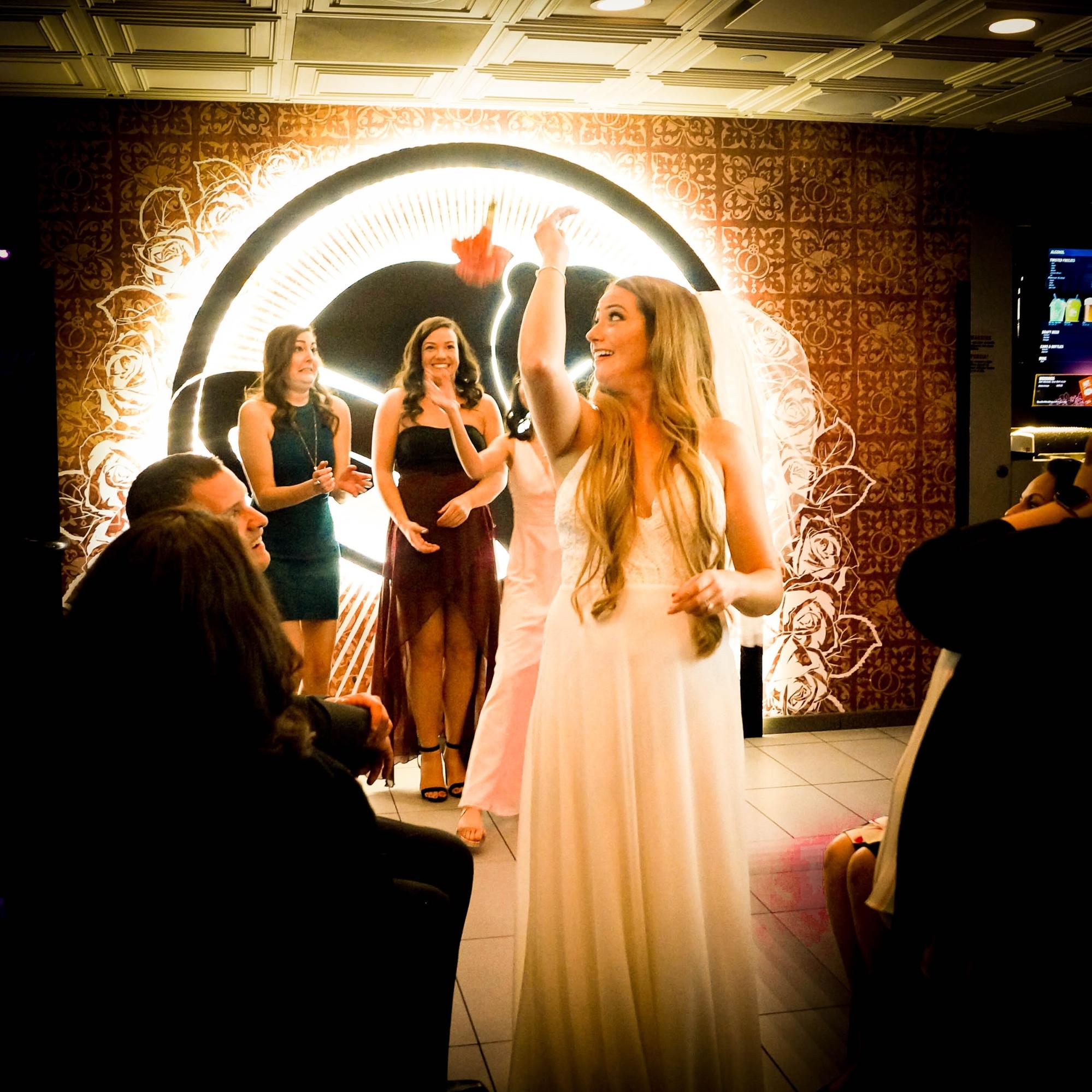 It doesn't have to end there, either: If Stephanie and Tanner want to take their love of Taco Bell to the next level, they can also honeymoon in Palm Springs, where Taco Bell opened a hotel earlier this year in which everything is clearly branded — that is, there is absolutely no mistaking the fact that you're in Hotel Taco Bell. When the hotel opened this past summer, reservations sold out in two minutes.  
"It came out really good," the groom's father says afterwards with a big smile, almost shocked. "Better than I expected." "It was fun!" agrees the groom, as he and his new bride sip boozy Baja Blasts. "We came to Vegas a lot with friends over the years and everyone's like, 'Oh man, wouldn't that be cool to get married at Taco Bell.' But no one ever did it." He turns happily to his bride. "We did it! We did it!" 
Now that everything's come full circle, did Tanner think it would end up like this after their first Taco Bell encounter? "I knew it from that night," he beams.
Afterward, as I spill out onto the Strip, I encounter a longhaired drifter-looking guy vaping outside the fast-food restaurant. "A couple just got married inside of that Taco Bell," I say to him. "What do you think of that?" Taking another hit from his vape, he ponders for a moment, then philosophically states: "Everybody's got to have a dream."
What can I say? He's right, and I pray that one day, all Taco Bells, from coast to coast, from sea to shining sea, will be offering weddings, be it a strip mall in Barstow or a rest stop on Route 66. With a Chalupa Supreme in each hand, I look back and take comfort in the sheer audacity of the whole thing, and in knowing that this, right here, is why the terrorists fear us.