There comes a time in every woman's life when her old-school daddy porn just isn't doing it for her anymore, and she goes looking for something hotter. And what could be more titillating than two daddies — and zero slutty Catholic schoolgirls who are pretending they can't handle a big dick? If you couldn't tell, I recently got really into male-on-male porn. Because honestly, there is something super-hot about a guy getting fucked. 
According to Pornhub statisticians (a job title I never get tired of), I most definitely am not alone on this one either: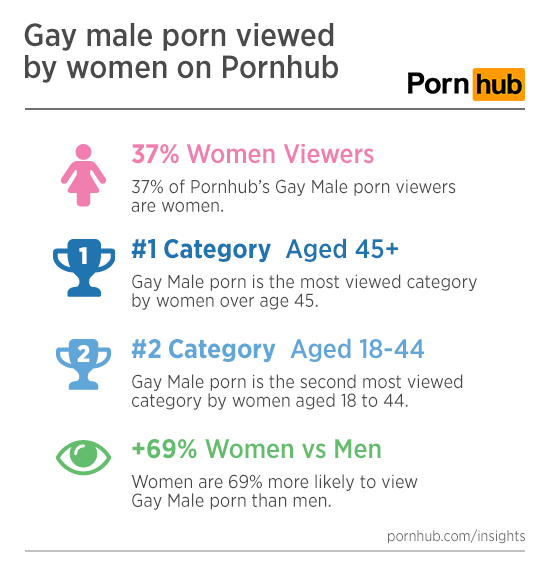 Breaking things down further, the most popular gay subcategories women enjoy are bareback, big dick and "straight guys" (adding "straight guys" to my search terms right now).
"I identify as a straight women, but in my early 20s, I discovered I enjoyed [male-on-male] gay porn. I feel like what appealed to me was the general lack of misogyny," says Alisha, a 34-year-old from Texas. "Watching gay porn feels like you're watching hot people having hot consenting sex. Meanwhile, in a lot — not all but definitely a lot — of straight porn, there's this idea that someone has to be demeaned, and generally that's the female party. While there's nothing wrong with domination if done right, sometimes the line between domination and being demeaning can get blurred." 
So yes, straight women are super-into guys fooling around, but does male-on-male porn have the same allure to straight men? As far as we've come on gender and sexual identity issues, there's still a serious "no-homo" presence in the straight-guy community. 

A quick search on Reddit reveals that straight-dude interest in gay porn is there, but so are the totally, completely, 100 percent hetero caveats when making the admission. "Any other straight guys get turned on by gay porn? I've never done anything sexual with a man before and I'm not likely to. I've never even found another dude attractive before, only girls," writes Bosschap. "I'm straight, but something about gay porn turns me on. I often jerk off to gay porn, and a lot of the time I find it even more arousing then straight porn. Sometimes while I masturbate, I also can't help fantasizing about another guy penetrating my ass."
To get more quantitative about things, according to a YouPorn stat, 24 percent of male users say they watch male-on-male porn. For Richard, a 44-year-old in Baltimore, the hotness is all about the taboo. "I was looking for porn that was more exciting and edgy," he tells me. "I wanted to feel that uncomfortable sensation of 'This is wrong… right?' Before that, I'd felt it by watching things like 'forced oral cum gagging' and sibling porn. Those seem like crazy/fantasy things that 'normal' people like me don't do." When I ask if he'd ever try anything like what he watches IRL, he says, "I identify as straight, but I bet a gay guy would know how to give an amazing blowjob. Would my hard cock go soft if I was watching a dude service me? Maybe I could wear a blindfold."
Sixty-one-year-old Gunther, a retiree in Miami, discovered he was interested in gay porn by accident. "I did an internet search for a name of a drag racer, Jim Head. The erotic story that came up was a bi [male-male-female] story, and I was surprised at my arousal. One story led to another, and then to porn clips, a place I never thought I'd go," he says. "When and where I grew up [Northern Illinois], interest in porn was a huge taboo, and gay/bi porn could have gotten you killed. Which kind of made it more interesting to me now."
Other men tell me they get turned on by looking at another guy's dick. Scott, a 38-year-old from West Virginia, says his interest started when he was 12 or 13, when he and a buddy would watch porn and jerk off underneath their blankets. "Male mutual masturbation is hot, and something I really enjoy watching," he explains. "I found myself obsessed with how perfect some of their cocks are and how I wish mine looked that good. Guys also know what guys like and what drives them wild, so I think about that as well. There wouldn't be much direction needed."
That said, none of the guys I interviewed are out about their guy-on-guy porn consumption. Gunther, in fact, worries a lot about his wife finding out: "She'd castrate me if she knew I read erotic stories and watch porn. I honestly think she'd kill me if she knew it involved bi and gay porn." Scott is equally secretive. "I just don't think it's that common to see a straight man voice an interest in gay porn. I think there are a lot of straight men with similar feelings as me, but they'd never admit it."
Dave, a 62-year-old Midwesterner, takes it to the next level and uses his secret to make his marital sex hotter. "I find myself watching the same one over and over again. It's where a man lies down on a bed and another man 'teabags' him. I feel like I'm the one on the bottom. The guy on the top moves forward to get his asshole licked. Then he finishes in his mouth. I get really turned on by it. When my wife sits on my face, I just think about the video sometimes," he says.
Note to self: Search for "guys teabagging other guys" the next time I'm on Pornhub. It doesn't get more manly than that.