In Season Eight of Keeping Up With the Kardashians, Khloe and Kourtney visit an urban sweat lodge called Shape House. They are ushered in by a woman with a soothing voice who promises them that in just one hour they could burn 800–1600 calories. "Aren't you excited to lay down and relax?" Kourtney asks her sister, who responds — already flushed: "Dude, I can't talk." Later she adds: "My ass is on fire! Your ass isn't on fire?"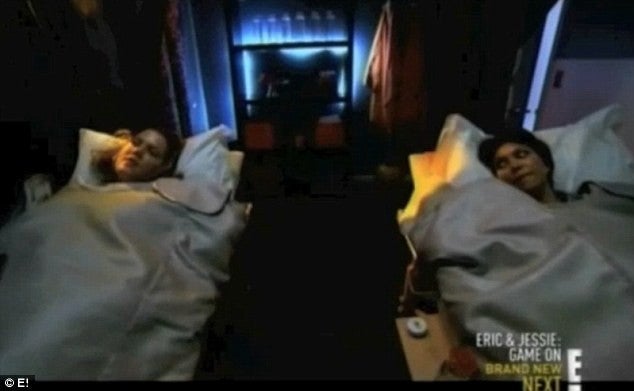 As deep as my love for each and every Kardashian (and Jenner) is, I don't always trust the products they personally and professionally endorse. But a friend of mine had been urging me to try Sweat House for a while — promising not only a zen experience, but also the bonus of maybe seeing a celebrity. He sensed my cynicism and promised that the heat would melt it all away. "Plus," he added, "they give you orange slices at the end and they will be the best orange slices you have ever tasted."
Not one to turn down free fruit, I was sold. And, like many of us, I find exercise to be awful. Getting that good, clean sweat without having to move my body? Well, it seems ideal. It clearly didn't take much to make up my mind: I was ready to sweat.

Goal
Along with the whole "burning 800–1600 calories" thing, here is how the Shape House's website claims their urban sweat lodge works:
Infrared energy produces a uniform deep heat penetration without the usual sensation of feeling hot. This is achieved by using a specific Infrared band of energy peaking at around 9.4 micons; a level designed to penetrate beyond the skin (where heat is most acutely felt) to a depth where fat resides. Toxins are stored as a layer of fat protecting your organs. By sweating, you lose toxins and your body no longer needs this barrier and the water we retain from stress is removed.
Okay, so I'm there to sweat out my toxins, the ones my body no longer needs. Sounds good! Toxins seem… toxic, I guess? To be fair to toxins, I Googled "toxins" to see what they were, exactly:
Toxins can be small molecules, peptides, or proteins that are capable of causing disease on contact with or absorption by body tissues interacting with biological macromolecules such as enzymes or cellular receptors. Toxins vary greatly in their severity, ranging from usually minor (such as a bee sting) to almost immediately deadly (such as botulinum toxin).
Gotcha. Toxins = bad, sweating out those toxins = good.
Strategy
Sweat House is quite literally a house on Larchmont, practically catty-corner from Los Angeles' other favorite spiritual center: Café Gratitude. When you enter, it smells overpoweringly like incense, which is nice considering the alternative — which I assumed would be a mixture of peoples' B.O. and released toxins. But the space was immediately calming, perhaps thanks to the fact that everyone speaks in a soothing whisper. At first, I thought it was just the woman helping me fill out a liability form. But then I realized everyone was speaking softly, so I lowered my voice, too. Speaking quietly is nice.
I was assigned sweatpants, a long-sleeved shirt and thick socks to put on; it didn't take much and I was already sweating. Then I was ushered into the sweat bag — a velcro-lined, burrito-shaped heating blanket — and securely wrapped up inside it. The attendant pointed out my water beside me, the fact that if I got too hot I could release my arms from the heated burrito and handed me a Roku remote so that I could watch TV while I baked.
"Watch the video," my friend urged. So I did:
I notice that Shape House's founder, Sophie Chiche, calls what I'm doing "work," which gives me a little laugh. It doesn't feel like I'm working. It feels like I'm lying very still, sweating. But when I'm done watching this 3-minute video I realize that my body feels like Jell-O and I'm already having a hard time keeping up the witty conversation with my equally sweaty friends— damn, it's like I'm too chill (or about to pass out).
Shape House's unique hot bag, turns out, is the perfect amount of heat it takes you to sweat like crazy, but unlike a sauna or a more traditional bathhouse sweat, it doesn't overwhelm you so much that you can't handle the full 55 minutes. I normally can barely take 15 minutes in a sauna — or even in a hot tub, for that matter — but with Shape House's chill vibes, and this concentrated heat bag, I make it the entire time, only releasing my arms in the last 10 minutes to explain something to my friends using gesticulation. (Okay, I was also super freakin' hot.)
Out of the bag and post-sweat, I felt pretty hazy — my body felt like it had just been rudely awakened from a deep sleep, while my mind was like, Get me outta here, please, I think I am dying. I definitely felt relaxed, like I could roll right out of that bag and into a deep sleep. My friend mentioned to me that the nights after he sweats he finds himself having his best sleeps ever.
Had I lost those calories? I couldn't tell. Had the toxins seeped from my poisoned body? I also could not tell. But my friend was right about the orange slice: It tasted amazing.
Results
I'm no stranger to sweating — it makes you feel good! So Shape House's technique made me feel good. But there's a strange thing we all noticed: While we indeed sweated like crazy — like we had just done the world's hardest SoulCycle, even —our sweat didn't stink. After a long, hard workout, even the most blessed of us come out reeking like B.O., unavoidable proof you did something. Our Shape House sweat is odorless, as if it knows we didn't earn it.
The next day I casually ask my trainer if she's heard of the Shape House. While she's intrigued and definitely wants to "check it out," she says, she balks at Shape House's claim that you can burn 800–1600 calories from an hourlong, inactive sweat. "There's just no way that's true," she says, adding that the experience does sound awesome and that you'd be super loose afterward—heat is always good for aches and pains.
Conclusion
A Shape House session will run you $45 for a single session — more than a spin at SoulCycle (which will run you $34 in New York City or $30 here in L.A.), but way less than a spa treatment like, let's say, a massage or facial — which can each run up to $100 or more. You can get the price on your sweats way down, however, if you buy them in bulk packages, which are a nice option if only because, according to Shape House the sessions never expire and you can share them (or gift them!) to friends. Not bad.
I noted to my friend that I had a great time sweating — whether or not it actually improved my health — because I got to spend quality time with him: Turns out being trapped in a hot bag is also a wonderful excuse to catch up with your pals. I would also recommend it highly for a very casual — but likely quite effective! — business meeting. There's something about getting really sweaty that leaves you vulnerable in the perfect way to really bond with your sweat partner.