It's hard to believe, but there once was a time when Red Hot Chili Peppers weren't always on the radio, and weren't always one of the biggest rock bands on the planet. Because they've been such a big deal for such a long time — inevitably acquiring along the way the kind of backlash that super-popular groups always do — one might assume that it's always been this way. But in the 1980s, when they were starting out and working through their musical influences, they were struggling, horny knuckleheads best known for putting socks on their cocks. These class clowns and screw-ups hardly seemed destined to be Grammy winners, industry darlings and eventual members of the Rock and Roll Hall of Fame. Not that long ago, RHCP were actually edgy and outsiders. The shift didn't happen overnight, but if you wanted to pinpoint it to one moment, it's probably "Under the Bridge."
Red Hot Chili Peppers are very much an L.A. band, and they were born at Fairfax High School, which original members Anthony Kiedis (vocals), Flea (bass), Jack Irons (drums) and Hillel Slovak (guitars) all attended. "The racial mix was so varied — European and Soviet and American and African and Latin countries — and it was so harmonious," Kiedis would later say. "I'm very proud that we went to that school together and experienced that life. It's where we got our substance." Inspired by punk, funk and jazz — Flea grew up learning to play trumpet — the group would go through a few incarnations in the early days, with Slovak and Irons leaving, then coming back. (For a while, their drummer was Cliff Martinez, who's gone on to be an in-demand film composer for Steven Soderbergh and Nicolas Winding Refn.) Tragically, Slovak died in 1988 at the age of 26 from a heroin overdose.
In the mid-1980s, the band dabbled in metal and hip-hop as Kiedis scat-rapped his lyrics. The vibe of early records like Red Hot Chili Peppers and Freaky Styley was good-time party music — the latter was produced by funk legend George Clinton — and by the time of 1987's The Uplift Mofo Party Plan, their musicianship was becoming more sophisticated, even though they still flaunted a bratty swagger. In the video for their culture-appropriating "Fight Like a Brave," they made like a funk-rock Beastie Boys full of snotty attitude and an irreverent spirit.  
That fun was intertwined with pretty serious drug use. Years later, Kiedis would recall in his memoir Scar Tissue about his drug addiction, which he believed fueled his creativity. "Every time I took speed or coke or even a speedball, something would flip inside my head," he wrote, "and no matter what I was doing or who I was with, I'd grab a pencil or a marker or some paint and I'd start drawing on paper or cardboard or people's walls, whatever. I just had to draw the minute those drugs hit me. And if I wasn't drawing, I was having sex." Even Slovak's fatal overdose couldn't scare the band straight — as Flea later admitted, "I started smoking weed when I was 11, and then proceeded to snort, shoot, pop, smoke, drop and dragon chase my way through my teens and 20s."
The band didn't just have a reputation for drug abuse, though — they also had a penchant during concerts to appear on stage for the encores naked, save for socks covering their junk. "There's the thing with the Chili Peppers: We put socks on our dicks, and we're never going to outrun it," Flea said in 2019. "People are always going to think of that." 
"The thing with the socks, it's such a small part of what we're all about," Kiedis insisted in 1990. "It's just part of the showmanship, a joke. It's a good feeling for us to be on stage naked playing a song, but we usually only do it for an encore. The energy rises, people get a good laugh, but it's really all about the music that we play, the songs that we write. The ideology and philosophy and the approach of the band is what we prefer people focus on."
The gag established their prankster credentials, but it also made them seem not that serious — an impression that started to wane a little thanks to 1989's Mother's Milk. Boosted by an energized cover of Stevie Wonder's "Higher Ground" — and with drummer Chad Smith and guitarist John Frusciante now part of the lineup — the album had more commercial polish than RHCP's previous records without sacrificing their boisterous side. 
"Higher Ground" gave the band major MTV exposure and radio play, setting the stage for higher expectations for RHCP's next record. And when Blood Sugar Sex Magik came out in the fall of 1991 — the same day, incidentally, as Nirvana's Nevermind — they were ready to capitalize on that momentum, releasing as their first single a top-flight example of their mixture of rap, funk, hard rock and hedonism in the form of the slinky, banging "Give It Away." And while the song cemented their established sonic strengths, it was actually the record's second single that was the breakthrough. 
Kiedis had gone to rehab at least once during the 1980s in order to get clean, but addiction was a struggle for the singer. And in the midst of Blood Sugar Sex Magik, he was driving and thinking about his need for drugs, recalling one specific incident that was especially traumatic. All of a sudden, a song started to come to him. I'll let Kiedis take it from here in terms of explaining the origins of "Under the Bridge":
Rick Rubin, the rap producer who helped form Def Jam in the 1980s, was behind the boards for Blood Sugar Sex Magik, and he pushed Kiedis to show "Under the Bridge" to his bandmates. "I was at Anthony's house, and he was showing me some books of writing he had done," Rubin told Newsweek. "And I was going through the notebooks and I found this 'Under the Bridge' thing. And I was like, 'This looks really good. What is this?' And Anthony's like, 'Well, it's a poem, and a song, but it's not a Chili Peppers song.' And I was like, 'Why not?' And he's like, 'Well, that's not what we do. We're a funk band and I rap, and this isn't that kind of song. This is more of a personal song.' But I pushed him. I said, 'Let's just explore where it goes.'"
In Fornication: The Red Hot Chili Peppers Story, author Jeff Apter recounts how the rest of the band was initially unsure of the song's potential. "It doesn't really have a hook," Smith said. "And not to take away from Anthony, but he's not the greatest singer in the world. [His voice is] just cool and soulful. It's not like the guy who wins all the awards, Michael Bolton." It was Rubin who decided "Under the Bridge" would benefit from a choir — which worked out perfectly since Frusciante's mom sang in one. "I remember Anthony was embarrassed to show the song to the other guys in the band," Rubin said in the Newsweek interview. "But he sang it to John, and John came up with his part. Then he played it for Flea, and Flea came up with his part." 
For a band known for its brash music and outsized demeanor, "Under the Bridge" was a clear departure — an unabashed ballad that wasn't so much a love song as it was a capturing of a feeling of spiritual isolation. (If anything, it's a mash note to L.A.) "Under the Bridge" started with a simple Frusciante guitar figure — pretty but also slightly psychedelic — before Keidis comes in.
Sometimes I feel like I don't have a partner
Sometimes I feel like my only friend
Is the city I live in, the City of Angels
Lonely as I am, together we cry
In the second verse, Flea and Smith create a spare bottom end as Kiedis expands this idea of L.A. as his only friend. For a guy who'd made his name delivering his vocals in a staccato/rapping fashion, it was striking to hear Kiedis singing in such a sweet, straightforward manner. It felt vulnerable, probably because for Kiedis it probably was. 
I drive on her streets 'cause she's my companion
I walk through her hills 'cause she knows who I am
She sees my good deeds and she kisses me windy
Well, I never worry, now that is a lie
Eventually, "Under the Bridge" reaches its emotional climax as the choir kicks in. And then Kiedis owns up to what happened under that particular bridge years ago when he was trying to get high.
Under the bridge downtown
Is where I drew some blood
Under the bridge downtown
I could not get enough
Under the bridge downtown
Forgot about my love
Under the bridge downtown
I gave my life away
When "Under the Bridge" was released to radio in March 1992, Red Hot Chili Peppers were perfectly positioned for a smash. Thanks to Nevermind, which hit No. 1 a few months after its release, anything that fell under the umbrella of "alternative rock" was suddenly in fashion. Plus, it was an era of big, swooning ballads from rock bands — U2's "One" came out shortly before "Under the Bridge." If you'd previously never been into Red Hot Chili Peppers — if you were turned off by their aggressive funk-rock mix and sock-wearing antics — "Under the Bridge" was the sad, beautiful song that hooked you. And, clearly, a lot of people fell into that category considering that "Under the Bridge" reached No. 2 on the Billboard charts, the band's first Top 40 smash and, to date, their highest-charting song. 
It didn't hurt that the accompanying video revealed a softer side to the guys, particularly Kiedis, who comes across as a sensitive, poetic dude as he wanders around L.A. or sings directly to the camera. (Oh, right, and he also runs in slow-motion toward us near the end — with a nuclear explosion happening in the background, for some reason.) The clip was directed by indie auteur Gus Van Sant, who'd earned acclaim for Drugstore Cowboy and My Own Private Idaho, with the latter co-starring Flea. But although the song might have been more accessible than the group's earlier work, the video wasn't, proudly exuding a scruffy, homemade spirit that was the opposite of slick. And when the Chili Peppers appeared on the cover of Rolling Stone for the first time that summer, they stuck to their wisecracking ways, posing nude with their hands covering their crotches.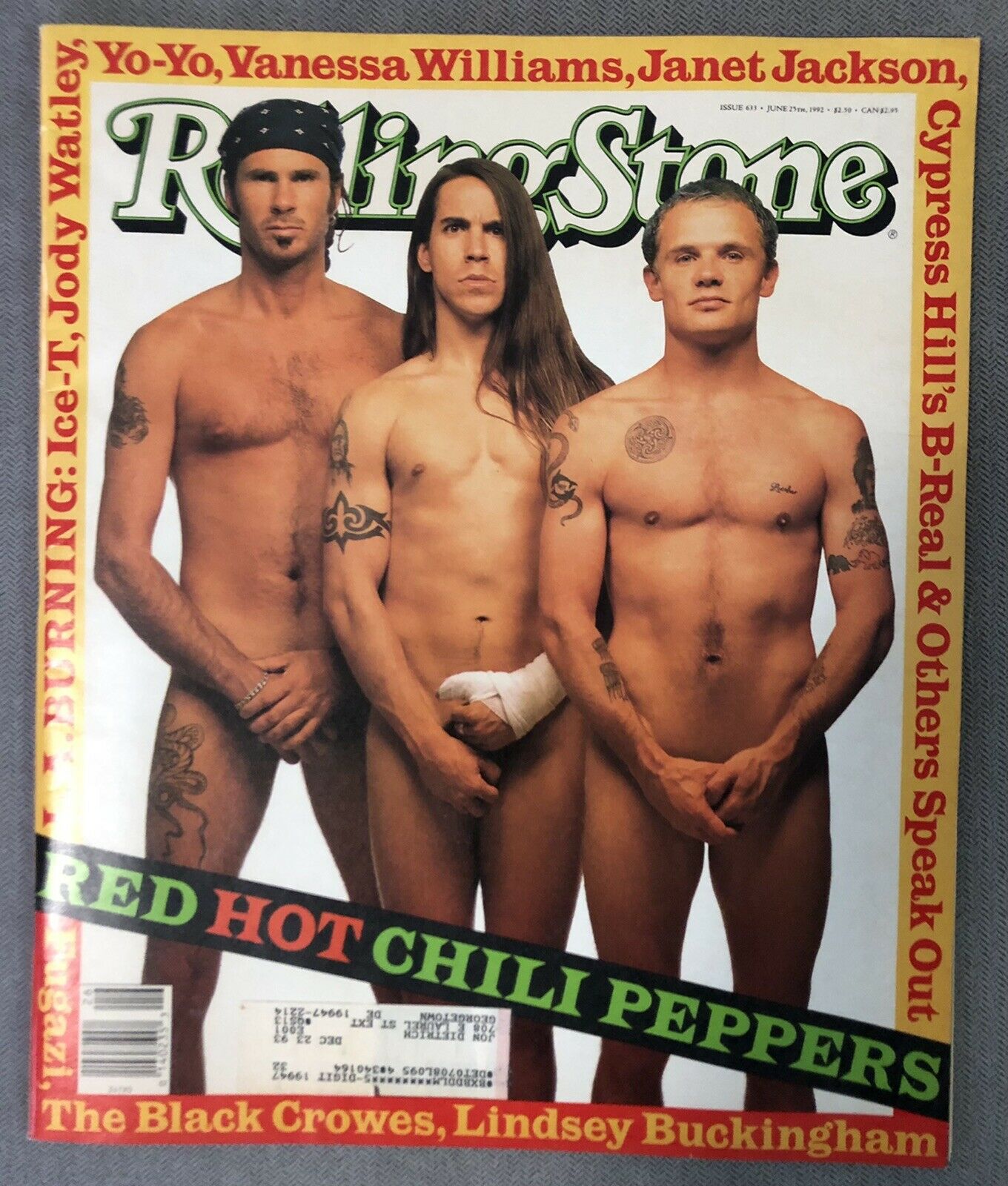 Nonetheless, like many alt-rock groups of the period, Red Hot Chili Peppers found themselves being embraced by mainstream fans. And, also like a lot of their peers, it was a bit disconcerting. "The price you pay for MTV loving you is all those little preppies out in the Midwest watching 'Under the Bridge' and all of a sudden thinking they know exactly what this band's about," Smith said in Fornication. "When in fact that song is no more or less representative of this band." 
But that rush of stardom also took its toll on the group — specifically, Frusciante, who left the band in early 1992. (He'd actually been part of that Rolling Stone photoshoot, but by the time it was set to go to print, he'd departed the Chili Peppers and was digitally scrubbed from the cover.) "There wasn't a single incident where I could put my finger on it and say, 'This was it,'" he said years later when looking back on his decision to quit. "It was just hard for me to cope with it all. You've got to remember that I was an absolute RHCP fan. Their music meant everything to me, and all of a sudden I was a part of them. … I probably tried to fit in, make experiences the others made in a long time in a short time."
Undeterred, the band just kept going from there. Sure, One Hot Minute, with Jane's Addiction guitarist Dave Navarro taking over for Frusciante, wasn't great, but by Californication, where Frusciante reunited with the guys, the Chili Peppers were as popular as ever. Plus, they were beginning to transition into elder-statesmen status, with some of Californication's hits, like "Otherside" and especially "Scar Tissue," reflecting a more mature outlook. And then there were the band members' personal narratives — how Flea got sober in 1993, how Kiedis gave up drugs in the early 2000s, and how Frusciante cleaned up for a time, too, although in a 1996 interview the guitarist told a journalist, "I don't care whether I live or die" while discussing his still-crippling addiction. 
Californication hammered home the concept of an older, wiser Red Hot Chili Peppers, with Kiedis again turning to a ballad in "Scar Tissue" to sing plainly about his ongoing problems with drugs, which were derailing his creativity and leaving him permanently down. "The idea of coming out of a time like that … if you can live through something that doesn't end up killing you, it gives you so much more strength and so much more to draw from," Kiedis said at the time. "And probably some of those psychic doldrum-esque periods of my life are what led to writing some of the lyrics that showed up [on] 'Scar Tissue.'"
"Under the Bridge" hadn't just opened up a new musical direction for the band but also suggested a way for them to embrace their more adult selves — and still be really popular at the same time. If "Under the Bridge" had seemed risky, by the time of "Scar Tissue" this more melodic approach was just part of their repertoire — something their growing fan base came to love about them. 
Both Blood Sugar Sex Magik and Californication have been certified septuple-platinum, and this century they've continued to have huge success with records like Stadium Arcadium, which was nominated for the Album of the Year Grammy. And in 2004, Kiedis released his memoir Scar Tissue, which dove deep into his battles with addiction. In the press, RHCP were hailed as weary survivors, rock lifers who'd seen their share of sex and substance abuse and come out the other side. (Instead of the funky monks of their youth, they were now weathered sages.) Life has a way of sanding down people's rough edges, so it was no surprise that the band's music mellowed a bit, growing more tuneful and introspective. 
The recording industry is filled with stories of talented addicts who burned out, overdosed or killed themselves, and the Chili Peppers' story is a welcome exception that, understandably, gets celebrated. At the same time, it presented the band with a bittersweet tradeoff. In the process of becoming industry icons — respected musical veterans, if you will — they also became a bit boring, their once-rambunctious sound streamlined into a smooth SoCal mixture of different styles that became their sonic trademark/gimmick. The guys with socks on their cocks turned acceptable, even lovable. (Look no further than Chad Smith, who started doing comedy bits where he'd appear alongside look-alike Will Ferrell.) Everything wasn't always rosy — Frusciante left the group again, although he rejoined in 2019 — but of all the alt-rock groups of the 1990s, the Chili Peppers almost alone remain massive superstars, so it's only natural that some people bristle as their mainstream acceptance. (Foo Fighters can probably sympathize.) 
Thirty years later, "Under the Bridge" is still pretty inescapable on rock radio, especially here in Southern California. And sometimes people around here will wonder exactly where that bridge is that Kiedis is singing about. The frontman has refused to reveal its location — "I don't want people looking for it," he told Rolling Stone in 1992 — but in 2012, Vulture went looking for it, surmising that the bridge is located in MacArthur Park in downtown. The group has never confirmed or denied that speculation, but in that same Rolling Stone interview, Kiedis emphasized that the specific bridge didn't matter. "That was one of just hundreds of predicaments that I found myself in, the kind that only drug addiction can bring about," he said. "It's not that that one place was more insidious than other places. But that's just one day that sticks very vividly in my memory. Like, how could I let myself get to that point?"
Red Hot Chili Peppers haven't put out an album since 2016, but that didn't stop fans from getting very excited this week when they announced a massive world tour, complete with a bunch of high-profile rotating opening acts, including the Strokes and St. Vincent. For anyone who remembers those punky jokestars from the 1980s, it must have been strange to see these graying middle-aged dudes hamming it up in the announcement video in their best dad-joke manner.
Rock 'n' roll has long outgrown the notion that it can only be played by young people, but even so there's a tendency to be snide about older musicians trying to inhabit the music as they once did. Once rock stars settle down, have kids, maybe even have grandkids, the sex-and-drugs danger kinda gets sucked away. Red Hot Chili Peppers have had to wrestle with that reality more publicly than most bands simply because sex and drugs were so crucial to their early image — especially after those drugs killed Slovak. The price of getting sober and continuing to make music was that they'd never have that same "edge" as they did as brash upstarts. But, ultimately, being alive is better than "edge." 
That's what makes "Under the Bridge" so poignant. It's a song about a drug addict looking bad at one particularly harrowing incident when he was trying to score. He doesn't want to return to that darkness, and yet he secretly knows it's always going to be a part of him. A song that almost didn't happen ended up pointing the Chili Peppers toward their future. For anyone who'd knock the popularity and polish that followed, "Under the Bridge" serves as the band's stark reminder to themselves that the bad old days are always there, laying in wait if these men's hard-earned sobriety ever slips.