She wants California to vote 'no' on a proposition that would punish porn actors who don't wear condoms
"He's kind of Trump-ish," Tasha Reign says of her political enemy Michael Weinstein. "He's just playing off people's ignorance."
Reign is in the living room of her new Hollywood Hills home, petting her two pet potbellied pigs, Harley and Quinn, and bragging about her houseguest Jessica Michelle Singleton, whose comedy album is being considered for a Grammy. "She's so funny. I wish she stayed here all the time," Reign says.
On the wall hangs a poster for Debbie Does Dallas. The photo album on the coffee table reads "My Friends Are Prettier Than Yours." The chandelier is strung with bras.
Minutes later, she's winding down Mulholland Drive in her black Cadillac Escalade, off to promote condom-less sex on the UC-Riverside campus.
Reign, a porn star, may seem an unlikely political activist, and sex without condoms an even unlikelier political cause (especially on a college campus). But Prop 60 — a referendum proposed and funded by Weinstein, president of the AIDS Healthcare Foundation — has thrust her and her co-workers into California state politics.

Prop 60 (aka "The Safer Sex in the Adult Film Industry Act") would make it easier to enforce a California labor statute that requires condoms in porn. Porn performers regularly flout the law and the state has shown little interest in policing them, but under Prop 60, California citizens will be able to bring civil actions against performers who fail to use a condom.
Many porn stars have protested the statute, but Reign has been particularly vocal, scheduling a series of campaigns on college campuses throughout Southern California.
She drives to Riverside today under threat of death. A man recently emailed her saying he planned to show up to one of her speaking events with a gun.
"I have stalkers," Reign says, driving eastward to Riverside. "But you can't live your life like that — afraid."
"She's like a middle linebacker: fearless," says Hernando Chavez from the second row of the SUV. Chavez, a marriage and family therapist in Beverly Hills and a human sexuality professor at Orange Coast College, has been accompanying Reign on her college visits. He wears a Jackie Robinson Dodgers jersey; he's hoping to make it back to Los Angeles in time for the team's playoff game later tonight.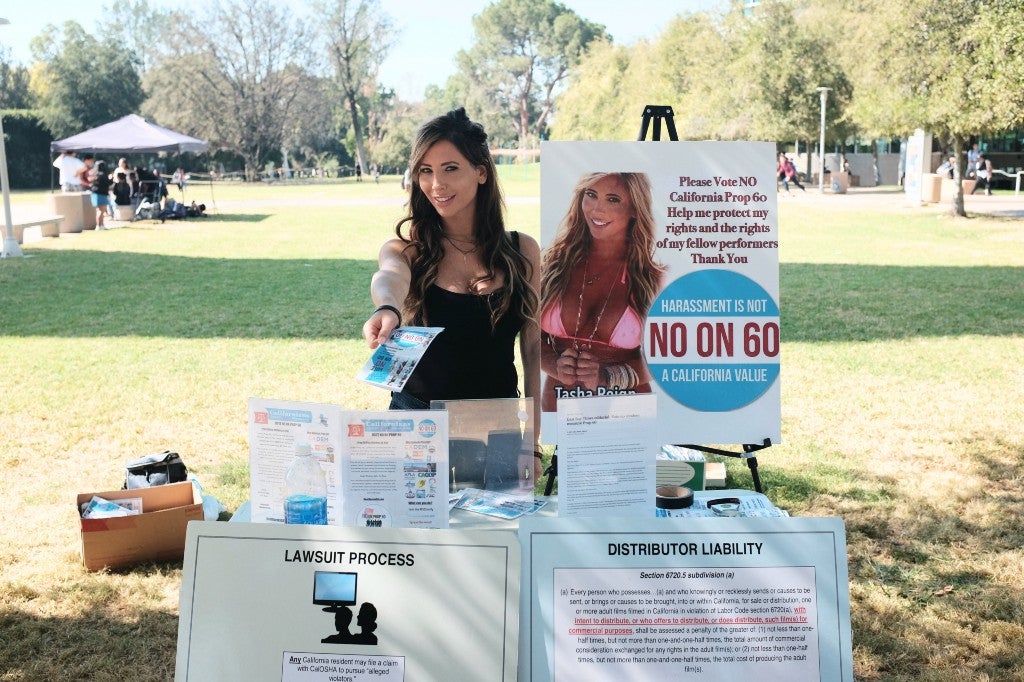 Safety is a chief concern for Prop 60 opponents; performers fear fans will abuse the statute to bring suits against them and obtain their personal information. But for Reign, it's primarily an issue of feminism. "This man, this random man, is coming from outside the industry and trying to take away my freedom of choice," she says.
Born Rachel Swimmer, the 27-year-old Reign grew up in tony SoCal suburb Laguna Beach, wanting to become a sex symbol in the vein of Carmen Electra or Pamela Anderson. Her idols were the women on the late-aughts reality show The Girls Next Door, the seven blondes who made up Hugh Hefner's harem of girlfriends. "I saw them and thought, I want to get paid to be nude in front of a camera."
Reign's first brush with fame came in high school when she was cast on MTV reality show Laguna Beach, but the show fizzled. Reign's cast tried too hard to emulate former Laguna Beach stars Lauren Conrad and Kristin Cavallari, who had graduated. "It came across as too phony."
But Swimmer discovered she loved performing. As a women's studies major at UCLA, she started dancing at strip clubs Silver Reign (hence the stage name) and later Foreplay, where she met a coworker with an in at the Playboy Mansion.
She posed nude in Playboy's "Girls of the Pac-10" spread at 21, but frustrated by her slow path to sex superstardom, she knocked on the door of adult talent agency LA Direct Models. "I was actually simultaneously rushing Gamma Phi Beta. But I couldn't do both [a sorority and porn]," she says. "That's a full-time job, being a sorority girl."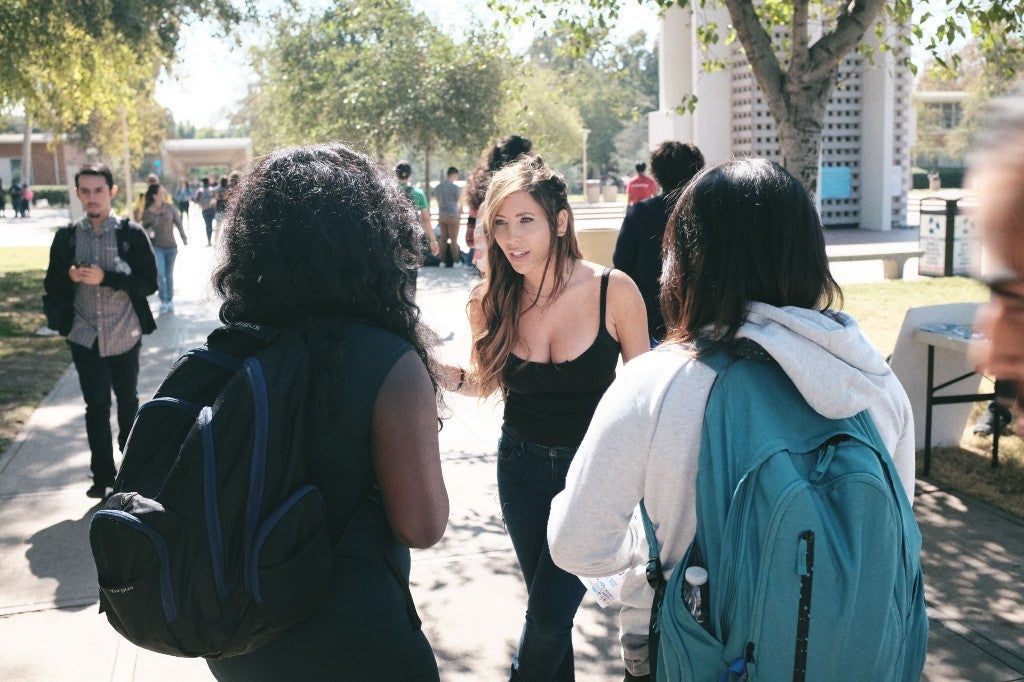 With a black tank top, blue jeans, all-black Chucks and a tireless exuberance, Reign blends in seamlessly among the Riverside students, like the sorority girl she almost was. She and Chavez erect a folding table outside, next to the campus bell tower, and cover it with "No on 60" pamphlets and buttons. About 30 minutes in, she and Chavez get in a brief disagreement over how to make their approach. Chavez keeps asking students if they're against harassment of women, and Reign urges him to simply ask if they're voting this election.
Few recognize Reign, but even fans have had trouble spotting her recently. After 10 years as a bottle blonde, she recently dyed her hair brown.
Many students breeze by, hurrying to class. "I have research in eight minutes and I'm gonna be late," one female student says. But dozens stop to engage Reign and Chavez in dialogue, a majority of them women.
"When you sue, you get access to their name," Reign tells a female student.
"That's dangerous."
"That's super dangerous!"
"I'm trying to target women more because those are people who I need to win their vote," Reign says. "I chose to go into adult [films]. I'm not the victim Michael Weinstein would like to portray me as."
She tries to post a selfie video to Instagram, but doesn't have enough memory on her iPhone. Reign recently auctioned the phone off to one of her hundreds of thousands of devoted fans (her #Reigndeer) for $1,000. The phone contains more than 1,700 nude photos and videos of Reign, much of it exclusive content, and she plans to donate the money to AIDS Walk Los Angeles.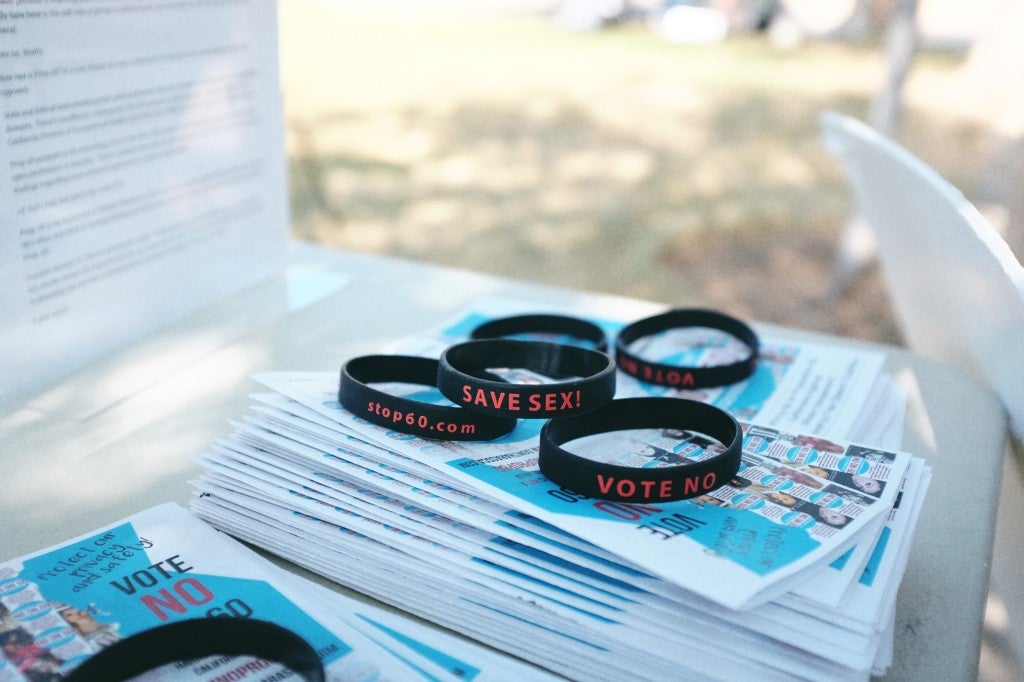 After almost three hours at Riverside, Reign drives home exhausted. "Performing, dancing, that's stuff I like to do," Reign says. "When there's negativity involved like with Prop 60, it just makes it less rewarding."
It's hard to say whether Prop 60 will pass. The vast majority of the people Reign encounters are against it, but she worries the wording is misleading. AHF has spent millions advertising Prop 60, according to Reign, while porn stars have resorted to grassroots organizing, which Reign finds "draining."
If it does pass, Reign might retire. Porn production will likely migrate to Las Vegas and Miami, where there are no condom laws, and Reign has no desire to follow. "I don't want to move. I've lived here my entire life." Maybe she'll become a writer. She already contributes to Penthouse.
Reign only shoots one scene a month these days, anyway, and only to remain relevant. The majority of her income now comes from dancing and hosting. In two days, Cheerleaders, a strip club in Pittsburgh, will fly her out and pay her untold sums to dance at their club for three nights. Porn is just a way to market the brand Tasha Reign.
At 27, she's getting old by porn industry standards. She laments that another actress of the same age has already been branded a MILF. Reign's performing isn't tied to any particular fetish or age, though. "Me, I'm just a woman."