In his exhaustive book The Paul McCartney Catalog: A Complete Annotated Discography of Solo Works, 1967-2019, this is how author Ted Montgomery describes one of the ex-Beatle's most well-known songs: "Pop and rock stars have a long history of recording Christmas songs, both traditional and original. There are few worse than Paul McCartney's 'Wonderful Christmastime.' McCartney plays all the instruments and this is his first single since 1971 to have only his name on it. The instrumentation is amateurish and banal, the words are embarrassing, and one wonders upon first listen what — besides the title — does this song have to do with Christmas? Just sticking a children's chorus and some holiday bells on the track doesn't automatically make it a valid Christmas song."
This isn't a contrarian take on the 1979 yuletide hit. It's basically an accepted fact that "Wonderful Christmastime" sucks. For every defense of the song you find online, there are at least two dozen pieces about why it's awful. I especially enjoy the snarkiness of the Genius commentary that accompanies the song on Spotify. Cue up "Wonderful Christmastime," and this is the first thing that comes up on the screen: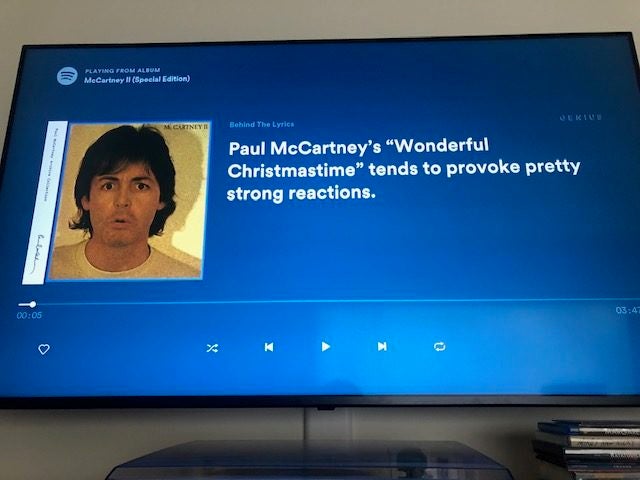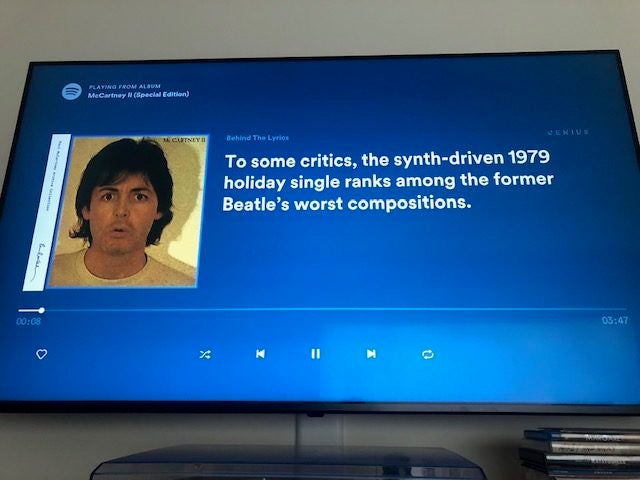 Normally, the feature just gives you some benign background on a song's origins. But with "Wonderful Christmastime," Genius wants you to know that you are listening to a terrible Christmas song.
None of that has jeopardized my utter fondness for "Wonderful Christmastime," especially in recent years as it has become one of my holiday favorites. I like "Wonderful Christmastime" so much I actually listen to it any time of year. Those simple opening keyboard notes have, for me, become synonymous with Christmas. The innocent, hesitant intro echoes the hopeful, childlike enthusiasm of another yuletide season getting into gear. And its amateurish sound is part of its appeal: It's a Christmas song for adults about rekindling the adolescent allure of the holidays. Its unalloyed giddiness gets me in the mood for Santa and his reindeer.
There's no point in trying to convince you to appreciate "Wonderful Christmastime." Like many of the accoutrements around Christmas, you either have a fondness for the song or you don't. But I do think that how you respond to "Wonderful Christmastime" may be informed by your response to McCartney in general — especially solo McCartney. "Wonderful Christmastime" is very much a product of a period in which two seemingly contradictory things were givens: Paul McCartney was very popular, and everybody thought he was a massive cheeseball. But it was also a moment in which the superstar, as he often did, was in the midst of a reinvention. 
In the late 1970s, McCartney was nearly a decade removed from the Beatles and still a major commercial force. John Lennon, George Harrison and Ringo Starr had all enjoyed successful solo releases, but McCartney had amassed a steady string of bestselling records, both under his own name and with his band Wings. Granted, "Live and Let Die," "Band on the Run" and "Silly Love Songs" weren't going to make anyone forget "Yesterday," but Macca had clearly proven that audiences hadn't abandoned him since he left his old group. 
But by the end of the decade, he felt restless and wasn't sure about making more albums with Wings. "It was getting a bit boring," McCartney would say later. "I was getting a bit fed up with yet another lineup." Wings' makeup kept changing over the 1970s — outside of Paul's wife Linda, band members were always in flux, with drummers and guitarists nearly interchangeable — and so, in the summer of 1979, he opted to repeat a technique he'd tried near the Beatles' end: He put together a bunch of tracks entirely on his own. 1970's McCartney had exuded a homemade, stripped-down quality — as if he wanted his audience to know he was stepping away from the grandeur and myth of the Fab Four — but these new tunes were more experimental. Rather than stripping down, he was looking to get a little weird for this latest declaration of his artistic independence.
"Y'know, it was really 'cause synthesizers and sequencers came in and I was intrigued," McCartney said. "Since leaving the Beatles, I've done that, working on my own thing. Which I always think of as sort of being a nutty professor. You're just holed up in this little laboratory, experimenting with sounds."
He wasn't necessarily ready to pull the plug on Wings, who in June of that year put out Back to the Egg, his eighth post-Beatles studio album to go Top 10 in the U.K. But that November, he unveiled one of those solo recordings, "Wonderful Christmastime." It was an early indication of what the next phase of McCartney's musical evolution was going to sound like. Driven by synths, it felt indebted to the nascent New Wave and postpunk movements, embracing the very artificiality of its design. As Montgomery pointed out, "Wonderful Christmastime" didn't actually seem very Christmas-y outside of those bells. But in a way, that made it feel modern and less nostalgic than your typical contemporary Christmas song. And if the repetitive "Ding, dong, ding dong" bridge was a bit cringe-y, well, Christmas is definitely a season of maximum tackiness, right?
In 2011, McCartney talked about some of the influences that may have seeped into those solo recordings, including cutting-edge groups of the time such as Talking Heads and Kraftwerk. "I do have a sponge-like ear or mentality or whatever you call it, but it's probably a bit subconscious," he told The Quietus. "It was more a question of I knew who Kraftwerk were, but I didn't have their records. I would just hear it and see it and read about it, so I kind of knew what they were doing. And I knew obviously that this equipment, this new technology had arrived. But rather than me emulating anyone, it was more a question of me seeing what I could do with it. And again, not necessarily thinking I was making an album, just to have some time to experiment."
Of course, experimentation was nothing new for McCartney. Like most pop-culture debates, McCartney v. Lennon is fairly pointless — maybe just maybe, they're both amazing? — and reduces both men's multifaceted talents to the point of abstraction. But this notion that Lennon was the dark genius and McCartney was the cutesy, shallow pop guy completely overlooks the latter's sonic adventurousness. (For starters, Sgt. Pepper's Lonely Hearts Club Band's thematic conceit was McCartney's idea.) With that in mind, "Wonderful Christmastime" was merely the latest example of him throwing listeners a curveball. And listeners, at least in the U.K., responded: It was his 14th Top 10 single since exiting the Beatles. (Weirdly, it didn't even crack the Top 40 in the U.S.) Some people found the song charming, some found it cloying, but everyone agreed to ignore the B-side, called "Rudolph the Red-Nosed Reggae." Seriously, if you're one of the many who abhors "Wonderful Christmastime," you don't actually know what an awful Christmas song sounds like until you check that track out.
Even though the single contained only his name, McCartney wasn't shy about featuring "Wonderful Christmastime" during Wings' Back to the Egg concerts. "Wings performed the song during our November-December 1979 U.K. tour, since it was Paul's new single," the band's guitarist Laurence Juber said in 2017. He later added, "The line between what Paul was doing solo and the band wasn't hard and fast. We were aware of the fact he was doing his solo project, so it wasn't really much of an issue." And the band was included in the video, which played up the song's adults-only festive mood. 
Not that there's anything remotely risqué about the video — it's a fairly PG clip that takes place largely at night as McCartney and his fellow grownups enjoy an evening out at the pub. But the video emphasized the point that "Wonderful Christmastime" was a song about how the holidays feel for non-kids: It's more about having a good time together than worrying about presents under the tree. Neither religious nor consumerist, "Wonderful Christmastime" is really sort of a laid-back party tune. "The party's on / The spirit's up," he sings. "We're here tonight / And that's enough."
As part of that Wings tour, McCartney and the group were scheduled for some dates in Japan in early 1980. He hadn't been there in 14 years, back when he was part of the Beatles, but at the Tokyo airport he got arrested for having marijuana. "We were about to fly to Japan, and I knew I wouldn't be able to get anything to smoke over there," McCartney once recalled. "This stuff was too good to flush down the toilet, so I thought I'd take it with me." But because he had so much on him — reportedly about half a pound — he faced drug-smuggling charges, which could have landed him in jail for seven years. He ended up spending more than a week in prison, an experience that unnerved him. "This is the longest I've ever been away from my family in 10 years," he told the press once he was released. "I don't want a separation like it again."
But the arrest also made him reevaluate whether he wanted to keep his band going. ("It sucked the momentum out of Wings," Juber later admitted to writer Tom Doyle in his book Man on the Run: Paul McCartney in the 1970s.) In May 1980, McCartney released McCartney II, his synthesizer adventure. The album didn't contain "Wonderful Christmastime," but the singles "Coming Up" and "Waterfalls" did very well in the U.K., and the record charted high on both sides of the pond. This didn't keep the press from hating it. "McCartney II isn't worth the plastic it's printed on," NME declared at the time. "Neither is Paul, but he'll go on doodling and fooling his public because they're too frightened to ditch him and his past and he's too rich to be stopped."
McCartney II is largely forgotten now, but although that album's keyboard-laden sound wasn't a permanent new direction for the musician, it served as the death knell for Wings, who broke up soon thereafter. McCartney went on to have a full-fledged solo career, continuing to pump out hits and indulging in the occasional intriguing creative left turn. He worked with Radiohead producer Nigel Godrich for 2005's Chaos and Creation in the Backyard, and this month he'll release McCartney III, his third go-it-alone album, which he recorded during lockdown. 
All the while, "Wonderful Christmastime" has gone on to firmly establish itself as a Christmas perennial, a constant reminder of that strange musical detour he took about 30 years ago. Especially in the U.K., pop-star holiday songs are big business — a 2010 Forbes piece spoke to an "industry source," who speculated that McCartney makes around $500,000 a year from "Wonderful Christmastime" royalties — and currently it's his most popular post-Beatles song on Spotify. Of course, these facts have never repaired the tune's critical reputation, and yet, people can't seem to get enough of it. 
Apparently, we also have a nearly inexhaustible craving for cover versions. Country artists have taken on "Wonderful Christmastime," and so have indie bands, R&B singers and Jimmy Buffett. It's been sampled by MF DOOM, and even the endlessly irritating Jimmy Fallon has done a halfway-decent version with McCartney and the Roots. 
But the best of the bunch is probably Kylie Minogue and Mika's, which (unlike so many other covers) doesn't try to be overly adorable or ironic. Minogue seems to genuinely love "Wonderful Christmastime" and doesn't mess too much with the original arrangement. It's mostly just a little warmer, playing up the cozy, romantic vibe that was always there in McCartney's version. Minogue and Mika bring a sexiness to it — a feeling that the holidays are best when you're snuggling up with your special someone. But their "Wonderful Christmastime" is also joyous — it encapsulates the season's fleeting, euphoric rush of time away from work and responsibilities. We're here tonight, and that's enough.
How does McCartney actually feel about "Wonderful Christmastime"? Best as I can tell, it hasn't come up in an interview in quite some time. But no doubt he knows how much it's hated in some quarters. Nevertheless, in December 2012, he and his band played it on Saturday Night Live, and it was included on the deluxe edition of McCartney II. At this stage of his career, the man who gave the world "Silly Love Songs" isn't going to start worrying what cynics think of his work now.
Indeed, when The Quietus asked McCartney if he was an "incurable romantic," he was predictably unapologetic: "That's probably true, and what's wrong with that? The nice thing is, I own up to it. I think a lot of people, particularly when you're younger, don't think it's cool. They don't understand how you can talk about that in your lyrics instead of making the world a little colder by being cool. I'm very aware of that, but that's just my family background — we don't care about that, if you fancy doing something romantic you just do it. The nice thing is, a lot of the people who gave me a hard time about it then grew up, they got married, had kids and then saw where I was coming from. I remember Bruce Springsteen at one of the Rock and Roll Hall of Fame things saying to me, 'Silly Love Songs, man! I really didn't get it when you put that out — but I get it now! I've got kids!'"
I run hot and cold when it comes to McCartney's post-Beatles work. He never made albums that could compete with Lennon's finest solo records, and, sure, some of his stuff is incredibly corny. (The Beatles material wasn't always great, either: Count me among those who find "Ob-La-Di, Ob-La-Da" excruciatingly precious.) 
But the quirky inventiveness of "Wonderful Christmastime" — the sense that it's McCartney just trying something out while expressing the pure pleasure of the season — remains deeply appealing. Liking Christmastime is inherently dorky, especially as an adult: C'mon, that's a holiday for kids. So it's only fitting that one of the great cornballs came up with a terrific Christmas song. The guy's written dozens of silly love songs, but "Wonderful Christmastime" is the only one about being in love with a specific time of year. And whoever said being in love was supposed to be cool anyway?