For the past few weeks, Essein Harmony Paul, a 48-year-old farmer from Ibadan, Nigeria, has been messaging me to ask if I want to buy a dozen live chickens. He insists that his broiler chickens are "world-class," grown in the "best conditions" and have been fed only natural herbs and chicken feed. When I tell him that I live more than 4,300 miles away, in London, he assures me that shipping won't be a problem. "I have a friend who travels to London," he tells me. "The chickens can be with you in a few weeks."
Paul is part of Nigeria's fast-growing community of "agricpreneurs," most of whom run small, independent poultry farms on the outskirts of Nigeria's major cities (primarily Lagos, Abuja, Kano and the aforementioned Ibadan). Via agricbusiness-centric Facebook groups, they advertise chicks and chickens for sale, share equipment and DIY tips for harvesting eggs, and crowdsource medical advice for poultry that's become sick or are at risk of infection. Like Paul, few members of these groups are trained in agriculture or even grew up on farms. Some work in finance and law in the city, with poultry farming their side hustle. If anything, poultry farming in Nigeria has become so lucrative that many young people have ditched their city jobs — once a key marker of social mobility — to raise and sell chickens full-time.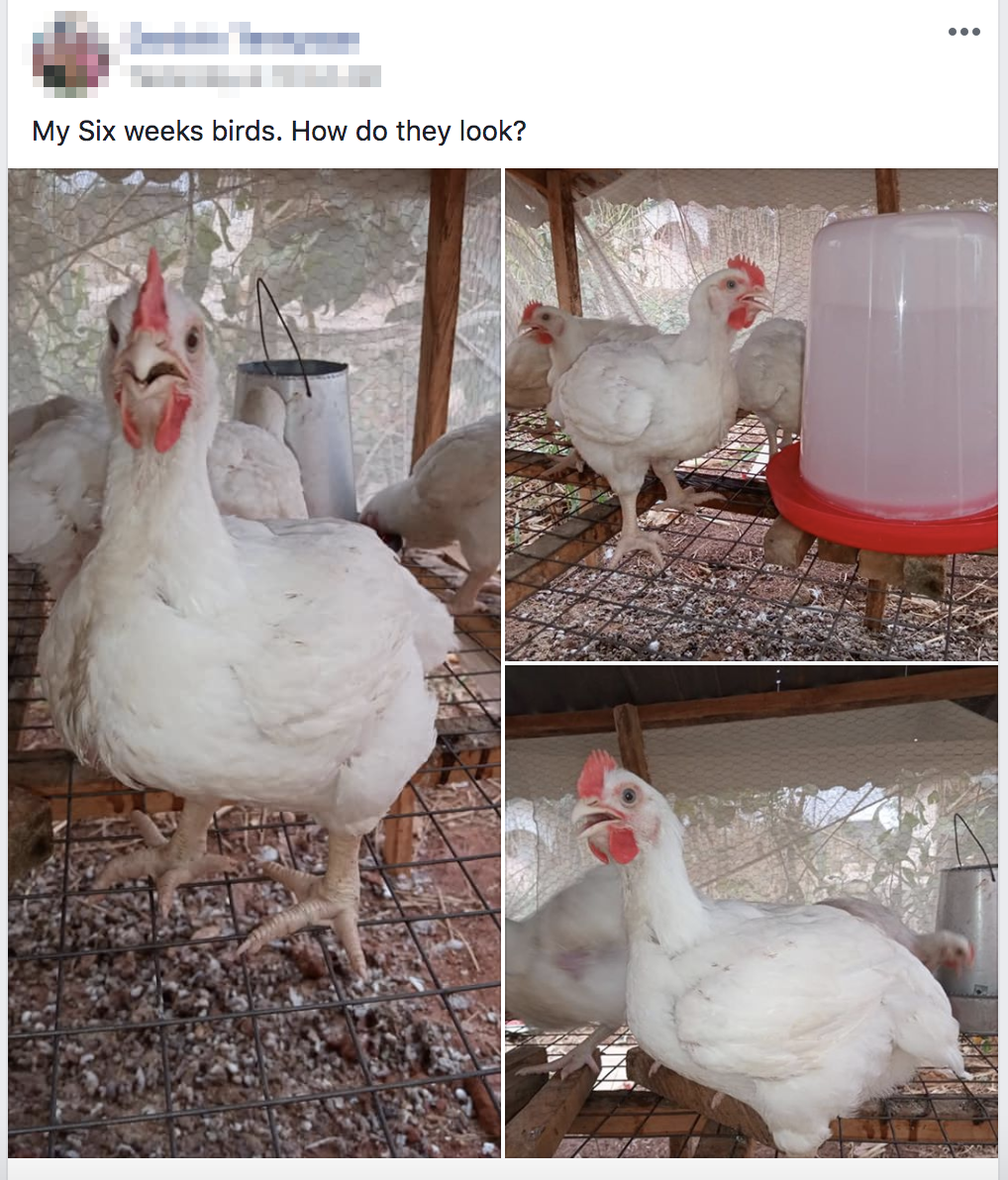 Poultry farming is booming in Nigeria for a couple of reasons: First, there's a lot of arable land outside of the country's major cities. Second, back in 2015, then-president Goodluck Jonathan launched the Agricultural Transformation Agenda, which aimed to make local agriculture a major driver of Nigeria's economic growth. Part of this included providing accessible loans to locals who wanted to grow staple crops such as bambara groundnut, castor beans, cowpeas and okra. Crucially, though, the agenda placed strict regulations and controls on foreign imports, as well as foreign ownership of land and production companies — giving local farmers a significant competitive advantage.
Why, though, are there so many more chicken farms compared to those growing rice and beans? 
In a word: Facebook.
"I found out about poultry farming on a Facebook group I was in," he tells me. "The group was about fast sports cars, but I saw that many members were posting about starting a chicken farm for less than [$100] and making thousands more in a few weeks. It felt like a blessing from God." At the time, Paul was earning good money working at a bank, but because he was looking after his sick parents, as well as multiple aunts, uncles and cousins, he was struggling to save money. Moreover, he tells me, "The finance sector is very unstable; you don't know when you'll lose your job."
Paul contacted one of the group's members — another non-farmer, who had previously been working as a freelance software developer — about the basics of setting up a chicken farm: how to raise chickens, where to sell them and why broiler chickens are the best (because they grow fast, they're popular for those just starting out). Remarkably, he says, this member and others happily responded. "They told me what kind of feed to use, how to make the feed, how to get the license — even what chickens to buy and how to sell them to [butchers] in the market," he explains.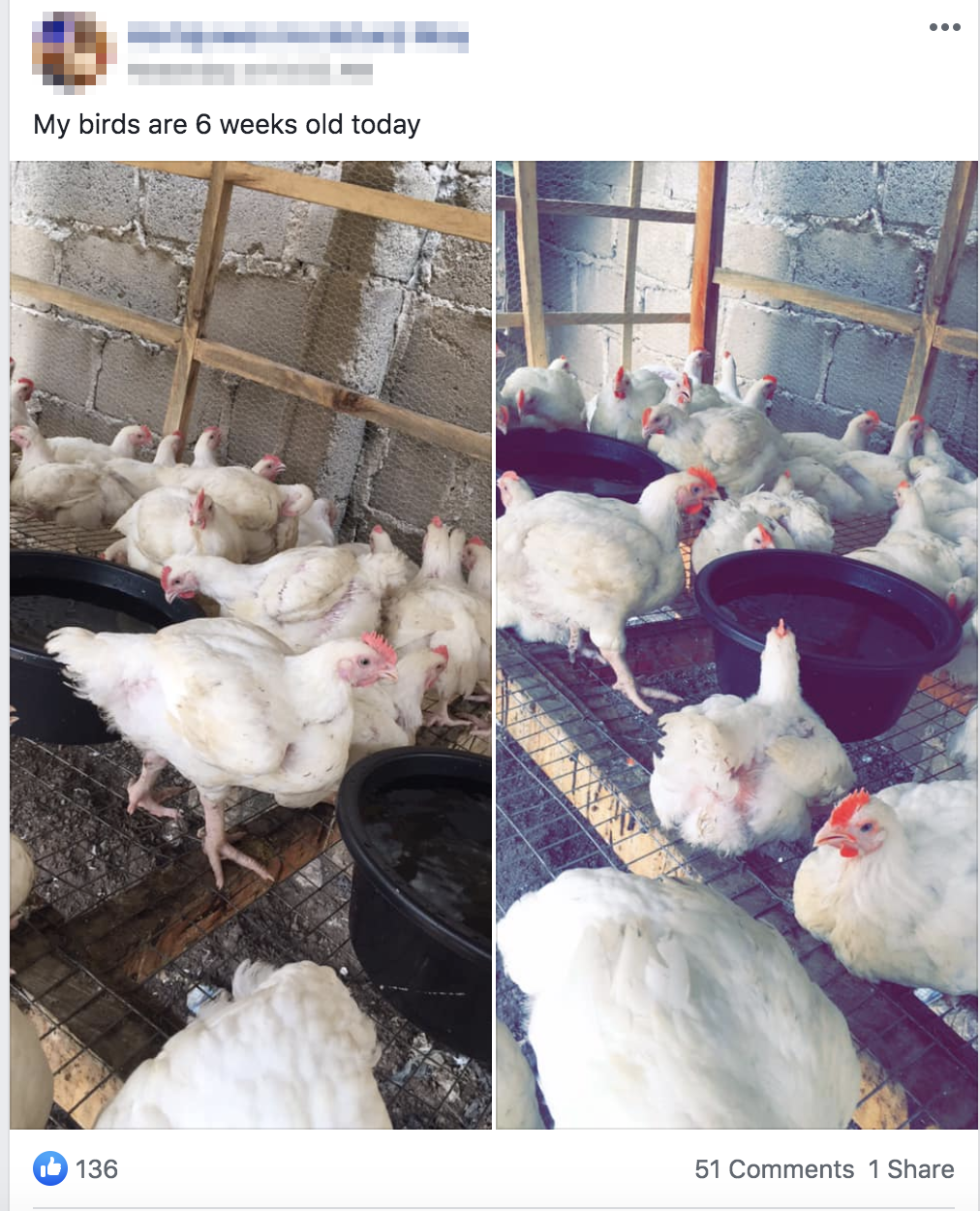 He estimates that his first year in the poultry business, he made close to $40,000, or nearly double the average wage earned by most people in Ibadan. 
Though there are regulations to setting up a poultry farm in Nigeria, Paul and other farmers tell me that in practice, they tend to be either perfunctory or nonexistent. As you can imagine, then, this has resulted in some pretty underhanded tactics. "There have been cases where people have tried to sell baby chickens that they say are healthy when they actually have infections that you cannot see," says Umar Nguru, another IT-worker-turned-poultry-farmer who regularly flags suspicious content on the Poultry, Livestock and Aquaculture Farming in Tropics (Nigeria) Facebook group, which has more than 85,000 members. 
But the bigger issue is, because there isn't an official government body that tests poultry for small farms, there's a risk that beginner farmers with little-to-no experience could end up causing a public health risk in a small town or village. Nguru can obviously monitor these risks on a public Facebook page, but that isn't the case on WhatsApp, which is where most of the private deals and bartering takes place. "You can see in the group that many people give out their WhatsApp numbers if they're trying to make a quick sale," he explains. "There are some people who come into the group because they want to sell 20 chickens very quickly. So they won't do [health] tests. Nor do they don't know what the chicken has been fed or where the feed comes from." In other words, it fosters a poultry market where there's always uncertainty about the quality of the chicken being sold.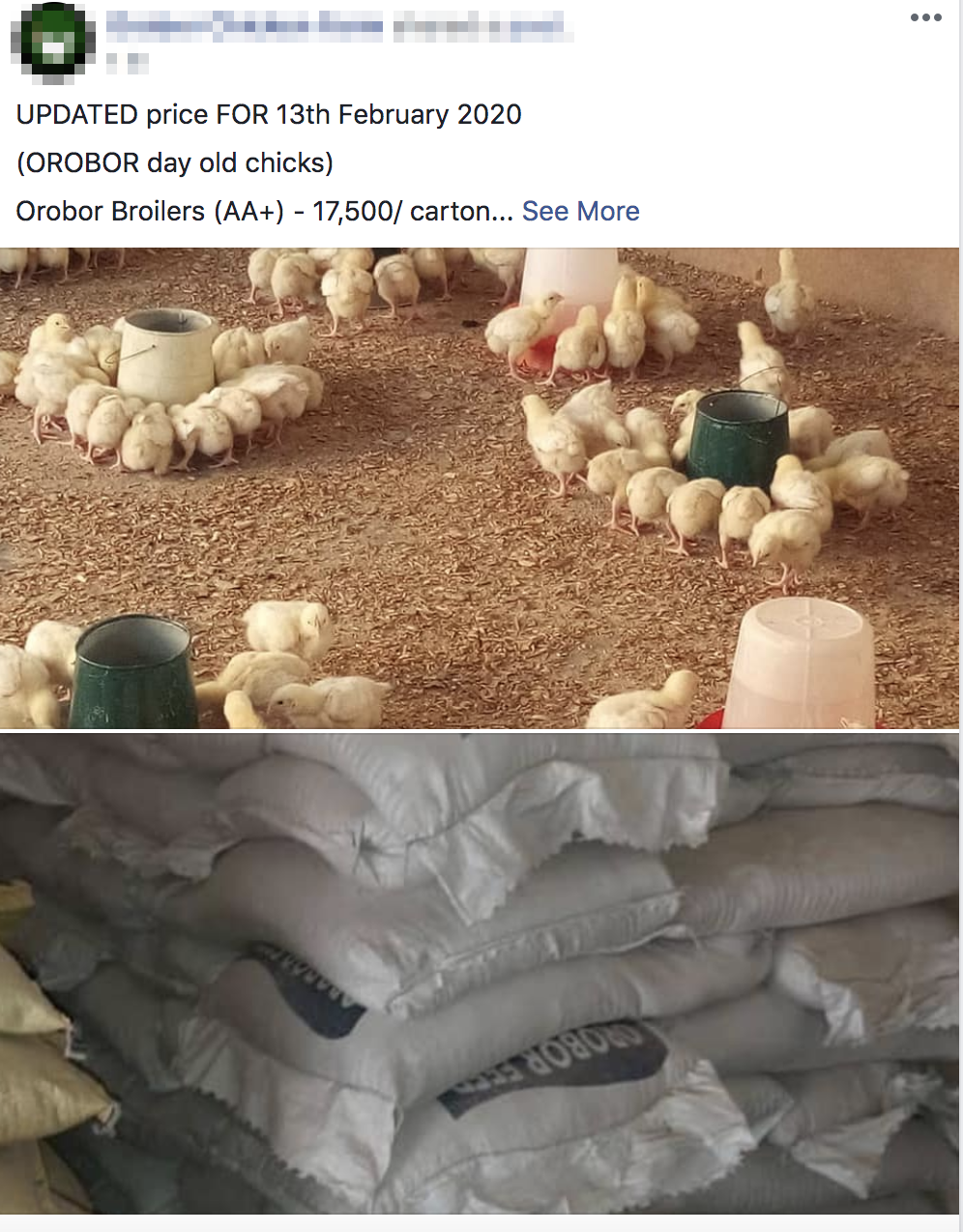 The market saturation is only making matters worse. "Since there's a big number of farmers and a large amount poultry in small villages and towns, there's an unstable [read: cheap] price," says Adewale Fatuase, a doctoral researcher in the Department of Agricultural Technology at Rufus Giwa Polytechnic, a leading college in Nigeria. As such, he adds, "They're constantly trying to cut the cost of production, meaning you can have chickens sold that haven't been reared properly or an unemployment problem, where farmers cannot afford to hire people who can help them make the production process cleaner." 
The poultry craze has also left Nigeria in a bit of an agricultural pinch. "There's an imbalance now," Fatuase explains. "There's a lack of some staple foods, land that isn't being used to grow them and people who don't know how to grow crops." This, he continues, might be why Paul is reaching out to foreigners like me on Facebook to sell his excess stock. "Facebook is good for giving these farmers the knowledge to start their businesses. It's also given them a big market to sell their chickens in Nigeria. The next step then is to smuggle their chickens outside of the country."
On that count, when I decline Paul's offer for his chickens — a new roommate I'm guessing neither my landlord nor border control will be thrilled about — he sends me two sad face emojis. A few hours later, though, he messages me again to tell me he'd actually found a buyer in a neighboring town, someone who wanted to buy the chickens for his son as a birthday present. Or, better put, he eventually decided chickens would be a good gift. "I found the buyer on Facebook," Paul says. "He was looking for a car."