For the moment at least, our impending ecologic ruin (ironically) sounds like Temperature, the 2005 hit from Sean Paul. I'm in the basement of Gymbox, one of London's high-end fitness chains, performing kettlebell squats and heavy ball slams, while wearing an elevation mask designed to restrict my breathing and simulate the shit air that would pump through my lungs after a climate catastrophe. The room is dark (save for neon strobe lights) and covered in mirrors. As I perform the exercises given to me by my gym instructor, a tall, handsome and well-built man clad head-to-toe in athleisure, I'm reminded to keep my mask on. "This is how we'll be training at the end of the world!" another attendee says, watching as I pant and prostrate on the floor. 
The background music switches from Sean Paul to Killing in the Name by Rage Against the Machine. "Next exercise!" the instructor shouts. "Come on, let's get the blood flowing and the body moving!" I begrudgingly limp across the room, wondering whether Greta Thunberg had ever thought of telling the United Nations that all it needed to prepare for catastrophic environmental collapse was more full-body squats.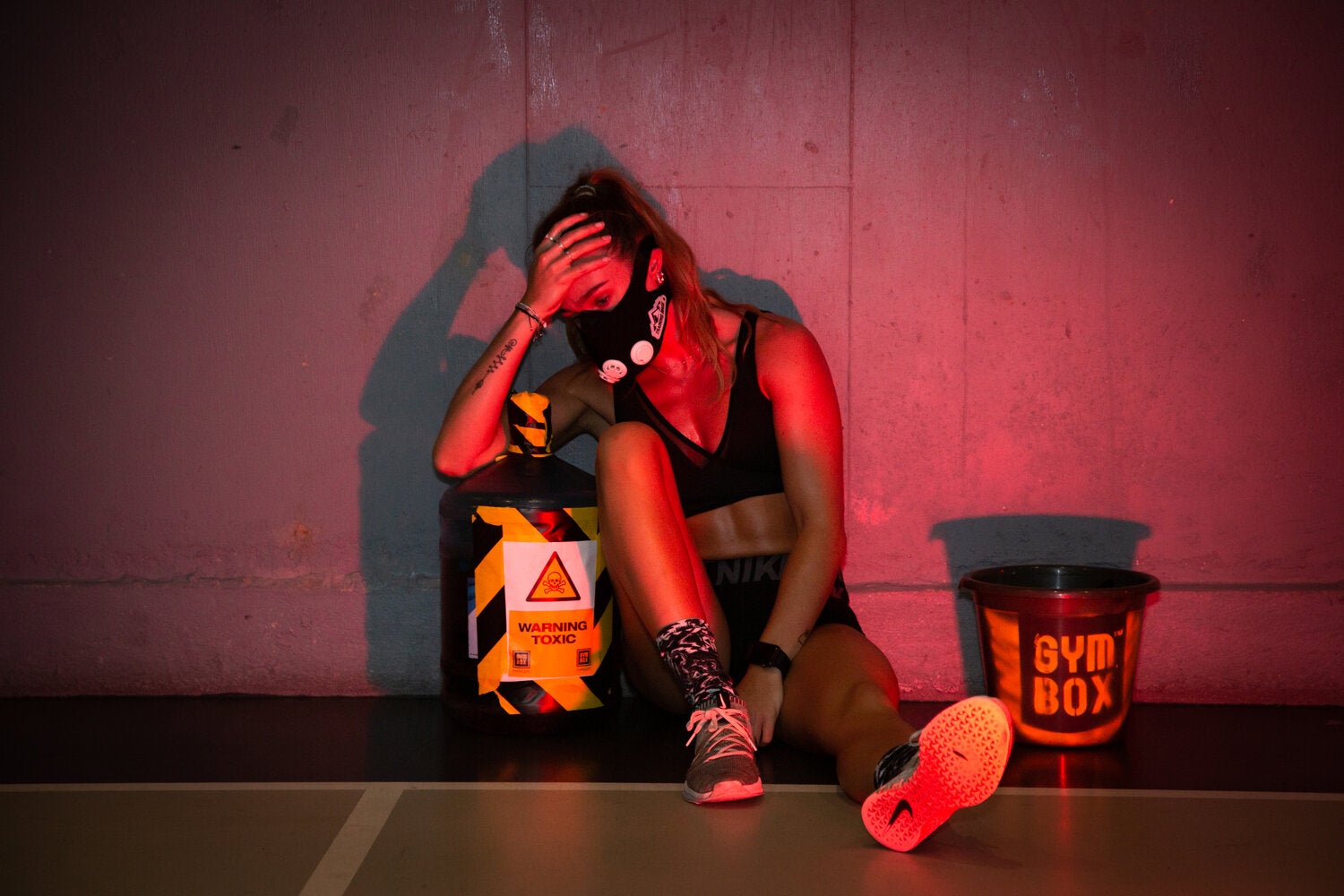 This exercise in fitness survivalism comes courtesy of Gymbox's latest high-intensity interval training program called "Extinction Training," which is designed to teach you how to achieve washboard abs and a toned ass, even if clean air and drinkable water happens to be rationed. "This program will get you ready for life post irreversible climate change," the marketing material for the class promises. "Extinction Training is a unique fitness experience, set in 2050 with high wind speeds, extreme heat and flooding!" It closes with an ominous, "Can you can survive?"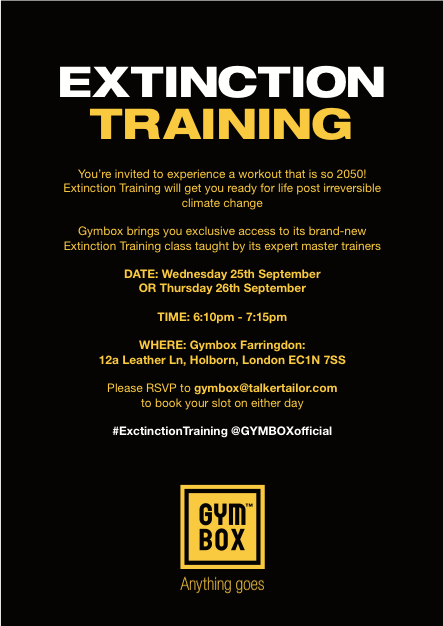 Admittedly, Gymbox claims the program is tongue-in-cheek. "At Gymbox we're doing all we can to help get members ready for what is about to come," says Rory McEntee, the company's creative director. "At the moment, Extinction Training is just a gym class, we hope it never becomes a reality. The only thing hotting up should be your Instagram, not the planet."
Furthermore, as a popular and pricey gym chain that provides round-the-clock air conditioning, saunas and steam rooms to the most well-heeled of British society, it's unlikely to be at the fore of any environmental resistance movement. "The program is designed to raise awareness of what's happening in the world," my gym instructor tells us before our session begins. "It's a reminder of how difficult everyday things could become, and it's why we all need to take action urgently."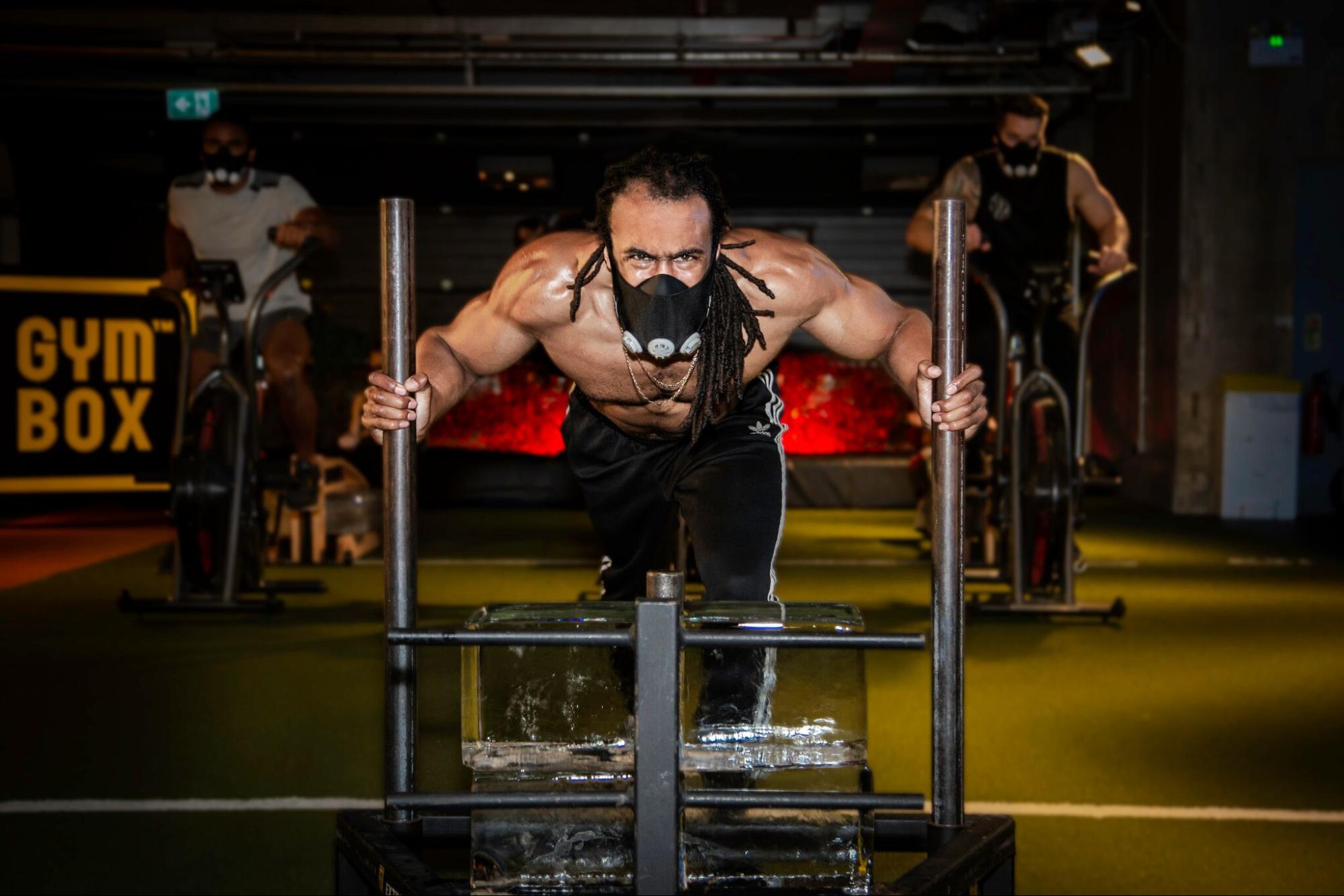 But no matter what Gymbox says, it's hard, as I power through on an assault bike while industrial fans, designed to imitate hurricanes, blow ice cold wind across my face, not to wonder what classes like Extinction Training actually represent.
The weekend before, 6 million people around the world, most of whom were teenagers, marched on their capital cities to demand that the international community take action on the imminent ecological crisis. Leading this movement is Thunberg, who told world leaders at the United Nations, "We are in the beginning of a mass extinction, and all you can talk about is money and fairy tales of eternal economic growth. How dare you!" Meanwhile, groups like Extinction Rebellion, a socio-political movement with the stated aim of using civil disobedience and nonviolent resistance to compel government action on environmental collapse, have successfully shut down parts of cities where pollution from vehicles is highest. This direct action has gotten activists from the group arrested, detained and even barred from some countries entirely. 
"Greta's very Generation Z approach [to activism] is a product of the mix of intense anxiety and impulse to act — out of dire need, not idealism — that has energized other activists of her generation," writes Natalie Gontcharova in Refinery 29.
While the teens are fighting for the survival of the planet, jaded millennials such as myself are less hopeful about the future. While we obviously care about the environment, our contribution to saving it is typically deciding to go vegan and/or making sure we have reusable supermarket bags. At the same time, we're finding more and more refuge in "experiences" like Extinction Training, sustainability-themed escape rooms and role-playing games centered around social justice issues. 
In fact, research by the Harris Group, a British wealth-management fund, suggests that more than three in four millennials (or 78 percent) would choose to spend money on an experience or event over something physical — a trend that VICE's Angus Harrison argues is reflective of the reality that most millennials find themselves unable to keep a stable job, let alone buy property. "'Living for the moment' has become an ideology for a generation with little else to live for," Harrison writes. "The experience economy has birthed an entirely new sort of youth culture: transient lifestyles built on novelty and fantasy."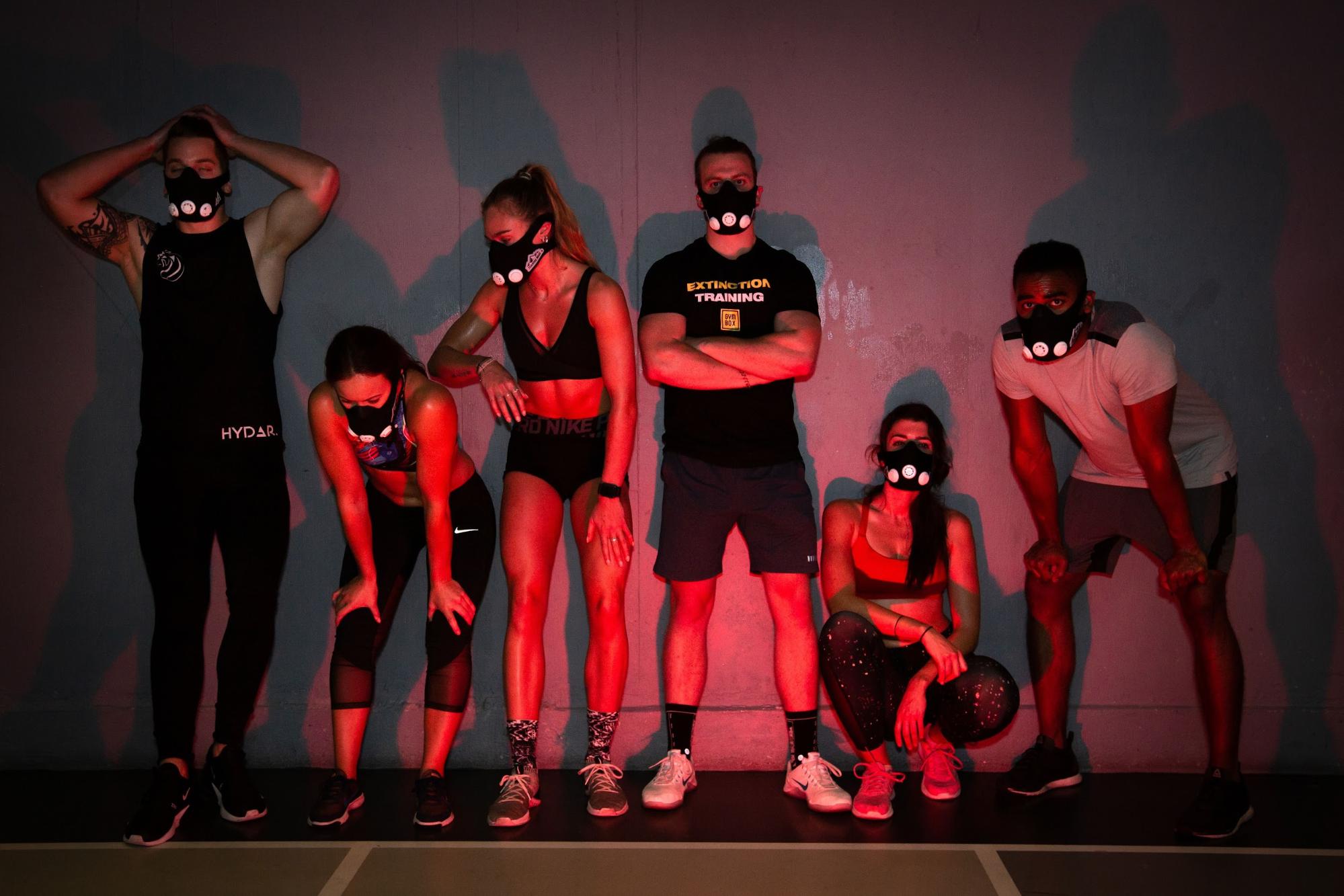 The realities of irreversible climate change, are, of course, very real. And for developing countries, the consequences are already being felt — both in terms of the physical environment and economic inequality. Yet despite all the obvious warnings — from rising sea levels, to ongoing forest fires — corporations, with the help of authoritarian and populist regimes, continue to shamelessly reap the Earth for profit.
That said, in this darkened bunker where I'm currently struggling through my final set of ball slams before I get to drink the 125-milliliter bag of water I've been afforded in this post-apocalyptic scenario, none of these things exist, nor do they really matter. All that matters is completing the number of reps written on the mirrors, and doing so in time with the mid-aughts pop music blaring in the background.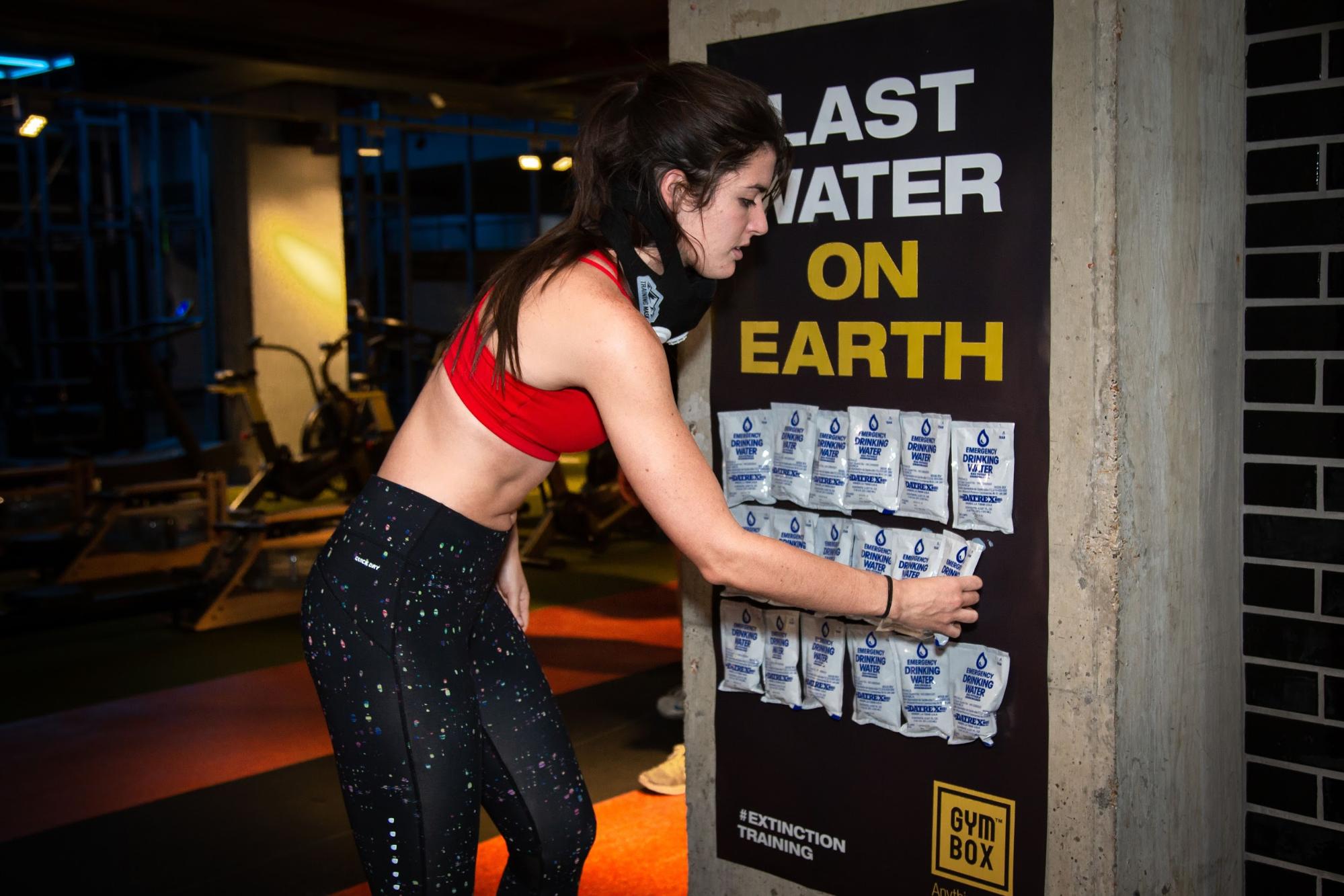 Not to mention, after this class, I will get to have a hot shower with mass-produced vanilla body wash, before stepping into the sauna to massage my calf muscles. Other than some pain that comes with not stretching before Extinction Training, the consequences of climate change, for me, are relatively small. I will go back home to my apartment, my family, my friends and my partner, unscathed and having lost nothing. And so, I will have left Extinction Training, not with a new political philosophy or the energy to organize against financial power, but rather, the knowledge that even when the world falls apart, the fittest — and the hottest — will survive.