"When I say I want to fuck Venom, I want to fuck Venom," Twitter user @SisMaryJane tells me while parsing the surprisingly complicated situation playing out on the internet since the Venom trailer launched in April. Those uninitiated to the monster-fucking scene might see Venom's thicc tongue and quickly assume that's what gets people going. And they're right, but only halfway so, because this love (lust?) affair runs much, much deeper.
Forever Monster Fuckers
Wanting to fuck a monster isn't anything new. People have long romanticized supernatural villains, from Dracula to King Kong. "The attraction to monsters has been around forever," explains Venom erotica author and Tumblr user Sexy-Clown-Fucker. "[But recent] movies like IT and The Shape of Water have made it more acceptable for people to be attracted to them." (Regarding IT, people came out in droves to declare how they wanted Pennywise to "fuck [them] hard with his big clown cock," according to a submission to the PennyWise Confessions Tumblr.)
Two other normalizing forces — the internet and better movie makeup. "The internet truly paved the way to make it more socially acceptable to be attracted to whatever you're attracted to, which is incredible in a sense. But they also don't make monsters as ugly as they used to be," Sexy-Clown-Fucker explains. "They put more effort into how they look now. Even going as far as to hire attractive actors to play them."
Venom, however, takes things to another level, at least per #VenomFuckers such as WyrmForge. "I've been getting a lot of shit about how 'first it was the clown now it's Venom,'" she posted on Tumblr. "And I have to say how could you even put Pennywise and Venom in the same league? Pennywise is an incel, and Venom is a raw unfiltered Chad."
Venom's Erotic Lore
"There's nothing wrong w/ wanting to fuck venom but i wish ppl saw them as more than 'the next pennywise' you know what i mean??" Tumblr user Cobwebbing writes in a post decrying bandwagon #VenomFuckers.
For her, it's the conflicted relationship between the human "good guy" host Eddie Brock, and his parasite, the symbiote Venom who thirsts for violence and destruction, that turns her on. "People are really reductive in their understanding of Venom," Cobwebbing writes to me over email. "Having someone with control over your autonomy and to some extent the way you think is scary and intriguing."
Similarly, as Daily Dot writer Gavia Baker-Whitelaw explains in a post explaining Venom's hot/complicated inner turmoil: "It's a twisted but often sympathetic love story, going hand-in-hand with a long-running subtext of erotic horror. To put it bluntly, Eddie wants Venom inside him, and vice versa," she writes. For proof, she points to this strip from the comic: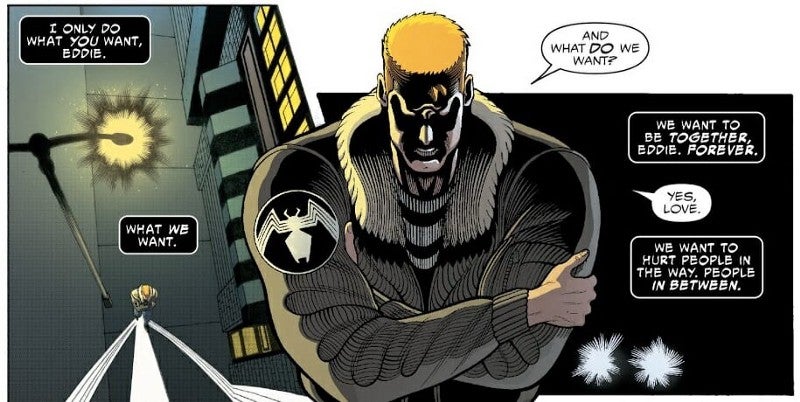 In other words, it's a very specific love triangle. Namely, they want to fuck Eddie, and they want to fuck Venom, but only when they're together. For example, when Peter Parker is host to Venom, the attraction isn't there. "It could go back to the attraction of monsters for me," Sexy-Clown-Fucker explains over email. "When Venom attaches to Peter. he doesn't look like he does with Eddie, and Peter doesn't care for Venom as Eddie does either."
"The way I've always wanted to fuck Venom has been to go from Eddie to Venom — although they're two beings that share the same body, they're still two separate consciousnesses," she continues. "Venom does identify as male and would have genitalia of a male, even if technically it would still be Eddie's genitalia as well. I never really considered it to be a threesome, but in a sense it really is."
All of this plays out often in Sexy-Clown-Fucker's Venom erotica: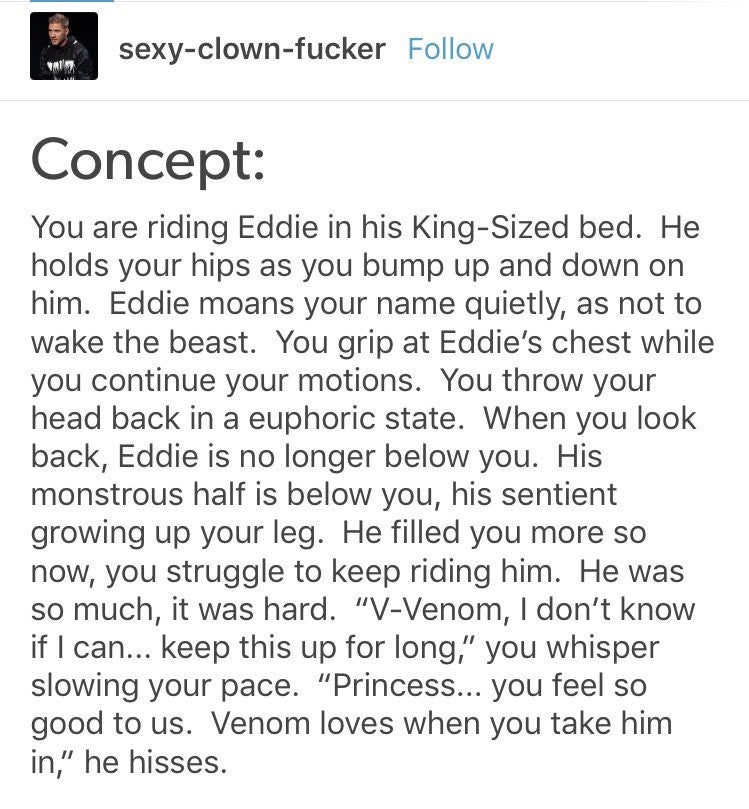 According to Rebecca Jane Stokes, a freelance writer who covers sex and sex with monsters (aka teratophilia), the fetish is arguably a more-straightforward extension of the "bad boy" attraction. "There's this mystique of the bad boy, the guy who's going to treat you like hot trash," she explains. "Your downstairs turning into a water park over Venom or Pennywise? That's a logical evolution of the bad boy; in many respects it's more straightforward, too."
About That Tongue…
Obviously, not everyone is willing to look deeper than Venom's gigantic tongue. And certainly not the #VenomFuckers on Twitter who have been passing this image around: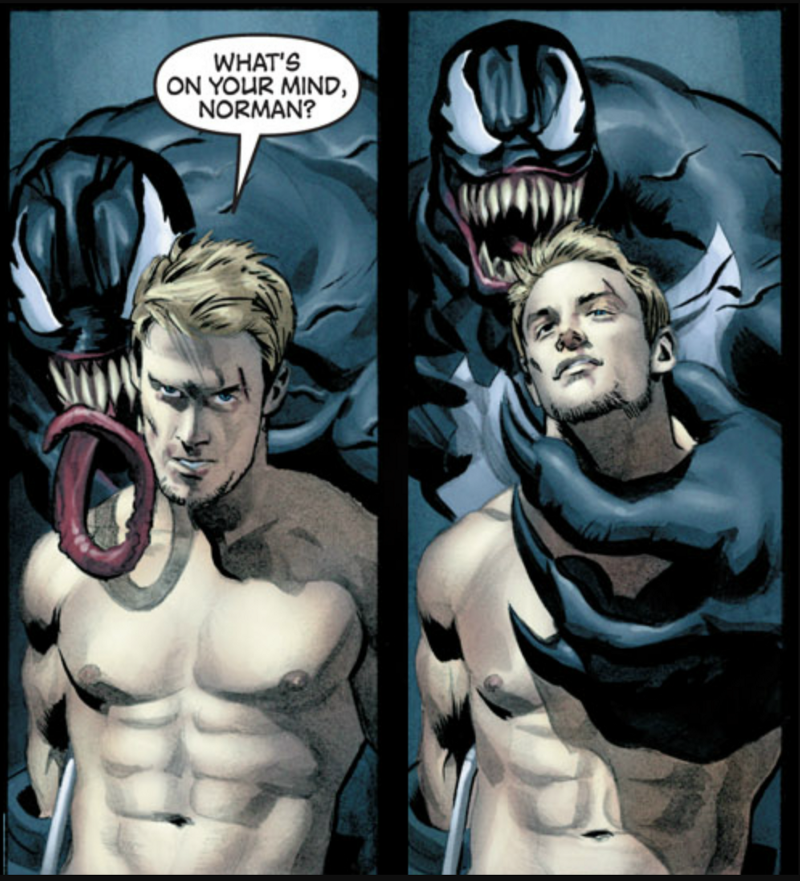 He is then, the Daily Dot's Baker-Whitelaw admits, the perfect storm of teratophilia kinks:
"He's ravenously hungry but can be tamed by the right person. He penetrates and envelopes his victims' bodies, tempting them to do dark things. He's a walking vore fetish with a giant, slurping tongue. He's super-strong and likes to pick people up with his tentacles. Basically, if he didn't star in a family-friendly Marvel superhero comic, he'd probably find steady work in hentai porn. More prosaically, it's amazing how often the comics strip Eddie Brock naked for no good reason and have him grapple around with the symbiote's tendrils."
Venom-Cum-Latelies
Naturally, the movie has only heightened all of this — especially when a makeout scene between Venom and Eddie leaked—pouring jet fuel onto the monster-fucking internet embers and inspiring many more #VenomFuckers far beyond Tumblr and niche erotic fanfic sites.
"Some people are only attracted to [monsters] when Hollywood throws them in our faces," Sexy-Clown-Fucker says. "A lot of people are just attracted to Venom because of how muscled-up he is, or honestly, the most common one — his tongue. I've seen people say that he could do anything to them as long as he used his tongue."
@sismaryjane falls into this category. "What did it for me was the scene where he says, 'So many snacks,'" she says. "There's a huge community of monster fuckers. I wouldn't say I'm a part of it. Venom's fuck following is definitely [for] the tongue, his voice and the fact that Tom Hardy is the 'sickly' man beneath it."
Cobwebbing doesn't resent these bandwagon jumpers as much as she hopes that they become #VenomFuckersForever. "I don't want to be a gatekeeper. The movie gives very drive-by information about Eddie and the symbiote. [So] people don't really 'get' Venom. But I hope that by getting the little bits of information in the film, more people are encouraged to go read the old stuff. After all, either way, I'll have to grin and bear people who now think it's trendy to find a buff alien hot."