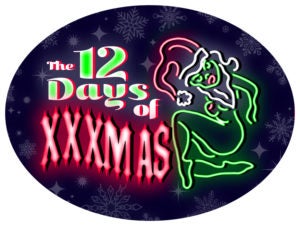 This year, we're swapping out the typical 12 days of Christmas for something even better: 12 days of sex workers who should absolutely be on your radar. Whether they're breaking new ground on OnlyFans, using their platform to call attention to issues like racism and immigration or shattering our ideas of who's "allowed" to make porn, sex workers are both reimagining what sex work can be and changing the world — one swingin', phalloplastic dick at a time.
In 2016, 22-year-old part-time sex worker Maya Morena was working at a big-box electronics store when a co-worker found the nudes she was selling on Tumblr. He started talking, and the news eventually reached management. Soon thereafter, she got a call that she was being let go — apparently, her online work was "not conducive" to selling VR consoles.
Instead of getting angry, Morena, now 27, felt liberated. An undocumented immigrant from Honduras with curly black hair and a full set of adult braces, she'd been working soul-killing retail jobs for years and felt like she was losing herself. "Every single part of my life was becoming theirs," she explains in her soft Long Island accent. "I had to wear all black; I had to smile all the time. Even my facial expressions belonged to the company."
Being undocumented, though, she didn't have a lot of options. In particular, her immigration status prevented her from accessing financial aid for Mount Holyoke, the private women's college she'd been accepted to. Instead, she worked while going to community college in Long Island. She was able to do so because of DACA, the program that allows undocumented people who came to the U.S. as children to possess jobs. But when President Trump announced his plans to end the program the same year she was fired, it was all the motivation she needed to go into sex work full-time. "I really wanted to have a career that I didn't have to rely on any legal status in order to do," she says, adding that she could make significantly more money under the table as an escort and porn performer than she ever could in a dead-end retail job.
Morena had already built a potential pool of customers through Tumblr, where people followed her for her nudes and political commentary on immigration. She built a website, dressed up for photoshoots and set her rates based on how much she wanted to work. "It was great to create my own world I could be in charge of," she tells me. "Sex work gives me more time to explore myself, to advocate for myself politically and to dedicate time to my passions."
But sex work isn't all she does. Morena is also an outspoken advocate for immigrant rights and undocumented sex workers, something she speaks at length about on her blog, Quora account and YouTube channel. In her latest YouTube video, she talks about the problems with the 2011 documentary Whore's Glory, which follows sex workers in three countries through a voyeuristic lens. "It's very much tailor-made to a white gaze that wants to gawk at the third world and how poor we are and how we don't have agency," she explains passionately as she adjusts her glasses and fiddles with her red headphones. "We become dehumanized by these narratives, because it's less about understanding us and what we're doing to fight back, and more about depicting us as dead bodies that experience violence over and over again."
For Morena and other undocumented sex workers, things are much more nuanced than that. While being undocumented puts them at greater risk of harassment from law enforcement, trafficking raids and deportation — and they also lack access to health care, government aid and worker protections — sex work can provide a critical lifeline in a precarious employment landscape where the only employment options are in informal sectors. Many, like Morena, also find purpose and liberation in their work, viewing it as a voluntary profession that, just as with any other job, has its ups and downs.
One of the strongest forces Morena is up against are anti-trafficking organizations who intentionally conflate sex trafficking with consensual adult sex work. "That comes from this idea that women don't engage in sex work out of their own free will," says Kamala Kempadoo a professor at York University specializing in anti-trafficking discourse and sex work studies. Anti-sex trafficking raids often specifically target undocumented sex workers, too. "In the name of anti-trafficking, raids are done on sex industries, particularly when it's known by the police and immigration [enforcement] that migrant women are working there," she explains. "Invariably that will lead to some kind of arrest and detention of someone who might not have their documents to stay in the country and who is working in the sex trade."
Basically, Morena says, government officials and anti-trafficking organizations don't want undocumented people or sex workers to work. "But," she says, "I'm still making money. That's my big 'fuck you.'"
Morena's parents left Honduras on temporary work visas after Hurricane Mitch devastated the country in 1998. She was a kid at the time, left to the care of her grandparents who stayed behind in the small mountain farming community where she grew up. One day, she was standing outside with her grandmother when three figures approached. Her grandmother pushed Morena inside, just before the men started shooting. It was the last time Morena saw her grandmother alive.
To this day, her family doesn't know why this happened. Due to safety concerns following her grandmother's murder, Morena's parents decided to pay to bring her to the U.S. The journey, which she took alone as a 6-year-old, involved staying at a series of informal shelters — often family homes, other times warehouses — until she reached the U.S.-Mexico border where she made the arduous walk through the desert led by a traveller, also known as a coyote.
She remembers being so exhausted that the man leading them put her on his back. Suddenly, a spinning light searching for migrants appeared. It was Border Patrol, who asked her if the traveller was her father. When she said no, he was arrested and taken to jail. "I realized at a very young age that this was supposedly done to protect me," she says.
Morena herself was taken to a holding cell in Arizona. She remembers a guard giving her Austin peanut butter crackers through the metal bars. "I felt very isolated," she explains. "I knew I couldn't rely on them [immigration officials] for emotional support. The way that they 'protect' kids who are considered trafficking victims is that they put them in jail cells. They fingerprint you, they take your photo, they barely feed you."
After spending some time in a shelter with other undocumented minors — she's not sure how long — Morena was reunited with her parents in Long Island. But the experience left her with a deep fascination around human trafficking and the divide she saw between perception and her lived experience. As she delved into America's long history of criminalizing sex work, she connected her journey from Honduras with the country's penchant for using anti-trafficking campaigns and fear-mongering to target migrants and people deemed "immoral."
"Because I'm a sex worker, people want to put me in the trafficking category, and being an undocumented immigrant, they want to put me in the trafficking category, too," she explains. "In that case, my parents are the traffickers, and they're bad parents in their minds."
Once on Long Island, Morena focused on school, where both teachers and students made disparaging comments about "illegal" immigrants. As such, she kept her status hidden and thought that by excelling academically, she could disprove their small-mindedness. "I thought I was a good person and that I was every bit the American they were," she says. "I had this dream that everything would work out, and I'd eventually get citizenship somehow. But when that didn't happen, it was devastating."
And so, as her friends started driving and thinking about college — two things unattainable to Morena prior to DACA — she was confronted head-on with the realities of living in a country that refuses to give undocumented people full rights. After running away from home, where she felt stifled and unable to explore herself, working as an escort seemed like an easy way to make quick cash. Not that she didn't feel a lot of shame around the decision. "I internalized what my parents thought of sex workers and the industry and what society thought," she says. "I really hated myself for a long time, and I wasn't able to get politically into it."
This changed once she started building relationships with other sex workers. They invited her to protests for sex worker rights, and she began to see the power in organizing. Those she worked with in the porn industry advised her to keep her growing political interests out of her work, but she refused to stay silent. Soon, she was devoting her free time to sex-worker advocacy organizations like Red Canary Song and Third Wave Fund, and learning about the intersection of criminalized sex work and migration. (Along these lines, she's currently pursuing a degree in sociology.)
Being so outspoken about her status and politics has led to constant harassment online, much of which are deportation threats that specifically target her status. She was even added to a now-archived Reddit list called "Bad Hombres to Report to ICE" and has been reported by anti-immigrant trolls on PayPal, Cash App and Venmo, greatly affecting her access to payments. (The list continues to exist in Google Doc and Google Spreadsheet form under a slightly different name, and there's a private Discord chat related to it where people believe they're "helping God's Emperors" — aka ICE agents — "do their jobs.")
"Some of them have made weird conspiracy theories about me that I'm funded by George Soros, that I'm part of a pimp lobby," she says. "Somebody got ahold of my phone number and texted me that they would find me, and that I couldn't run away forever."
The potential consequences of these threats are real. Though she hasn't been confronted by ICE or other immigration-related government agencies so far, she could be easily deported or denied DACA renewal if they were to find out about her sex work. Still, the importance of what she does far outweighs the risks. Other undocumented sex workers often DM her for advice about renewing DACA and because they're scared their jobs could likewise affect their immigration status. More often than not, she urges them not to go public about being undocumented — it's too dangerous, especially now that a case challenging the legality of DACA is back in federal court.
She's similarly helped clients with cancer and erectile dysfunction who wanted intimacy without fear of being ridiculed, and on one occasion, she worked with a male sex worker and one of his clients — an older Jewish man — who didn't feel comfortable coming out of the closet. At the session, the man had a breakthrough moment, and allowed Morena to watch him give her colleague oral sex. "I was able to create trust with this person. It was a very special moment for him," she explains. "Moments like that make the job feel like I'm doing something amazing here."
They're also anything but examples of "victimhood" and "exploitation." "I'd like people to at least be curious about who is behind these definitions and who they serve and to be empowered to have these conversations themselves," she says. "I want people like me to be able to imagine their own version of freedom and to be aware that they're the ones who should be defining exploitation for themselves."