Chrissi Shewchuk's grip tightened on the ends of the rope. She knew the odds were stacked against her as she watched her tug-of-war competitor saunter out of his trailer for the "King of the Mountain" challenge: Bart, a nine-foot-tall, 1,500-pound Alaskan brown bear. Shewchuk felt a spike of anxiety, but she grounded herself. She had no delusions. She knew she was going into the water.
After all, this is Man vs. Bear. "It was just a matter of what that was going to feel like, and how long I could hold on," she tells MEL. Shewchuk, an Army veteran, skydiving Spartan racer and pediatric nurse by trade, put up a good fight against Bart. Inevitably, though, she was "quite literally ripped off the platform."
"But, you can see in the clip, there's not an ounce of my body that gave up," she asserts. "And so I ended up belly-flopping into the water below pretty hard."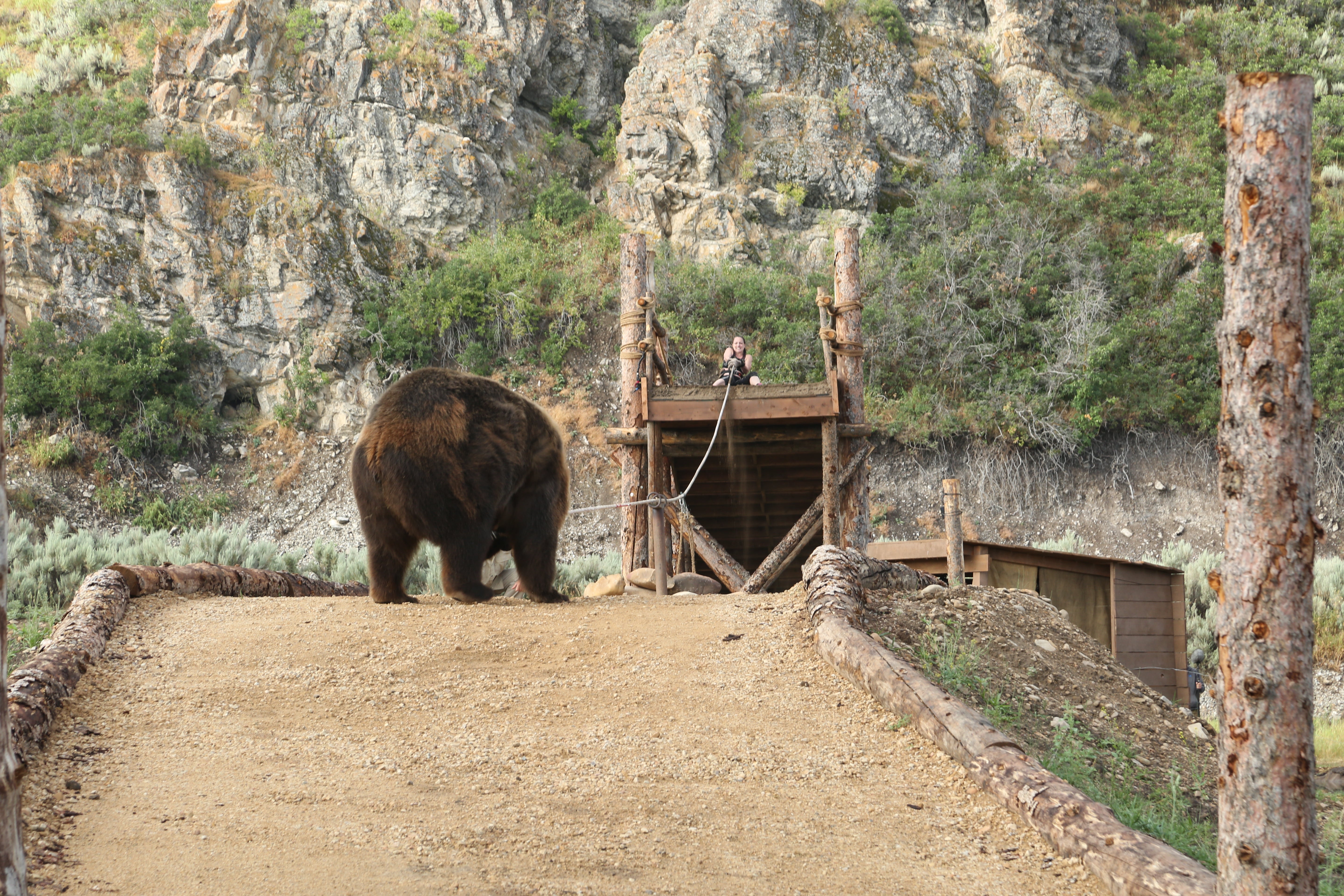 The show, Man vs. Bear, is the brainchild of Paul Lima and Kinetic Content. "Bears are fearless, apex predators; they are afraid of nothing," Lima tells MEL. "There's always that image of people being chased by bears, and what do you actually do when you encounter a bear? Are you frozen in this primal fear, or do you run?" The question lead Lima to Doug and Lynn Sues, bear trainers and founders of Vital Ground, a grizzly bear sanctuary in Montana and home to three rescued bears: the aforementioned Bart, Tank, and Honey Bump.
"Doug's secret sauce is in the incredible relationship he has with his bears," Lima says. "It's like a relationship with a massive dog. He pets the bear, and the bear kind of pats him on the back. You can't be around Doug and his bears for more than 10 minutes without immediately getting that there is so much love and respect there."
Upon seeing the types of exercises and playtime activities the bears would do at the sanctuary, Lima and his team concocted a series of competitions that could pit humans against the physical prowess of Bart, Honey Bump and Tank.
Lima wanted to capture "the human qualities that bears possess, which is important at a time when bears are largely misunderstood," he explains. "We as humans love to lump bears into [the category of] aggressive predators, but they're very loving, emotional animals. And in the show, you really start recognizing each bear as its own individual, with its own temperament."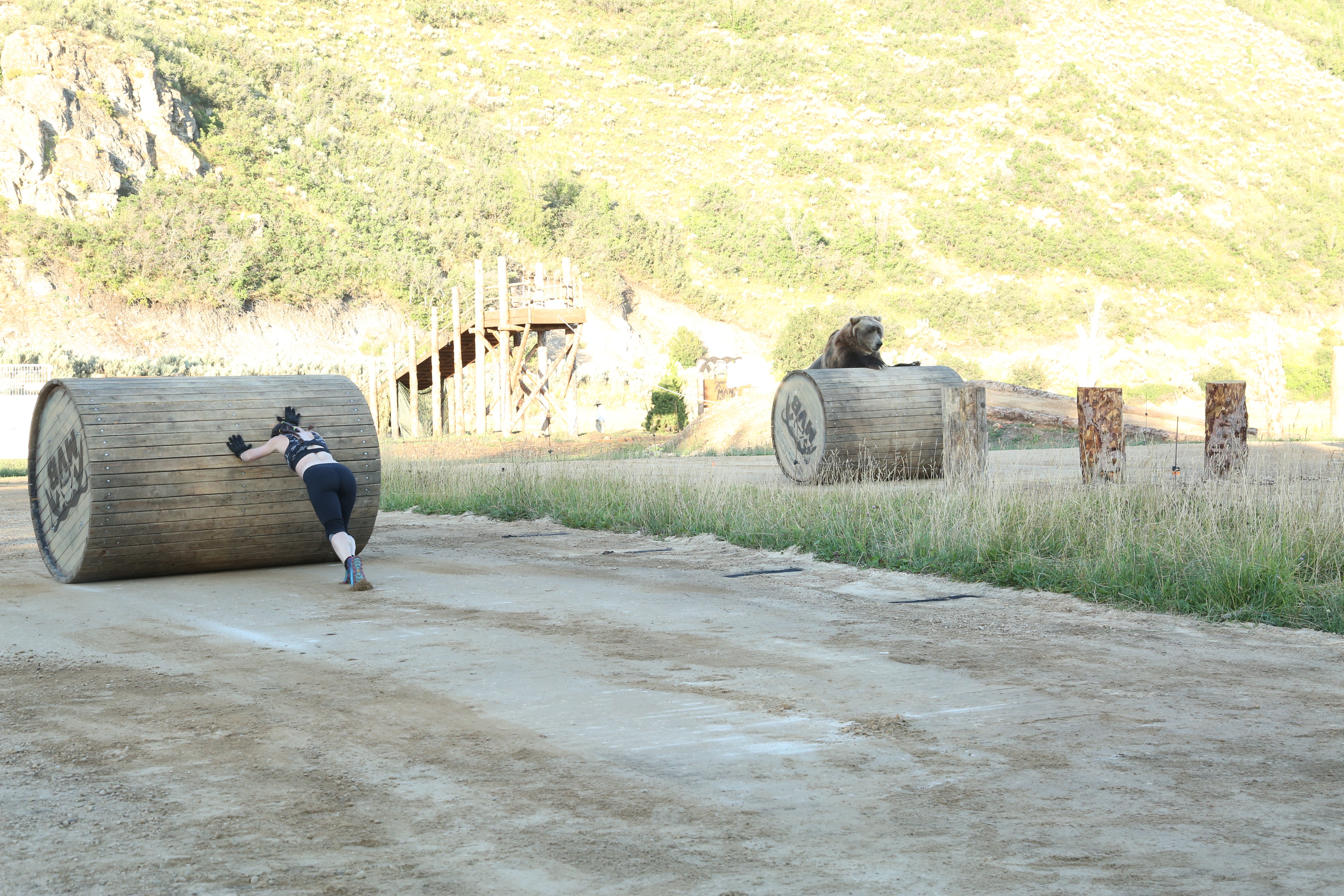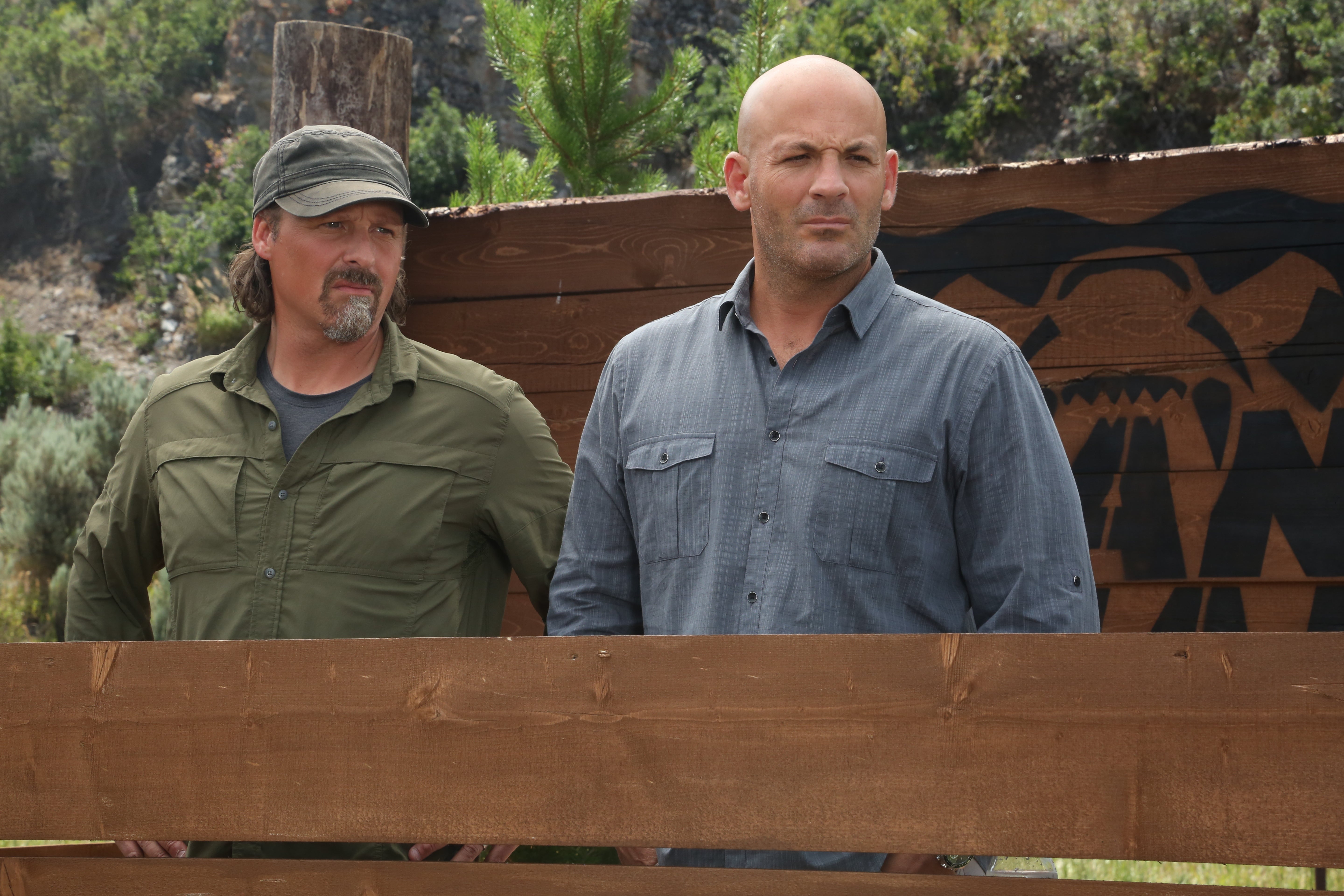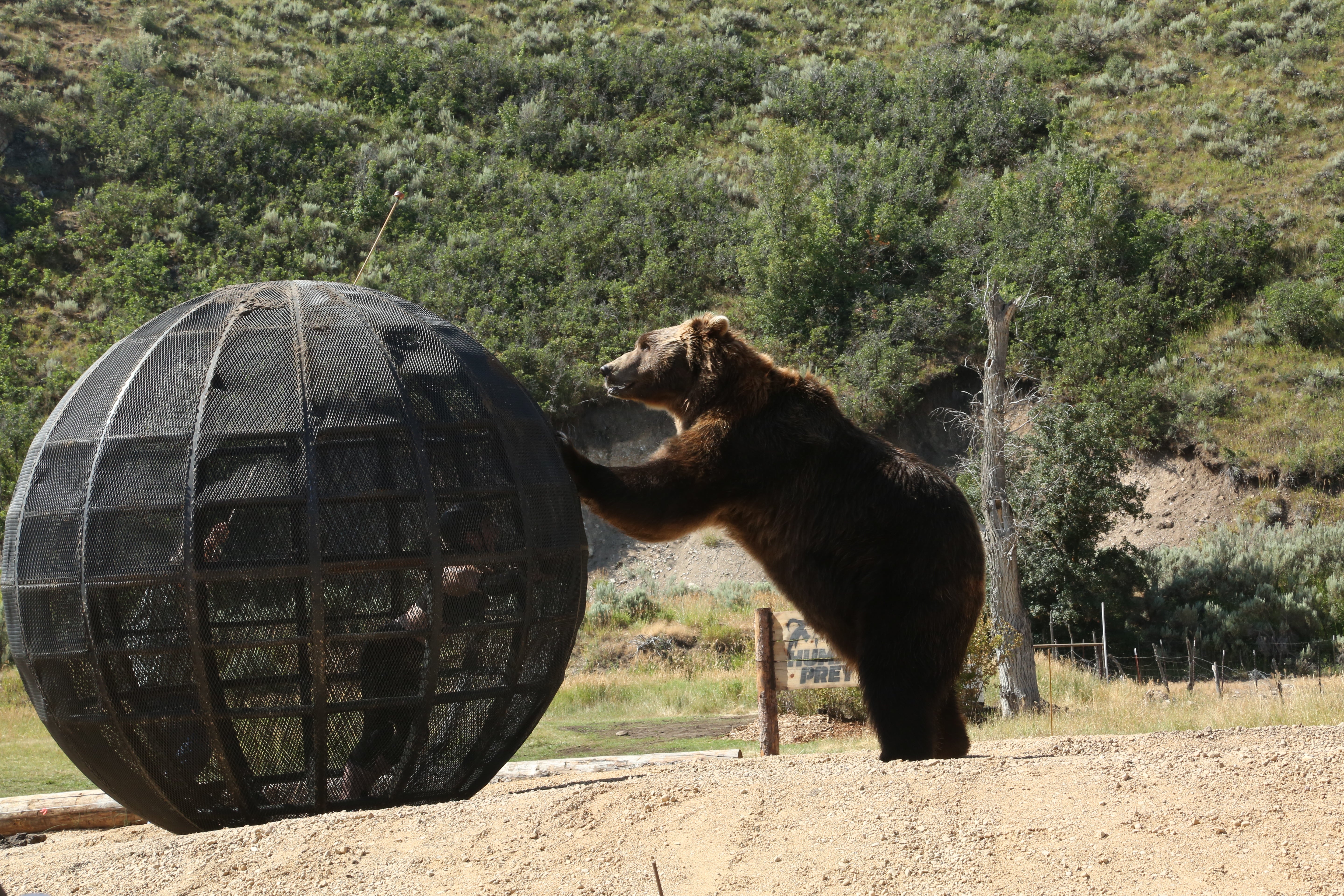 "Ultimately, it's all based on what's fun for the bears," Lima says. "So it's funny when people say, 'Oh, you're forcing the bears to do what that they don't want to do.' It's such a ridiculous thought that anyone could force a bear to do anything. Bears don't do things they don't want to do. Period."
Take Bart, for example. "Bart is huge, and he can be real stubborn. And sometimes he just get bored with tug of war, bored of treating humans like little dolls. He'd decide that was it for the day and walk off."
When that happened, Lima says, the production crew had to make do. "We were at the mercy of whatever the bears felt like doing," he says. "And that type of mentality had to be built into the scheduling." Production needed to make sure they could film another competition whenever Bart, Honey Bump or Tank decided they weren't up for it.
As for Honey Bump, "she's very feisty," Lima says. "She's just competitive, and a bit of a cheater, especially when it comes to running. She doesn't want to follow the rules, and if she finds any way to cheat, she will," he laughs. "Which is hard because we want to make sure everything is fair, and all the competitors have the same experience. But Honey Bump, she just doesn't like to follow the rules."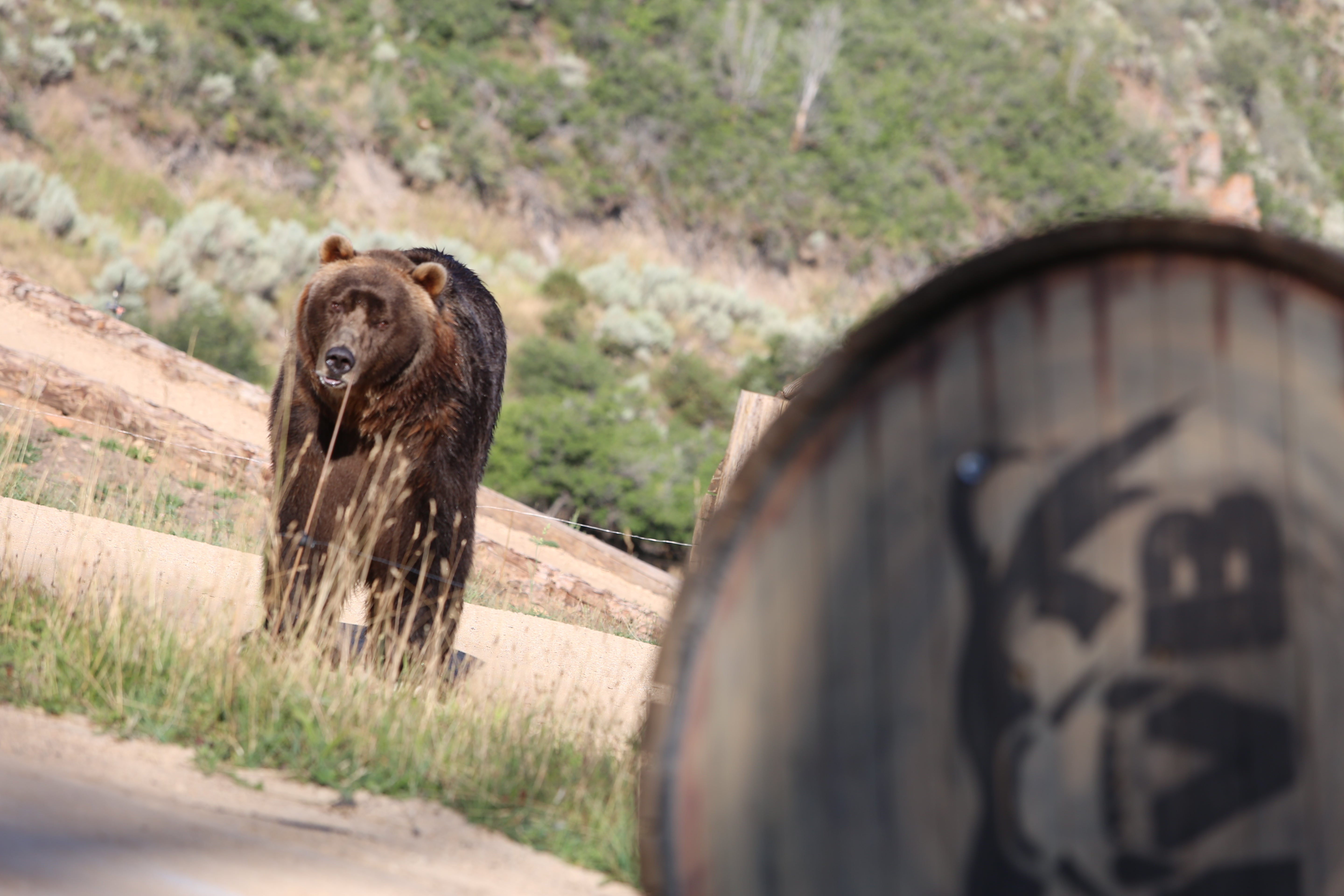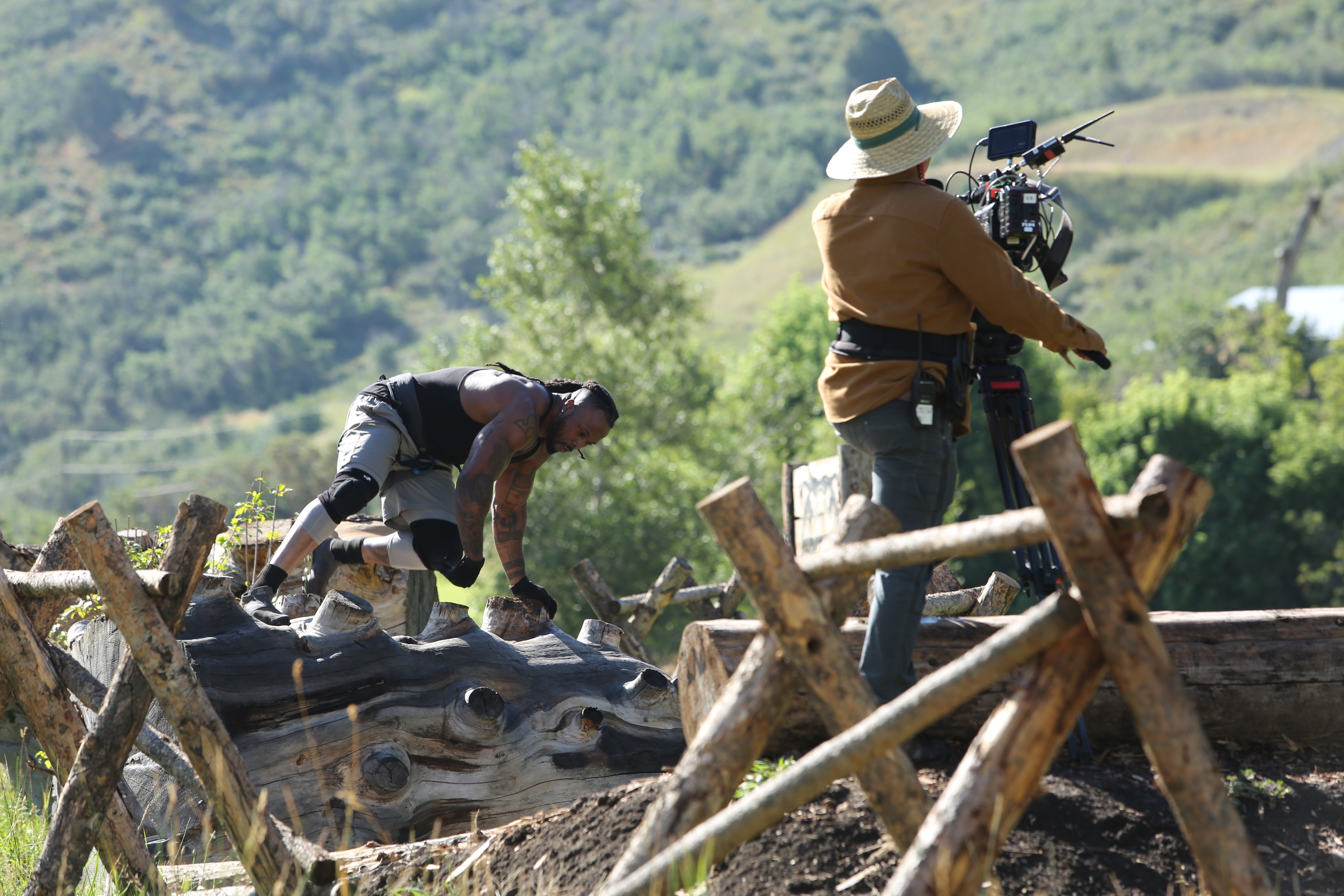 "There is an immediate ping that happens to that level of confidence when you actually see the bear," Damm says. "Because there is nothing more confident than a bear. You give me the most confident human being that you can find, and put them against a bear — a 1,500-pound bear like Bart — and that confidence level immediately shrinks to nothing. So now the competitor is having this mixed emotion: 'Everything in me is telling me to run, but here I am about to compete.'"
The closest competitors get to the bears is the "Human Prey" challenge. As Shewchuk describes it, the challenge puts human competitors into a "human hamster wheel," where they try to avoid being pushed into a pit by Bart.
"When you're in one of those cage balls, you can smell the bear's breath, you can feel the heat and power radiating from him, because he's right there, his paws touching the same cage as you. There is no other experience like it," Lima says.
Shewchuck says the "hamster ball" competition was where her nerves spiked again.
"He's in your face, and the most obscure thought comes in your mind, like, Wow, that's what a grizzly bear's breath smells like, hmm," she laughs. "But then there's another animal-loving part of me that wanted to give him boopsies and hugs, but for safety reasons, of course, only the trainers could interact with the bears."
When asked if there's anything on Earth that could out-strength Bart the bear, Lima is skeptical. "Bart is the strongest creature that I have ever seen close-up, and I challenge any human or creature out there who thinks that they have what it takes to challenge Bart: Bring it on. You're not as tough, you're not as strong as you think you are. Bart is going to treat you like a little baby doll. And he's going to take all your machismo and turn it into cheese."
But Shewchuk, after winning her episode, remains unfazed. "I was the smallest thing on that mountain that day, but I won my episode by having the most determination. To be the only female on the leaderboard felt amazing," she says.
"It just feels so cool to be a role model and show little girls and women in the room that you don't have to be the strongest or the fastest or the biggest person — you just have to be confident and never give up. Even if you're facing down a bear."