Earlier this summer, after a slew of canceled tour dates and festival appearances, Frank Ocean played his first U.S. show in years during FYF Fest at Exposition Park in Los Angeles.
And whom did he enlist for moral support during this momentous occasion? The one and only Hello Kitty.
I mean, Brad Pitt was there too, but it was Hello Kitty who made a special appearance as the bouncing karaoke cursor during Ocean's closing song, Nikes.
https://www.youtube.com/watch?v=PO4L97cSDtw
Then, late last month, the Hello Kitty cursor showed up once again in the lyric video for Ocean's new single, "Provider."
Ocean is hardly the first guy to share his love for Hello Kitty. In 2014, Sanrio, Hello Kitty's parent company and manufacturer, launched a six-day exhibit at a Tokyo department store called "The Hello Kitty Men Project," along with the delightful tagline, "Sorry to keep you waiting boys." The same year, a bunch of American guys went to the inaugural Hello Kitty Convention in L.A., which featured a panel called "Guys Love Hello Kitty Too!"
Hello Kitty has other bro fans, too. Actor Tom Holland sported Hello Kitty pajama pants on the set of the new Spider-man movie, and internet rapper Candy Ken loves the way Hello Kitty stickers feel on his tanned and toned body.
And while these nine superheroes (and the actors who play them) haven't expressed any Hello Kitty love just yet, someone went ahead and Photoshopped Hello Kitty gear onto them anyway.
Even Dumbledore.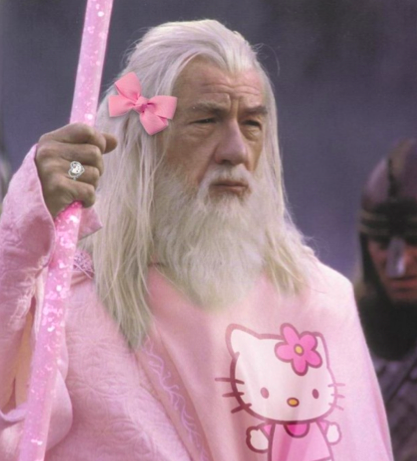 Sanrio was created in 1960 by Shintaro Tsuji, 89, a Japanese man who wanted to create a brand centered around the Japanese art of gift-giving. He also wanted to create products that would promote communication and connection, little trinkets of fun, friendship and love. This is why Sanrio's slogan, as printed on all of its gift bags, reads, "Small Gift, Big Smile." In 1974, Sanrio launched its first Hello Kitty product, a small coin purse featuring its eventual superstar between a bottle of milk and a goldfish bowl. Two years later, Hello Kitty had made her way to America, mirroring the wave of Asian immigrants to the U.S. after previous policies had excluded them.
Today, Sanrio reports annual revenue in the 12 million yen range (just under $2 billion U.S.), and Hello Kitty is the sixth most licensed character in the world.
With numbers like that, men must be buying Hello Kitty, too. To figure out who they might be — beyond all the famous dudes mentioned above — MEL caught up with five regular guys who love HK and her friends (Spottie Dottie, Pochacco, Badtz Maru, Keroppi, etc.)

The Guy: Oliver
Age: 46
His First Hello Kitty Memorabilia: Pencils, pens, erasers and stationary.
His Best Piece of Hello Kitty Memorabilia: Hello Kitty Sega Dreamcast video game system.
Hello Kitty Fandom Level: "On Instagram, I'm known as the Hello Kitty Guy."
His Cross to Bear: "Coworkers and acquaintances give me grief about Hello Kitty from time to time because I'm a guy, but I just try to ignore it."
The Guy: Andres
Age: 30
His First Hello Kitty Memorabilia: Toys and figurines.
His Posse: "I've adored Hello Kitty since I was boy, as well as other Sanrio characters like Keroppi and Bad Badtz-Maru."
Where His Fandom Stops: "These days, I've thought a lot about getting Hello Kitty tattooed on me, but haven't done so yet."
The Guy: David
Age: 32
Why He Loves Hello Kitty: "She never expresses dismay or sadness. Either that or she just has no mouth. My favorite part of Sanrio is how their characters are both cute and demonic at the same time."
Favorite Hello Kitty Store: The one at the international terminal at LAX.
Hello Kitty Dream: Flying on an EVA plane with Sanrio livery.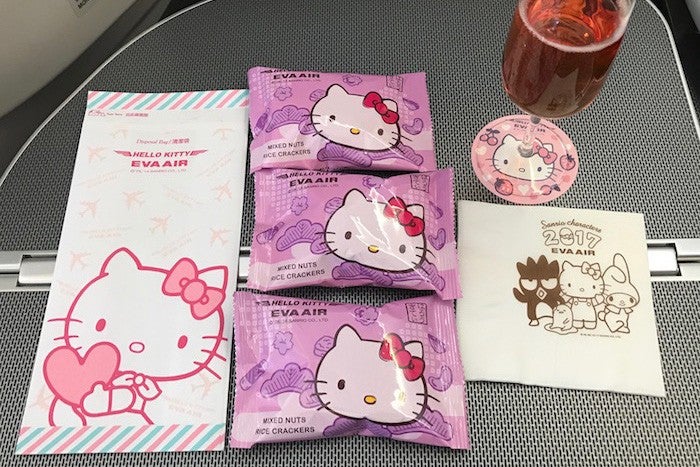 The Guy: Will
Age: 28
His Hello Kitty Desire: "Hello Kitty is cute as fuck."
His Hello Kitty Guilt: "I never took the time to get to know any other Sanrio characters besides her."
The Guy: Mikey
Age: 25
His Hello Kitty Memories: "I connect my love for Sanrio with the people in my life who adore it, especially my sister and other girls I grew up with."
His Favorite Hello Kitty Merch: Candy, tins and containers, lunch boxes and nice school supplies.
The Guy: Andrew
Age: 27
The Sanctity of Hello Kitty Gum: "There's no greater-tasting gum than Hello Kitty gum — even if three combined pieces only lasted for three or four jaw movements. When I was in elementary school, I would chew that sweet, sticky goodness the way a baseball player chews tobacco. As soon as those flavors cut into my dopamine receptors, I was as high as a kite. Only my drug of choice was peach-flavored, and it tasted like a tropical rainstorm made of sugar and paste."