Each Monday afternoon, a landscaping crew arrives at my apartment building. They trim the hedges and whack the weeds. They sweep up stray leaves and dirt, packing them in bags to be dumped in the yard waste bin. It's not easy work — particularly when you're at it all day in the hot sun — but there is one part of the routine that I envy: When they fire up the lawn mower.
The internet is awash in articles that outline why millennials can't afford homes. None of this analysis has discussed a knock-on effect of my generation becoming renters-for-life: We don't do many of the chores our parents had to do or that we might have done ourselves in adolescence. I mean stuff like raking leaves in fall, shoveling the driveway in winter, cleaning out the garage or repainting the porch. Most of these duties were headaches and hassles — labor to justify an allowance — but not mowing the lawn. For boys, the mower was a pleasingly loud, semi-dangerous piece of equipment. Its roaring drone complemented the rich smell of cut grass, and the zen of the winding path you took, leaving parallel strips of green in your wake. You sweated the good kind of sweat, the honest perspiration of a guy getting shit done.
Maybe that's why, if we can't have lawns as adults, we're mowing the digital kind.
Lawn Mowing Simulator, released by Skyhook Games on Steam this month, may be the most advanced virtual yard-work title, but it's far from your only option. The App Store has several more, including Lawn Cutter 3D and Lawn Mower Simulator 2021, plus It's Literally Just Mowing, a cartoonish hit; Idle Grass Cutter, a retro-style overhead version; and Boomer Simulator, a lightly satirical racer in which you chug beer and run people over with your mower.
This newest entry to the genre, however, is impressive in its commitment to authenticity and the lush, peaceful environments most conducive to a satisfying mow. You get to explore the estates of "the Great British countryside," and in no other game can you "ride an authentic and expansive roster of real-world licensed lawn mowers from prestigious manufacturers" such as Toro, SCAG and STIGA. There's a business element, too, though as a PC Gamer critic notes, it's secondary to the hypnotic joy of hearing birds sing while you maneuver across idyllic grounds.
As in our world, there's an art to skirting the flowerbeds and circling the patios. Watching a streamer talk about his precision turns at the edge of a garden activates the part of my dude-brain that agrees with Hank Hill, patriarch of the animated sitcom King of the Hill, when he likens lawn-mowing to a euphoric drug. It's an incredibly square point-of-view — the "normie" mindset, we might say online — but underneath our hip, ironic posturing, don't we all have a normie persona yearning to be free?
You find more evidence of this in the "30-Year-Old Boomer" meme, which posits that the happiest millennials are the ones who bypassed any dreams of fame or innovation, and dove headfirst into suburban mediocrity. They have a mortgage in a nondescript town, a stable and boring job, a car they love to wash and a lawn they love to mow at 10 a.m. on Saturday mornings, preferably while pounding a couple Monster Energy drinks.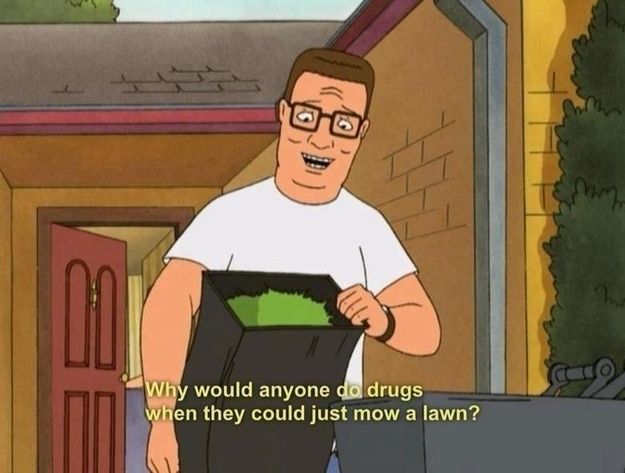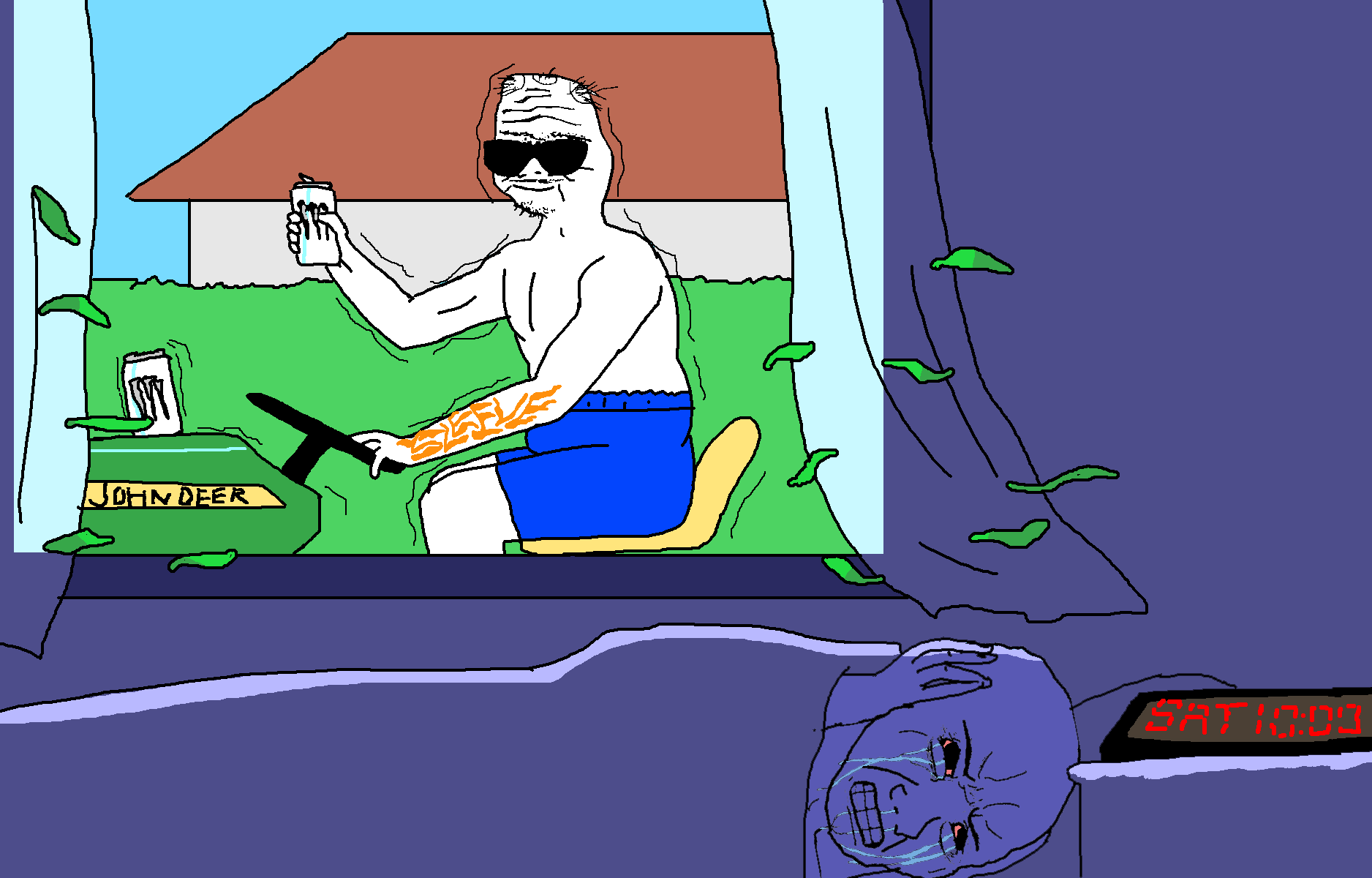 Going all in on the lawn doesn't mean you've given up, exactly — it's more like you've developed different values, or chosen responsibilities with much lower stakes. If you can control the health and appearance of this small plot, then you're a spiritual success, no matter what else holds you back or grinds you down. That, I believe, explains the lawn-mowing sims: A lot of men my age don't have that outlet anymore — the centering experience of mindless outdoor property maintenance. No guy wants a game where you unclog a sink or assemble IKEA furniture; it has to be a full-time job (farmer, pilot, construction, trucker) or a slice of domestic work that engages some masculine instinct for preserving order and asserting ownership. The natural companion piece to virtual lawn mowing would undoubtedly be PowerWash Simulator.
Of course, Lawn Mowing Simulator can't totally recreate the sensation of tidying your turf, and some gamers have panned it for leaving out tools and details common to yard work. I was struck, though, by a review that declared it "literally the bare minimum of the satisfying lawn mowing experience," because it was written by — wait for it — an actual landscaper. Imagine it: You mow lawns all day, and when it's quitting time, you want to play a game that is as faithful as possible to that very thing. If that and other strong opinions on the sim don't speak to our craving for lawn-mower nirvana, I don't know what would.