On Valentine's Day, New York City finally became home to one of the few businesses it had been missing: an erotic bakery. Kinky's, located on the Lower East Side, is a strictly adults-only 1970s-inflected dessert bar straight out of Minx, except with hundreds more penises.
Vintage porno film posters, dirty magazine collages and BDSM gear line the walls and furniture, but the phallic element is most striking in the food. At Kinky's, the cupcakes look like breasts, the cookies have buttholes printed on them and the cream-filled waffles are shaped like cocks.
After first seeing a safe-for-work promotion of Kinky's by owner August DeWindt on TikTok, I knew I had to try it. What better way to follow up my dinner of penis pasta than with a dessert of penis waffle? So, on a recent Thursday evening, I visited for myself and had a quick chat with DeWindt about what inspired the creation of Kinky's.
"My friend Jack, one of my business partners, showed me these dick waffles being done in Taiwan," she tells me. "We thought it was funny, and would make a great business here. But then we wanted to expand from the waffles into a sex-positive and fun bakery for adults to come to."
Naturally, what pairs best with a penis waffle is a vagina waffle ($8 each), both of which are the stars of the menu. They're traditional waffles, stuffed with a cream filling ranging from flavors like banana pudding, apple pie, double chocolate chip and, of course, vanilla cream. The two other signature menu items are cookies ($4 each), with flavors including vegan chocolate chip and Fruity Pebbles, and cupcakes ($5 each) in shades of red velvet and vanilla buttercream.
All of these take on a sexual element, too — many of the cupcakes are shaped like a perfectly round breast topped with a pierced nipple, and the cookies have erotic images like a woman spreading her legs printed on them.
"We didn't come up with any specific references," says DeWindt when I ask her if the breasts, penises and vaginas were modeled after anyone in particular. "But if you look at our treats, there are all different shades — we want to make sure that you know we're inclusive to everyone, and there's something for everybody."
In terms of sales, she says the penis waffle is by far their most popular menu item. "People all over the spectrum — straight, gay, whatever, everyone loves the penis waffle."
The horny desserts are only one part of Kinky's success, though. People seem to flock to Kinky's not only for the treats, but because it's highly Instagrammable (if you're careful not to betray Instagram's nudity policy, that is). Washed in pink and purple tones, with buzzy phrases like "Mouthful of YUM" painted on the walls and sexy neon signage, Kinky's has become a popular spot to take pictures. On the bakery's geotag on Instagram, there are hundreds of people promoting the locale. DeWindt says she and her husband designed and decorated the entire place themselves, with some help from her mother-in-law, who assembled the furniture collages herself.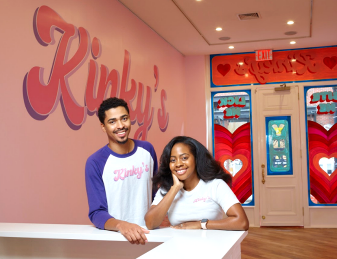 As an adult venue, Kinky's keeps adult hours. It doesn't open till 5 p.m., and closes between 10 p.m. and midnight. It's the perfect middle ground location to hang out, offering something different from bars and coffee shops without losing maturity in the way a place like an ice cream parlor could. As the manager told me, it gets increasingly packed as the evening goes on. Right before closing, people scramble to get their pictures in.
But early on a Thursday, it was the ideal time to devour the strawberry cream-filled penis waffle I ordered, as well as the penis-chocolate crowned red velvet cupcake and chocolate chip cookie. Even beyond the ambiance, I'd return for the waffle any time. Now if only there was a good spot nearby to grab an erotic dinner, first.