Grandma has been up all night working in the kitchen, but she's not cooking her world-famous meatloaf: She's cooking crack, pushing pills and fucking shit up.
Throughout history, men have often been associated with being kingpins of criminal organizations—from "Lucky" Luciano, who's widely considered the father of modern organized crime, to Pablo Escobar the "King of Cocaine." But that's only a partial history. There are also plenty of women—septuagenarians, in fact—who have run their only families (the criminal kind, not the sons/daughters/grandchildren kind).
The most famous kingpin granny is probably Griselda Blanco (aka "The Cocaine Godmother" or "the Black Widow"). She earned the latter nickname because she was allegedly responsible for killing all three of her husbands. The assassinations, however, didn't stop with the men she married. While she was the head of the Medellín Cartel, it's rumored that she was responsible for more than 200 murders and that she raked in more than $80 million per month from selling coke. Sadly, in 2012, at the age of 69, she was killed while leaving a butcher shop in Colombia. She was recently portrayed by Catherine Zeta-Jones in the TV movie Cocaine Godmother.
More recently (as in last month), 75-year-old Betty Jean Jordan (aka the "Kingpin Granny") was busted in Tennessee for moving a considerable amount of prescription drugs—1,000 pills to be exact (including opioids and Xanax).
https://www.youtube.com/watch?v=rFX0tMovrvA
Sixty-year-old Leola Michelle Alston (aka "Trap Queen") was half "Cocaine Grandmother," half "Kingpin Granny," cutting the 100 kilos of coke cops found on her with 50,000 oxys. When asked by police about her 2016 arrest, she responded: "Every ghetto has a candy lady and that was me for years. But I just graduated to that other candy. I didn't do it for me. I have 17 grandkids, and I wanted to send them all to college, so they won't have to sell drugs."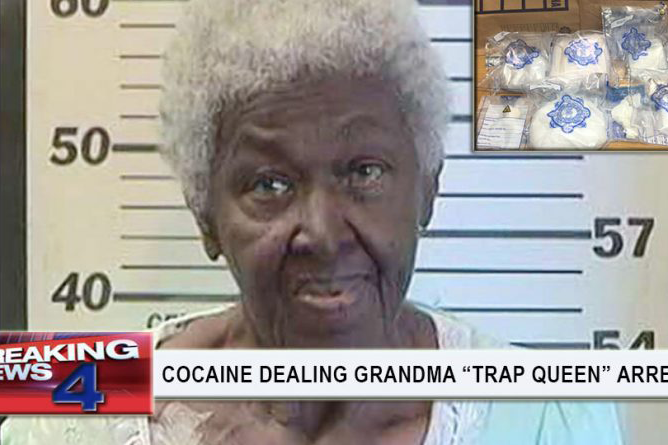 So the next time you get a $100 check from your grandma for your birthday, don't go snooping around for answers.
Unless you want to get whacked, that is.