Late last week, Max, a pseudonymous 25-year-old grad student in London, decided to take the plunge and slide into the actress Julia Fox's DMs. Since the release of Uncut Gems, Max, like many guys, has been infatuated with her. He's liked every one of her Instagram posts and religiously watches her Instagram Stories. He even has a picture of her as his iPhone wallpaper.
Two things made Max go from mere fan to earnest shooter, however: 1) Fox confirming her recent divorce via Instagram story, in which she described herself as "happily unmarried"; and 2) he'd been in self-isolation for 10 days, with little else to do. "I was sitting on my bed going through Instagram, and I was just like, 'Fuck it, why not?'" he tells me. 
And so, using a screengrab from the movie — the infamous scene where Adam Sandler, wearing sunglasses, makes his final bet on the Celtics game — Max decided to shoot his shot. After all, he reasons, "there's probably more of a chance she'll actually see it" if she's stuck at home, too.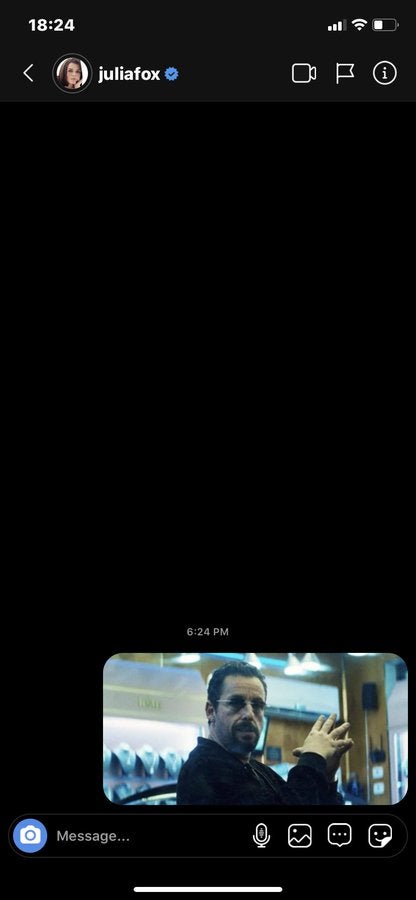 "When you think about shooting your shot in normal times, it's about going in knowing that your odds are slim," he continues. "You come from a different social background, or you aren't rich. But because we're all stuck inside and living the same life, your life is pretty much basically the same as any celebrity's."
The thing is, his odds aren't as strong as he thinks. Because he's got a lot of competition:
This is obviously a joke, though, right? I mean, Max and his fellow shooters surely are doing this more as a silly way to pass the time than as any legitimate romantic overture? It's clearly, at best, a joke to Fox. All the guys I spoke to said she'd either not seen the message or left them on read. (She ignored me, too, when I reached out for comment.)
Still, says J., a 17-year-old high school student from Indiana who slid into the DMs of Disney Channel star Skai Jackson last week, "Because their DMs are open, there's at least a chance of being able to shoot your shot." Plus, he adds, "You get creative when you have this much time on your hands."
He vows, too, that sending DMs isn't necessarily flirtation or romance. Rather, like many young people suddenly trapped at home and online, it's about connecting with other human beings. "It's more about starting a friendship," he explains.
Either way, to keep his hopes high that Fox will eventually respond to him, Max cites another infamous scene from Uncut Gems, this time a piece of dialogue: "This is how I win."