If I have to watch oppressively straight white twins walk around empty, soulless houses, please at least let them look like knockoff Jason Stathams.
Jason and Brett Oppenheim are the latest identical duo to take over real estate reality TV. The two real estate brokers star in Netflix's Selling Sunset, which answers the question, what if Real Housewives of Beverly Hills had a baby with Million Dollar Listing?
Quick, can you tell them apart?
Wikipedia tells me Jason (the daddy on the phone) is the veteran broker and founder of the Oppenheim Group, a West Hollywood brokerage with tacky metal gray slabs as desks. Brett is his right-hand (well, in this photo, left-hand) man and senior vice president.
They're the spiritual heirs to the Property Brothers, Drew and Jonathan Scott, two tall Canadians who look like they just stepped out of a TJ Maxx. Round two: Can you tell them apart?
Drew (on the left) is the one who shouldn't be in a vest. Jonathan (on the right) somehow managed to get Zooey Deschanel to date him in a blue V-neck undershirt. New Girl? No, girl, not this man.
The Scotts are accommodating, pleasant and optimistic as they convince prospective buyers to find a fixer-upper worth remodeling. What a snooze. I'm sure these brothers are fine dinner-party guests, but I don't want well-meaning on my TV. I need something of substance to talk about beyond kitchen backsplashes and bedside sconces.
What I want are two brothers with a shitty wine label, too-tight dress shirts and deeply irresponsible workplace boundaries.
Masquerading as a 30-minute guilty pleasure, Selling Sunset is a dark comedy about the perils of conventionally attractive women contractually obligated to satisfy two men with Napoleon complexes. The twins on Selling Sunset are short jesters — certainly not short kings.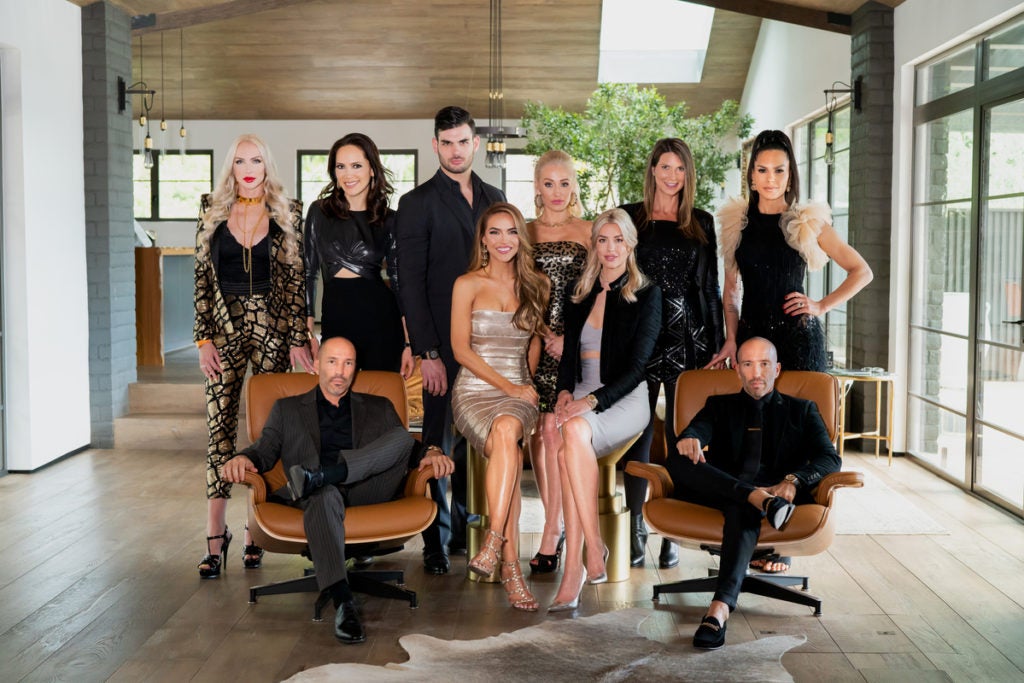 When it's revealed in the third season that Jason Oppenheim has a hard time dating, it makes it clearer why he's surrounded by a bunch of glamazons. The women in his office feel like staged furniture that makes a house look more enticing than it actually is. Their fiery retorts and fantastically over-the-top outfits raise his value, and he rewards his darlings by assigning goldmine listings to whomever he chooses, earning them potentially millions in commissions.
But it's clear that the women are the stars of the show. What's more, they shine in spite of the Oppenheims, not thanks to them.
There's Mary Vander, a star seller whose wins are credited to Jason. Chrishell Stause (ex of This Is Us' Justin Hartley) is the good girl. Christine is her wicked-witch counterpart (and the only woman rivaling Real Housewives' Dorit Kemsley as TV's best villain). Davina Potratz is a snake, while Amanza Smith is the scrappy up-and-comer. Heather Young and Maya Vander round out the cast.
The Oppenheim twins and their arsenal of only female real estate agents are not so far off from The Girls Next Door, E!'s reality show about Hugh Hefner and his late-aughts playmates. Jason and Brett are using these starlets as bait to entice and sell their houses, pitting the women against one another. (Seriously, an HR director needs to step in about Jason's favoritism toward Mary, his one-time ex.)
This is why the show is at its best when it disregards the Oppenheim twins altogether. It shines when the focus is on these glamorous businesswomen with legit real estate skills. Watching Maya getting a broker's license and risk going out on her own in Miami after unfair treatment by the twins is more engaging than any new CBS procedural.
There are so many reasons to love Selling Sunset: Christine dresses like a Marvel supervillain; Chrishell dishes about her divorce from Hartley; and who doesn't love seeing staged one-liners that take us back to the early days of reality TV when Lauren Conrad would be fed her lines on The Hills? (Adam DiVello, who created The Hills, is behind Selling Sunset.)
Still, there's something off about the show's lens on this engrossing office. Behind the veneer of successful agents parading around the Hollywood Hills is a crude tale of women straining for the approval of two men who've bought their affection. Maybe it's a good thing I don't know the difference between the Oppenheim brothers after all.