Mike Morales sits in a lawn chair in his concrete backyard, admiring the throng of voters who have come to his garage to exercise their democratic privilege. He's a short, squat man — barrel-chested, with ropey, sun-baked forearms from years of physical labor. His bushy biker mustache compensates for the lack of hair on his head, currently covered by a camouflage "United States Army" hat.
Morales' garage is the kind you might expect to find on American Pickers. It houses a fleet of vintage cars — most of them 1950s Chevys — and is decorated with neon signs advertising Coors and Miller. There's even more Americana inside, including a Coca-Cola dispenser from 1946.
But today, it's also his neighborhood's polling place. Beneath the neon signs and next to a table of Morales's car-show trophies, residents of his L.A. neighborhood cast their votes for president and a host of state, county and city ballot initiatives.

Morales and his wife, Cathy, first transformed their home into a polling place 20 years ago, after the local Catholic church, St. Gerard Majella, stopped accommodating voters. "One year they couldn't have it, so they asked me to sponsor it," Morales explains. "And it's stayed here ever since."
"I've been here my whole life," Morales says of Del Rey, his West Side neighborhood. It's predominantly non-white: Nearly half (44.3 percent) of Del Rey residents are Latino, according to the Los Angeles Times; another 14.1 percent are Asian.
Morales is an ideal polling-place host, as his life story is what George W. Bush might have called "uniquely American." Both of his parents immigrated to L.A. from Mexico — his father from the Baja peninsula, his mother from Jalisco. His father was riding his horse down the road when he heard a young woman, Morales' mother, strumming a guitar on her front porch. "It hit [my father] right in the heart. He turned his horse around and started talking to her, and they were together ever since." Morales's father proposed after just one date. He was 36; she was 18.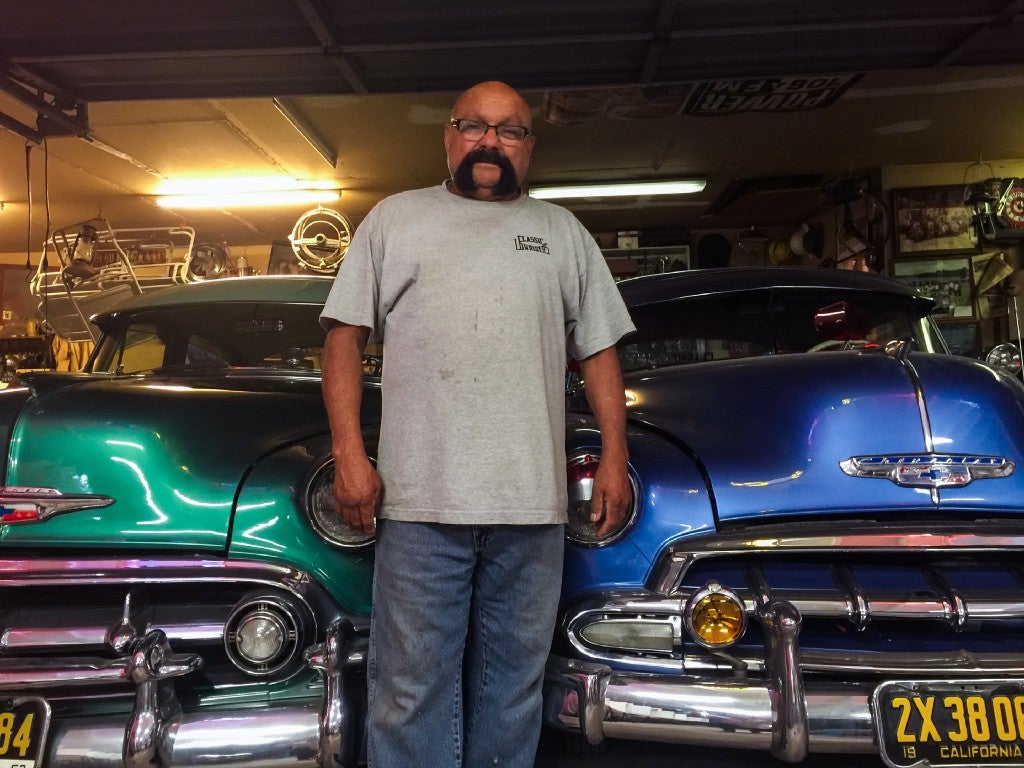 Morales was born in 1949, and grew up in a house one block over from where he lives now. The family was forced to move to Morales' current residence after the other property "burned to the ground" in 1958. It's here that Morales met Cathy. "I've known her ever since she was 12 years old. She grew up on the same block."
Tragedy struck the Morales family again in 1967, however, when Morales' mother was hit and killed by a drunk driver, Morales says, getting choked up.
Morales enlisted in the U.S. Army shortly thereafter, but was quickly released on a medical discharge. Morales suffered a bout with polio when he was just 3 years old, leaving him temporarily paralyzed on the right side of his body. Although he beat the disease, it left him with a significantly smaller right leg and a permanent limp, making it impossible for him to complete basic training.
Back home, he spent the next 43 years working in construction, including a stint with the City of Los Angeles. Now retired, he gets to spend more time indulging in his hobby of fixing up old cars. His small but impressive fleet includes Chevy pickups from 1946 and 1956 (in green and red, respectively) and a 1952 Chevy Fleetline in robin's-egg blue, which he gave to his daughter for her quinceañera. "I said, 'Hey, do you want a big party, or the blue car?' I thought she'd want the party!" His next project is a 1965 Suburban that sits covered in his driveway.
The voters in Morales' backyard are as diverse as his neighborhood. There's an African-American woman in a burnt-orange dress and UGG boots; a white guy in a fedora; a white woman in a red T-shirt, blue jeans and white Chuck Taylors; and a Asian man in a "Love trumps hate" T-shirt. A pregnant woman in Jordans nearly cries after voting for the first time.
Morales refers to them all as "sir" or "ma'am," helping them feed their ballots into the reader, and handing them an "I Voted" sticker right before they leave. An elderly woman is confused by the ballot process, and Morales instructs her in Spanish.
"It's cool [hosting a polling place]," he says. "I meet a lot of people who live on this block."
Del Rey has changed enormously in the years Morales has lived here. His father used to own a farm nearby, with horses, goats and cows. But all the empty plots of land have since been developed into apartments or single-family homes. Despite the change, the neighborhood has maintained its mix of Asian, Latino, white and black residents, he says.
Voting in any election is an honor. But voting underneath a Budweiser neon sign, next to an American-made truck from the car-crazed 1950s, in a house owned by a military veteran and son of Mexican-American immigrants feels exceptional, especially in this election.