Carlos Ruiz, 21, has worn crop tops since coming out as gay five years ago. "I just wore them because they were fashionable on me," he explains. 
Among gay men like Ruiz and queer people in general, crop tops are as commonplace as Beyoncé's Ivy Park merch, Zara button-downs or American Apparel skinny jeans. In particular, gay celebs like skier Gus Kenworthy, the Queer Eye boys and rap king Lil Nas X have all confidently rocked cropped T-shirts, hoodies and even blazers. 
Yet, unlike bottom culture, V-neck T-shirts and White Claw hard seltzers — all of which straight men have bombastically appropriated from gay men — the straights have never caught on to the fun of the crop top. (I implore them, though, to please keep the V-necks.) So much so that whenever talk of crop tops extends to bros, it's drenched in gay panic. Just look at the marketing for the recent John Cena vehicle Playing With Fire. In one promotional clip, Keegan-Michael Key points to Cena and says, "His masculinity is not up for debate." Cut to: Cena nervously holding the hem of a white crop top featuring a unicorn with luscious hair. "A male expressing any kind of femininity is still seen as comical," says Ruiz.
The history of midriff-baring clothing in American fashion dates back to belly dancers debuting "abdominal gyrations" at the 1893 Chicago World's Fair in choli tops. Men, however, didn't really embrace it until the 1980s and 1990s, when, per a 2016 MEL article, college football players began wearing "tear-away" jerseys designed to rip away in seconds to avoid being tackled, leaving them in half-shirts by the end of the game. "The earliest [crop top] I can ever remember is Johnny Musso from Alabama," Kent Stephens, curator at the College Football Hall of Fame in Atlanta, told MEL at the time. "[Musso] actually made the cover of Sports Illustrated that year in a game against Auburn, jumping over the pile."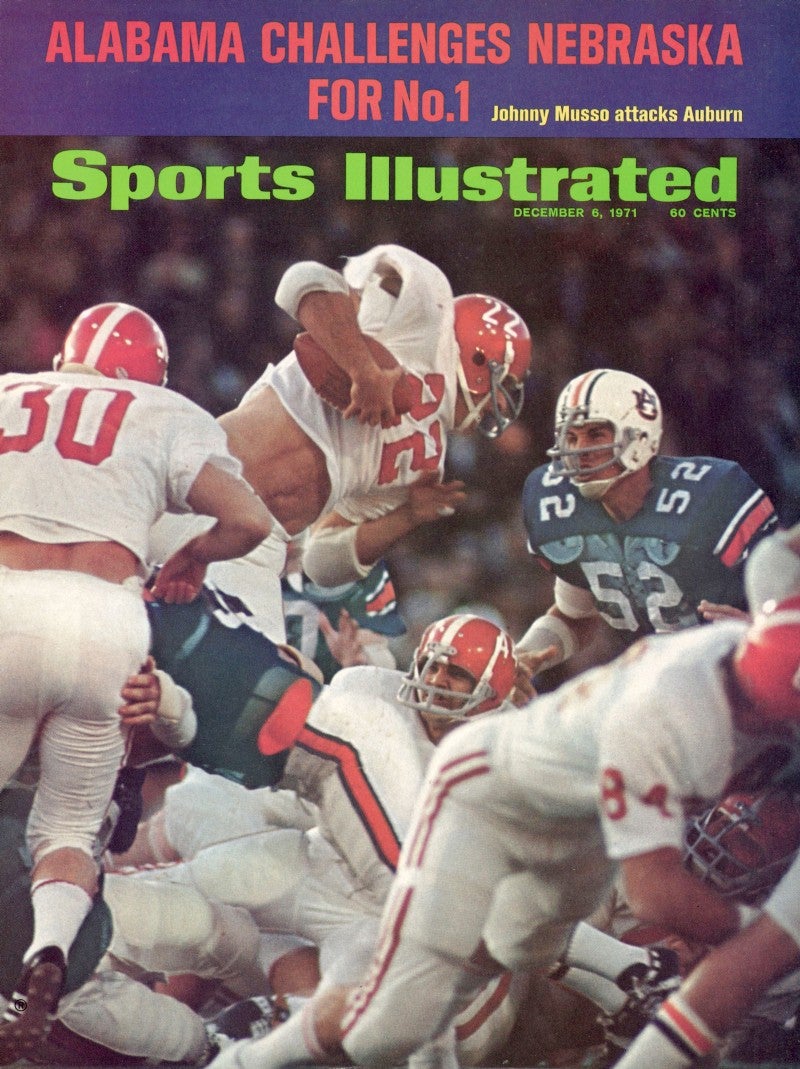 But the popularity of the crop top would all but dwindle on the football field by the 2000s, when branded, full-length jerseys were mandated. And in 2015, the NCAA banned the last vestige of the athletic crop top completely: jerseys tucked under shoulder or back pads (it didn't give an explanation as to why).
Meanwhile, the male crop top occasionally appeared onscreen. Johnny Depp in A Nightmare on Elm Street, Will Smith in The Fresh Prince of Bel-Air and Carl Weathers in Rocky 3 all rocked them. So did Ilan Mitchell-Smith in Weird Science, and more recently, Matthew McConaughey in Magic Mike. They were worn to accentuate these hunks' muscular physiques, who were sexy enough to have six-pack abs and responsible enough to keep them that way. 
Elsewhere, Prince wore an asymmetrical black crop top during a 1986 concert at London's Wembley Stadium. And Teen heartthrobs Corey Haim and Esai Morales donned them for Teen Beat, while singer Ginuwine broke out a cropped blazer (of sorts) for the red carpet. Even the oppressively heterosexual Mark Wahlberg wore one in a 1990s Calvin Klein ad. 
But just as crop tops were finding a home in fashion, the AIDS epidemic changed how straight men policed their clothes and identities. "Post-AIDS, there was this backlash of straight men not wanting to be perceived as gay," Shaun Cole, associate professor in fashion at the Winchester School of Art, tells i-D. "Fashion, as well, has traditionally been derided as frivolous and feminine." 
As such, in a 1989 review of New York Fashion Week Spring-Summer 1990, New York Times writer Woody Hochswender noted a menswear rise of "smoothly traditional" masculine silhouettes. Add in the oversized, grungy styles of bands like Nirvana (not to mention an ever-expanding collective male waistline), and crop tops were on their way out of mainstream male clothing.
Moreover, skin-baring in general became an unwelcome sight for straight men in everyday style. In fact, in 2016, BuzzFeed sent men out in crop tops for a day and asked them to report back what it had been like to bare their navels in broad daylight. All four male test subjects had serious reservations about their body (see above re: their ever-expanding waistlines). "I feel like I should have been working out for the past six months," one said before putting on his crop top. That said, by the end, some had changed their tune. "That was the most comfortable thing I've worn in a very long time," a second guy offered. A third added, "By the end of the day, I'd accepted myself."
Maybe more importantly, it's also something the people seem to be demanding:
And if that's not enough, take heed of C-3PO, droid icon and co-star of the biggest movie in the world at the moment. He's been shining in a crop top since 1977.