These past two-plus months of quarantine have been an exercise in "making the best of a difficult situation," and how we work out is now different. The giant, potential coronavirus breeding grounds formerly known as "gyms" are currently closed. Home gyms, on the other hand, are all the rage, where stairwells are the new cardio machines and milk jugs the new free weights.
That said, there's still something nice about dreaming of a world where we can all return to sharing treadmills and "working in" on each other's squat seshes, and as states throughout the country loosen up social-distancing restrictions, that dream may soon turn into reality. Except kiss the "dream" goodbye, and say hello to the post-quarantine/pre-vaccine gym nightmare, because according to the trainers and gym rats who take this stuff extremely seriously, things are going to look very, very different — if it happens at all. 
Here's what you can look out for…
Masks
Given how city and state governments are treating other high-risk businesses like restaurants, this is an obvious one, and something you should definitely expect. "What I've heard is, masks will be required initially, and possibly through the rest of the year," says Jeff Jalaba, a personal trainer in L.A. 
A win for flattening the curve, no doubt, but a new regulation that doesn't easily jib with working hard in the gym — an irony not lost on Aaron Ransom, another L.A.-based personal trainer. "Masks!" he exclaims. "Such a fascinating point. How do you comply with health guidelines while your members can't breathe?" 
Social Distancing/Reservations
Six feet apart? How about 60? "I heard one friend mentioning his gym going to a 'reduced capacity' operation that will involve enforcing a 25-person max," bodybuilder Oliver Lee Bateman says. "I heard 60 percent of capacity, same as restaurants," trainer Damien Brown offers. "They might take out some machines to enforce it, too."
Or they might even go a step further. "I could see them making it so that people have to sign up ahead of time, sort of like a group class," adds Jalaba. "A max number of people at a time with hour windows you sign up for, based on gym size." Bateman concurs: "They'll likely have people check in 30 minutes before arriving, like they were getting a haircut," he says. "But who would want to put up with that shit, waiting while 50 people finish their workout, or 'booking' a slot at the gym in advance, just to do some lat pull-downs or dips?"
Hygiene/Cleanliness
You might want to ask your gym about an hourly wage, because with all the potential new rules about hygiene, you'll practically be working for them considering how much cleaning you're likely gonna be doing. "There's for sure going to be a sanitizer of some sort at every piece of equipment," says Ransom. 
It won't all be up to you, though, because Bateman, Jalaba, Brown and Ransom all agree that gyms will be cleaned from the time they open until the time they close — and likely after that, too. "I'd expect to see cleaning crews in there nonstop," says Jalaba.
And if you've got the urge to pee at any point during your workout, you might want to stow it. Because bathroom use is likely going to be severely limited, if not outright banned — "too risky," says Brown.
Locker Rooms
Speaking of the john, I hope you didn't derive the value of your gym membership from whether or not you got complimentary Kiehl's in the showers and cold, cucumber-water-soaked washcloths at the sinks. "I'd be highly surprised to see locker rooms open," says Brown. "Showers, saunas, jacuzzis will most likely be off-limits during the initial reopening period — and maybe ever," adds Jalaba. "At the very least, locker rooms will be regulated to a max number of people at all times." 
But hey, that might not be the worst thing in the world. "Locker rooms are always filthy places," Bateman argues. "Regardless of gender. People linger too long, and there's all sorts of odd scents wafting through the air. Seems like a powder keg."
…Or Maybe Gyms Don't Happen At All
Despite how Jalaba, Bateman, Brown and Ransom all imagine or hear how gyms are approaching a post-quarantine, pre-vaccine world, there's some consensus that the gym, as we know it, is doomed. "Personally, I think people are going to ditch the bigger gyms for a more private experience," says Jalaba. 
Bateman believes it has to do with the fact that much of the rules around cleanliness are impossible to enforce. "When I'm not bodybuilding, I work in facilities maintenance, and I can tell you this: Nobody can source enough personal protective equipment right now, particularly hand sanitizer, even if you're in an essential (but non-hospital) role. I know some people are eager to return to the gyms, but if I had to pick one entire field that went kaput due to COVID, it'd be the gym industry."
For the diehards, though, they're still trying to make it all work for the gains: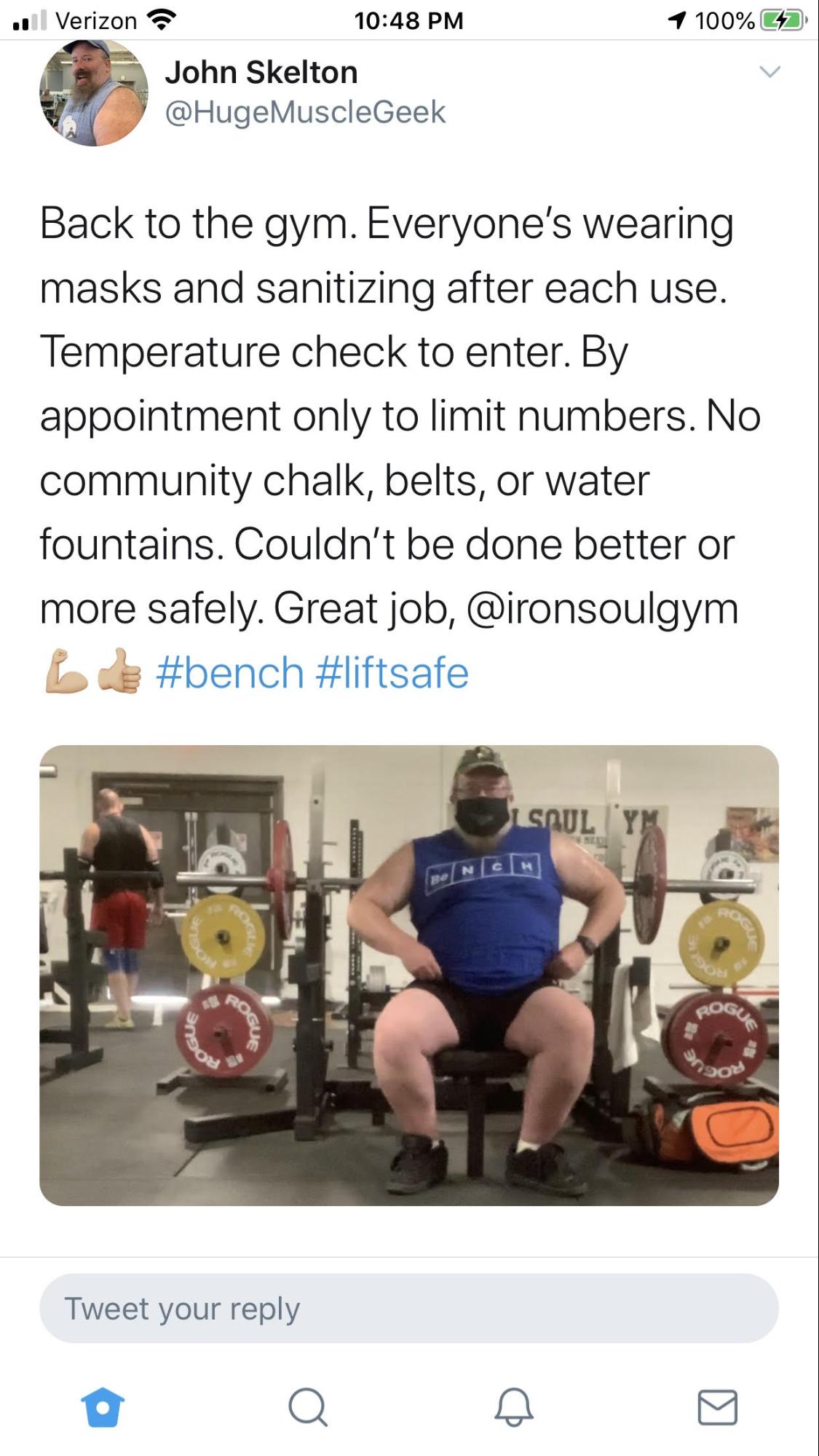 Welcome to the brave new world of swole.