"I'm sorry, you want to do what?"
I sigh, and repeat myself for the third time: "I want to find out how to copyright my feet."
The lawyer I'm speaking to takes a long pause, probably regretting that she took my call pro bono before informing me, "I've had a chat with some of the senior counsel here and, uh, we can really only help you copyright music." 
Then she hangs up. 
I've spent the last 24 hours calling almost every copyright law firm in London to see if I can lay full legal and creative claim to my feet, to no avail. Most people assume I'm joking. Others, who only speak to me off-the-record for fear of tarnishing their corporate reputations, tell me that my request is premature given today's laws. "Maybe put a watermark on it," one lawyer helpfully suggests.
Why go to this length — and embarrassment — to copyright my feet pictures? To put it simply: I believe that my feet could be worth a lot of money.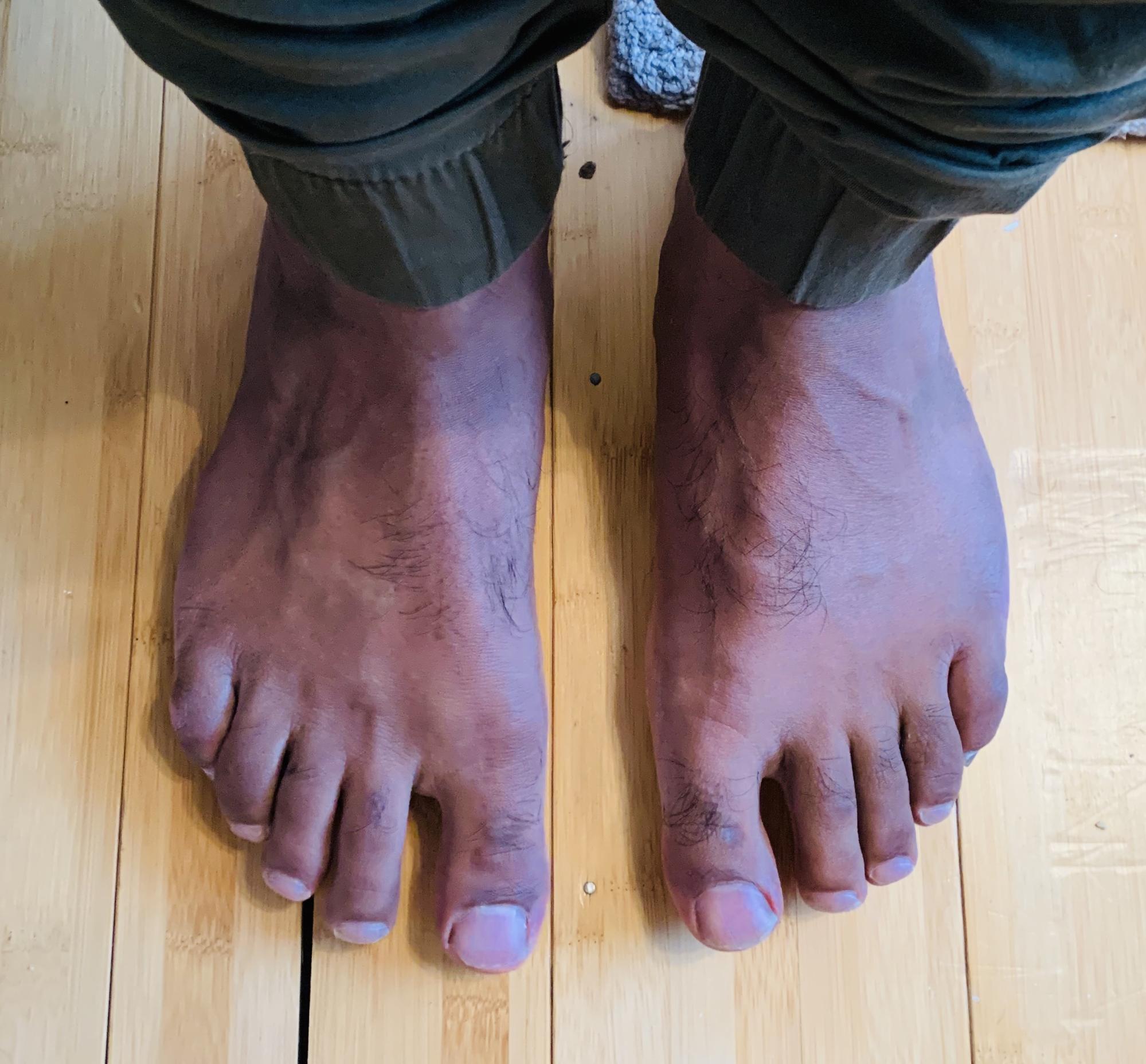 Needless to say, feet have long been one of the most popular sexual fetishes, with foot fetishists like the Russian poet Alexander Pushkin valorizing them all the way back in the 16th century. More recently, "feet" have consistently been among the top search terms on Pornhub. And thousands of foot lovers volunteer as analysts and fact-checkers on wikiFeet. Meanwhile, on Patreon and OnlyFans, hundreds more make good money selling their feet pictures for anywhere from $5 to $500 a snap.
But among all this foot fetish positivity, there's also a darker side — namely, the distribution of foot photos without consent, something the owners of the feet in question can do little about.
"I'm very cautious when sending pictures of my feet, especially to men," says Jane, a pseudonymous 23-year-old artist and dominatrix in New York City. That's because a couple of years ago, she had a client who paid her $50 for a few pictures of her feet ("He'd asked for them to not be washed"), which Jane sent to him over email. She thought nothing of it, mostly thankful that it helped her pay the rent for her shoebox-sized room in Bed-Stuy, Brooklyn.
Last year, though, Jane found the pictures on r/footfetishworld, a subreddit with more than 14,000 subscribers. When she clicked on them, she was directed to a Patreon account that sold feet pics. "I was so freaked out," she remembers. "It felt weird to be violated like that — to read comments of people commenting on the shape of your feet, toes and skin texture. Then, to find out that this guy was making money from my body was gross and fucked-up."
Jane spent two weeks writing to the subreddit's admin to get the pictures taken down, which included sending another picture to prove that they were indeed her feet. When she sent a series of angry emails to her former client, demanding that he stop distributing the photos, she received nothing back. "They're probably on every foot fetish account and Instagram page," she sighs.
Her ordeal is just one example of the complex legal and moral questions that emerge at the intersection of sex work and copyright law. As my colleague Isabelle Kohn reported last year, the U.S. does allow people to copyright their nudes, providing an avenue to sue the shit out of anyone who illegally distributes or sells them. In the U.K., people can copyright their nudes, too, and there are laws that could result in significant jail time for those caught disseminating them without consent. 
The problem is, in both the U.S. and U.K., getting compensation for any violations of these copyright laws is a lengthy, bureaucratic process that largely hinges on proving that the subject can be identified (usually via the face or upper-body features) and that the photograph in question belongs to the subject themselves. "Even when it comes to full body nudes, there are courts that won't necessarily see digital photographs as strong evidence," explains Myles Jackman, a U.K.-based lawyer who specializes in cases related to pornography and obscenity. "If a digital photograph is presented in court, there usually has to be other evidence. Otherwise you end up facing questions about digital tampering, the reliability of the camera model, how much editing was done, etc." 
Essentially, if getting a copyright claim on a clearly identifiable nude requires that much bureaucratic hoop-jumping, imagine how difficult it is when the image contains something as innocuous as feet. 
Thus, going to court is generally a last resort. That was certainly the case for BuzzFeed tech reporter Ryan Broderick. Last year, he was forced to block the Instagram account "feety mcfeetface" after finding out that it had co-opted a picture of him standing on a scale, cropping the photo to emphasize the top of his feet in the process. "It was kind of funny, but largely harmless. I was even flattered at first because the other dudes on the account were pretty big hunks," Broderick recalls.
But as the account took more photos from his Instagram feed, Broderick became less and less comfortable — especially when the account started commenting on his pictures and tagging him in feet pics. "I had this foot account thirsting after me in a place where my friends and family could see it. It escalated to a point where I had to shut it down and block him."
Similarly, numerous women tell me stories of how pictures of their feet were mined from their private social media accounts and uploaded onto foot fetish blogs and private Facebook groups. In one case, a 28-year-old trans woman discovered that photos of her feet pre-transition were taken from her Facebook account, which also contained her deadname and the location of her parents' home. "I spent months trying to get the person running the blog to take them down. I basically begged him," she says. "But he told me to fuck off, and that I couldn't prove that they belonged to me, which was clearly a trap set to send more pictures."
Along these lines, Joyce, an Amsterdam-based journalist, found that pictures of her feet had been lifted from her private Instagram page and uploaded to a foot fetish blog. "I felt creeped out," she recalls. "It makes you feel vulnerable when something you post that's literally part of your body gets used for what I assume are sexual purposes, without your intent or consent."
To combat all of this foot theft, last week, the social media agency MSCHF launched This Foot Does Not Exist, the first A.I. powered "deepfake" database of feet pics. MSCHF describes the site as "wikiFeet but for fake feet," and it works by using a database of thousands of pictures of feet collected across the web to create computer-generated images of the same. Though MSCHF considers the site a "prank," it concedes that its creation reflects the "highly unusual economic paradigm" of foot fetishization, in which "the foot pic is both highly valuable and almost throwaway-worthless at the same time." 
In other words, it probably won't be long before people come across entirely fake pictures of their feet created by an anonymous person, to serve other anonymous, paying foot fetishists. (Which, honestly — prank or no prank — might solve a lot of the problems above.)
As for me, I'm obviously fully aware that this piece contains an image of my feet that I've now given away for free. To that, I can only say, I have a foot-care routine that makes the picture worth at least 10 bucks.