In the pantheon of great movie cars, from the Batmobile to the DeLorean, some might argue whether the dopey, fur-lined 1984 Ford Econoline with giant ears and a tongue from Dumb and Dumber even belongs on the list. But on the shortlist of great movie cars that are easy to replicate in real life, there's no doubt the van-sheepdog hybrid deserves top billing. After all, unlike the Ectomobile, to recreate it you just need a van, glue and shag carpeting — lots and lots of shag carpeting.
There's "Chevy the Sheepdog" in Michigan. A 1998 Buick Century Sheepdog in Washington. Most recently, the fur-covered Audi RS6 that rolled up at a European car show in 2017. There's no shortage of pumpkin-pie-hair freaks suckin' back grandpa's old cough medicine. Hell, for $22,500, a shaggy 2003 Ford Econoline Sheepdog up for auction in Arizona could be yours today.
But aside from the need to return a briefcase to a woman in Aspen, why would anyone want to drive a giant sheepdog around? These four guys are happy to explain…
Roman Pritula, Russia
As a 10-year-old in Saint Petersburg when Dumb and Dumber was first released in 1994, Pritula wasn't able to catch the movie in the theaters, but when he finally saw it on DVD in 2007, Jim Carrey's performance inspired two major life goals: 1) achieve a successful career in acting and comedy; and 2) hit the road in his own Mutt Cutts van.
"It seems to me that every boy, after watching this film in his childhood, dreamed of having such a dog car," Pritula tells me. "Last year, I made my childhood dream come true — and the dream of many people in St. Petersburg — to look at this car and stroke it."
As part of his pursuit of a career in comedy, Pritula, now 33, drives his van around St. Petersburg to make content for his YouTube channel, much to the chagrin of local police. "Driving around Russia has been much harder than fulfilling my childhood dream," he says. "Since the police aren't very happy having such a unique vehicle driving around, they're constantly issuing us fines for the slightest violations. But this does not stop us, and we continue to delight people."
Pritula says the car was so easy to make that he and his friends finished in a week. "We bought an old Volkswagen, made the paws and tail out of foam and plastic and covered everything in faux fur. Then we made a nose from a [bowl] painted with black paint. Done!" They even added a few extra features, like a stream of water to shoot from the leg so it looks like the dog is peeing, and a tail that wags when people pet it. "When people stroke our car, it wags its tail like a dog," he says. "People like it, people smile — this is happiness!"
Sylwester Wardęga, Poland
It wasn't until 2014 that Wardęga's love for Dumb and Dumber came rushing back. He had just fostered a dog named Chica, with whom he made the famous YouTube video "Mutant Giant Spider Dog" that garnered more than 170 million views. "Since Chica was an abandoned dog and she helped me to achieve this success, I thought it was worth it to help other abandoned dogs," Wardęga tells me. "So I decided to take dog food to the shelters in Poland, and for this purpose, we created the Mutt Cutts car."
Wardęga bought the same model used in the movie, coated it with long-pile floor covering and ensured its tail wagged too. A few weeks later, he set out on his charitable mission. "This car attracts more attention from girls than a Lamborghini," he says. "Practically everyone looks at it, says hello and smiles. I'm never going to sell it."
Mark Perkins, United Kingdom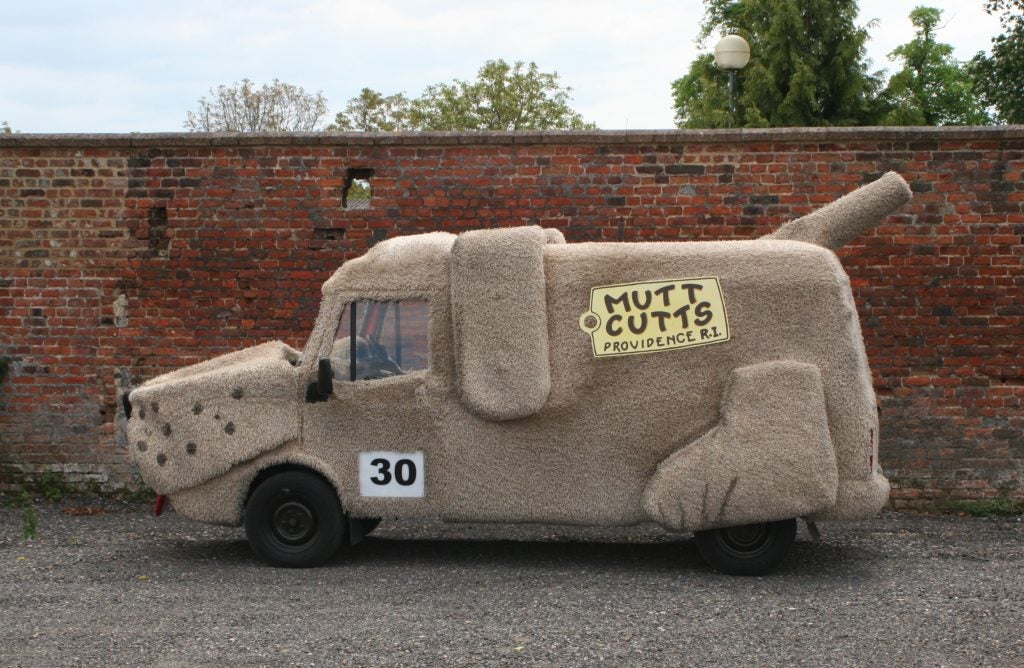 A Mutt Cutts van isn't all hellos and smiles, though, says Perkins. Because when it gets stuck in the rain, he tells me that the shag fur holds enough water "to add another half-ton on the van." "So that's a bit of a pain," he explains. "But you just have to leave it so it dries off itself. The good news is, it doesn't smell. I thought it would, but once a year, we do a real good clean just to help it from weathering."
He typically rents it out for charity events and high-school proms, but he once found himself (and the van) as part of a giant police operation. "We were up at Trafalgar Square in the van right when an armed robbery went on, which is quite an unusual situation so it was all over TV here," Perkins says. "We were surrounded by a swarm of armed police, and there was all this screaming and shouting. It was just madness, and here we are in the middle of it in a hairy Dumb and Dumber dog van."
"Yeah, bit of a different day that was," he laughs.
Everett Henkel III, Florida
"I know pretty much everybody that tried to build a shaggin' wagon, but nobody did it as nice as I did," says Henkel. "Mine was the nicest by far. In fact, mine was nicer than the one in the movie."
"I own RV dealerships, and I'm just handy and like to build stuff," he continues. "Dumb and Dumber is one of my favorite movies, and I had the bright idea to do a shaggin' wagon after ripping carpet out of one of the old houses I was flipping." He figured he'd just "buy an old van, throw some carpet on it, make a sign, and we'll have fun just spending three grand on it or whatever."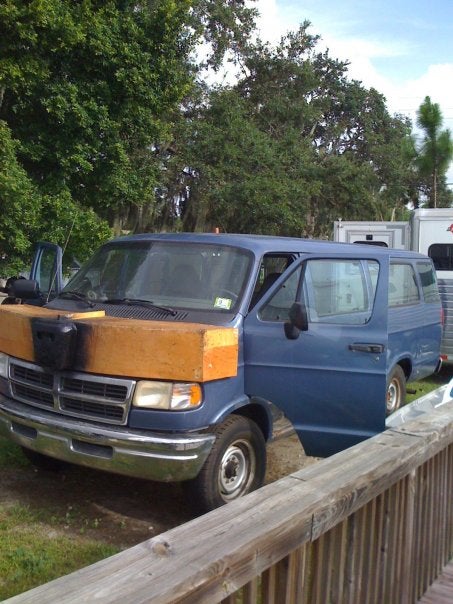 Like most of his projects, however, it turned into something "much, much bigger." "When you're doing a project like this you can't go into Home Depot and say, 'How do I attach carpet on a van that will be going down the road 70 to 80 mph?' because they'll look at you like you have three eyeballs," Henkel says. "You have to be creative. So I told the guy at Home Depot that I was going to glue carpet on my deck and asked what kind of glue I needed so that when a hurricane comes, it doesn't rip it off. And they told me, 'Contact cement and screws every so many inches.'" (In all, he used 13 gallons of contact cement and more than 1,000 screws.)
Next, he needed carpet, as "every piece of carpeting we tore up from that old house looked like shit." "I tried to track down the people from the movie, but I couldn't get all the details I needed," he says. Finally, he found a carpet company in Georgia that seemed to have what he was looking for. "I'm talking to this guy in the same mindset as I was in at Home Depot, thinking I shouldn't say exactly what I'm up to or I'll sound crazy," Henkel recalls. "So I'm talking around what I'm looking for and eventually go, 'Have you ever seen Dumb and Dumber?' And he goes, 'Oh yeah, the shaggin' wagon! We made the carpet for that van!' I was like 'Oh my God, that's what I'm doing!'"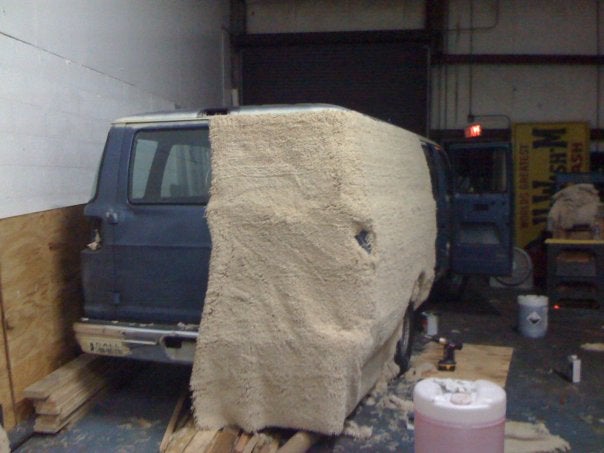 Fifteen months and $15,000 later, Henkel's shaggin' wagon party van was finally done, complete with a totally rehabbed interior that included flush mount stereos, strobe lights, color-changing recessed lighting and a driver's seat separated from the rear so passengers could legally drink on board. Plus, he says, "it's wired up like an RV, so you could take that shaggin' wagon and plug it into any outlet and run the lights, the separate AC — you could use it like a little camper."
Like Pritula, Henkel says the Dumb and Dumber van drew all sorts of attention, particularly from the police. "We'd get pulled over all the time, but they never gave me a ticket," he tells me. "They just wanted to get pictures, or pull me over and say, 'Gimme that booze you pumpkin pie headed freak!' — all that stuff. You couldn't go anywhere; you'd go to a football game and have 100 people waiting in line to take pictures with it. It was literally better than having a Ferrari. You'd stop at a red light, and people would get out of their car and start rubbin' on it."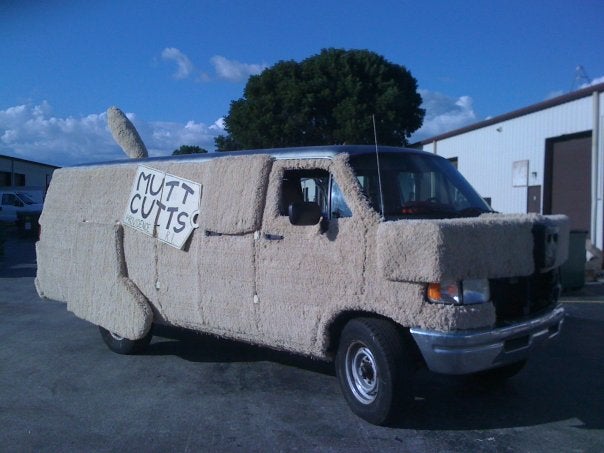 But after eight years, Henkel's shaggin' wagon shenanigans came to an end. "I'd already had a million dollars worth of fun with it," he explains. "Plus, it needed a lot of work, and I'd just gotten married and was about to have a kid; so I just wanted to get it out of the house."
In the end, he sold it for $5,000 — including the custom-made driver's dog suit, and blue and orange tuxedos — to "a couple guys who took it out to Burning Man to get crazy." "About four weeks later my phone rings, and it's someone who works for the person who owns the Seattle Seahawks," Henkel says. "I'm not a big football fan, but they'd just made it to the playoffs, and they wanted my van."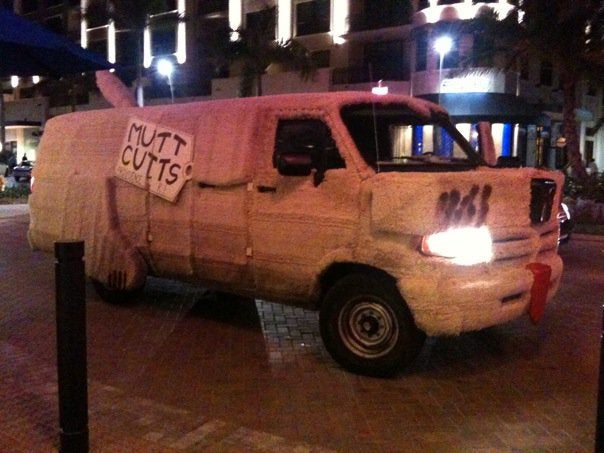 According to Henkel, the late Paul Allen had seen the shaggin' wagon online and thought it could play up the "underdog" mentality of the team. "They wanted to ride it out onto the field, do a big loop and then the six or eight football players inside would run out onto the field, as the underdogs," he explains. "They were going to have one person in the dog suit driving it. They even said I could drive it. Then they'd park it so players could take pictures and sign autographs next to it."
The Seahawks, Henkel says, were offering $50,000 and would pay all the expenses to get the van out to the Pacific Northwest. "Fifty grand! Then he said if they went to the Super Bowl, they'd do it all over again — another 50 grand!"
Immediately Henkel called the guys who took it to Burning Man, but by the time he finally got ahold of them, they'd already sold it to another friend. Henkel tried tracking him down, but came up short. "The money would've been cool," he concludes, "but to be on TV, driving around my dog van on the field at the freakin' Super Bowl? That would've been unbelievable."