During a stand-up comedy show on Tuesday, May 26th, veteran comic Jon Fisch was introduced by a host, the usual list of credentials resonating like a familiar tune from a bygone era. "You might have seen him on Colbert; he's been on Last Comic Standing," Jay Nog, the host, said of Fisch, over an amplified microphone, dutifully projecting infectious enthusiasm into the crowd before him. 
But those words generated only the briefest instance of normalcy for Fisch and everyone else in attendance. 
"Honk it up, honk it up, honk it up… for Jon Fisch!" Nog instructed the automobile-bound audience.
Under pristine blue skies in a Queens parking lot, Fisch then took Nog's place on the back of a pickup truck. Serenaded by blaring car horns in place of applause, Fisch dove into the first 12 minutes of comedy he'd presented to an in-person audience since the middle of March. That was at Downtown Manhattan's stand-up institution the Comedy Cellar, shortly before COVID-19 compelled New York Governor Andrew Cuomo to shut down non-essential businesses across the state. 
Of the parked pickup behind the Bel-Aire Diner, Fisch wryly tells me a few days afterward, "I've been on lesser stages." Still, the conditions were less than optimal for comedy: The sun was out, and the comics could barely make out windshield-muffled laughs. "Before all this, we would have called it a 'hell gig,' [but] given the situation, it was a dream. It was great," Fisch says.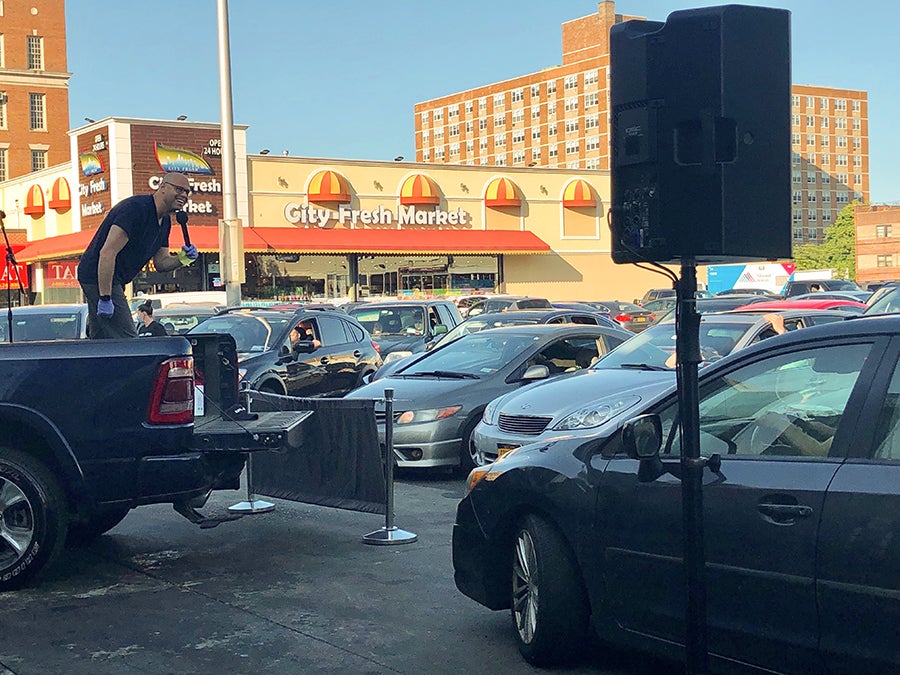 Joe List, one of the show's other acts, adds, mildly kidding, "Normally, I'd want a thousand dollars to do a gig like that." He insists he enjoyed himself, though, and tells me that he earned about what he would have for a weekend spot in a Manhattan club. (Nog, who also organized the event, says the cover charge was $32 per car, with the diner filling food orders for the audience members via masked servers.)
The daily number of new coronavirus cases in New York has plummeted, and the city, like other parts of the country, has begun the early phases of "reopening." But most of the mask-wearing and social-distancing rules that have flattened the curve — and dictated mindful citizens' every move for months — will surely remain in place for quite some time. (The most optimistic of medical-field folk don't expect a vaccine to be available before the end of summer at the earliest; others grimly speculate COVID-19 could keep people apart in public into the year 2022.) And so, such a makeshift stage like a parked truck behind a diner might be about the best a comedian can expect to mount in the foreseeable future. In fact, a growing number of stand-up show producers across the country and abroad are mimicking the approach. 
Comic Alex JustAlex first organized a drive-in comedy performance at a parking lot in Anchorage, Alaska, on March 28th. He posted a how-to video for other prospective producers on YouTube a few days prior, and has executed about a dozen such shows since. "I had no idea if it would work, but it was a smashing success," JustAlex explains. "That week we had 25 cars, the next one we had over 60 I think."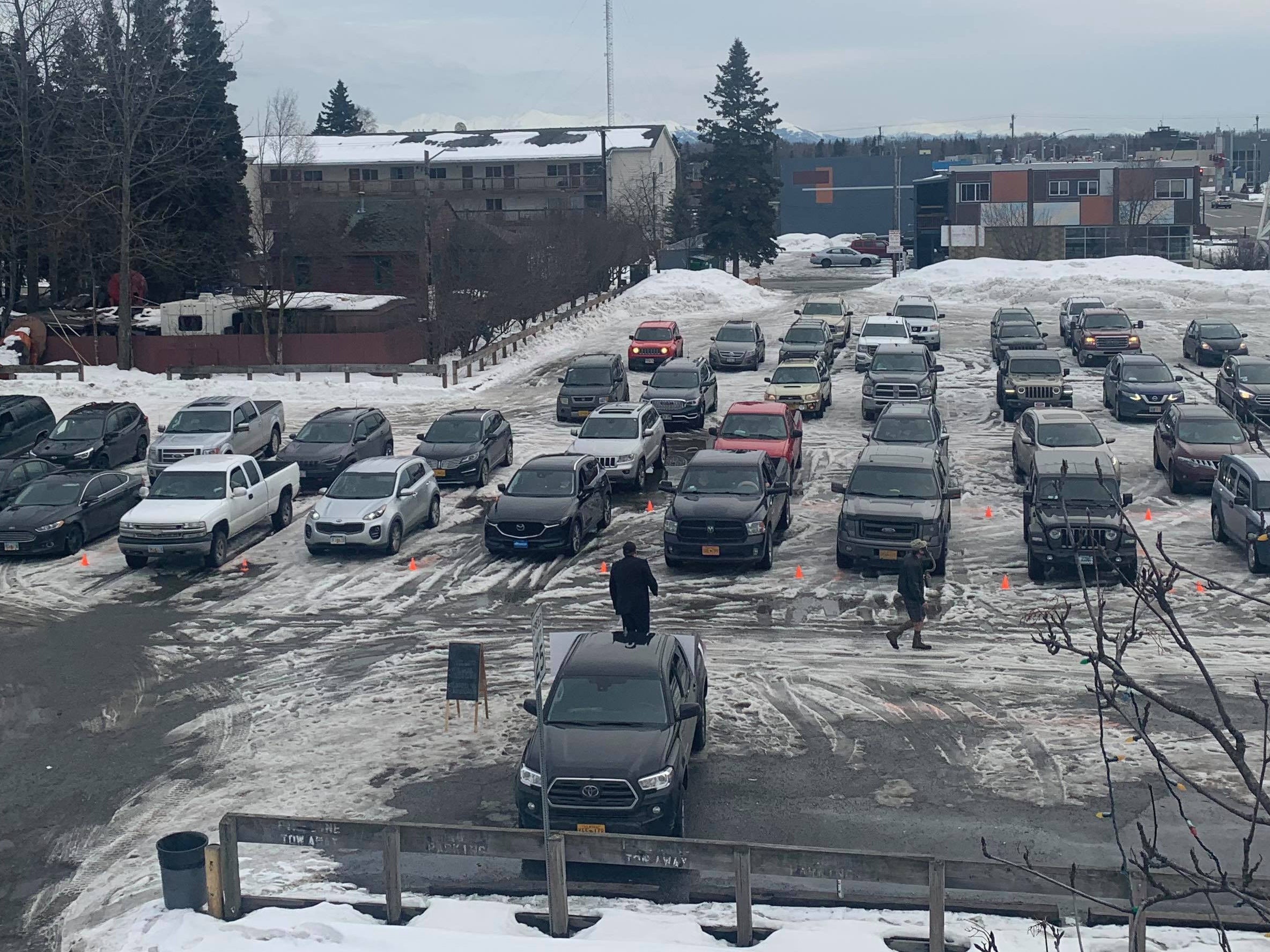 Someone pointed out to him that Colorado-based producer Tobias Livingston had been coordinating similarly styled shows for the past five years, continuing the practice post-outbreak, partnering with brewpubs, distilleries and even a video-rental store to conduct multiple area shows each week. In turn, JustAlex reached out to Livingston, learning how to best utilize FM transmitters, allowing audience members to hear the comedians on their car radios.
Colin Quinn prophesied such developments in a March 24th tweet that jokingly read: "Idea to save stand-up comedy. Drive-in comedy clubs! … 'Hey, look at this nerd in the Sonata!'"
"I'm gonna say it was my idea; I should've trademarked it," Quinn responds when I tell him about the real-life influx of drive-in stand-up shows. "It's definitely going to change comedy. The thing that's interesting to me is to see how it's going to affect people's acts." 
Most comedians who have participated in these performances report relying heavily on tried-and-true material, which is more conducive to instinctual navigation. "You're like, 'I bet there's a laugh here, so I'll pause for a second,'" explains Michael Longfellow, who, on May 13th, headlined "Drive-In Comedy Night" in the sprawling parking lot behind Rick Bronson's House of Comedy in Phoenix. "You don't know if you're killing; you don't know if you're bombing. After 15 minutes, it's almost sociopathic the way you have to just bowl through it, and keep doing your act as if everyone's loving it."
Sarah Tollemache, List's wife, who also performed outside the Bel-Aire Diner, says she could see some people reacting positively to her material through their windshields, which aided in her timing. Plus, the number of video-conference shows she's done since quarantine began helped her prepare for the parking lot gig as well, where she bravely opened with an unproven joke. "I've been doing just new material on Zoom shows," she tells me, "because it feels like if you're doing 'A' material, you're just gonna get the same response as doing your new material." 
Meanwhile, Bert Kreischer has taken the whole concept on the road (appropriate given the audience, of course), embarking on a four-date tour of drive-in movie theaters, taking him from North Carolina to Colorado, with in-between stops in Indiana and Oklahoma. "I missed being on the road; I missed being on the tour bus," Kreischer, billed as the first comic to ever tour drive-in movie theaters, tells me. He documented the trip, and plans to upload clips to YouTube soon. "In a content-driven society, it provides pretty interesting content — to go out on the road, and see what America looks like, post-COVID, and see how people are handling it," he explains.
Kreischer delivered material on a stage that his team reconstructed at each venue, while a camera crew projected his set onto the movie screen behind him, allowing the farthest reaches of the audience to see him while they listened in on their radios. "It's so not cost-effective to do a tour at drive-in movie theaters; we hemorrhaged money," Kreischer admits. "But I looked at it like, if I could just make it so that I have a good time, that's all that matters to me." It turns out that he had such a good time that he's already booked additional drive-in theater dates. "I will say this, from the bottom of my heart: Every single comic working should be lucky enough to do a drive-in movie theater," Kreischer says. "It was one of the greatest experiences of my life."
He also stresses that he wanted to get his crew — all of whom were tested for COVID-19 prior to the tour — working again. So as to avoid airports, all 12 of them (including Kreischer) lived on three tour buses, cooking meals therein to nullify the need for restaurant visits. And after the tour wrapped, everyone quarantined for two weeks, with each of them testing negative for COVID-19 once more. 
Twelve days before Kreischer's jaunt began on June 24th, Dave Chappelle released a stand-up special, 8:46, on YouTube. In it, he primarily focused on the George Floyd killing at the hands of police, the protests inspired by his death and racial injustice throughout U.S. history. But at the top of Chappelle's set, after noting the "weird" circumstances unto which he chose to perform — at a small, outdoor gathering space in Beavercreek, Ohio — he mockingly remarked that other comedians had been performing to fans in parked cars, with horn-honking replacing laughter. To him, that "didn't sound like any fun at all." 
The jab made Kreischer, who calls Chappelle stand-up's "GOAT," momentarily second-guess himself. But the more Kreischer thought about it, the more steadfast he became about carrying on. He also tells me that after his first drive-in theater show, he received "no less than 10 phone calls from the biggest comics in the world" asking him how it went and saying they too were considering gigs in similar venues. (Along those lines, Jim Gaffigan has already done one "drive-thru comedy" performance, in New Jersey, on July 12th at Monmouth Park.)
Nog's crew certainly hasn't stopped either. After they paused during the mass protests in the wake of Floyd's death — and the citywide curfews that followed — he and a fresh pack of comics were back at it in the Bel-Aire Diner parking lot by early June. "We've gone from a pandemic to a revolution," Nog noted during his set, warming up the passengers of 26 cars parked in a gated section of the lot. He was followed by a diverse group of five comedians that included Regina DeCicco and Jordan Carlos, each of whom also referenced the current state of affairs in the country and the world at varying points.
To that end, Carlos, who is Black and married to a white woman, closed the show with a bit about his blond-haired, green-eyed 3-year-old son. "He's mine; we took the test, it's fine. I love my white son," he joked. "But we're not teaching him to talk because no one wants to hear what he has to say."
Since the police had asked Nog to disallow horn honking so as not to disturb local residents, Carlos had to settle for flickering high beams as a show of appreciation for the punchline. "We might not be in the same boat, but we're in the same storm," Carlos tells me later, referring to all Americans. "Comedy penetrates even the darkest times. People want to laugh; they need it."
Never far from a joke, though, Carlos smiles before adopting a deep, dramatic voice and adding, "We're an essential service! We're heroes."