You know it's a fucked-up time when a singer once derided for twerking with Robin Thicke and a foam finger at the 2013 VMAs is doing a better job keeping the country sane than the president of the United States.
Miley Cyrus is one of the many celebrities streaming on Instagram Live as free entertainment for us social-distancers stuck at home. Everyday at 11:30 a.m. Pacific, Cyrus hosts Bright Minded, a live self-help and interview talk show with special guests. The topic: "how to stay lit in dark times." 
Cyrus, 27, is a surprisingly charismatic host and skilled interviewer, which shouldn't come as a surprise given she's been on TV since she was 13 years old. While she's interviewed Marc Jacobs, Amy Schumer and Rita Ora, it was her livestream with Demi Lovato that showed how former child stars are uniquely positioned to handle a culture of crisis.
As any good conversation with friends goes, their rapport eventually turned therapeutic. Cyrus admitted she stopped wearing shorts and bodysuits after being memed as a turkey for her performance with Thicke in 2013.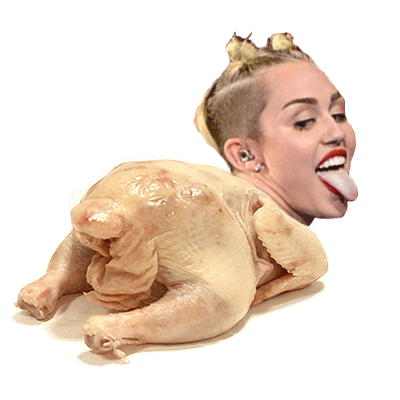 In response, Lovato, who is still returning to the spotlight after a near-fatal overdose two summers ago, said, "I feel like we've gone through times where we're closer and [more] distant, and that's fine, that's what friends do. I just wish I could've been there for you, but like if that ever fucking happens again, you better call me. I'll walk to Malibu, I swear."
It feels so good to see Mom and Mom on the same side again. 
Out of the blue, former Disney Channel stars have taken on the roles of public servants providing direction and comfort amid the coronavirus outbreak. It's not exaggerating to say Hilary Duff repeatedly overenunciating the phrase "Go Home" on her Instagram Stories is doing more to help citizens cope with quarantine than a Congress that still hasn't passed a stimulus package. 
In times of crisis, we often look toward celebrities for solace. But amid this outbreak, many of these ultra-wealthy and privileged role models haven't quite known what to say. Gal Gadot released a celebrity singalong to John Lennon's "Imagine"; Vanessa Hudgens said a months-long quarantine is "a bunch of bullshit" because "people are gonna die, which is terrible, but, like, inevitable?"; Elon Musk blatantly spreads misinformation on Twitter and is still treated like a hero. It's a grim reminder that celebrities don't have a fucking clue what's going on in the real world.
While Cyrus and Lovato aren't exactly solving anything by commiserating and laughing together, it's a welcome sight to see two of my childhood heroes get down to our level (Demi needs a tutorial on high-def vlogging) and admit they're scared and hungry for social contact too.
Actress Ashley Tisdale has found a new life on TikTok this year, connecting with Gen Zers like me who grew up adoring her on High School Musical. Earlier this week, she posted a video dancing along to the film's signature song, "We're All in This Together." Her old co-stars, including Monique Coleman, Bart Johnson and KayCee Stroh, all joined in with their own videos. (Vanessa Hudgens did too, but her goodwill was nullified hours later.)
Young people hold a precious role in the outbreak. We're some of the asymptomatic vectors passing on the virus to others. A negative force and we don't even know it. For the most privileged of us, we've never experienced a true worldwide crisis in our lives. Most of us don't remember 9/11 — if we were even alive for it. 
Of course, these worries are simple compared to the deaths and lost livelihoods as a result of the virus and quarantine. But at a time when everyone is trapped at home with few connections, celebrities do serve a role. They're a water cooler to connect around. For a moment this week, it was nice to sit with my pretend childhood best friends Demi and Miley and hear them talk about being "gay as fuck" as teenagers. As Cyrus said during the livestream, "When the world is starting to crack, we all reach for superglue. You and I have been that for each other in and out."
More of this, please!!!