I could make a case that Stop Making Sense is the greatest film ever made. "The cinema is the greatest art form ever conceived for generating emotions in its audience," Roger Ebert wrote nearly 30 years ago. "That's what it does best. (If you argue instead for dance or music, drama or painting, I will reply that the cinema incorporates all of these arts)." 
It's one reason why I adore that 1984 concert film, which brings together music, theater, dancing, performance and moviemaking into one glorious 88-minute package. A document of a handful of December 1983 shows Talking Heads played in L.A., Stop Making Sense is one of the great pick-me-ups — it's so joyous that it leaves me near tears on several occasions during its runtime. Like any terrific musical — say, Singin' in the Rain — Stop Making Sense is, above all else, a celebration of what human beings can do. We're a terrible species, but we can also sing and dance, and when we get together with like-minded souls, we can generate incredible songs that articulate a whole range of emotions more powerfully than mere words could. If art is about capturing what life feels like, Stop Making Sense is as affirming as any film I could name. It feels like a utopia.
The Talking Heads' frontman was, of course, David Byrne, and much of the pleasure in Stop Making Sense comes from simply watching him gyrate and groove, shake and stare. A geek leading the world's funkiest band, Byrne gives a performance that's equally thrilling and funny. I say "performance" because in the film he seems to be playing a rock star, except it's the nerdiest one ever conceived — he's both mocking the job's traditionally macho tendencies and savoring the pleasure of delivering brainy popular music to a mass audience. Byrne's cultural importance hasn't been as towering since — the group broke up only a few years later — but all the joy I feel watching Stop Making Sense has only been matched by one other concert film. It's the brand new one Byrne just made.
I can make a case that David Byrne's American Utopia is the best film of this year, and like with my Stop Making Sense argument, it's one I can't fully back up. But what's so fantastic about both films is that, when you watch them, the confidence of their execution and the depth of euphoria they generate is such that you temporarily lose any sense of perspective. ("Hell, maybe this is the greatest film I've ever seen. Were there any movies before this?") American Utopia, which premieres on HBO on October 17th, is a magic trick and an absolute delight. It's a cheering reminder of what human beings can do when they're at their best.
Shot during its recent acclaimed Broadway run at the Hudson Theatre, American Utopia is directed by Spike Lee, who before this gave us this century's best filmed-theater movie outside of the recent Hamilton. Although it's little-seen, 2009's Passing Strange was a revelation, Lee basically toning down his considerable visual style to faithfully reproduce L.A. musician Stew's semi-autobiographical, Tony-winning musical about an aspiring L.A. musician who travels the world in order to find himself. (Turns out, the answer was back home.) Passing Strange was filmed as the musical was ending its run, offering a permanent record for a show I wished I could have seen live. 
By comparison, American Utopia's Broadway stint was widely hailed and obsessively covered — this film won't sneak up on anyone. Nonetheless, Lee's movie proves the show's hype was warranted. But beyond being joyous, the film is also moving and thoughtful in ways you might not expect. You want Talking Heads hits? American Utopia will knock your socks off. Open to the idea that a theater piece can give you reason to be optimistic about this country? Sure, that's corny, but Byrne has always resisted sentimentality, and he does so here as well. That makes his idea of optimism that much more inspiring.
The Broadway show originated from Byrne's 2018 album of the same name, which provides several songs. (If you don't recognize something in American Utopia, it's probably from that album.) Like a lot of gray-haired musicians, Byrne faces a conundrum when he tours nowadays: A new record is the reason for the gigs, but the fans will just want to hear the old stuff. But as opposed to his peers, the 68-year-old artist has always extended beyond rock, flirting with fine art, ballet, opera and film scoring. (He won an Oscar for his work on The Last Emperor.) Byrne's pop-music excursions are equally adventurous, dabbling in Latin rhythms and African grooves. Maybe that makes him pretentious, or a cultural appropriator, but it's also allowed him to escape the artistic cul-de-sac that have ensnared so many of his cohorts. He's not scared to try new things.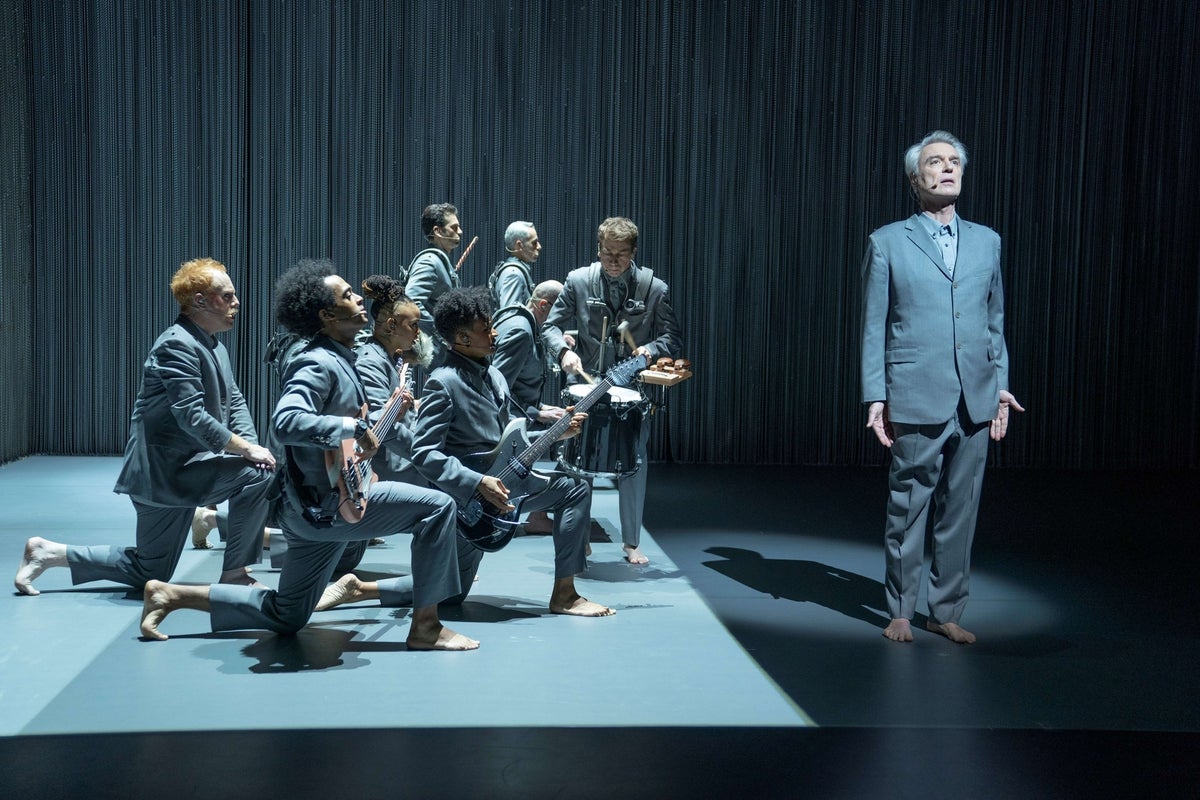 The American Utopia film is a mixture of concert performances from a live show — we often see the crowd — and closeups that Lee presumably captured separately. The Stop Making Sense set was noticeably spare, but there's even less here: just a beaded metal curtain on three sides, Byrne and his band. There are no cables, no speakers, no gear except for the instruments the musicians carry as they move around the stage. In one of several interludes in which Byrne speaks to the theater audience, he explains that he wanted to strip the concert experience down to what people care about most: seeing other people. Lee honors that strategy, giving us a concert that, much like Stop Making Sense (which was directed by the late Jonathan Demme), invites you to enjoy the company of the players while marveling at their talent and glee. The songs in American Utopia are almost all excellent, but it's the giddy presentation that really crackles. It's very fun to see people being good at their job. 
Sort of like a one-man show, American Utopia is Byrne's excuse to tell the origins of specific songs, like the Talking Heads classic "I Zimbra," while also offering observations about the world at large. This isn't VH1 Storytellers, though, as it eventually becomes clear that he's building to a grander idea of how music (and art in general) can help change the world. Dressed in a suit but barefoot — the same uniform worn by his backing band — Byrne remains as self-effacing and sweetly awkward as ever. And so when he takes a moment to encourage everyone in the audience to vote — especially in local elections — it doesn't come off as hectoring or posturing. Instead, it feels connected to the bighearted emotions that emanate from the performances. (Also, it's personal for him: Born in Scotland, Byrne has lived in the U.S. since childhood, but he didn't become a citizen until 2012.) 
The minimalist stage design is matched by the sometimes almost comically simple dance steps he and his bandmates engage in. Moving around like goofy robots, repeating similar motions like kids inventing a new dance, there's an innocence to the choreography, overseen by Annie-B Parson, that emphasizes the elemental joy of creating things. It doesn't have to be sophisticated, it just needs to make you feel good.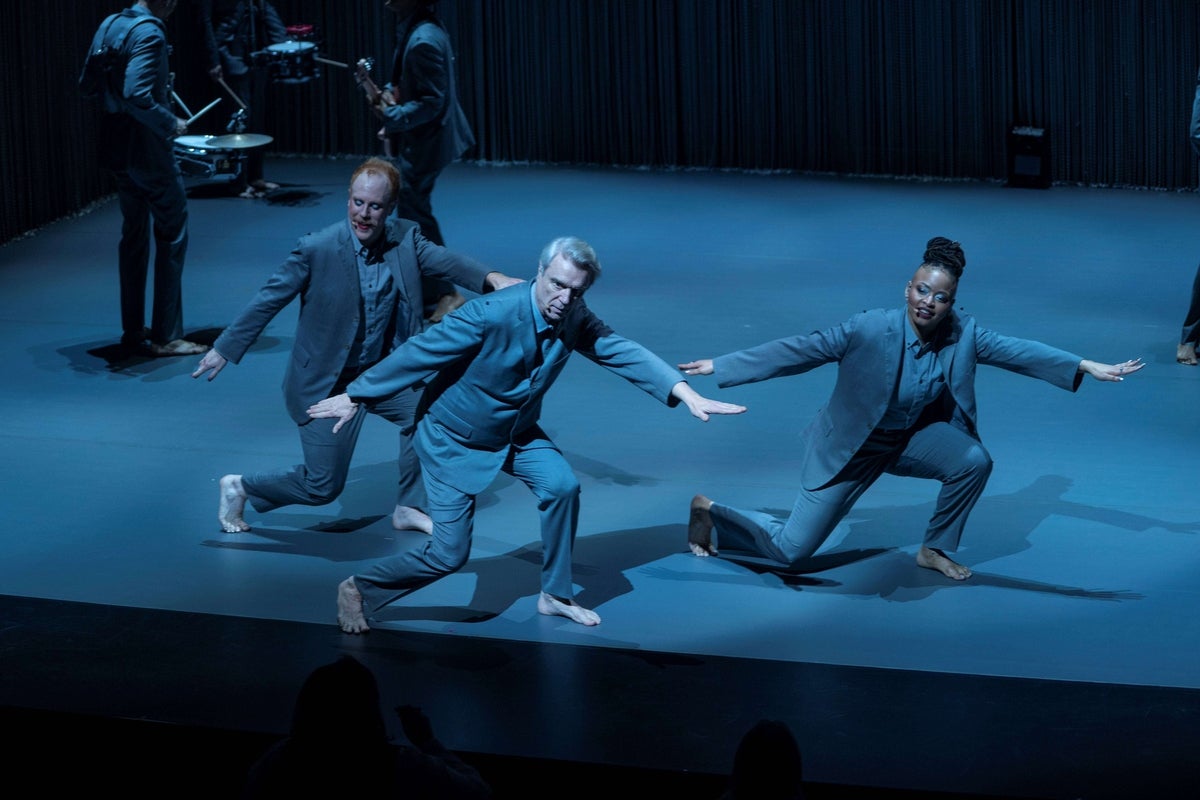 To his immense credit, Lee largely stays out of the way, allowing us to embed with Byrne's band as they rotate around the frontman. Each song is its own theatrical piece, complete with specific steps and lighting cues. Talking Heads warhorses like "Born Under Punches (The Heat Goes On)," "Slippery People," "This Must Be the Place (Naive Melody)," "Burning Down the House" and most especially "Once in a Lifetime" are brought to thrilling life, as if there's still things to be discovered in those old hits. Byrne's arrangements, while maintaining what's indelible about the songs, focuses on groove, which makes them feel stirring, even defiant. 
That's an important distinction because, even though American Utopia is plenty exhilarating, its underlying message is that of active resistance. Byrne makes that overt late in the show when the band covers "Hell You Talmbout," a 2015 Janelle Monáe song that starkly honors Black men and women killed by race-based violence, including Trayvon Martin and Amadou Diallo, by shouting their names with a chorus of "Say his/her name" behind each one. (In a sad indication of where we are as a nation, Lee updates the performance by superimposing the names of other, more recent Black victims onto the screen.) 
Byrne questions out loud the appropriateness of a white, middle-aged man singing this song — he asked Monáe's permission, which she granted — and it's the movie's most anguished moment, partly because the optics are a little awkward and partly because the anger coming from the stage is so palpable. That air of defiance and community is more poignantly reflected in Byrne's interracial, gender-balanced band, which includes players from France and Brazil. It's an elegant mirroring of Stop Making Sense, in which Talking Heads incorporated Black musicians into their lineup, amping up the group's funk while suggesting a racial equality that was rare in rock bands at the time.
Byrne doesn't deliver anti-Trump diatribes or progressive bromides in American Utopia. There's something subtler going on here. When Talking Heads were conquering America in the early 1980s, their music wasn't overtly political, but their songs' intelligence, disillusionment and ironic asides hinted at what any thinking person would have been feeling during the Reagan era. In Stop Making Sense, Byrne sings the band's "Making Flippy Floppy," with its vague but evergreen line "Our president's crazy / Did you hear what he said?" It's one of my favorite Talking Heads moments, and I assumed he'd bring back the song for American Utopia. After all, if there was any president that line would fit, it would be our current one.
But "Making Flippy Floppy" doesn't put in an appearance. Maybe it was too obvious. Or maybe Byrne was trying to offer another message. The political art we've had during the Trump years has been largely insufficient at capturing the pure terror of what the last four years have been like. Most artists have responded to the current moment with anger or mocking, essentially trying to fight fire with fire. By contrast, American Utopia, true to its title, seems to want to fortify its audience with some semblance of hope. 
I'm not talking about the touchy-feely kind where we visualize world peace and then do nothing. Byrne empowers us with songs that make you want to jump out of your seat and start dancing. (You can see the crowd do just that, frequently.) He seems to be reminding us of a time before Trump — a time before any terrible politician you care to name — and asking that we ponder what we love most about this country. That idealized country of our mind isn't gone, but we have to fight for it, and we'll have to do it together, both the people on the stage and the rest of us in the crowd. American Utopia might be the happiest protest film I've ever seen.