By all accounts, Dave Navarro is the definition of Live Más. The rocker-turned-reality host spent the last three decades climbing the charts with Jane's Addiction, getting kicked out of the Red Hot Chili Peppers, miraculously beating drug addiction, trying his hand at directing adult films, nearly winning a poker championship and becoming the face of a Taco Bell-sponsored TV tattoo competition with almost no qualifications beyond having a ton of ink. Most recently, Navarro's Ink Master performance landed him in memedom when he proclaimed, "Taco Bell is a brand that believes in living más. You are all examples of the Live Más mentality," while the camera grazed over a depressed-looking contestant.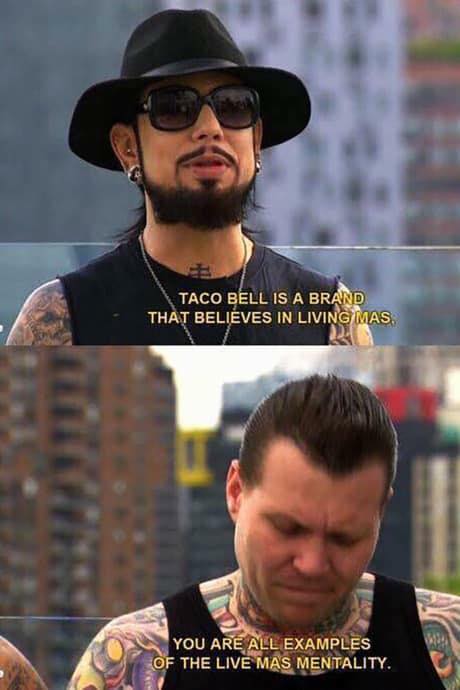 But living más catches up with everyone eventually. I first saw it when my friend ate a day-old Chalupa that was baking for hours beneath a windshield in the Florida sun. And I saw it in late November, when Dave Navarro committed an Instagram crime so ridiculous it changed a small-town bartender's life.
What Navarro posted on Instagram was undeniably más: a tattoo of a flaming Taco Bell logo bearing the words "Live Más Die Young." Except it wasn't actually his tattoo. It wasn't even his arm.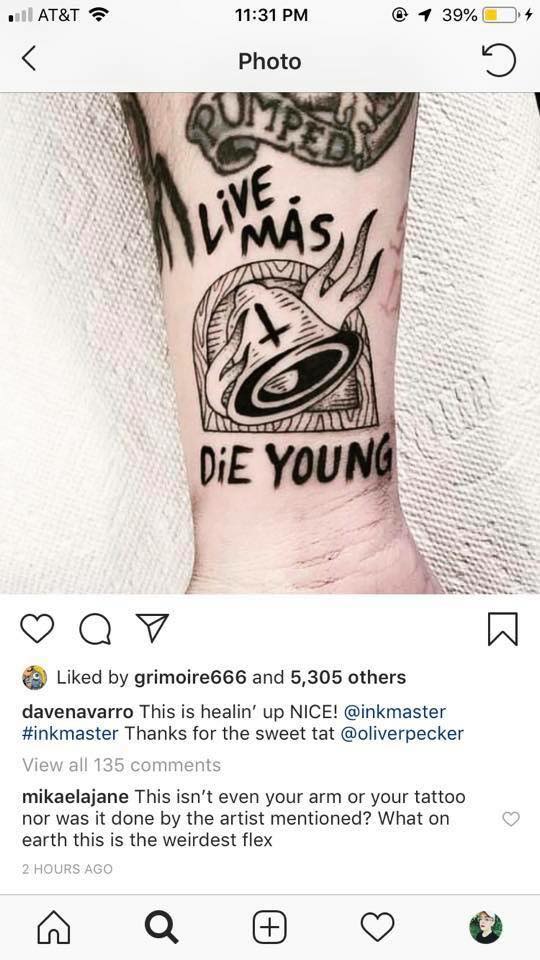 The ink belongs to Caleb Coffey, a North Carolina bartender and server with a passion for punk rock and a thick Southern drawl. Coffey had gotten the tattoo on a whim earlier that day by Cutty Bage at Hollow Moon Tattoo in Boone, North Carolina. He was just joining a friend to get a Taylor Swift tattoo, he says, but Bage mentioned she had time afterward for something small.
Coffey, who says he's been joking on Facebook for two years about living más and dying young, responded, "Sure, okay, why not?"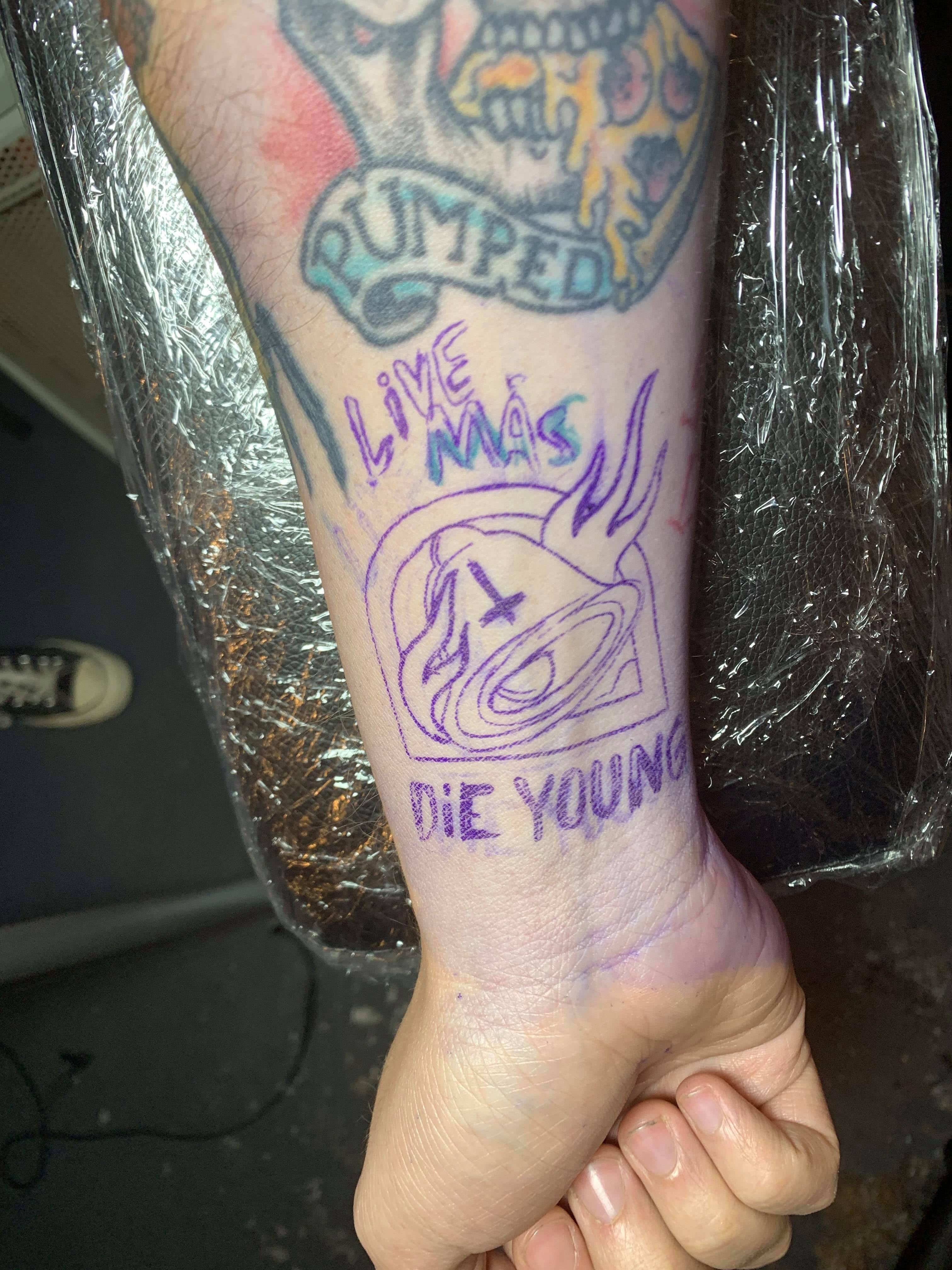 The tattoo took around 20 minutes. Bage snapped a picture, and the pair posted the image to their respective Instagram accounts later that night. "I thought that was just going to be it, you know?" he says.
Less than two hours later, Coffey received a comment from a friend alerting him that someone was already trying to claim the tattoo as their own. Photo theft is an almost routine annoyance in the age of Insta, but this time, things were different.
"In my head, I'm like, 'Oh, goddamn,'" Coffey says. "Then I go check it out, and it's fucking Dave Navarro."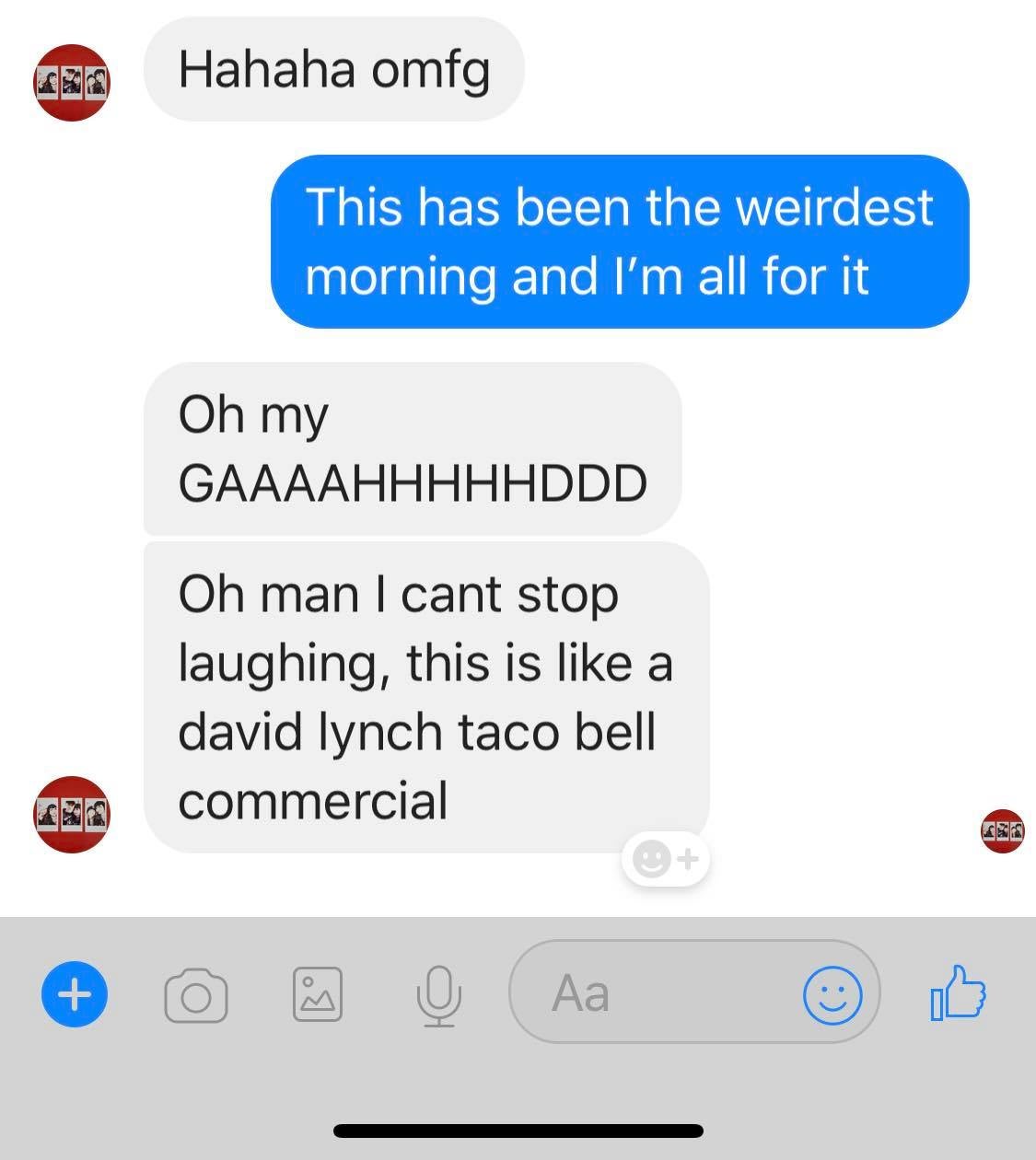 It's no secret that social media gives us a perfectly Photoshopped lens into the life of our favorite celebrities, and we buy the products they hawk hoping to catch a slice of luxury: the ridiculously expensive Bluetooth headphones, the lip filler, the subscription to Tidal we didn't particularly want, the weight-loss tea that just makes you shit yourself. There's a reason influencer marketing has become a billion-dollar industry.
But why would a rock star with an estimated $25 million net worth want to trade places — or, at the very least, arms — with a restaurant employee whose arms are decidedly not famous? Who was Navarro trying to fool?
Initially, Coffey wasn't sure. He struggled to figure out how the Jane's Addiction guitarist even found his photo in the first place. He eventually traced it to an Instagram aggregator account that lifts pictures of tattoos and shares them. Navarro had reposted it from this aggregator and even tagged fellow Ink Master judge Oliver Peck as the artist, instead of Bage.
But Coffey wasn't upset. "I was never angry at all," he says. "I was just like, 'What the hell is going on? This is so cool.'" Nonetheless, he accidentally unleashed the angry internet masses on Navarro when he jokingly posted about the bizarre chain of events on Facebook, hoping to draw attention to Bage's work.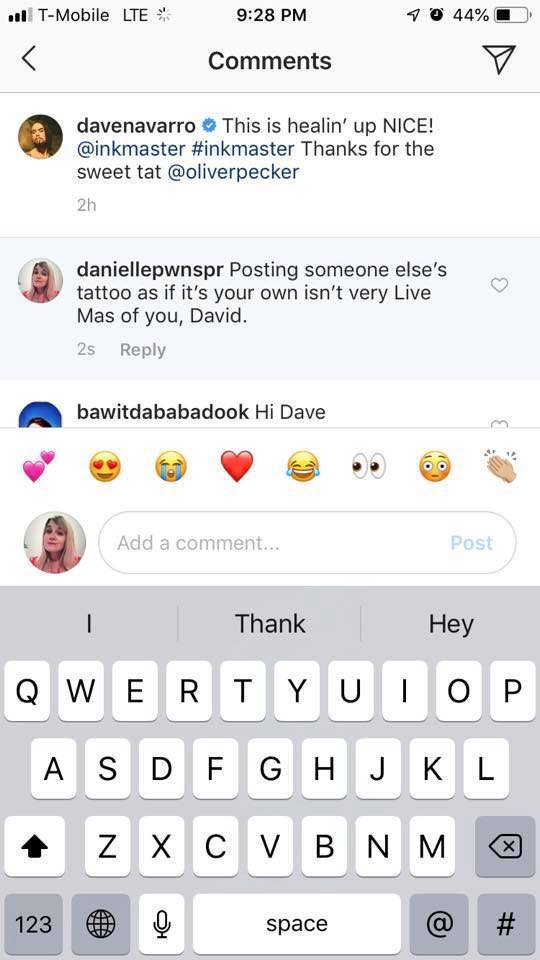 In particular, the bartender belongs to a cross-country community of punk rockers who take the annual trek down to Gainesville, Florida, for Fest, a weekend music festival that's been happening every October for the last 17 years. The Fest community was furious. "It kind of riles them up whenever a big-profile person like [Navarro] posts something and claims a different artist," says Coffey, who estimates around 100 people from the Fest community called out the Ink Master host online.
It was a Baja Blast of controversy, and Navarro didn't take long to notice. He did his best to explain himself: When one user said she didn't "get" why Navarro would steal someone's photo and tag a different artist, Navarro responded with an almost sad plea of a life lived too más. "You [would] get it if you were the one saying 'Live Más' all the time on television," he wrote.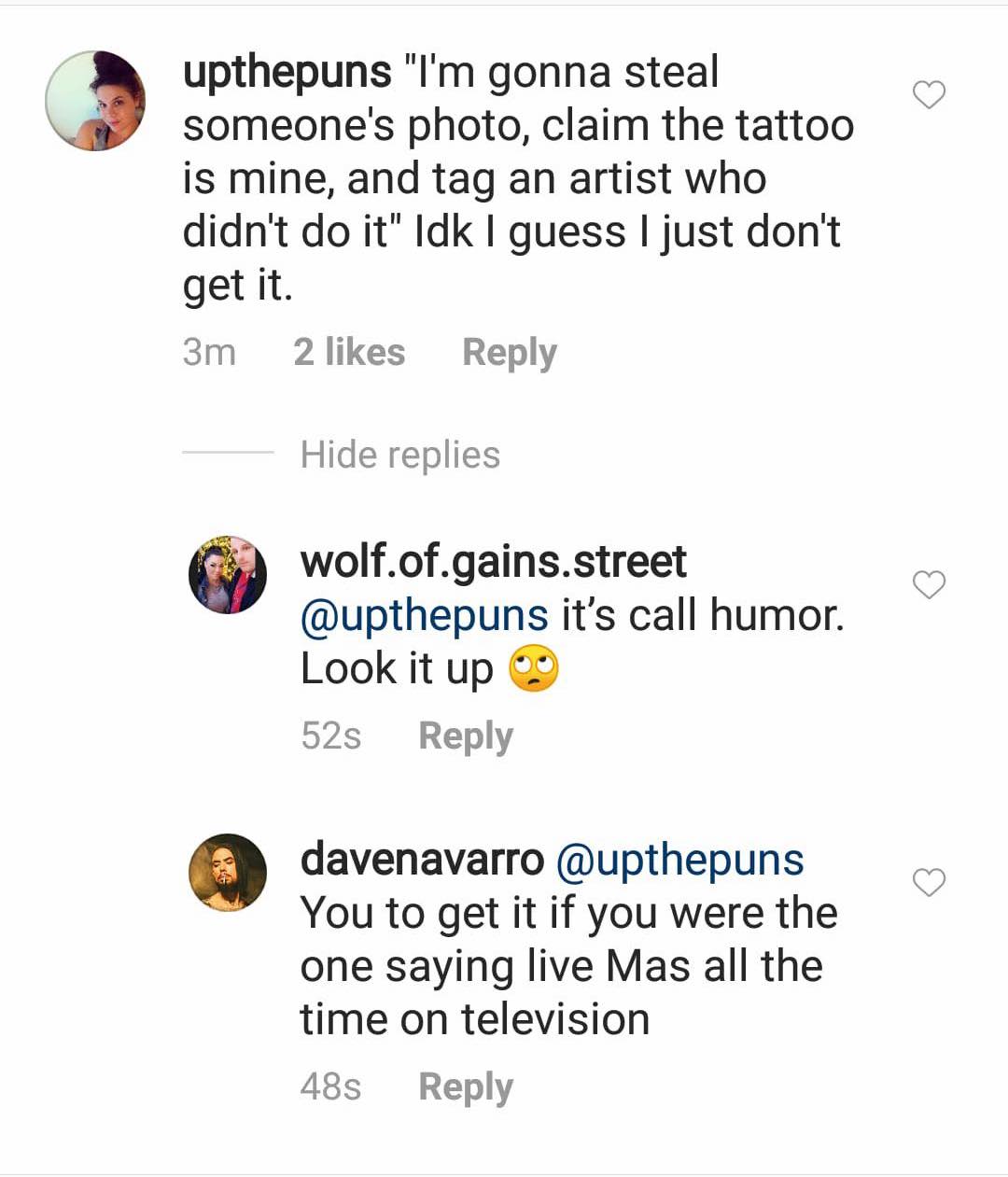 As it turns out, the whole thing was an honest mistake. Navarro, who apparently possesses exactly the sense of humor you'd need to routinely work Taco Bell catchphrases through your opening monologues, says he thought the image was one of his many Taco Bell-related memes. It didn't take long for the Jane's Addiction guitarist to give credit to Bage in the original post and publicly apologize. Ultimately, though, he deleted both credit and apology when the comments spun out of control and put his inherent más-ness into question.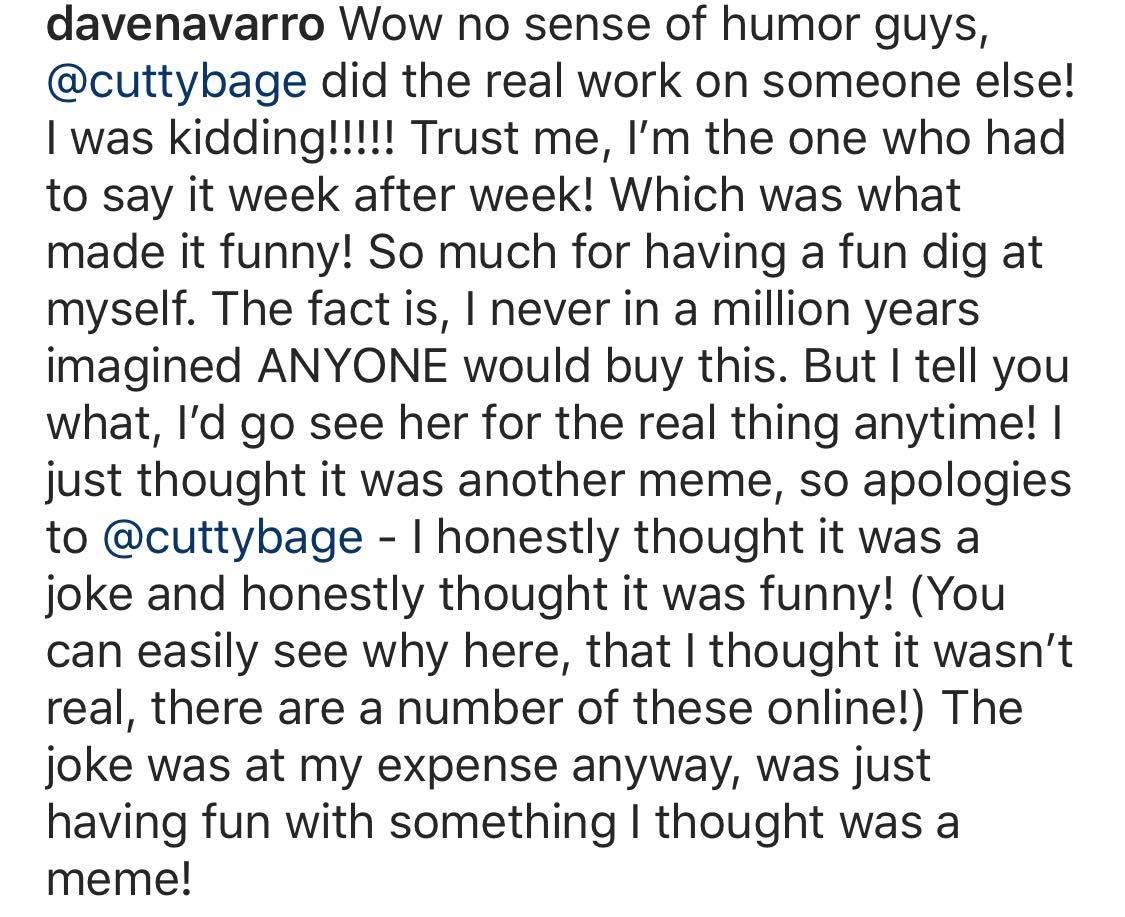 Still, he did reach out personally to Bage and Coffey to make things right. "He was so sincerely sorry. He thought it was a fake tattoo," says Coffey. "I totally believe him on that part because he's been made into several memes before about the whole Live Más thing. He thought it was directed at him. They have him say Live Más like 800 times per episode."
Navarro also went through Coffey's Instagram account and liked a bunch of photos. To sweeten the deal, he invited Coffey and Bage to New York, where they would chow down on Taco Bell and Navarro would actually get the controversial tattoo for real (no word on how much he'd charge the Chalupa purveyors for the #sponcon, though). Coffey admits the experience would probably be the "funniest thing in my goddamned life."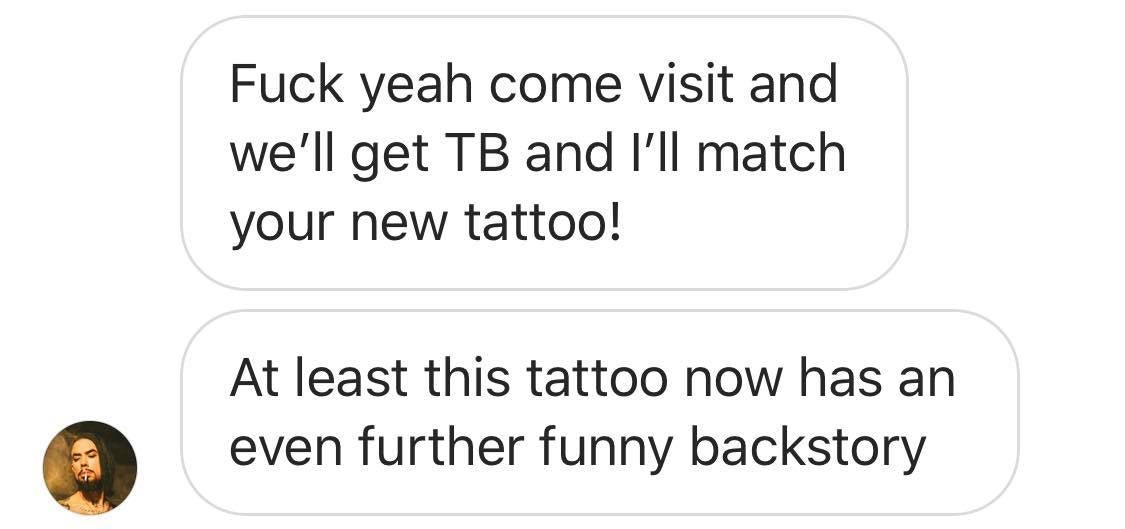 The whole bizarre experience lasted just 24 hours for Coffey, whose phone was "blowing up" all day. His budding celebrity even caused him to get recognized during his shift at work. "Everyone at work was making fun of me, which is rightfully so," he says. "The couple next to me just goes, 'Oh, wait, you're the Dave Navarro guy.' And I'm like, 'Goddammit. That's going to be my legacy. God, no.'"
Fortunately, Coffey's fears never came true. As quickly as his tattoo rose to peak más, it sank to the forgotten depths of the internet to rest alongside Myspace and the former Taco Bell dog (RIP, Gidget) forever. Today, it'd be like it never happened if it weren't for the print-out Coffey made of Navarro's Instagram post, which he framed and hung on the wall.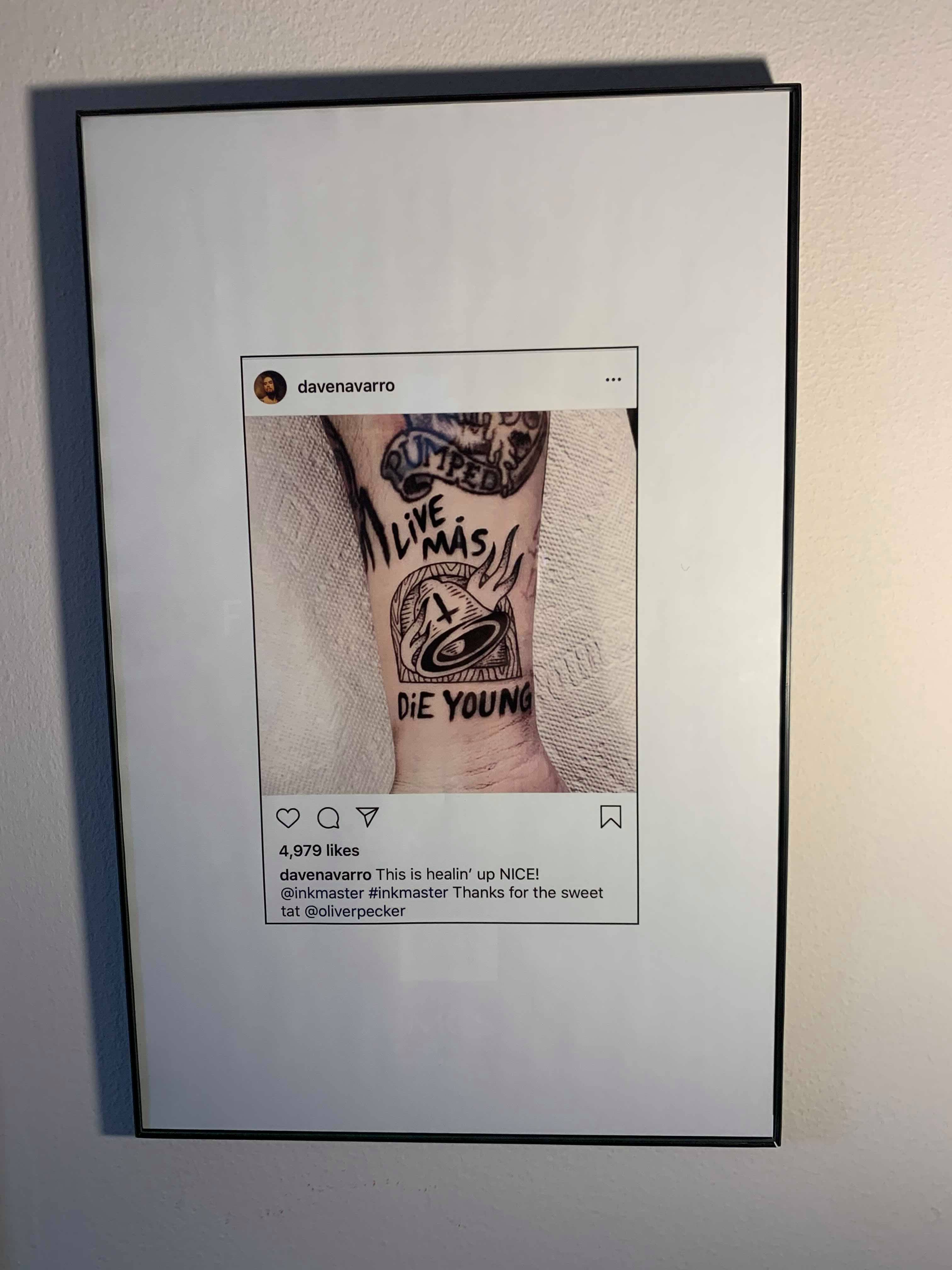 "It's made life weird, you know, conversing with peasants now," he jokes about his short-lived internet stardom. "Nah, I think it's wild. The whole thing lasted a day, and then everything's back to normal again. But that was the most surreal 24 hours I've experienced in a long time."
"It ended up being as quick as it is, and now I have the stupidest story on my arm for the rest of my life, and I'm pretty happy about that."
As for Navarro? Coffey describes him as kind, polite and "very, very más.
"Most más," he adds. "Más más."