"Within the first seven minutes, you're treated to double penetration with strap-ons, and it only ups the ante from there," reads an official description of the award-winning 2005 porn movie The Crash Pad. "There's cock-sucking, cunt-licking, anal fucking, rimming, squirting, masturbating, threeways and more."
This might sound like business as usual, but without a doubt, The Crash Pad redefined queer porn. In an industry not accustomed to seeing queer and trans people onscreen, director Shine Louise Houston not only showed them fucking, she showed them sweating, laughing and cumming without any sense of voyeurism. It was a revolutionary fusion of representation and realism. It wasn't just about challenging which bodies should be portrayed in porn, it was about questioning how they were portrayed, too.
In the years since, it spawned a follow-up, The Crash Pad Series, opened the floodgates for a new wave of queer directors (many of whom are now showcased on Houston's PinkLabel TV) and enabled her to start her own studio, Pink & White Productions.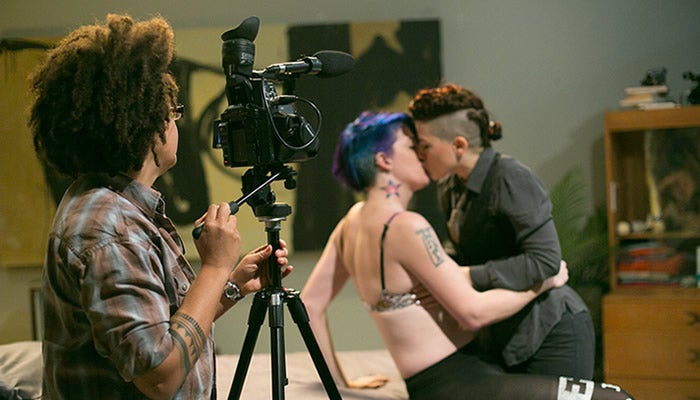 When I mention this impact to her, however, she's admirably modest. "Visually, it's not the best thing I've ever made," she laughs between mouthfuls of breakfast in her San Francisco home. "I had tried so many times to get into film festivals with cool shorts, and suddenly, they're asking me for this? Really? I get why it was needed at that time, but it still blows my mind. I feel like other people were doing something similar, but those titles didn't take off. The Crash Pad did. I got lucky — but I'll take it!"
Of course, it wasn't just luck. By acting on her desire to see queer, trans and gender-nonconforming performers of color in porn, Houston tapped into a hugely underserved audience looking to see their own sex lives and fantasies reflected back to them. All the while, their bodies were treated with care, respect and even reverence, which again, left a powerful impression. In an impassioned post, blogger Black Thighs writes, "[Houston's] work is important simply because it speaks to desire — the desires of Black womxn — and unclenches desire from pain and from shame, as our desire has always been conditioned."
Despite being hailed as a revolutionary, Houston's DIY approach stemmed naturally from her involvement in her local punk scene. As a teenager, she dressed in all black and hung out with the local "weirdos." "I feel like San Francisco is super-progressive," she says of her home city, "but we're also super-segregated. [Growing up], I got some really overt nastiness. This one kid would constantly chase me, throw dirt clods at me so I couldn't get on the bus and call me 'burnt toast' and 'chocolate milk,' all that shit. There was everything from that to the Black kids telling me I wasn't Black enough — before the Afropunk movement, it was considered really weird to be a Black punk."
Despite this harassment, Houston leaned into her weirdness and enrolled at various art colleges. Later, she worked as a movie studio instructor and then at Good Vibrations, a San Fran sex mecca where horny customers became porn market research. "Guys would be like, 'What can I watch with my girlfriend that's not going to piss her off?'" She laughs, explaining the easy decision to combine these two passions — fucking and filming — into Pink & White Productions, which she launched in 2005 with inclusivity in mind. "It was about making a sustainable business out of my art, but also about asking, How do we get more representation of different body types? Where are the kind of people I want to see in porn? Where are my people?"
A lot has been written about representation of trans performers and performers of color in porn, but it's not so difficult to grasp when you're genuinely surrounded by a wide circle of queer and trans friends, who also happen to be horny and sexually active. "I navigated it by not really navigating it, you know?" Houston replies, when I ask about deep-seated issues with representation. In other words, trans performers live their best lives on-screen when they're given the freedom to find pleasure on their own terms, rather than being meticulously directed by someone keen to homogenize their sex lives.
That said, Houston did try — and failed — to direct The Crash Pad's sex scenes at first. "I realized very quickly that it just doesn't work," she tells me, laughing. Amateur performers would wind up fucking their own way anyway, and professionals would stick so rigidly to what she'd outlined that their scenes lacked chemistry. "I created my own directorial style from those experiences, which is basically saying, 'I'm directing the cameras, but it's up to you to figure out what you want to do,'" Houston continues. "I find that I get more interesting, honest performances shooting that way."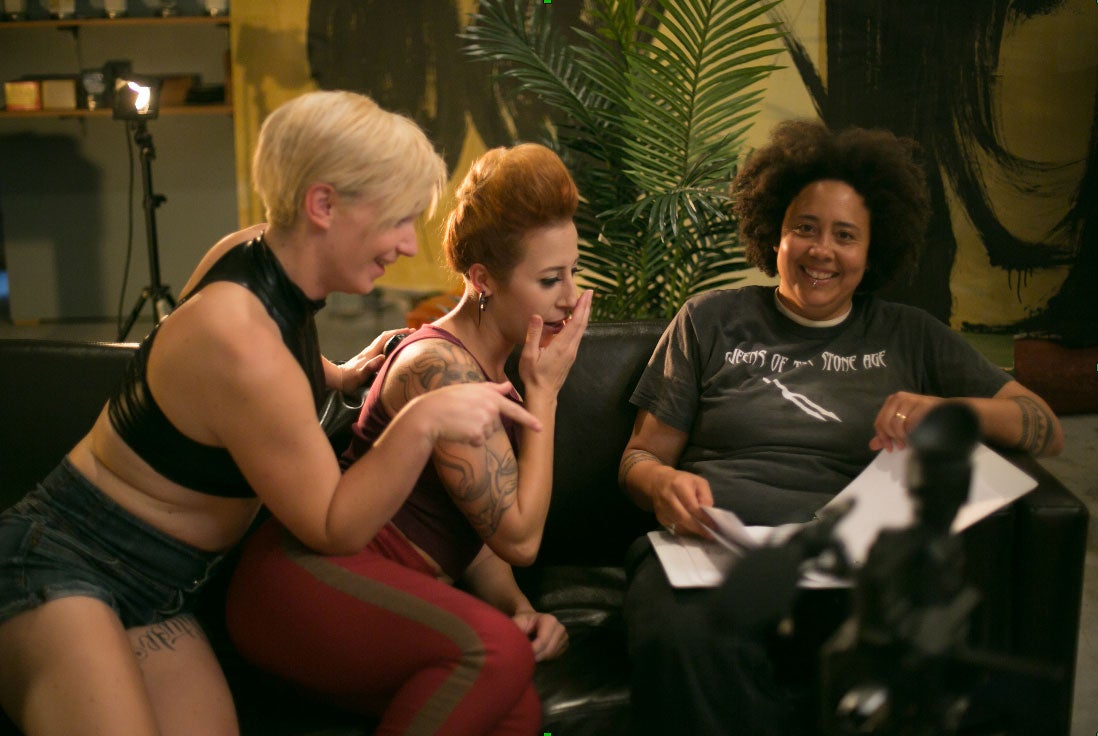 The early results of this approach were laid-back, almost documentary-style — a contrast to mainstream porn trans representation, which pushes performers into specific scenarios that fit a rigid criteria (trans women are usually tops, for example, and trans men — especially those who haven't undergone bottom surgery — are usually cast as bottoms to cis gay men, if they're cast at all). Houston's work, then, offers honest insight into how trans performers actually want to fuck, as well as how they navigate dysphoric feelings. "It's a no-brainer, and there's no pressure," Houston tells me. "If you don't want to take off your shirt and pants, that's fine. Don't worry about it." This results in side-splitting, wall-scratching orgasms, the kind that drip with authenticity.
Visually, Houston's more recent work maintains its sense of honesty but adds a new layer of gloss. Chemistry Eases the Pain is her latest release. Launched by a crowdfunding campaign, the 40-minute movie serves as an exploration of bi-phobia and queer sexual politics while still being sexy as fuck with a sense of humor. This is the revolution that Houston brought to the table: Her porn is political without being preachy, a celebration of bodies and sexualities usually either ignored or fetishized.
There's also her ongoing crowdfunding campaign to take the San Francisco PornFilmFestival digital, plus Houston just joined a chorus of voices in the BIPOC Adult Industry Collective for a roundtable on systemic racism in porn. From pay inequality and hiring discrimination to derogatory search terms, the issues in the industry run deep. "This isn't about shaming companies," Houston says. "Shame will only get you so far. I've seen a lot of people talking about the ways that they're complicit, and that's wonderful: 'Here are the ways that I'm complicit!' I'm not saying you're a horrible person; I'm just saying we're part of a system that needs to change. That's all."