Blessed with a protective older brother and a mean face throughout high school, I didn't learn the true perils of hooking up with a guy who was approaching laundry day until I was in college. More often than not, I'd undo a pair of cargo shorts only to find yet another field of shamrocks with the aggressive inscription "Get Lucky" on a pair of novelty boxers. It was immediately clear that the male equivalent of period panties were some of the dumbest drawers you could imagine. 
"Girls were always nice about it," admits Brian, 34, a reformed fan of funny undies. As a high school student in Florida, he'd wear white T-shirts and jeans everyday, so his boxers were where he showed off his personality. Among the estimated 15 to 20 pairs of funny boxers he possessed at the time, his favorite were a bright yellow pair featuring Mr. Potato Head — potentially a blow-job reference, but not one strong enough to tip off his mom. "I thought they were so cool," he laughs. In fact, he was so proud of them that during spring break in Myrtle Beach in 2004, he entered a wet boxers contest. "My dumb ass was like, 'I have Mr. Potato Head boxers, how could I lose?' I didn't realize there'd be, like, jacked adults on stage. I didn't get a single cheer."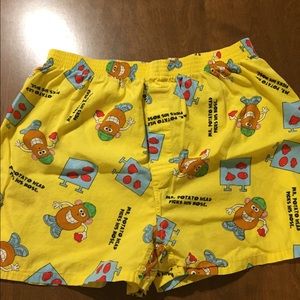 In retrospect, Brian's hubris makes sense, as he was experiencing the meteoric rise of novelty boxers in real time. Like many guys coming of age at the height of the clever boxer craze, he got funny pairs as gifts from his family and purchased plenty himself as well.
The origins of the non-clever boxer short, of course, date back to 1925 and the trunks actual boxers wore in the ring. Yet surprisingly, boxer shorts as we know them today didn't become popular until the 1980s, during what Julian Kilmartin, former director of menswear at Marks & Spencer, considers the "Boxer Revolution." That's when they began being marketed to men, and tighty-whities were ticketed for boys. Adolescents fell somewhere in the middle, typically wearing whatever their parents purchased for them.
Then, in the 1990s, the boxer brief became popular, further splitting the market. "There was so much material with boxers. They just bunch up and are uncomfortable," explains Jonathan Valdez, a fashion journalist, podcaster and "Top Cop" for Us Weekly's Fashion Police. "Men in general were becoming more aware of their underwear and wanted something that was more useful, but also more appealing." 
At the same time, businesses were beginning to realize the buying power of mall-rat tweens and teens. Teenage Research Unlimited found that teen spending significantly increased from $67 a week in 1996 to $118 a week in 2004, the same year as Brian's wet boxer contest. 
Meanwhile, as older, more sophisticated men opted for the boxer brief, the boxers left among them had to pivot in a much sillier direction to appeal to younger guys. "There was already this fun youthful vibe going on with graphic T-shirts with funny innuendos," Valdez notes, referencing Abercrombie & Fitch tees emblazoned with everything from "I Love Largemouths" to "I Love Head." Clever boxers, then, were just a way of moving that bro energy downstairs. "That transitioned into funny boxers, like Joe Boxer with the tongue sticking out."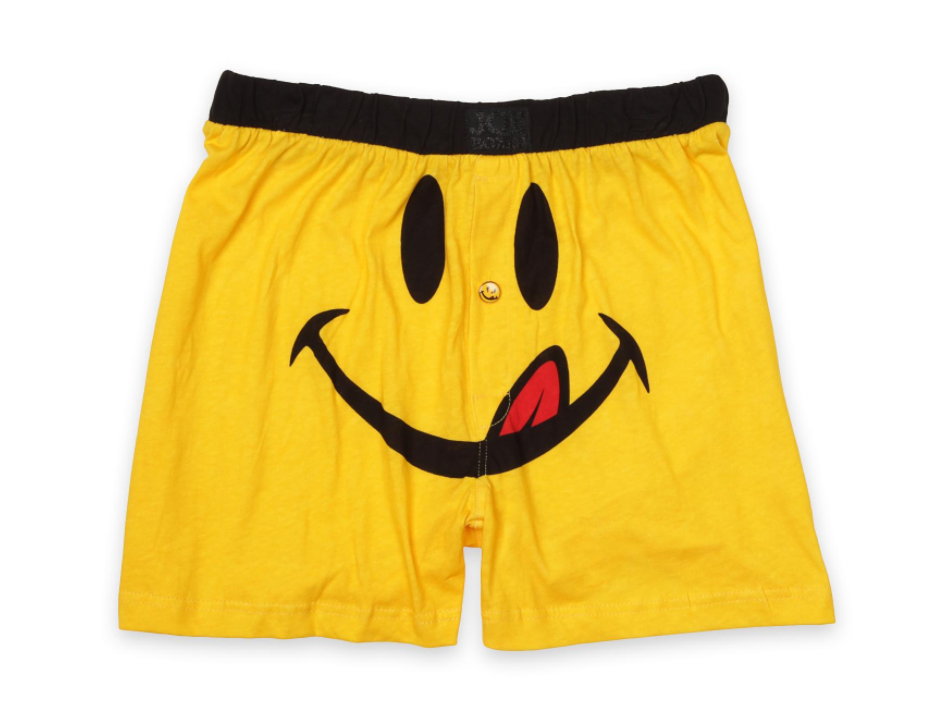 Nick Graham, the founder of Joe Boxer, is as close to the Father of Clever Boxers as it gets. According to his website (Graham himself didn't respond to requests for comment), he started the neckwear and accessory company Summ in 1980, which was heavily influenced by the new wave and punk movements. While running his company out of a San Francisco loft, a buyer at Macy's liked the fabric of his neckties and asked if they could make men's underwear out of it. Thus, in 1985, Joe Boxer was born — though Graham reportedly debated naming the company "Joe Blow" instead. 
Since then, Graham has brought us glow-in-the-dark boxers that read "No No No No No" when the lights are on and "Yes Yes Yes Yes Yes" when they're off; had 1,000 pairs of underwear featuring $100 bills confiscated by the Secret Service because the design violated forgery laws; and created "Mr. Licky," the infamous smiley face with protruding tongue and a purposefully missing nose so a dick could shoulder that responsibility. Or as Graham's bio puts it, "The boxer was a large print of a happy face in the center of the short, and was also known as 'Nose Not Included,' which could be rectified by the wearer."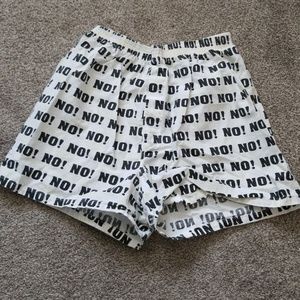 "It was kind of like the original emoji — only on clothes," Valdez notes.
"Underwear by its very nature emanates a certain humility and caricature that's usually spoken of in a quiet way," Graham opined during the 1990 Menswear Fashion Association fall-winter press week. "Joe Boxer's first mission was to pull the pants down on underwear and let them speak for themselves." He later elaborated on this for the New York Times: "Underwear is a big billion-dollar business, but it's still one of those issues people snicker about. There's this whole connotation that it's a secret subject, and that's part of the appeal. You can make it funny." (The L.A. Times went as far as to call him the "Bad Boy Behind Funny Undies.")
They were funny enough to cross gender lines as well. Britney Spears, in particular, helped popularize boxers with young women (and remains a fan to this day). "Those prints translated into not only underwear, but sleepwear as well," Valdez explains. "Like anything, they found a trend that was working at the time and thought, 'How can we merchandise and get a wider audience?' Next you have his-and-her boxers, matching pajamas and maybe something for kids as well."
Such hunger for expansion, though, is what ultimately led to Joe Boxer's downfall. In 2000, the company lost a hefty $3.15 million lawsuit over a breach of contract with Van Mar Inc., a women's lingerie company that had exclusive rights to the Joe Boxer name, when the brand introduced a competing line of women's underwear. As a result, in 2001, Joe Boxer was forced to sell to the Windsong Allegiance Apparel Group in order to avoid declaring bankruptcy. Windsong continued to license the boxers to floundering Kmart retailers, but they've never regained their previous levels of popularity. (Iconix acquired Joe Boxer for $74 million in 2005 and brought Graham on as a creative consultant last year.) 
As boxer briefs have come to dominate the market, novelty brands like Sock It to Me and Lazy One have attempted to put a Joe Boxer spin on them, but the current male consumer has largely eschewed silly punchlines for quality material, comfort and support. "The clever boxer short went out of style because the consumer grew older and more mature and also became aware of comfort and utility," Valdez says. (That said, their spirit lives on in colorful patterns from brands like MeUndies, novelty Christmas pajamas and gross eBay ads for gently-used underwear.) 
As for me, it's been at least a decade since I've come across a pair of clever boxers in the wild, but that doesn't mean they're not still out there. After all, it takes a lot more than an article of clothing being objectively stupid to get men to voluntarily part with it. So I'm positive that one day I'll be in the wrong place at the wrong time and unwrap a pair of pants to find the worst present possible: an image of a gift-wrapped box with the message "nice package" underneath it.