The last time I traveled out of the country, it was to Mexico City, in the summer of 2019. I swore then that I'd return to Mexico soon, hopefully for a proper trek through Jalisco, the mountainous western state that's the alleged birthplace of both tequila and mariachi.
Of course, those plans went awry last year, and I can't imagine choosing to fly to Mexico anytime soon, especially given the ongoing border restrictions over, well, America's dubious new status as COVID capital of the world. Somewhere, in a parallel universe not too far from this one, I'm vaccinated and able to go into a major airport without running into a maskless moron weeping over inconveniences. In this one, well, I'll stick to sitting on the couch.
Lo and behold, that's exactly where I stumbled across videos of a roadside bar I had picked out for my imaginary traipse through Jalisco. Cantaritos El Güero is a big drinking hole, featuring a massive U-shaped bar where a crew of men work at hyperspeed, filling clay jars with a mix of citrus, tequila and soda. Those jars are the titular cantaritos, and although they come in a variety of sizes, many choose to split a massive container that resembles a garden planter more than a cocktail vessel.
I first found El Güero on TripAdvisor; it's a beloved stop on the road to Amatitán, the tequila capital of the world, for international tourists and Mexicans alike. But the YouTube videos made me laugh out loud, for both the absurd volume of tequila drinks on screen and the undeniable cheer you can feel. How the hell can you not be giddy when the barmen are just pouring out free shots with each order?
There's no particular reason for me to make a massive tequila drink at home, but I figured that a taste of Jalisco would make for a particularly nice accompaniment to my travel daydreaming. I regret not sourcing the right cantaritos to make the drink a properly authentic affair; the clay construction and rolled lip make them sturdy and beautiful cups for drinking. What I did do was watch footage from El Güero a million times in order to nail the ratios of citrus juice to soda to tequila and salt.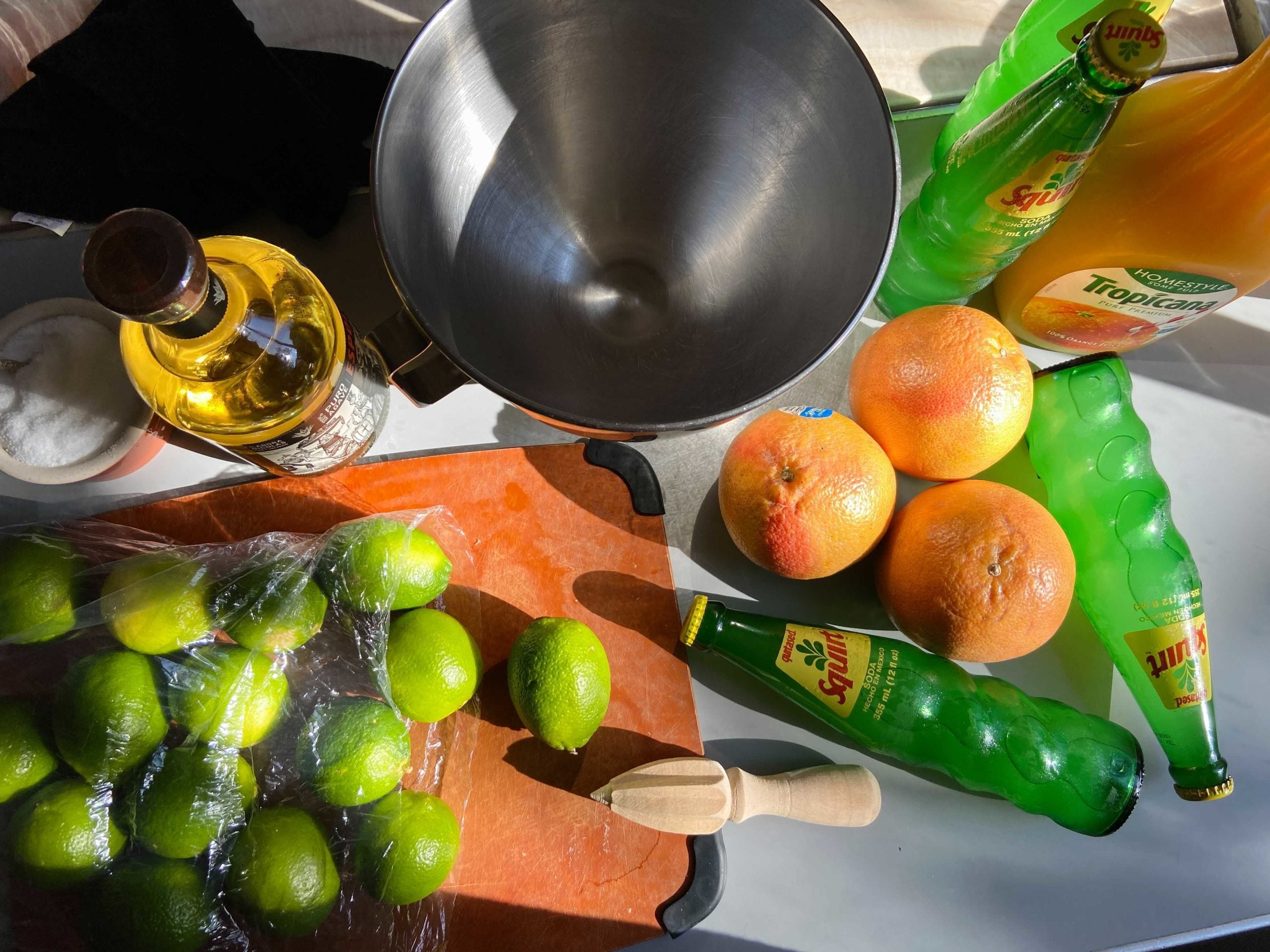 The end result is a fresh, lively punch that disguises a heinous amount of tequila (if you desire) or just makes for a perfect non-alcoholic drink. I made mine in the bowl of a Cuisinart mixer, filling it to the absolute brim with liquid and ice, just like they do in the videos.
Recipe
Serves 6, or 4, or 2, or… no, not one. That's too much. 
Juice of 10 limes (about 1 cup)
Juice of 3 grapefruits, strained of pulp (about 2 cups)
2 cups of orange juice
1/2 bottle of tequila, or more as desired
4 tablespoons kosher or sea salt
48 ounces (4 bottles) of Squirt or similar grapefruit soda
Lots of ice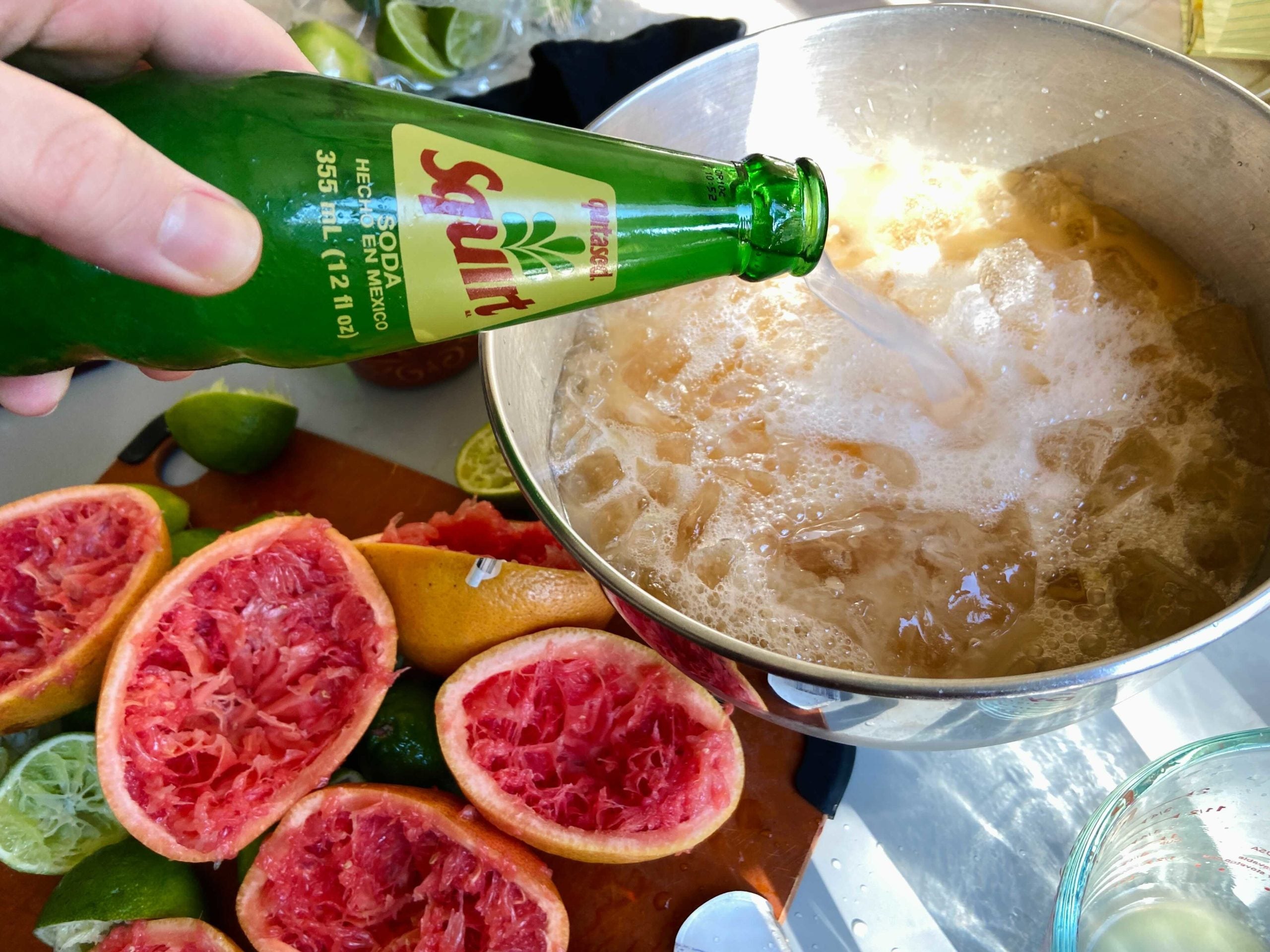 The key to the proper flavor? Fresh lime and grapefruit, plus a heavy dose of salt, which rounds out the acidity of the fruit and makes you crave another sip. As for the tequila, I think it's best to go with a bottle from Jalisco. I chose Espolón reposado, but if you want what El Güero sells, Herradura silver is the way to go. Also, I'm a sucker for good mariachi music — so might I suggest a dramatic dose of Jalisco's own son, Alejandro Fernández?