Five days ago, I agreed to do a "Dry January" with my girlfriend, primarily because I felt exhausted and gross from a string of drinking sessions around Christmas and New Year's. 
Maybe you've decided to do the same, or are pondering it now. While the concept of the detox month has been a trend for years, there's a unique allure to the idea of starting a year "on the right foot" after a holiday month of boozing and eating to excess. People have been drinking more during the pandemic in general, but it always ramps up during November and December, when holidays make it especially easy to crack open a beer or make a kalimotxo in the middle of the afternoon for no reason.
But after a couple days off the sauce, I've realized that I don't need a dry January — I need to just drink less casually. Sometimes, you just want a single delicious cocktail that will put you on your ass and steady the mind into cruise control. To my surprise, my favorite new drink of 2021 is a twist of a pop-cultural classic: The Black Russian, melding brandy and coffee liqueur in a cocktail that tastes a little like dessert but hits like a martini.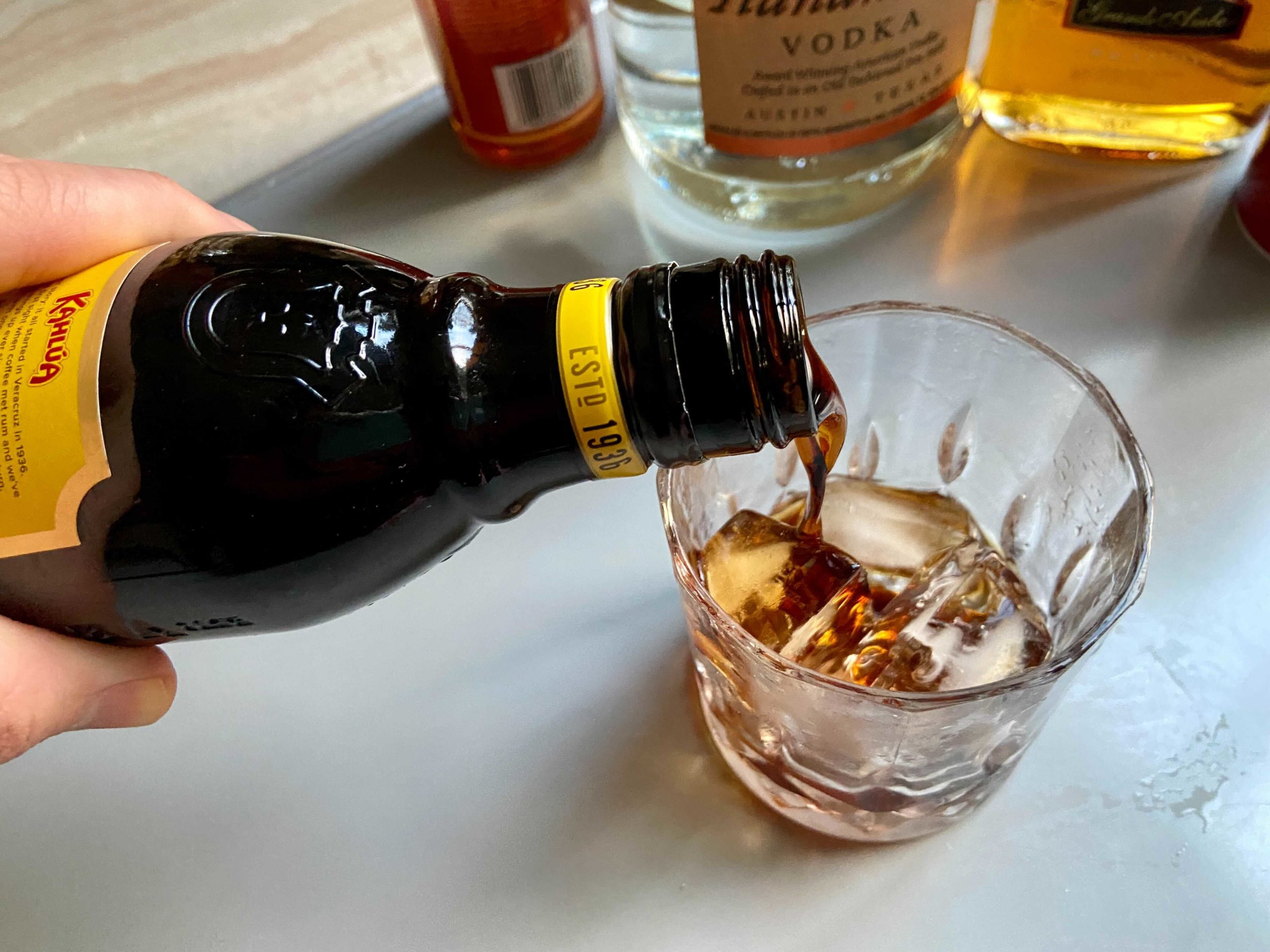 I stumbled to this conclusion while testing out the traditional White Russian — the beloved daily drink of Jeff Bridges' inimitable character, "The Dude," in cult classic film The Big Lebowski. There's something appealingly low-culture about this drink, which blends vodka in nearly equal parts with milk (!) and Kahlúa coffee liqueur. Despite its wintry appearance, however, I found the classic White Russian to be lacking — in body and character, with too much bland creaminess to leave an impression as an interesting cocktail.
"The White Russian is a drink that would, if it could, wear a ratty bathrobe," writes Imbibe's Wayne Curtis. If that's the case, I suggest that its cousin, the Black Russian, is wearing a velvet kimono: kitschy and intense, all at once. 
My version involves stripping away the dairy and vodka and replacing it with a spirit with more character than boring ol' vodka: Brandy. Specifically, you'll want a cognac-style brandy made with grapes; I went with Paul Masson VS, an American-made spirit that's aged for three years in oak and represents an utter steal at $14 a bottle. Technically, I guess it's not a "Russian" cocktail without the vodka — some call this a "Dirty Mother" instead — but brandy is historically an important and popular spirit in actual Russia, so let's just roll with it. 
More importantly, brandy is a booze with lots of character, unlike vodka. The warm caramel and fruit notes in brandy pair well with the coffee-flavored rum sweetness of Kahlua, especially when stirred with ice and diluted down. A generous dash of orange bitters helps meld everything with a citrus undertone. The Black Russian is delicious just like this, but I couldn't resist but add a little cap of whipped cream to the top of the glass. It's kind of like the salt rim on a margarita — a little garnishing touch, rather than a main ingredient to the cocktail itself.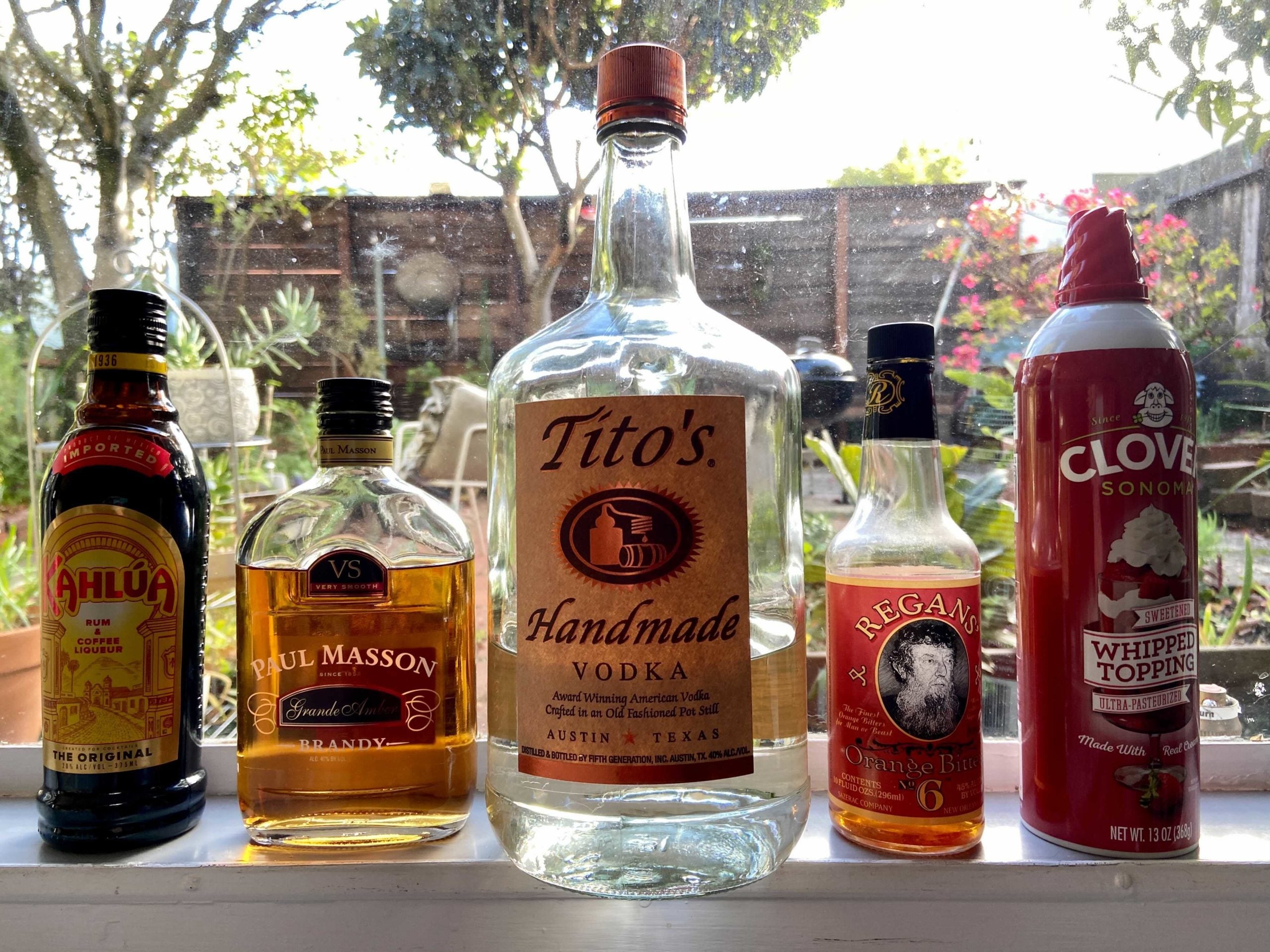 The Black Russian Redux 
2 ounces of cognac-style brandy
1 ounce of Kahlúa liqueur
A few generous dashes of orange bitters
A pinch of salt
All you need to do is fill your favorite lowball or highball glass with ice, add the ingredients and stir with a slender bar spoon (or chopstick!) for 20 seconds. Finish with an orange peel garnish or a squirt of whipped cream. I'm growing more and more tired of drinking as the years pass, but I love that just one of these modified Black Russians puts me in a chilled-out headscape after a long first day back to work.