There were so many great international films that came out last year — Drive My Car, The Worst Person in the World — but one that didn't get as much awards attention was Bad Luck Banging or Loony Porn. That's an evocative title, and also somewhat accurate: This Romanian comedy-drama tells the story of Emi (Katia Pascariu), a school teacher who makes a sex tape with her husband, which ends up getting uploaded onto the internet, the fallout resulting in her facing possible disciplinary action and maybe even the loss of her job.
Writer-director Radu Jude opens Bad Luck Banging with three minutes of the sex tape, and as Los Angeles Times film critic Justin Chang described it back in his November review of the film, the sequence is both legitimately shocking and deeply satirical:
Their vigorous and unsimulated intimacy — shot on a cellphone and accessorized with costumes and sex toys — is one of the more arresting movie prologues to come along in a while, executed with an eye toward jolting even the most jaded viewer out of their cinematic complacency.  
It's not the imagery itself, of course, so much as the context. The internet is awash in content far more graphic, sustained and objectionable than the video Jude shows us, which, initial shock aside, turns out to be a disarmingly sweet, goofy record of a husband and wife's lovemaking. (That's the story, at least; the actors here are Katia Pascariu, the movie's lead, and Stefan Steel, a pornographic actor.) Still, it's one thing to watch such images in the privacy of your home and quite another to be confronted with them in a movie theater. Or is it? In a viewer's possible shock and discomfort, Jude fingers — er, nails — OK, suggests — a measure of the hypocrisy, the reflexive puritanism and rush to judgment, that he will spend the rest of this movie brilliantly and ferociously challenging.
That opening sequence is brief, but it informs everything that follows. Bad Luck Banging is divided into three segments — the first about Emi's discovery that the tape has leaked, the second an essay film about different topics (including "cock" and "pornography") and the last revolving around Emi's parent-teacher conference that will determine her fate — that each in its own way is about how societies try to pretend they're civilized, condemning others for "transgressions" they themselves also commit. So it's more than slightly funny that Bad Luck Banging, which is now available on Hulu, is safe to be seen from the comfort of your own home, in a censored state.
Of the mainstream streaming services, Hulu is the most adventurous, featuring a ton of great, challenging arthouse films like the risqué Titane. But if you flip on Bad Luck Banging, you'll see comically colorful title cards over the opening sex scene — as well as the portions of the middle-segment essay film where Jadu shows, for instance, a woman performing fellatio on a man. Sometimes incorporating comic sans or featuring sarcastic descriptions of what we're not allowed to see — my favorite may be "Cumshot!," written like it's "Bop!" or "Zap!" from the old Batman series' action scenes — the cards are a cheeky, intentionally garish and cheap-looking way of working around the censorship imposed on Bad Luck Banging.
The movie, which won the top prize at last year's Berlin Film Festival, has faced pushback before. Russia refused to release Bad Luck Banging because of the film's supposed "promotion of pornography," which makes Jude's point even better than his own movie does. A provocative filmmaker who often attacks political and societal issues — his 2018 drama about the 1941 Odessa massacre was grimly titled I Do Not Care If We Go Down in History as Barbarians — Jude is hardly "promoting" pornography but, rather, showing us how sex is part of life, just like war, consumerism and COVID. (Emi and the other characters wear surgical masks, very much placing the action in modern times.) Tellingly, that censored image of the blow job is accompanied by subtitles that indicate that "blow job" is the most-searched word in online dictionaries. (The second-most, incidentally, is "empathy.") We can pretend we're not thinking about sex all the time, but our web browser knows better.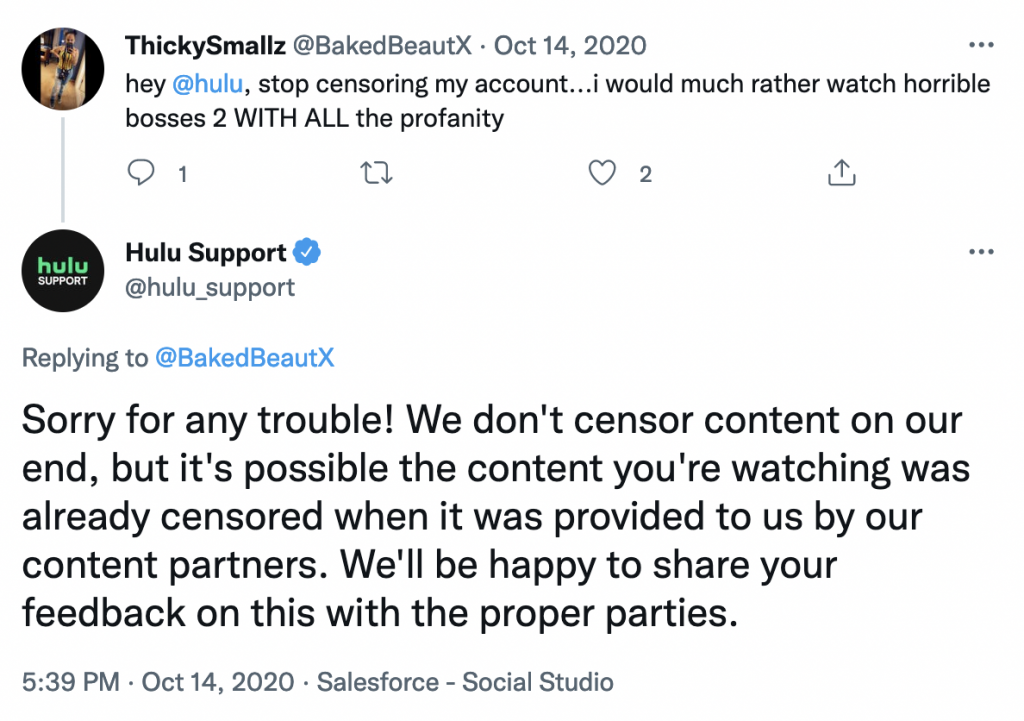 Many frustrated viewers have directed their disdain at Hulu, which doesn't regularly alter its programs' content. (As the company has mentioned in other instances, its partners sometimes make those decisions.) It's worth noting that Amazon also currently offers this censored version, while Apple has the "Uncensored Theatrical Version" available.
Is it worth it to see Bad Luck Banging uncensored? I think so: Watching the original Bad Luck Banging last fall, I was struck by how … odd … it was to actually be witnessing unsimulated sex in a movie. One of the last times (if not the last time) it was tried was in Lars von Trier's Nymphomaniac, which never gained much traction beyond the gimmick that you got to see his actors having sex with one another. But then again, simply watching any new movie that features sex of any kind is surprisingly novel. At a time when filmgoers lament an age when sex has all but vanished from mainstream movies, Bad Luck Banging is a welcome unicorn.
"They did their own stunts, their own sexual stunts," Jude said in November when asked if his actors really had sex in the film's opening. "It's interesting," he continued, "I think these questions, the more you go from Eastern Europe to Western Europe and to the United States, these questions appear more often. I think most of the American press ask this question, how it was done." Later in the same interview, he said, "I don't know how it is in the U.S., but … [Romania] is a pretty conservative and prudish society."
In Bad Luck Banging, he's taking aim at his homeland's prudishness, but seeing how his film has been received in America (and elsewhere), the lessons clearly stretch beyond Romania. Jude's sex scenes aren't "titilating" or "lewd," or even all that self-consciously sexy. It's just a husband and wife enjoying one another's bodies. But once the tape goes viral, Emi's life gets turned upside-down, with the mob ready to pillory her. How could she be doing such things? Shouldn't she feel ashamed about having sex and filming it?
Some more skittish viewers might have felt awkward about seeing Bad Luck Banging in a theater, but it's an irony straight out of a Radu Jude film that you can't necessarily watch it at home, either. Wouldn't want to risk consenting adults witnessing an erect penis, after all. Whoever put together those title cards — maybe Jude? — deserves some credit: They're a really funny way around having to be censored. But the same anger that courses through Bad Luck Banging is evident there as well, because he and we know he shouldn't have had to do it.