Five glowing boxes slowly descend from the rafters to the sound of screams. Inside each is a present designed in the 1990s to please women around the world. The contents have aged more than 20 years since their shiny debut, but thousands of fans have gathered to see the Backstreet Boys at Planet Hollywood in Las Vegas this spring — reliving their Y2K youth, or perhaps reimagining it.
"I was supposed to go to their show, and Hurricane Georges ruined it all," a Florida native tells me in line at the merch counter. That was in 1998 when she was still a tween, the same year Orlando gave the Backstreet Boys the keys to the city. The group had formed there five years earlier and performed publicly for the first time at SeaWorld.
Nick. AJ. Howie. Kevin. Brian.
These were the quintessential American boys: hyper, hair-gelled and happy, aged 13 to 21, brought together by famed Orlando fraudster Lou Pearlman, who was later imprisoned for stealing $300 million from investors in a massive Ponzi scheme. In 1993, though, he sent the quintet on a tour of American malls and high schools, then shipped them to Sweden, to produce hits with Max Martin (which exploded in Europe) before fully taking over the U.S. and global markets via total domination of MTV, enormous tours and a handful of multiplatinum albums released between 1996 and 2000. They're still the best-selling boy band of all time, with 130 million albums sold.
Twenty-four years later, they're a bit less angelic, married and not exactly in their best shape, but still hot enough to inspire the screams of thousands—many of whom paid hundreds of dollars to be here. The night is a strange form of time travel for the mostly female fans, back to the late 1990s and early aughts, the era that almost the entire set list comes from. The bond with BSB is one they've shared since girlhood, and Backstreet has never failed to deliver on its pledge to serve and submit to them.
While their sex appeal may be past its prime, the fan relationship is only deepened by how much the Boys have had to overcome for all five of them to be here so many years later. Their lives have made the lyrics from their 1999 hit "Larger Than Life" — which they kick off the Vegas set off with — seem prescient:
But let me tell you now
There are prices to fame, all right
There were lawsuits with management after Brian found out they'd only ended up with $300,000 in 1997, as opposed to the millions made by Pearlman. There was AJ's substance abuse issues, confronted on Oprah in 2003. There was Kevin's six-year departure from the band. There were Nick's drinking problems, cardiomyopathy and reality TV show tantrums. There was Howie's resentment at being sidelined after the group's early plans to develop him as the star. There still are Brian's vocal-cord issues that have given him tremendous anxiety about his voice.
All of our time spent in flashes of light
But Brian sounds good on this night, and the guys dutifully guide fans through the songs whose lyrics they internalized as teens, platinum singles like 1996's "Quit Playing Games (With My Heart)" and 1998's "All I Have to Give" and other tracks that made up 1999's 13-time-platinum Millennium, which is still one of the best-selling albums of all time.
They've been living off these chart-toppers since 2000, as more recent attempts to release new work — in 2005, 2007, 2009 and 2013 — have never come close to their early success. Even by 2005, when they came "back" after a five-year fallow period, they already seemed nostalgic, debuting a badly received rock sound. (The misleadingly titled Never Gone did, however, sell more than 10 million albums worldwide.) Outside of musical releases, they've reappeared on tours driven by music of the past, a cruise, reality TV shows and as living-memes in movies and TV shows like This is the End and The Bachelor. Now, the Las Vegas residency — the ultimate comeback for any grown-up pop star past their prime. Case in point: Britney Spears' first was valued at $30 million.
"If you've ever been to a Backstreet Boys show, it's going to be that on steroids," Brian said in a statement announcing the residency this fall.
I've never been to a BSB show before, but this feels more how I'd imagine treatment for Low T than steroids. The Boys can still sing with various degrees of success, although as in other Vegas shows for post-peak celebs (ahem, Britney), the dancing is less than virtuosic to accommodate those who may no longer have the range — or perhaps lacked it all along.
Most noticeable in their performance is the absence of any real star, and how democratic that makes the choreography — i.e., the guys constantly change up who's standing in the center of the line and who's on the periphery. They've clearly learned to share the stage, which is part of why they're still sharing it (and a reminder that a band's secret to longevity may be to consist of a lot of Michelles, and no Beyoncés).
"What do you do when you're a full-grown man in a boy band?" Howie wonders aloud in the 2015 Backstreet documentary Show 'Em What You're Made Of. One solution is to drop the archetypes. The former differentiators of Nick as "heart throb," AJ as "bad boy," Brian as "Boy Next Door" and Howie as… "The glue?"… feel mostly supplanted by the common identity of simply "old(er)." Admittedly, it would otherwise make little sense for AJ, a sober dude pushing 40, to claim the mantle of "bad." A "bad boy" is cute and sexy; a bad man is scary and threatening, the exact type of masculinity the for which the show provides a refuge for a mob of fans who have also grown up.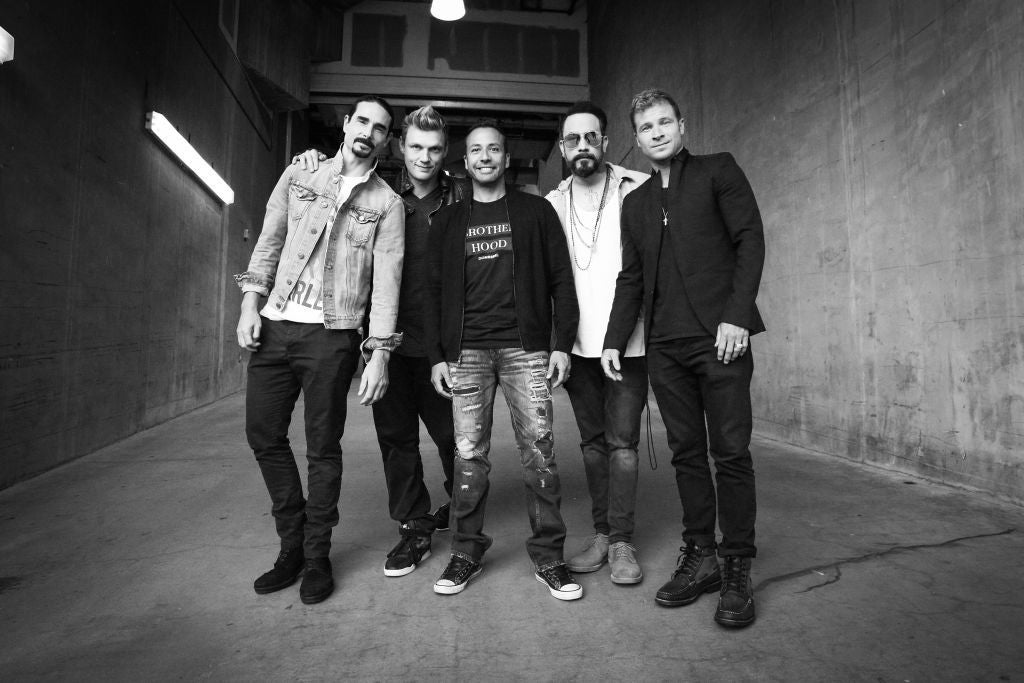 "A big round of applause for International Women's Day!" AJ shouts in between the first few songs. It happens to be March 8, and thousands of women around the country have been on strike all day. "We would be completely lost without you in more ways than one," he adds before listing exactly one more way than one: "Cooking… sex."
The energy is too hyped for the remarks to sink in, but there's the slightest record skip in the crowd, audibly fewer screams as some people consider that maybe that wasn't the best International Women's Day tribute. But the happy vibe is resilient as AJ concludes his monologue with a sign-off before letting Kevin take over: "Ladies, you look good tonight."
BSB peaked in 2000 long before pop music entered what Vulture recently called its "woke pop party" phase — when a progressive brand or message can commercially outweigh "whatever cable news and conservative audience blowback exists for pop stars who dare to 'get political.'" In the band's 2015 documentary, Howie explains that in the 1990s, America was recovering from the Gulf War and needed something fun like the Backstreet Boys — escapist, noncontroversial, Christian and white. And after 1992's lip-synching allegations helped usher in the decline of New Kids on the Block, the Boys were much more concerned with their authenticity as vocalists than projecting a socially conscious veneer, singing a cappella whenever possible. "We were fans of New Kids, but were we really modeled after them? No," Brian told Entertainment Weekly in 2011. "We looked at ourselves as Shai, Jodeci, Boyz II Men, the true vocal groups. That's who we listened to and who we really wanted to be like."
That was, in fact, what Pearlman was looking for when he posted a casting notice for "New Kids on the Block look with a Boyz II Men sound" in 1992. (Translation: Boyz II Men but white.) The styling was done accordingly, with baggy jeans, chains and jerseys, essentially five Southern Justin Biebers, in a pre-social media moment when artists faced less public blowback for cultural appropriation. In the 2015 doc, the Boys make it clear just how removed they were from the cultural context of the music they sold. While on their first tour of U.S. high schools in 1993, they stopped at a "real inner city high school," according to Kevin. "Here we come — a bunch of corn-fed, Middle America, straight-off-the-farm boys." The audience of mostly black and Latino students started booing when the PA blew out, until Brian rallied the group to sing a cappella, commanding the affection of the girls — of course — but also the respect of the guys. "Yo man, that was a great job," Brian says, offering an embarrassing impression of the male students' ultimate reaction. "Much respect."
Back at the show, Kevin continues this kind of time travel, saying the band is "gonna take you back to 2001 right now," between 1996's "Get Down (You're the One for Me)" and 2007's "Drowning."
'Cause every time I breathe I take you in
And my heart beats again
Baby, I can't help it
You keep me drowning in your love
More than anything, their success is owed to the consistency of these lyrics, forever pledging allegiance to the power of feminine love and affection. It's at the heart of the contract BSB made with fans — that Backstreet exists for women and in awe of them.
That arrangement still holds, all these years later; with BSB on stage, Planet Hollywood becomes a place explicitly for women in a city designed to fulfill male fantasies. The moms and daughters and long-lost friends and bachelorette parties in coordinated outfits are all here, and they're thriving, posing on a step-and-repeat for pictures and picking up overpriced swag as mementos.
I'm susceptible to the nostalgia, too. As the somewhat thrill-free show passes before me — the Motown-inspired dance routine that feels stolen from Justin Timberlake's 2013 repertoire (and from so many other artists before him); the nonsense lyrics from songs like "Shape of My Heart" ("Sadness is beautiful / Loneliness is tragical"); the disingenuous "surprise" discovery that Joey Fatone, from rival band *NSYNC, is in the crowd, at which point he's carried onto the stage — it inspires more connections with my past than BSB's present. I think about myself at age 10, 11 and 12, sitting in various air-conditioned living rooms watching Total Request Live, the music video countdown show utterly dominated by this very band for years. I still know all the lyrics, even though I don't consider myself a fan, and certain MTV images are seared into my mind, like the haunted house of the "Everybody (Backstreet's Back)" video.
That moment when Nick-as-a-zombie earnestly asks, "Am I sexual?" from his coffin stands out to me as much today as it did then, when I was at an age where such a question was far more relevant, when I knew what sex was but didn't understand my own place in it.
I wonder what did that question mean for Nick, a 17-year-old when he was first asked to say it? Was he asking from the perspective of the zombie, his character in the video, wanting to know if the undead can fuck? Or was it in relation to his fans, for whom he's a sex object that only teases but never acts?
"How many ladies out there got a hall pass to spend the night with the Backstreet Boys?" Nick goads the Vegas crowd, at one point, to plentiful screaming.
In the lyrics for "Larger Than Life," which they lead off the show with, the Boys suggest that the attraction to fans can be mutual, but that intimacy is forbidden:
Nick: Looking at the crowd / And I see your body sway, c'mon
Brian: Wishin' I could thank you in a different way, c'mon
The most "different" kind of "thanking" a fan may get at this point is probably an embrace and selfie at a meet-and-greet (cost: $2,876). After all, the guys have wives, kids and Jesus now and are the opposite of DTF, at least publicly. That said, there is a sex appeal to their subservience, evidenced tonight in things like Brian wearing a BDSM leather harness near the end of the set.
As the show nears its conclusion, the guys revive the storied chair-dance sequence for "As Long As You Love Me." In the video, one of Backstreet's most iconic, the Boys arrive at a casting and are surprised to find it's staffed by six women, who decisively creative direct them into a cohesive package — fedoras, belts, khaki color story and all. Within moments, they're performing choreography with fold-up chairs while the women direct, evaluate headshots, review footage and appear to control the boys with a magic remote.
For girl-aged fans, this scenario would seem to be the ultimate fantasy — to play God with their favorite toys and to picture themselves following in the paths of these six girl-bosses with the most amazing careers. For the Boys, it's an alternative origin story, far gentler and less creepy to be created by six female professionals in a studio than by a predator like Pearlman, who the guys referred to as "Big Poppa" as teens and who likely still owed them millions of dollars when he died in prison last year. But the video is also an approximation from 20 years ago about what might be desired by a grown-up fan here in Vegas.
About halfway through the video, the Boys rise up against the casting directors. AJ grabs the remote, and with a click, the women are transformed into a more youthful, sportier, fun version of themselves, like a girl band to mirror BSB. They begin auditioning for the boys, who've taken over the office.
The composed executive in a leather jacket and thick black frames now has her hair teased, in pigtails with green ribbons, modeling for the boys with a baseball in her hand; her name, "Nina," is posted on a sign next to her. All the while, the Boys preach their lyrics of radical acceptance: "I don't care who you are, where you're from, what you did…" The Boys click the remote to flash from model to model: There's Donna, with sunglasses; Janna, with a tennis racket; Fatima, with a basketball, Linda, with a vintage camera; Gina, with track pants. Eventually, however, Nina recovers the remote, and with another click, the Boys, once more, are performers.
When the audition is over, the Boys leave separately from the women, as professionally as they arrived. (Coincidentally, the reality from that shoot wasn't so simple. It was here that Brian met Leighanne Wallace, who played Donna. Twenty years laters, they're still together and have a kid — the most enviable outcome for any BSB devotee.)
So it goes in Vegas. With pink confetti raining down at the conclusion of "Everybody (Backstreet's Back)," Nick, AJ, Howie, Kevin and Brian take their bows and the women leave, empty 32-ounce margarita cups in hands, credit cards at the ready for $30 BSB underwear. The Boys will always be dependent on these girls-turned-women; the women will always depend on the Boys for the fantasy of control.
As long as that relationship exists, it'll always be a good time for Backstreet to be back.