It's become something of an unofficial online holiday — the week in December when both Spotify and Apple Music allow users access to their year-in-reviews of most played artists and albums. For some, this is a nostalgic chance to revisit their favorite songs of the year before it comes to a close. 
For me, however, annual music reviews are the cringe emoji come to life. I pride myself on having a relatively robust musical palette — Haim and Kevin Abstract; The Highwomen and En Vogue; Supertramp and "Lullabies for Deep Meditation" (the lattermost is my focus-writing music).
Still, every year, a few unexpected songs creep into my most-played and send me on a full "Oh my God. Is this who we are? Is this what we represent?" spiral. In 2019, it was "Go the Distance" by Roger Bart, off the 1997 Hercules soundtrack. The year before, "Love Myself" by Hailee Steinfeld. I still have lingering trauma from finding Lindsay Lohan's 2004 hit "Rumors" in my Top 25 most played songs last year. (It's a timeless bop, okay?)
It seems, however, my surprise is for naught. I can now adequately monitor my musical mood swings throughout the year, not just feign melodramatic shock in December, because it turns out the Apple Music Replay playlist is available year-round. 
To be clear, Spotify loyalists are out-of-luck. Spotify keeps their Wrapped a secret until December. They monitor your musical data — most streamed songs, most played albums, top artists — from January 1st to October 31st. This means in November and December you're free to stream whatever sad songs you'd like without worry that your friends are going to think you're going through it.

Apple Music operates differently. They curate an accessible year-long playlist of most-streamed songs throughout the year. The playlist is accessible through the Apple Music Replay website, where you can download it to your phone or computer. You can also find playlists for all previous years you've had an Apple Music streaming account.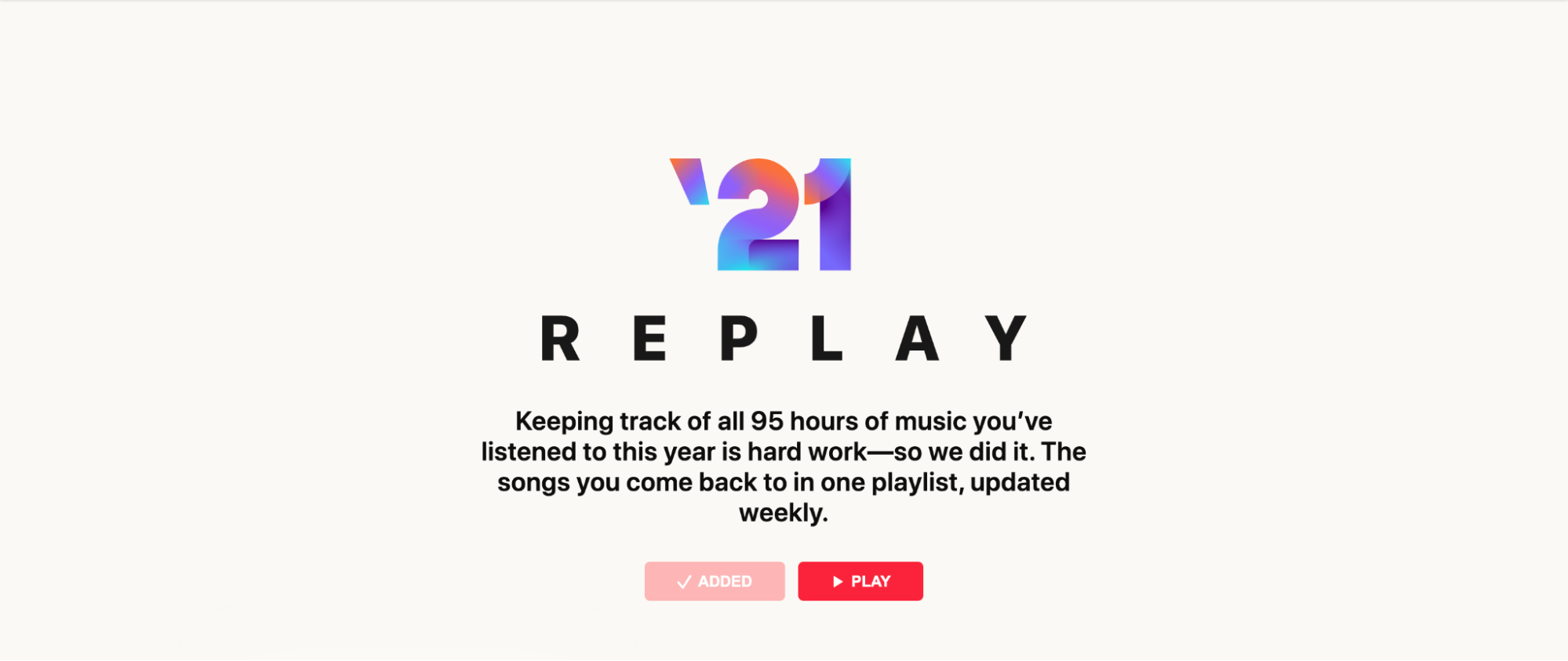 The playlist is updated weekly and available every year starting in late-February. (There's one caveat here: According to Apple, the Replay playlist only becomes available once you've streamed an undisclosed minimum amount of songs. So go stream country singer Mickey Guyton's new EP, Bridges (it's good!) enough times until the playlist appears.)
Now, a mentally stable person would simply choose not to care what songs they listen to most throughout the year. But I am not a mentally stable person. I'm a neurotic gay man who built a bit too much of their identity around being a Lorde stan. And, frankly, this year isn't off to a good start on the Melodrama front. 
At the moment, my top songs of 2021 are deeply psychotic, reflecting the extremely online year we're having. My top two songs right now? Different covers of "Drivers License," the record-breaking hit song by High School Musical: The Musical: The Series star Olivia Rodrigo. (It seems I've also been streaming a pop-punk "Drivers License" cover by TikTok star — and Travis Barker's protégé — Jxdn.)
Now, excuse me while I go stream Lorde's "Liability" and try to change my top songs so that I don't become an emotional liability to myself.