The suicide of a famous figure you love is a strange, disorienting blow. This person who revealed their life to me as I remained hidden from their gaze, just one admirer in a sea of the same, has closed that open life. We mourn Anthony Bourdain not as an individual loss but as the vanishing of some dream. Everybody wanted to be Bourdain, but he did not, anymore. And so what hope is left? Quite simply: the hope he gave you while here.
If that hope took many forms, maybe they can be summed up as the hope for better men. Bourdain's writing and spirit should forever put to bed the lies that empathy is weakness, that feminism is an option, and that introspection is narcissism. He cultivated flintiness, a style of anger and aplomb through which his optimism shone more forcefully.
Adrift myself not long ago, I wound up working a Bourdain event in Hollywood, not sure, exactly, what the ticket holders expected to see. All he did was walk onstage and talk — no moderator, no book to read from — to his audience. You could almost call it stand-up comedy, but he wasn't telling jokes; he was being funny. He segued to new topics as they occurred to him. He seemed delighted whenever someone would shout something out, and at other times he asked for help remembering a detail, a name or place he wanted to be precise about. The ethics of eating pork came up. A committed omnivore, Bourdain spoke to his guilt: "Pigs, well, they're smarter than dogs," he said.
He wore those contradictions well, and that was part of what turned him into the face of enlightened masculinity. His fearlessness was not toward war and violence — it was in lifting up the victims, or sitting down to eat with them while listening to their stories. He vocally supported the rights and dignity of immigrants, the "backbone" of the restaurant industry, and exposed the privilege that comes with being a white American man, happy to showcase the moment a Lebanese editor dismantled his romantic view of her country. He called Henry Kissinger a "murderous scumbag" for bombing Cambodia and wrecked Alec Baldwin when the actor sparred with Bourdain's girlfriend, Asia Argento, an outspoken #MeToo advocate who accused Harvey Weinstein of rape. In fact, he went after any predator and every misogynist who saw the current reckoning as a fraud.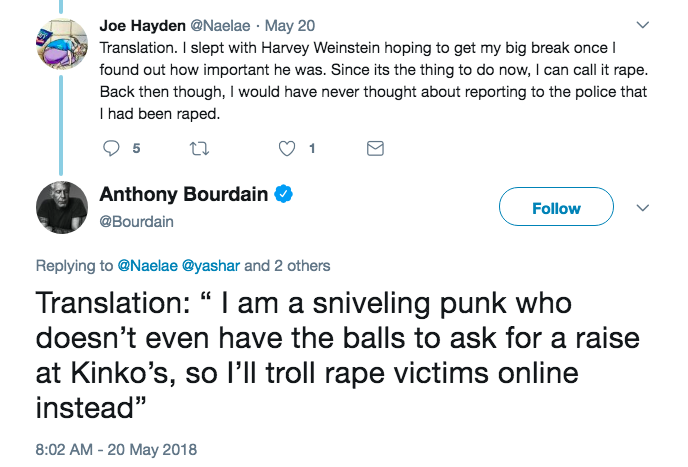 There's no denying the old-school maleness of his fury, his vulgarity and emasculating barbs, some of which he no doubt picked up in cutthroat kitchens. But he showed us how powerful that rage is when directed at deserving targets. It was a rage that told the truth. The heartbreak of his death is knowing this emotion bent inward, as well, and uncontrollably — that he could not be generous to himself the way he was to others. What would he think of the countless stories circulating today in which he figures as a beacon of resilience, encouragement, and friendship? In which people confess their awe at his easy grace and boundless curiosity? It would have been so predictable for a guy like him — handsome, charismatic, cultured, prolific, and successful only after years of struggle — to take the "bad boy" schtick to heart and turn heel as a major celebrity.
Instead, he was humble enough to have a transcendent experience at Waffle House.
It's funny how, even before he died, Bourdain's legacy had moved well past the culinary. Food was a thread that connected bigger ideas. He was a philosopher without pretension, a journalist who cared about his subjects, and an explorer willing to let a place explain itself rather than intellectually colonize it. Some like to gripe that it's "hard to be a man" in this day and age, and what they mean is they fear being outed as the assholes they probably are. They can take this sad occasion to reframe that thought: the difficulty of being a man in the 21st century is the challenge of rising to Bourdain's level. Because if he isn't the kind of man you strive to be, you are already lost.