Tom Ruegger was 35 when he quit a coveted gig at Hanna-Barbera Studios in 1989. He had just finished developing what would be the first Scooby-Doo series to be nominated for an Emmy when his old boss, Jean MacCurdy, gave him a call. "She asked if I wanted to come over to Warner Bros. and work on a new animated TV show with Steven Spielberg," Ruegger tells me. "Of course, I immediately said yes."
Next, he panicked. "Here I was, about to meet Steven Spielberg, and I started to freak out: What have I done? I quit my job. Steven might hate my guts. He may not like my idea and I'll be fired tomorrow," Ruegger continues. His wife, however, offered him some sound advice that eventually calmed him down. "She told me to talk about my favorite cartoons," he says, "which is a great way to look at and translate your personal creativity."
And so, Ruegger went into Spielberg's office and explained everything about the cartoons he loved growing up, specifically Looney Tunes. "The big music, the absurd zaniness, the intensity, the energy and just the basic charm of them all," he explains. Spielberg immediately took a liking to him, and the two would go on to create some of the greatest cartoons in television history.
They started with Tiny Toon Adventures.
Tiny Toons, of course, was a huge success and ran for five years. But it wasn't long into that success that Spielberg and MacCurdy called Ruegger back into Spielberg's office. "They go, 'Okay, what's next?' And I responded, 'Uh, what do you mean?' They were already ready for a follow-up series or a spin-off," Ruegger says.
To that end, Spielberg suggested Ruegger do a Plucky Duck spin-off, but Ruegger didn't like that idea; after 100 episodes of Tiny Toons, he wanted to try something new. "When I was a kid, I had a dream about these sort of mutant Mickey Mouses," he laughs. "And in college, I had these three duck characters that I was working on, so I sort of combined those ideas into one."
After a few sketches of the mutant Mickey-ducks, and knowing he wanted to do a variety show of sorts, Ruegger had a solid outline of a pitch for Spielberg. But the famed director had also wanted a marquee name with it that carried weight. "Just days before meeting Steven at his home to pitch the new show, I was walking across the Warner Bros. lot, tormented by the concept of needing a marquee name," Ruegger remembers. "I looked up and saw the water tower with the big 'WB' emblem on it and had what they call the 'cartoon epiphany.' I just realized, that's it. The Warner Bros. water tower is the marquee, and I can name those duck characters as the Warner Brothers and their sister Dot."
"Steven loved the idea, but he suggested we do something other than ducks to represent the brothers and Dot," Ruegger continues. And thus, another cartoon epiphany: "We'd been making some Tiny Toons episodes that featured a place called Two-Tone Town. And Two-Tone Town had some of the earliest characters in the Warner Bros. portfolio from like 1930, these black-and-white characters, which gave me the idea to take my ducks and put generic little antenna-ears on them, with red noses. We pretty much had Yakko, Wakko and Dot shortly thereafter."
For the personalities for his three Animaniacs, Ruegger needed to look no further than his own three sons (ages 9, 7 and 5). "I had character profiles for the series, but we didn't have any voices or real character outlines created yet," he explains. "So the foundation from which Yakko, Wakko and Dot were built — who they were and how they interacted with each other — came from the interactive personalities of my kids."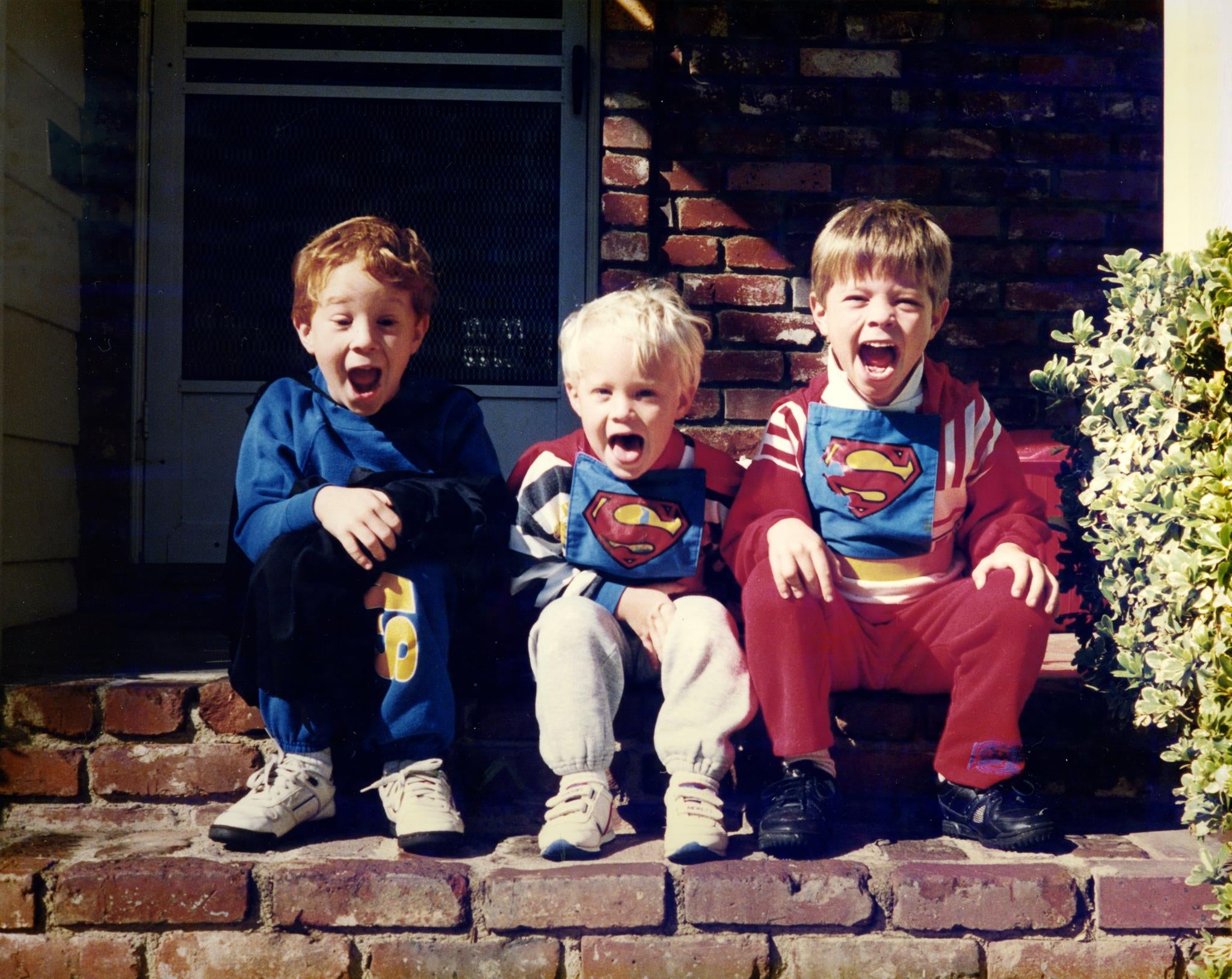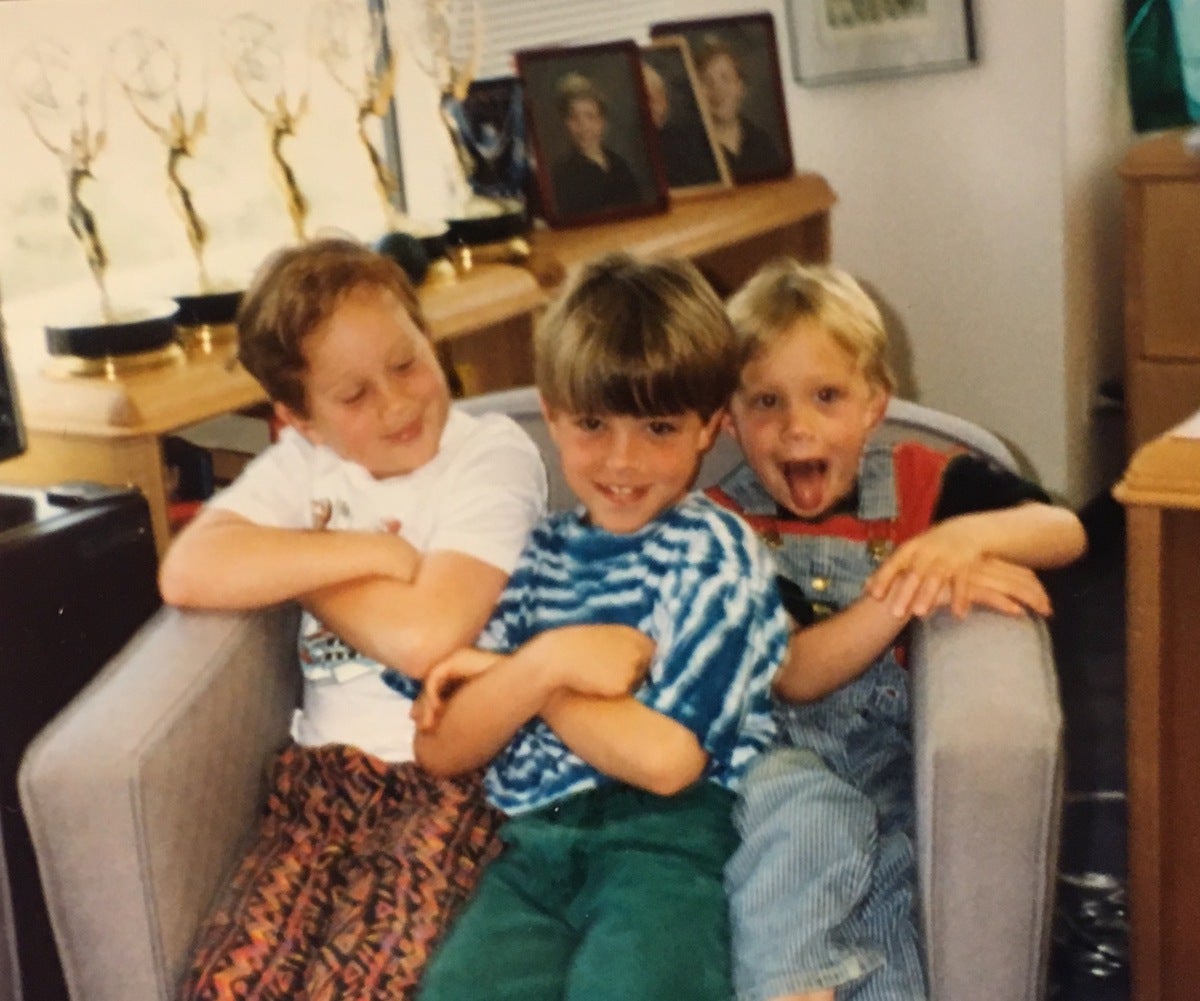 "Their routines and little 'bits' that they did, especially anything that was particularly annoying," Ruegger says he worked into the show. For example: "I'd put them to bed, and say something like, 'Okay, I don't want to hear a peep out of you guys!' And then I'd just start hearing, 'Peep!' 'Peep!' 'Peep!' There was tons of that kind of thing."
Ruegger's oldest son, Nathan, was the perfect Yakko. "He was the ringleader, he really talked it up. And Luke was the absurd, nutty one — Wakko. And Cody, well, he was pretty cute and adorable, and that was Dot."
In terms of casting, "Everybody in town wanted to be in on this, because it was a good gig," Ruegger says. "But Tress [MacNeille] came in and nailed Dot immediately. The minute she did her Dot, we were convinced."
For Yakko, Ruegger knew he wanted Rob Paulsen, a voice actor heavily involved in Tiny Toons. "There's a story of him doing the 'Nations of the World' song on the first take to get the audition, but that isn't true," Ruegger explains. "He did that later, and it took about five takes. It's probably a better story to say he nailed it on the first one, but we clipped it together in post."
To better Paulsen's chances, Ruegger included him doing three different voices in the selection of 10 presented to Spielberg. "It was a blind test, and fortunately, Steven goes, 'It's either number three or number seven,' and they were both Rob," Ruegger laughs.
Wakko was another story. "The name itself indicates wackiness, so literally every person in L.A. who thought they were funny came in for the audition and almost every one of them did this over-the-top, nuts voice. It was brutal," Ruegger remembers. "Then, the very last audition was Jess Harnell, and he did the same wacky thing, but we knew he did impressions too."
Ruegger says he sat in the sound booth, and thumbed through a list of celebrities in a World Almanac he'd found, and Harnell nailed every single one. "Then I start hitting him with different names and saying, 'Do him as Wakko.'
"Eventually, I got to the Beatles and he did all of them — John, Paul, George and Ringo — and they all sounded completely different. Then he does all four as Wakko, and as soon as we heard, 'Hello, I'm Wakko,' as Ringo in this sort of youthful way, that was it. The low-key tone of Ringo, it almost goes against the name Wakko, so it really worked well — not to mention it's a British accent, and the others aren't, so it just adds to the silly bizarreness of it all."
The Animaniacs were set, and the premiere was six months away when a mistaken identity nearly sunk the whole thing. "Prior to the premiere, we paid a company to make a pretty good sized balloon of Yakko to sit on top of the Warner Bros. water tower on the lot in Burbank. We went through all the proper channels," Ruegger says. "But as you might imagine, the head of the company doesn't necessarily read every memo."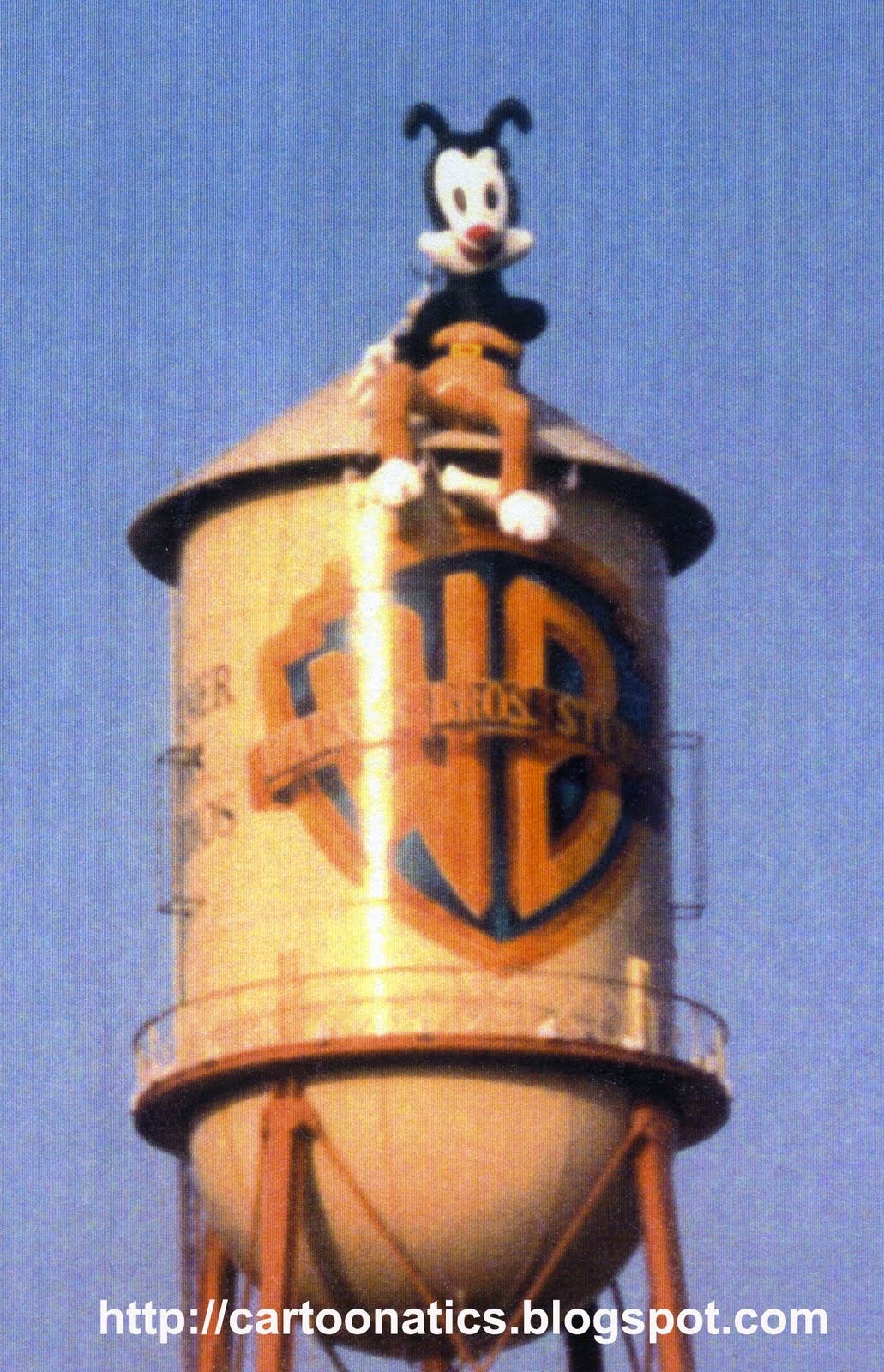 Especially, it turns out, Robert Daly, chairman of the board and CEO of Warner Bros. The morning Yakko finally got up on the water tower, he pulled into the lot below, and "he looks up at the tower, sees this big balloon and thinks Disney pranked him," Ruegger says. "He thinks it's Mickey Mouse up on the top of the water tower, and he blows his stack: 'WHO LET DISNEY IN HERE TO PUT THAT THING UP ON THE WATER TOWER?'"
"Jean MacCurdy and I were summoned to Bob Daly's office, where he's still fuming: 'WHY WOULD YOU PUT THIS MICKEY MOUSE THING ON TOP OF OUR WATER TOWER?!'" Ruegger continues. "And we said, 'Well, it's not Mickey Mouse. It's the star of the Animaniacs show, Yakko. You see, if you look closely, it doesn't have round ears. It has different pants and this, that and the other.'"
But the damage had been done. Daly had already called Disney and reamed them out. "He tells us, 'I was certain it was Mickey Mouse, and I called Disney to yell at them. They said I was out of my mind and they were right,'" Ruegger recalls Daly telling him. "Then he requested we take it down immediately, and bring in all of our main models for Yakko, Wakko and Dot."
Daly admitted that they didn't look too much like Mickey upon closer inspection, but he still wanted Ruegger to make some changes. "He made us add some whiskers, sort of like a little shagginess to their cheeks, which he thought helped. It didn't really help, and it just created more work for our animators. Luckily, we had time to make the changes, but it was close."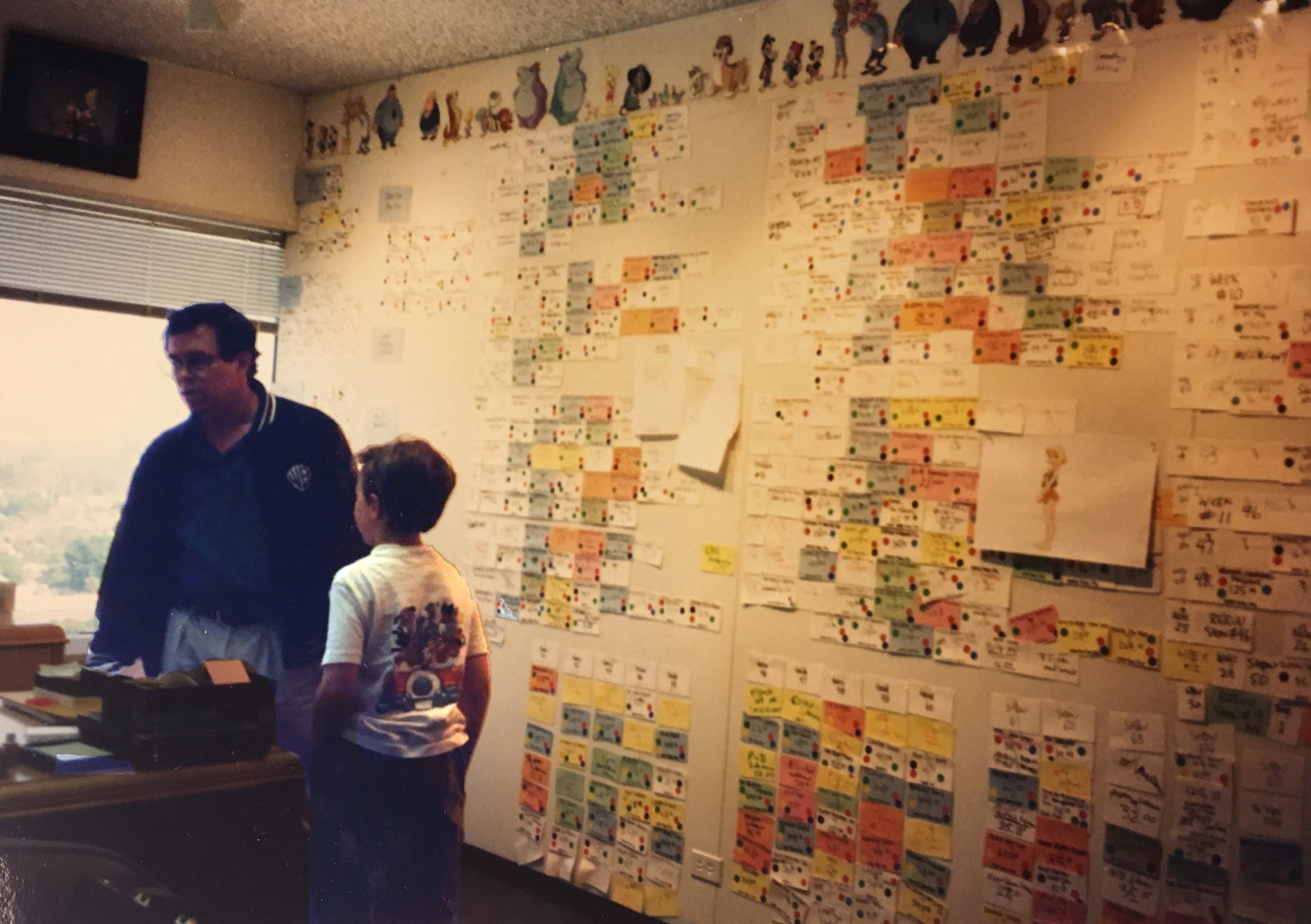 Animaniacs was an instant hit. Not only did it win several Emmys and a Peabody, but it was lauded as a show for both adults and kids, which gave rise to it being credited as the first TV show to garner an interactive online audience.
"We packed the show full of cultural references and information that the kids would never get, but they loved it anyway, because it was packed with comedy, too. Here were these adorable cute characters, saying all these sly jokes. It was smart and funny, and it didn't talk down to anyone."
"Kids networks today are very much oriented toward target, niche audiences," he continues. "They have the demographics down, so it's much more data driven. But when we made Animaniacs, we knew there weren't as many options on the television dial, so we just tried to put something in there for everyone. I think that's why it still holds up, and probably has an even bigger audience now."
"I get the feeling Animaniacs is a rare commodity now, if only because it doesn't pander to a specific demographic," Ruegger says, adding that the only data point he remembers is that "Freakazoid played very well in prisons."
So what's the moral of Ruegger's story? Well, there's only one way to find out: