I watched Taxicab Confessions for the first time in my mother's basement while home on break from boarding school in 1995. I remember dutifully keeping my finger on the volume button as a drunk lesbian tried to make out with her female driver. There was also a crack-addicted prostitute longing to be loved by her father; an aging violinist taking requests in the back seat; a benevolent addict describing how he beat a man for stealing money from a friend's funeral fund; and a transgender guy — something I'd never seen and could only barely imagine — explaining to an old Jewish cab driver what it felt like to be alienated from his family before concluding, optimistically, that he could be anyone he wanted in New York City.
As a closeted gay teen in a protected WASP-y hamlet of Connecticut, the HBO series was intoxicatingly informative. It was late-night poetry, an ode to the other. As an "other" myself, it was comforting to learn of the existence of such people and know that they — and their stories — were only a Metro North train ride away (and then, of course, a hop in a cab).
It was further affirmation to watch the trio who introduced me to these nocturnal raconteurs — brothers Harry and Joe Gantz, independent filmmakers and sons of a Cincinnati trucking company owner; and Sheila Nevins, the "Grande Dame" of HBO documentaries — accept an Emmy for "Outstanding Informational Special" in 1995. (This predated the existence of the "Outstanding Reality Program" category by six years, since Taxicab Confessions is one of the shows that essentially invented the genre.) At the time, the Brothers Gantz explained the project was a reaction to what TV typically omitted. "We go after what we find missing," Harry told the L.A. Times in 1994. "The things television isn't doing."
Now what's missing is any similar programming on HBO. Earlier this summer, in fact, HBO quietly scrubbed all erotic content from its channels and streaming services, including racy docu programing like Real Sex, Cathouse, and of course, Taxicab Confessions. "Why did they do that?" Nevins asks me. "Taxicab was a beautiful gem that shouldn't be hidden. It connected equally with those who wanted to see it for the profanity and those who wanted to see it for the profound. Are they ashamed of what we built? Is this like a Freudian book burning from the Second World War, tossing all that glorious smut into the fire?"
Admittedly, the Taxicab catalog is a bit confusing, both geographically and chronologically. IMDb considers the series to be comprised of 14 "editions," which is more or less right. There are three hourlong pre-cell-phone installments in New York City — Taxicab Confessions 1, 2 and 3, a trio that purists consider to be the only Taxicab Confessions. But after Mayor Rudy Giuliani evicted the Gantzs in 1996 because he "didn't like the way it portrayed New York," segments were steadily released from Las Vegas over the next eight years — the only other 24-hour cab town in America with a "one-party consent" law that permitted the recording of people without their knowledge. Ultimately, the series did return to the Big Apple for two final installments, most recently in 2009, but by then, the Taxicab magic was lost to a gentrified city smothered by Starbucks culture.   
What follows then is the tale of Taxicab Confessions, before it lost its medallion.
Joe Gantz, Executive Producer: I drove a cab when I was in college at the University of Wisconsin and would pick up people along the way, kinda like how UberPOOL is today. The strangers in the back would have conversations with each other, and it would get really interesting. So I got a tape recorder and recorded them from the front seat. I didn't ask them questions, but I was interested in what people were talking to each other about, how they were explaining themselves and what motivated them. If two people were in an interesting conversation, I wouldn't want to interrupt by picking up another person, so I ended up making less money.
Harry Gantz, Executive Producer: In the mid-1990s, there were a lot of daytime talk shows like The Jerry Springer Show that played to the lowest common denominator. Dispossessed people — sexual minorities, people of the night, drug addicts — showed up on these shows and were given a platform to be seen as something lesser than the audience. While it wasn't in direct competition with them, we always considered Taxicab Confessions to essentially be a talk show. But instead of making fun of dispossessed people, we gave them an opportunity to tell their stories honestly from their own point-of-view.
Joe Gantz: Harry and I had done a pilot when we were in the Bay Area called Life at Random. In it, we'd spin a roulette wheel with 50 states and land on one. Then we'd hang a map of that state on the wall and throw a dart to find a city, open the phone book of that city, and randomly choose a person to come on and talk about their life. It was amazing what random people had experienced. We showed that to a bunch of folks in L.A. who were making talk shows, and they looked at us like we were nuts. They said we didn't know anything about how talk shows actually work because they're extremely produced and basically scripted. They found the idea of doing something random to be absurd.
Harry Gantz: Hilary Estey brought us into Warner Telepictures and showed us a video they had presented for a show about a vigilante cab driver who fashioned himself after Travis Bickle. He went around armed during the L.A. Riots, confronting looters, acting like he was saving people, and basically making an ass of himself.
Joe Gantz: He'd actually get out of his cab and point a gun at people and tell them to put back what they'd stolen. It was the Taxi Driver era where guys still wanted that tough taxi-driver image.
Harry Gantz: She asked if we'd be interested in doing a show like that. And since you never say no, we went home and mashed up what they'd shown us with A Life at Random. But instead of making it about the cab driver, we focused on the passengers and presented a pitch for Taxicab Confessions. They gave us small amount of money to do a sizzle reel: four rides shot on concealed Hi8 camcorders. We shot rides in both the day and night and found people to be much more willing to open up and let their feelings come out at night. There's something about the darkness that makes people look at themselves on a deeper level. We pitched it to all the networks, but HBO is the one that bought it.
Sheila Nevins, Former President of HBO Documentary Films: As I recall, the original pitch was like a friendly, Taxicabs in New York City show. But it was boring to me to pick up babysitters, kids coming home from school and people leaving work. I thought it had R-rated potential. And it did.
The New York City taxicab was a beloved, egalitarian vehicle to get from point A to point B. Like the American dream on wheels. There's nothing quite like it today: Trains have silent cars; planes have classes; and poor people aren't really welcome on either. And the variety! You didn't know who was gonna hail that cab. Imagine how exciting that job would be. You and I go to work and know pretty much everybody. We go to a restaurant and pretty much know who the waiters and clientele will be. But this was always surprising and exciting. That was the fun of it.
Harry Gantz: Sheila was taken with the show and felt that it was rare for real people to tell their stories in an unadulterated way, whether it was regarding sexuality or giving a voice to the dispossessed. In the early 1990s, it seemed like everybody needed to get something off their chest due to a combination of the decline of religion and isolation, especially in places like New York where people live in very small apartments. Almost every religion has a way you can free your soul by admitting your sins, whether it be a Catholic confessional, testifying in front of an entire Baptist congregation or sharing your most personal life story in Scientology (which they'd then use against you). I think we fulfilled that need. When people found a cab driver to be warm and genuinely caring, they suddenly — and effortlessly — opened right up.
Nevins: I consider Taxicab to be the precursor to reality television. It was its own thing, unlike anything that had ever been on TV. The only show before that featured real people was Candid Camera. Taxicab proved that real people could be incredibly engaging, enticing, sexual, outrageous, fanciful and different. Along with HBO shows like Real Sex and G String Divas, Taxicab birthed the interest in docu-style reality shows.
Joe Gantz: We worked with composers to come up with original 30-second pieces of haunting and powerful music and then tried to capture the spirit of the city in pictures. Sometimes that meant people hanging out on the streets of New York, fearlessly living their reality without hiding who they were. Or it could be scenes of sadness — people without homes struggling financially. We tried to capture the DNA of New York in the 1990s. There were prostitutes, homeless people and kids, all living life to the fullest.
Likewise, the Taxicab Confessions theme song in the first three seasons — R.E.M.'s "Everybody Hurts" — connected perfectly with the show because we were focusing on looking into people's lives in complex ways and showing the issues they were dealing with.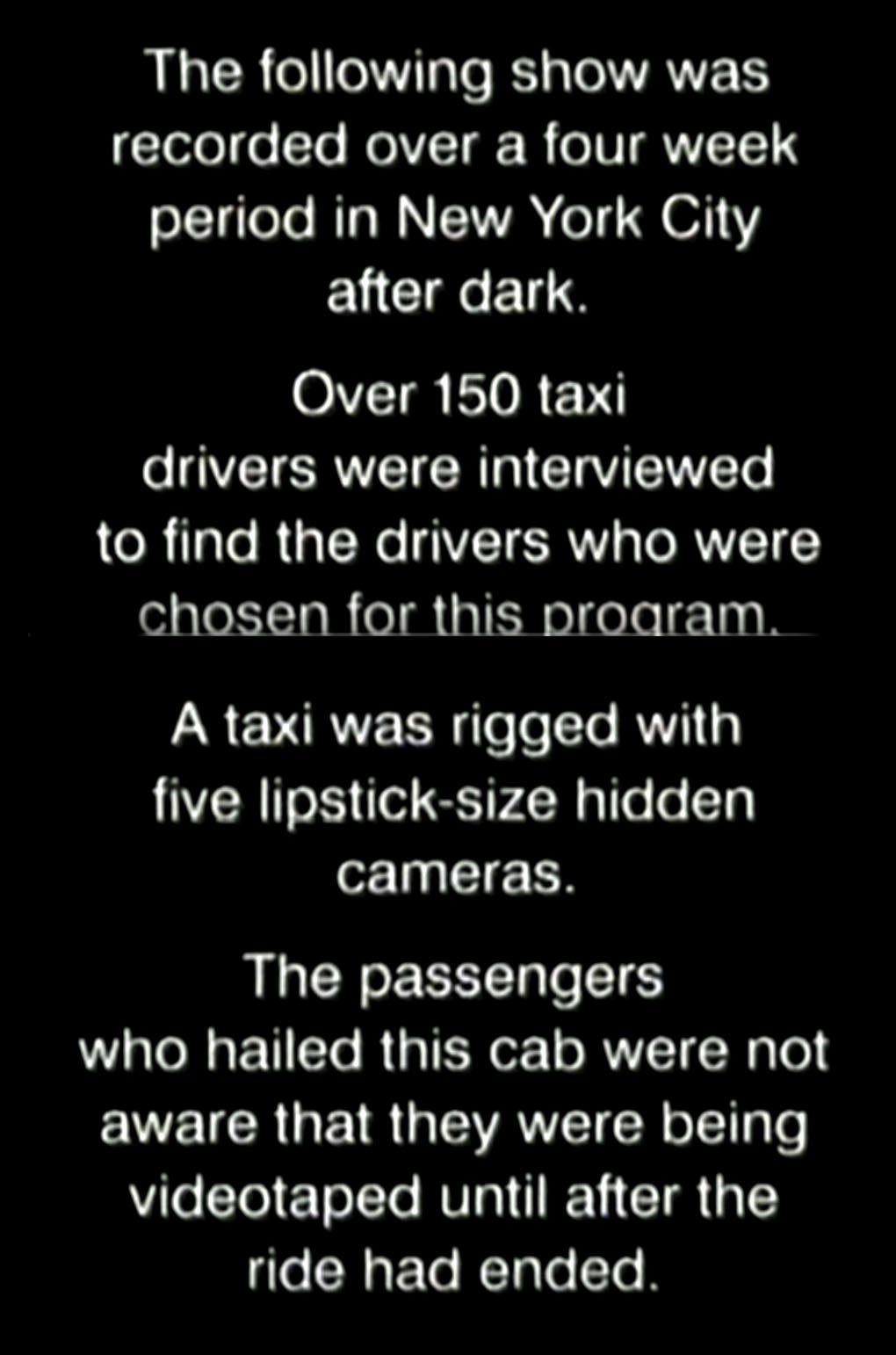 Early seasons were primarily filmed in a yellow cab because there were not yet partitions between the driver and passenger. As the years went on and partitions were installed, the Gantz brothers relied more on "livery cabs," unmetered cars used to take passengers to their destination for an agreed-upon price, which, pre-Uber, was how most people traveled throughout New York's outer boroughs. Each neighborhood had its own neighborhood cab stand — and colors — and the Gantz brothers would take their cab, with cameras already installed, and paint it brown, blue or however the livery companies in Bensonhurst, Elmhurst or Bed-Stuy painted theirs.
Harry Gantz: Taxicab Confessions became a reflection of real New York because we were able to get to the places where real New Yorkers still lived.
Joe Gantz: The cab's visors had stickers on them, and we installed finger-sized cameras that popped out at different spots in between the stickers. We wanted tight shots, wide shots, a shot of the backseat, a shot of the whole cab and a shot of the driver. We had only one light above the visor illuminating a sign that read, "Driver will not change bill over $20." The cameras worked the same for all seasons except for the first, when had five instead of six.
Sheila Nevins: Even the idea of miniature cameras was novel, and they weren't nearly as small as they are now. Today, they're like eyeballs. Back then we could conceal them, but they were still visible to the naked eye if you knew where to look.
Drivers were equipped with miniature ear buds, and Joe, Harry and a PA would travel behind the cab in the "follow vehicle," an FBI-style unmarked van equipped with monitors to watch and listen to what was going on in the taxi so they could feed the driver questions. The van had to trail close enough to the cab to maintain a radio connection, but far enough away not to be detected.
Harry Gantz: We interviewed hundreds of bona fide, licensed taxi drivers to get the three or four we eventually used, whom we selected for their ability to listen, empathize and make passengers feel like they wanted to tell them their story. So they were excellent at making people feel comfortable, but they needed our help to get a complete story in the limited time we had.
Brenda Roman, Driver: I got involved because my mom was a full-time taxi driver with her own vehicle. The Gantzs placed an ad in a newspaper for drivers that said they were looking for drivers who were outgoing. Sure enough, when I reached out to them, it sort of worked. They would feed me questions, but if I wasn't feeling what they were saying, I'd ignore them. Like, I wouldn't ask someone their sexual preference just cause they told me to.
But let's say a guy was leaving one club and going to another. I'd be like, "So I guess that club wasn't popping enough." Or: "You weren't feeling that vibe?" They'd tell me, "Eh, it wasn't really my scene." Then I'd ask them what their scene was, like, "Oh, you like big boobie chicks?" Then they'd open up. They'd be like, "Yeah, but what I really like are chicks with dicks." Before you knew it, they'd be telling me all their freaky shit.
Felicia Caplan, Production Assistant: I was hired to go up to the people when they got out of the cab at the end of the ride and tell them about the show and have them sign a release so we could have the right to air their story. We were only shooting at night, and I think that's why they wanted somebody like me — a nice, friendly, easy-going person who's naturally interested in people and likes talking to them.
Harry Gantz: The best success we had getting releases was from the driver getting them themselves. Only if the driver was unsuccessful did we ask Felicia to get out of the chase vehicle to see if she could do a better job. That's what made her job a lot harder, because they'd already told the driver no.
Roman: Oh man, that was the hardest part. I'd tell them how important it was for people to know they're not the only person going through something like this. I'd say, "You have no idea how many people you could help by sharing your story." I really believed that — and still do.
Caplan: When we were doing the the first series, we didn't have the luxury of telling people this was Taxicab Confessions, which, later on, made it a lot easier and a lot more challenging at the same time. But for those first episodes, it took a long time to explain what we were doing and get people on board.
Roman: If I had a really good story going, I'd take the long way or get lost on purpose. I knew there was a closed street and drive right into it. "Oh, man," I'd say. "We shouldn't have taken the tunnel because there's so much traffic!"
We'd pick up people at the end of the night when they felt more vulnerable. They felt like they were never gonna see me again so they didn't care what I thought and could open up. For example, I had a cop who kept having nightmares. He couldn't sleep because he kept seeing things and reliving bad experiences he had on the job. It was affecting his personal life because he couldn't have close relationships or trust people. But he trusted me for a few minutes. That was a really great ride.
Harry Gantz: We heard a lot of stories from people who worked in law enforcement and the toll that it took on them.
Joe Gantz: We picked up a no-nonsense New Yorker from the NYPD Rescue Squad who was talking about how tough his job was. Then we started asking about some of the things he'd experienced. He leaned forward and explained to the driver all the ways he'd seen someone die. It was so haunting and sad. He told it both with emotion and with distance because he sees this stuff all the time. His story became an episode of Homicide: Life on the Street.
Harry Gantz: It's seared in a lot of people's memory because he told it in such a poignant way, and you can really understand the effect that his position had on his life. The sacrifices of being a cop meant that he was paranoid all the time, and the best part about being a cop was that he could keep a gun with him.
Caplan: The emotional rides were the ones that sunk in deep with me because it was humankind on display. Like a person on the way to the hospital or on their way to pick someone up from jail.
Joe Gantz: That same driver also got the five women going to celebrate where they talked about the one girl taking off her engagement ring.
Harry Gantz: What a great ride. These women were so connected and authentic and the story was both sad and funny at the same time. She took off her wedding ring because she was going to see her boyfriend and her best friends were making jokes about her giving him a blowjob in the two minutes she was in there.
Roman: We had the best luck picking up passengers in the village, outside gay bars, nightclubs and strip clubs.
On one such ride, 41-year-old Olga "Cookie" Dejesus was waiting outside of Henrietta Hudson, a lesbian bar in Greenwich Village, when 26-year-old Guinevere Turner got in.
Turner: Cookie's the woman who pretended to be flirting with me to get me to act like a fool on national television. Needless to say, this remains one of my best stories.
It was the summer of 1994. Go Fish, a film Turner wrote, produced and starred in, had just come out. It's the first of six films she's written in all, including American Psycho.
Turner: There was literally a poster of me on the wall at this bar. I was feeling sorry for myself, like, "It's so tragic, I used to just be a cute girl in a bar. Now everybody wants me for my fame." That night I was just sick of it, so I ditched the bar and ditched my friend after drinking a billion free scotches.
I get in the car and several things strike me immediately. First of all, the cab is stopped outside a bar, which is unheard of on a busy weekend. Then when I get in the cab, it's a woman. I'm thinking, Why is a middle-aged woman stopped outside of a lesbian bar immediately asking about my girlfriend? I assumed she was flirting with me. So I very much tried to get her to come home with me.
Joe Gantz: I remember saying to Cookie, "Don't deflect her. Don't say no."
Turner: She said no. When she pulled over and the producers came out from the other van to ask me to sign the release, I did so without really looking. All I could think was, So I guess this means you're not coming home with me? Watch the video again: She was really good at stringing me along and definitely seemed like she was flirting. Cookie was great at her job, which is likely why she ended up in so many segments.
Turner: Six months later, I'm sitting in a bar, hanging out, and a bunch of my friends walk in looking like someone fucking died. They said, "Um, remember the story you told us last summer about the cab driver? It's on this show called Taxicab Confessions on HBO right now."
I literally crumpled up into a ball onto the floor. Imagine if on some random night you were out doing whatever stupid people do when they get drunk. And then six months later you find out it's on HBO? You'd be mystified, too. Especially if you didn't remember most of it.
I went online and found a blog where Cookie wrote about her experience on Taxicab Confessions and all of the people she'd driven. One thing she wrote that I found interesting — and frightening — is that of all the segments, mine was the only one she insisted on having editorial control over. I can only imagine what other horrifying things I said.
It is, though, one of my best dinner party stories. In retrospect, I can see how culturally significant Taxicab Confessions was, especially as a precursor to reality TV. I still think it was ethically gray to put a woman driver waiting outside a lesbian bar to find drunk lesbians. But they certainly hit the jackpot.
On September 10, 1995, Taxicab Confessions 1, which featured the segments above along with seven others, won an Emmy for "Outstanding Informational Special."
Harry Gantz: It was affirming, exciting and shocking. We felt that we had something special, but we didn't know if the rest of the country would agree. To be able to get it on HBO was a coup in-and-of-itself. When we got the Emmy, it was an affirmation that what we were doing was worthwhile. It also confirmed to HBO that it was worthwhile to keep going.
But just not in New York.
Harry Gantz: We left New York because of a public and behind-the-scenes struggle between the mayor's office and Time Warner. It's ironic that the official reason they offered was that they "didn't like the way Taxicab Confessions portrayed New York," since when we started, New York City cab drivers had a pretty bad image problem. Nothing improved that more than Taxicab Confessions, because ours were the kindest, smartest and most empathetic drivers you could imagine. And that's who was portraying the cab business in New York.
A short time later, The Chris Rock Show did a parody utilizing our crew, essentially making fun of the concept. It kind of shows the hypocrisy of them kicking us out because they "didn't like the way they were being portrayed."
Harry Gantz: If you look at the big picture at how the show impacted society, it was at the tip of the cultural zeitgeist at the time and referenced in everything. Like The Simpsons episode that really captured the spirit of Taxicab Confessions. In it, Homer is drunk and coming out of a bar and laments that he could've been a rock star if he hadn't had a family. When they see the episode, instead of getting mad at him, they want to help fulfill his life's dream. So they send him to rock 'n' roll camp led by Mick Jagger and Keith Richards. They didn't use it against him, they used it for him, understanding what was actually going on in his heart only after seeing his confession on Taxicab Confessions (or Taxicab Conversations…).
The episodes set in Las Vegas at the turn of the century leaned heavily on self-selected sin-seekers from around the country flocking to Vegas for adult fun. As such, the theme song changed from "Everybody Hurts" to a cover of "Somewhere Over The Rainbow" by the punk band Me First and the Gimme Gimmes, which HBO found more upbeat. The Gantzs also enlisted a local named Frank Beaty to be their guide to Sin City.
Frank Beaty: I started my career as a disc jockey and moved to Las Vegas in 1992 with Al Cleveland, the Motown song writer who wrote Marvin Gaye's "What's Going On." After a few months, he got sick so I got a job at the local taxi company to get health insurance for my family. When the people at Yellow Checker Star Cab found out I had experience with the film business, they made me their point person, because at that time, there was a lot of film activity going on in Las Vegas. So whenever a production came to town — Vegas Vacation, Turn, Fear and Loathing in Las Vegas — if they needed cabs, they called us. And when Harry and Joe came to town, they worked out of our shop.
When the series returned for a second season in Las Vegas, Harry told Frank that they needed somebody knowledgeable to drive the chase vehicle. So Frank took a leave of absence from Yellow Checker Star Cab and went to work for the Gantzs full time.
Beaty: If the ride started to sound interesting, my primary job was to guide the driver via a two-way radio away from the clutter of the strip. The best drivers were the ones who were really good at pretending to get lost. Our star driver, Rita, got to the point where she was so good that she could just tell people, "Look, I really love the story you're telling. Do you mind if we just drive around a little bit? I'll turn off the meter."
My secondary job was to use my relationships with doormen at casinos and strip clubs to call us when they had bachelor parties or anyone who looked like they might make for good television.
Felicia Caplan, by then promoted from PA to producer, also traveled to Vegas.
Caplan: It was the same show, but a very different city with very different stories. I think those shows were a little sexier because Vegas is such a sexy city. Though it did take a lot longer to get rides because of hotel lines and waiting for dispatch to call.
Beaty's son Freeman was a dispatcher at Yellow Checker Star Cab.
Freeman Beaty: My job was to sit in the dispatch office and screen the calls. Any time I felt like I had a call from the Green Door, a brothel or a swingers' club that sounded like it was interesting, I'd hit them up on the radio.
Frank Beaty: A lot of the strippers were young women who grew up Mormon in Utah, ran away to Vegas, and all seemed to have a story about being molested by an uncle, cousin or father.
Freeman Beaty: Customers going to the strip club was golden because nine times out of ten they were going to have sex in the car.
Harry Gantz: The other thing about Vegas is the people who are addicted to gambling. The stories are just absolutely devastating. They'd tell us about wanting to go back to their hotel room and put a gun in their mouth.
Frank Beaty: We had an area in Vegas on Harmon and Paradise Road where you have one of the most popular gay clubs, one of the most popular lesbian clubs and a hot spot with the trans community. We got some really good rides down there. We picked up a lady who was a dominatrix on her way to a session and spent the ride pulling out the whips and stuff and explaining how she was going to use them.
We used to pick up at the swingers' clubs. One of our best stories was this couple from the Midwest — the lady was from Iowa and the guy was from South Dakota. They were each married to other people, but every year, they'd go to this convention together. And while they were at the convention, they'd just hook up and act like husband and wife for a week. They loved each other, but both were in situations where they weren't going to leave their spouses. They didn't want to deal with the family and the grandkids and all that kind of stuff. It was a touching story. We took them to the Treasure Island Hotel, and as we pulled into the Treasure Island, Mary, our star driver, kept looking in the rear-view mirror and shaking her head like, "Please don't make me tell these people that they're on Taxicab Confessions."
Joe Gantz: Y'know how you hear stories about prison guards setting up fights and then using that as an excuse to be violent with the prisoners as a form of entertainment? We picked up two prison guards at a strip club — a man and a woman — who talked to us about setting up fights and then purposely shooting people. They said it in such a cold way that I remember thinking, I can't believe I'm hearing this.
Freeman Beaty: One memorable ride for me was Jimmy "Superfly" Snuka, the ex-wrestler who was charged with murder. He lived in these really run-down apartments. He told a really good story about his wrestling career, drug problems and why he was broke. But when it came time to sign the release, he didn't want to do it.
Frank Beaty: The most memorable ride in Vegas for me was when we picked up a drug addict walking down the street. I recognized him. His first name was Ray, and he used to play keyboards for the Four Tops and The Temptations. We got him in the cab, and he started telling us the story about how he was part of the studio band at Motown all those years. Harry asked him if there was anything he could wish for what would it be. He said, "A portable keyboard so I could play around town for tips." He'd pawned his keyboard a few years earlier. Harry called me the next morning and said, "I'm going to give you some money. I'd like for you to buy a keyboard and give it to him." The Gantzs were just like that, man. They didn't even want to go down with me to give it to the guy because they didn't want to embarrass him. He broke down in tears when I dropped it off.
The problem was, the rest of the passengers in the cab's backseat were simply too often one-in-the-same.
Freeman Beaty: A huge problem with strippers is that all the stories began to sound the same. At first they were good, but after a while, they were just like, "Yeah, don't send us anymore of those."
Nevins: I knew when we went to Las Vegas it wasn't going to be any good. The prostitutes were kind of interesting, but the problem was that everybody was either a hooker, gambler or drunk. It didn't have the variety of people that Taxicab in New York had. A taxi is a New York item. This was a New York show. It didn't belong anywhere else.
And so, in 2005, the show returned home. In particular, New York City's Mayor's Office of Film, Theatre & Broadcasting invited Taxicab Confessions to come back as part of a new "Made in New York" incentive program to lure productions to the city. Two more editions were eventually filmed, airing on HBO in 2006 and 2009.
Harry Gantz: They kicked us out and then invited us back in. But the original Taxicab Confessions was a time and place. The nightlife in New York in the mid-1990s had a magic, an edge and a sense of danger and excitement that never returned after Giuliani came in and cleaned it up. So we had to go further afoot to find something even a little edgy and deep into the burroughs to find someone who wasn't working on Wall Street.
Nevins: I think 9/11 kind of crowded the joy of the city for a while. It wasn't as festive, so the rides weren't as good. It was much more somber and never found the energy it had when the series began. Sexually speaking, there wasn't a sense of discovery or risk-taking because everybody was already out.
Harry Gantz: In the first few years of the show, we had a studio in the Meatpacking District on Gansevoort Street where we'd get the car ready. Right around the corner is where trans hookers would hang out. We'd get so many rides coming out of there. Most people think being a hooker is an option when you've got nothing left. But for transgender women at the time, that was it. There was no other way you were gonna make a living. McDonald's wasn't gonna hire you. Nobody was. I thought the stories we heard from men who trying to transform themselves into women but still had to physically fight their way through life to defend themselves were so powerful — and ironic, in a way.
Joe Gantz: Interestingly, over the 15 years that we did Taxicab Confessions, the gay, lesbian and transgender rides went from always talking about how alienated they were and unable to get the support of their families to everybody in their families understanding and being very supportive.
Nevins: People also had become video savvy. They knew the show, and they wondered if they were in a Taxicab Confessions cab because the drivers seemed to be so interested in them. You could never do it again. But at its time and in its place, it was its own kind of magic, like the original selfie.
Harry Gantz: People sometimes give us credit for creating reality television, but we don't want that credit. Reality television is a misnomer because most of it is farther from reality than good fiction. What we did do is use whatever technology was available to us at the time to create an environment in which people felt comfortable to get something off their chest, which connected in a society that felt inhibited by what they could say and who they could be. Whereas shows like COPS made you think anyone walking around late at night without a shirt on was guilty, Taxicab Confessions made you think twice about what you thought about the person when they first got in the car and see past their facade to look at who they were on a deeper level. That's the contribution the show made to the cultural milieu of the time. I doubt, though, we'll ever make another Taxicab Confessions episode.
Joe Gantz: Never say never. It could still be done. There are a few things that make it a little difficult in New York now, because when we first started there wasn't a separation between the front and back seat. But it's possible to work around that. It might give insight into this bizarre period of time here in the U.S.
Harry Gantz: I think it's still relevant. The advent of digital communication has created a type of isolation similar to that of living alone in your apartment in a high rise in the 1990s. Part of the reason people love Uber is that the barricades are down, and the driver is often doing their best to relate to you. But nobody's approached us about doing Uber Confessions yet.
And, of course, people still feel inhibited about what they can say, though now a lot of it's about politics. Back then, people didn't want to tell their relatives that they were gay. Now, they don't want to tell them they're a Democrat or a Republican.
But Taxicab Confessions always helped you see the humanity in people who were different from you. We could use a good dose of that now.