Several Decembers ago, I took a Bolt Bus from New York to D.C. to visit a woman I was kinda-but-not-really romantically seeing. That the trip happened to coincide with SantaCon, the annual, citywide Christmas-themed booze fest, made it all the better.
Each year, usually around the first weekend of December, every bridge-and-tunnel bro and bro-ette from the greater Tri-State area would descend upon Manhattan—dressed up as Santas, elves, reindeer and snowmen—to get annihilated all day and vomit on New York's lovely sidewalks. I had adopted a staunch anti-SantaCon stance in my desire to fit in as a judgmental New Yorker, even though I was a semi-recent frat bro and thus ostensibly right in SantaCon's target demographic.
You can imagine my surprise then, when we our stroll through the nation's capital was interrupted by a parade of drunken bros dressed up as Santas.
https://twitter.com/mekosoff/status/939489739673100288
I had wrongly believed SantaCon was a tradition specific to New York, but it was nationwide at that point, with major cities around the country all staging their own Santa-inspired bar crawls. It's only grown since then. Three hundred and ninety-seven cities will celebrate SantaCon this year, including several in other countries, such as Prague, Madrid and Hanoi. And while SantaCon is loathed for promoting drunken, disorderly conduct, its origins couldn't be any further from its current iteration. In fact, the inaugural SantaCon was rooted in 1960s San Francisco counterculture, and was intended to freak out the normies and protest the crass consumerism of the Christmas holiday.
Here is that origin story.

SantaCon was founded in 1994 by a San Francisco-based "urban adventure club" called the Cacophony Society. The club's operating ethos was to skewer mainstream capitalist culture and broaden people's perceptions by staging elaborate pranks and quirky expeditions. While it was just a small group of bohemians, the Cacophony Society had a cultural influence that is enormous and lasting. The group is partially responsible for an array of massive cultural phenomena, including urban exploring, flash mobs, polyamory, Burning Man, Fight Club (both the book and movie) and, of course, SantaCon. But the Cacophony Society, too, had a precursor.
John Law, SantaCon co-founder: The Cacophony Society was born out of the Suicide Club, and that came from an even earlier idea: the free school movement of the 1960s. It's a hard concept to grasp for anyone born after 1980, because no one thinks anything should be free anymore, but it was this simple but radical idea that school should be free, even at the university level.
San Francisco State University established a free alternative school, the Communiversity, as part of this movement, and they were doing weird, extreme events as part of the curriculum — exploring abandoned buildings and infiltrating religious groups to study them from the inside. Shit like that.
There was a core of maybe 30 to 40 people in the Communiversity, and in 1977, they created the Suicide Club. I joined the Suicide Club the same year, when I was 18 years old. I'd moved to San Francisco a year earlier. I was a delinquent — stealing cars, breaking into houses — and skipped juvenile probation and hitchhiked out West. A friend of mine was a member of Communiversity, and he showed me the course description for the Suicide Club. I was like, Fuck, this is what I wanna do.
Michael Mikel, SantaCon co-founder: I enlisted in the Navy as a young man, many years earlier, and was stationed in Alameda, California. Sometimes, I'd port in Oakland, so I went to San Francisco a lot. I got out of the service in 1969, and lived all over the Bay Area, eventually settling in San Francisco.
I wasn't a member of the Suicide Club, but I'd heard about them. It was really underground. The Cacophony Society did a lot of the same stuff that the Suicide Club did, but with a lighter touch.
Law: Part of the idea of Suicide Club was to challenge your fears. We did a lot of urban exploring, for example — climbing buildings and to the top of the Golden Gate bridge. That was the beginning of the urban exploration phenomenon.
I wasn't afraid of heights, though. My biggest fear was public embarrassment. So one day a bunch of us rode a cable car naked. We were in Chinatown early in the morning, and all of these old Chinese ladies were walking by us on the way to their jobs. They didn't even look at us! They couldn't have cared less. It was life-changing for me, though. I thought, Why had I been so afraid of what people think?
Mikel: The Suicide Club actually took its name from a Robert Louis Stevenson short story, called "The Suicide Club," about a group of men who gambled at midnight, and the loser would be killed.
Law: The Suicide Club ended in 1982. It was a small group, and people were paranoid about getting caught, because a lot of the activities were illegal. We were a no-publicity group — we refused to let people write about us — so once the connection with San Francisco State was severed, it was hard to recruit new members.

From the ashes of the Suicide Club rose the Cacophony Society, a club dedicated to wreaking light-hearted havoc on an unsuspecting public.
Law: The Cacophony Society was started by all former Suicide Club members as a kinder, gentler group. The big difference was Cacophony was wide open to the public. Suicide Club died because it was too insular and paranoid. We wanted to avoid that mistake again.
Mikel: I joined the Cacophony Society in 1986. I found a newsletter in a coffee shop about the group and all the things they were gonna do, and I got involved. I actually became editor of the newsletter for a while. It was an alternative to the ordinary culture, which was mostly about mindless consumerism. We did lots of pranks. We created an organization called the Billboard Liberation Front and would alter billboards in the middle of the night to something humorous. We changed a billboard that said "KIDS HAPPEN" to "SHIT HAPPENS." We would encounter tourists in Chinatown and pretend to be tour guides. We'd sneak into golf clubs at night and play glow-in-the-dark golf.
Law: We'd stage plays publicly on the street. We'd walk through the sewers in formal attire — gowns and tuxedos. We'd break into abandoned buildings and explore them. We created a fake advocacy group called the Bay Area Drought Relief Assistance Program and protested a screening of Fantasia because Mickey wastes so much water in the scene with the mops. We organized pie fights.
Mikel: There was a philosophy to the pranking, which was to not make fun of people, but to make fun of a certain way of thinking. We wanted to challenge the way people thought, but we never wanted to embarrass them.
Brad Wieners, 49, executive editor of Men's Health: In 1994, I was working as a reporter for the Bay Guardian, a local alt-weekly. The Cacophony Society had always been a great source of material. I reported on the Billboard Liberation Front and the sewer walks. Their perception in the city, however, was mixed. There were people who thought what they did was silly and bad art, and there were others who swore by it, because the group was an island of misfit toys — a bunch of socially awkward people who didn't have their own outlet growing up and created their own.
Law: The entire idea of the Cacophony Society was to get people to do something they hadn't done before, and anyone could suggest an event. In 1994, one member, Santa Rob, came up with a Santa-themed idea.

Among the Cacophony Society's many creations, Burning Man is certainly the biggest, and arguably its most culturally significant. Long before it became a playground for Silicon Valley technocrats, Burning Man was a libertarian paradise in the desert, started by several members of the Cacophony Society. Some say that an early Burning Man served as the inspiration for SantaCon, but others dispute this idea, saying it came from a group of Danish anarchists in the 1970s.
Wieners: There was a Christmas Camp at Burning Man in 1993. It was one of the first themed camps in the history of the festival, an idea that later became a staple of Burning Man. One guy, Peter Doty, set up a camp with fake snow and Christmas trees, and dressed and acted like a shopping mall Santa. He had people sit on his lap and would serve eggnog in 100-degree heat — it was disgusting. He played the same Christmas songs over and over, to the point of annoyance.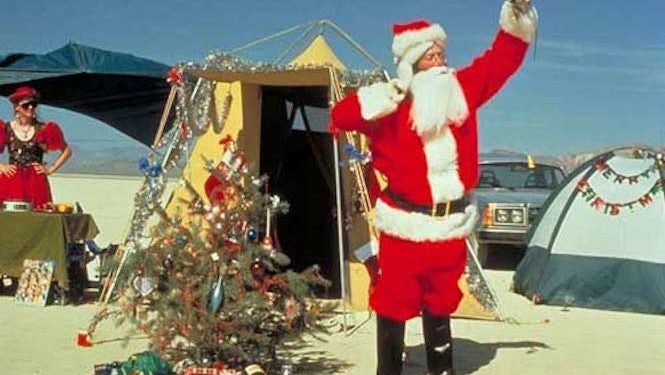 But over the course of the week, Santa become more and more morose. He'd talk about how Santa gives and gives, but that no one ever gives anything to Santa. It made people question the nature of Santa, and I have to think that inspired SantaCon in some way.
Law: SantaCon was actually first done in the 1970s by a Danish political group called Solvogen.

Solvogen was an anti-capitalism group that in 1974 staged a multi-day, Santa-themed demonstration in Amsterdam. Over four days, Solvogen conducted a series of political theater events around Amsterdam, including members sneaking into a department store dressed as Santa Clauses, and giving away items to bewildered customers.
Law: The Suicide Club was aware of that event. When Santa Rob suggested we do it ourselves, we thought, What a great idea. I can't say for certain if Rob was personally inspired by Christmas Camp at Burning Man, though.
Mikel: At the time, the image of Santa was widely used a way to sell all kinds of products — Coca-Cola, shoes, you name it. We thought, How funny would it be to take this symbol of Christmas consumerism and twist it around?
Law: We didn't select SantaCon for the name. That's just what rose to the top. It was called a dozen different things at first because, like a lot of Cacophony events, even though one guy came up with the idea, it was a collaborative effort. There was the Crimson Tide, the Marauding, Crazy Kringles, Crop O' Kringles. I can't remember all of them. My personal favorite was the Santarchy. But people related to SantaCon the most.
Mikel: For the first one, we organized a kind of rampage through downtown San Francisco.
Law: The entire idea was to go around celebrating Christmas and spread good cheer.
Mikel: We found these really cheap Santa suits that we could order online from China for $24 apiece. You got the whole cheap suit, and the belt, the beard and the hat. We bought two dozen of them.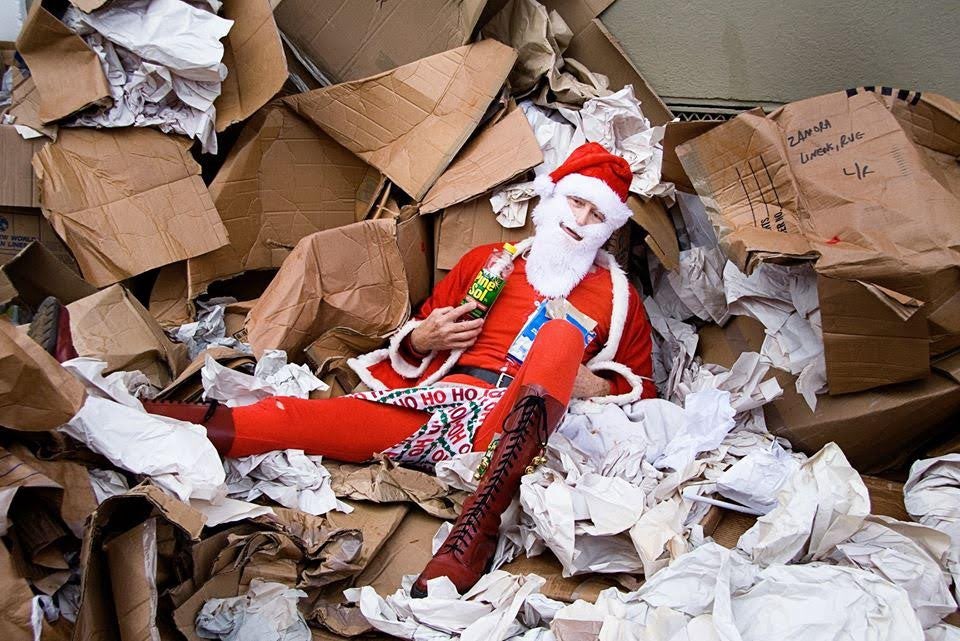 Law: Like all Cacophony events, Santacon was completely non-commercial. We had no product, and we had no money. We weren't marketing it [beyond the newsletter], and we weren't trying to get attention or press for it, other than being on the streets, interacting with the public.
Thirty-three people attended that first year. I remember the exact number because that's how many the bus could hold. We started out down at the Embarcadero, where they had a big ice skating rink at Justin Herman Plaza, and got into a huge snowball fight with a bunch of kids. We went through Macy's chanting, "Charge it! Charge it," encouraging people to fully enjoy capitalism. People would see us on the street and stop and stare, and we'd mob them and hug them and shout, "Ho, ho, ho."
We went to the big hotels downtown — the Fairmont, the St. Francis, the Mark Hopkins — and crashed the parties in their clubs and ballrooms.
Mikel: There was a debutante ball at the Fairmont, and we crashed it. We were grabbing bottles of champagne and swigging it. The band started playing "Here Comes Santa Claus (Right Down Santa Claus Lane)" because they thought we were part of the event.
Law: We danced with the grandmas and bought drinks at the bar. We sang Christmas carols and changed some of the lyrics, such as: "Silver bells / Shotgun shells / It's Christmastime in the city / Rink-a-ching / Hear them scream / Soon it will be Christmas day."
Later, we came across this crusty teenage punk-rock kid leaning up against a wall. He looked at my girlfriend, who was dressed like Santa, and he flipped her off and said, "Fuck you, Santa." Without batting an eyelash, she double flipped him off and said, "Fuck you, kid." And the kid burst out laughing. The punk rock kid got flipped off by Santa, and it made his fucking week.
That was the spirit of the original SantaCon — a little hard-edged, but whimsical and good-natured.
Mikel: It was what you'd call culture jamming, which was a popular term at the time. You have this idea of Santa, who has been used to sell all this stuff. Then you see a horde of Santas rampaging through a department store, and the image gets corrupted a bit.
Law: It wasn't intended to be a drunken, debauched bar crawl. We weren't picking fights with people. We weren't vomiting on people's cars. Was there a little partying? Yeah, some people were drinking. But it was meant to be ironic. We making fun of commercialism. I mean, we didn't make people sign a petition that said, "Fuck Christmas." We weren't some Stalinist political group. But by dressing up like Santa Claus and having fun on the street, we felt that we were taking back the holiday.

Most Cacophony Society events were one-offs, but SantaCon was so popular the group decided to make it a tradition, and host it again in December 1995.
Law: About 100 Santas showed up the second year, and that's the number at a which a group becomes a mob.
Wieners: I covered SantaCon that year. I kept wondering, Is this stupid or inspired? It just seemed so random and absurd. I never would have guessed it would become the virus it is.

Silke Tudor, then a reporter for San Francisco Weekly, another local alt-weekly, reported on the event as well.
Tudor: Yelling "Ho, fucking ho," the Santas descended en masse on Union Square, which was filled with holiday shoppers gathered to listen to a choir singing Christmas carols. A hundred strong, the Santas drowned out the carolers with some songs of their own, then rushed off to storm through the department stores surrounding the square.
Mikel: It was really rowdy. We went to the super-fancy hotels again, only they got upset about it this time and called the police.
Wieners: You have these stuffy people at the Fairmont and at these fancy department stores, and they expect things to be a certain way. Then here comes Santa to be the drunk at the party and make those people feel uncomfortable.
Tudor: I remember tits being flashed and bare butts, but I can't say where or when. Somewhere in the course of events, the Santas skipped the line at the newly opened Planet Hollywood and roamed the restaurant, swiping food off people's plates — for the most part, those customers seemed to find it hilarious.
Mikel: At one point, we threw a rope over a streetlight and we hung one of the Santas from it. (He was in a shoulder harness, so we weren't actually hanging him.) It was hilarious.
Wieners: John [Law] hung himself with a noose from a lamppost on Market Street. For one, I wanted to make sure he was okay. He had some rigging and a neck brace, but what if they get it wrong? Santa actually hanging himself would've been a grim scene, especially since it was someone we knew and cared about. But that's part of the appeal for John. He won't admit it — he'll say it's about disrupting consumerism — but he also likes the thrill of it.
Law: Five guys pulled the rope and hoisted me to the top of the lamppost. One of the Santas, Santa Tuttle, was a professional rigger, so I was fairly confident that they weren't going to kill me by pulling me too quickly and too far up until my neck hit the yardarm, breaking it. Still, we did it at midnight to avoid traumatizing any children.
Tudor: I'm sure it left a lasting impression on the holiday shoppers passing by: 100 Santas, one dangling from his neck, the others yelling, "Nothing to see here. Keep moving. Keep shopping."
Law: Toward the end of the second year, we crashed the party at the Legion of Honor. They got a kick out of it at first. Then they figured out we weren't supposed to be there and kicked us out.
Tudor: The Santas were generally vulgar and disheveled; they were smoking cigars and drinking out of brown paper bags. There were some standout characters: a clown Santa with an accordion, a dominatrix with a whip and her sub down on all fours.
Law: That's the year alcohol got involved, and it kinda got out of hand. The vast majority of the people who participated didn't get shit-faced drunk. But a couple did, and three Santas got arrested. And one of the Santas threw up on the bus as we were leaving downtown San Francisco; we were not happy about that. It was a crazy scene, and I didn't have much fun because I was busy organizing and trying to keep people from getting in trouble. So we weren't gonna do it anymore after that.

When the San Francisco Cacophony Society announced in 1996 that they were no longer interested in staging SantaCon, the group's Portland chapter said it would gladly take up the mantle and host the event. Many members of the San Francisco club traveled up to join them.
Law: When Portland Cacophony said they wanted to do it, we thought. Oh, that will be fun. Portland is such a quiet town, what could possibly go wrong?
Mikel: We picked up lock, stock and barrel and all went to Portland.
Law: It was a three-day event, Friday through Sunday, and about 100 people came up from San Francisco for it. There were two busloads of people, and the rest flew. Someone — we were never sure who, but we think it was the San Francisco Police Department — must have tipped off the Portland police, because three officers were waiting for us at the airport.
From a Portland Police Bureau memo about the event: The Police Bureau has received information of a possible disturbance planned for the Portland area on Saturday, Dec. 14, 1996. The individuals involved in these disruptive activities will be wearing Santa suits. Last year in San Francisco, 100 of these culprits crashed a children's carnival, ran wild on department store escalators, stole holiday decorations and more.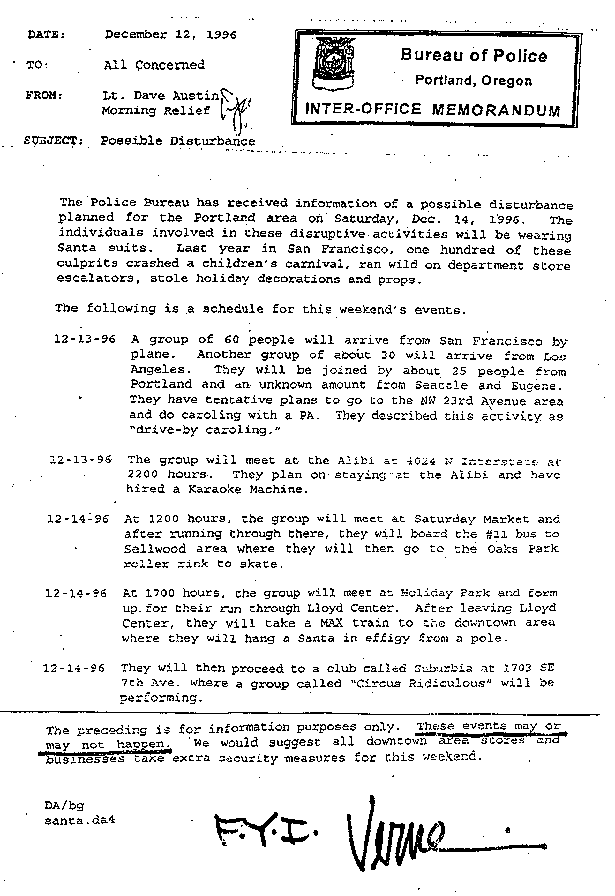 Law: The police heard we were a bunch of crazy anarchists who were going to destroy the downtown businesses. It probably didn't help our cause that we got off the plane in our Santa suits, and that all the Portland Santas met us at the airport. But the idea we were there to trash the city couldn't have been further from the truth. I remember showing the police my wallet and saying, "I have credit cards. A hundred of us are coming to spend money here."
In all, nearly 300 Santas showed up. We broke off into groups of about 50, and each did different things — roller-skating, touring downtown Portland, going to the craft fair down on the riverwalk. A lot of people tried to go to the Lloyd Center mall on Saturday. Tonya Harding learned to ice skate at the Lloyd Center ice rink, and word was she might be there that day, so we wanted to go see her. We met at the park across the street, and one of the cops comes out to meet us and says, "Look, I can't let you in the mall. If you try to go in, we'll arrest you."
Mikel: That's where we were met by the riot police.
Law: The cops formed a line in front of the mall and put on their body armor and visors. So we, being who we were, decided to sing them a Christmas carol. We ran toward them, stopped about 50 feet away, made a line and sang "Jingle Bells." Then we yelled "Merry Christmas!" and walked back into the park.
Mikel: Nothing ended up happening with the police. We just ended up at a bar somewhere.
Law: The cops chased us all around Portland, but by the end of the weekend, they were messing around with us and saying shit like, "I've been on overtime for two days. Why don't you guys just commit some crimes already so I can arrest you and go home?" They let some of the Santas get in the back of their police cruisers and take photos like they were being arrested.

Amid all of its cultural achievements, perhaps the strangest is that the Cacophony Society served as the inspiration for Project Mayhem, the domestic terrorism group in the iconic book Fight Club.
Law: [Fight Club author] Chuck Palahniuk was one of the original members of Portland Cacophony Society. He was there since the chapter was founded in 1992, but I didn't meet him until SantaCon 1996. A bunch of us gathered at a house owned by one of the Portland Cacophony chief organizers, and this young, really fit-looking Santa who I didn't know started asking me all these questions and taking notes. I was a little paranoid.
"Are you a cop?" I asked him. He started laughing and said, "No." I made him show me his driver's license. It was Chuck Palahniuk. He was there writing an article. No one had heard of him — he was a bus mechanic at the time. Later in the night, he gave me a copy of a book he'd just published in small edition hardback, called Fight Club.

As the 1990s gave way to the 2000s and the era of instant communication, SantaCon was no longer able to stay underground.
Mikel: Cacophony spread to other cities by way of my involvement in the tech industry. I was working as a consultant at Caltrans and got put on a contract in L.A. for nine months. While I was there, I thought, Cacophony should be here. So I started a newsletter and invited people to join.
Law: The Cacophony Society was in six cities by the late 1990s — Brooklyn, Detroit, New York, Los Angeles, Portland, Seattle and, of course, San Francisco.
Mikel: And Houston. That group was a bunch of art car people. It was old-fashioned viral marketing. I would mail a Cacophony Society newsletter to people I knew in other cities, and eventually someone would say, "Let's start it up."
Law: There were a bunch of early internet adopters in Cacophony. Not me. I didn't learn to type until 1999. But a lot of the group was very internet-savvy early on. For instance, John Gilmore was a Cacophony member, and he went on to found the Electronic Frontier Foundation, a nonprofit that advocates for internet freedom. Scott Beale—the man who founded Laughing Squid, the popular blog and web-hosting service—was a Cacophony member, too.
Some members posted about SantaCon on early internet forums like The WELL so people we knew in other cities kept adopting the idea for themselves. Each chapter hosted a SantaCon in 1997. I went to SantaCon Los Angeles that year. We went up to the Griffith Observatory and recreated the famous stabbing scene from Rebel Without a Cause. We were at Hollywood and Sunset at the end, and there were Santas everywhere. But it was totally chill, no altercations with the police.
By that time, seeing a ton of Santas in one place wasn't as alien a concept to most people. And I was personally getting bored with the idea, because it wasn't anything new to me either.
Mikel: In San Francisco, it was so large we had to split into two different groups.
Law: The Brooklyn Cacophony Society had a large number of people in 1998, but they could never agree on anything, so it lasted only a few months before the group split up. They did manage to have a SantaCon in 1998, however, and it was massive. I attended it, and I remember a cop yelled at me, "Hey, Santa, can you get me a date with Cindy Crawford?" We paraded up Fifth Avenue. We went to the tree at Rockefeller Center. We went to Saks Fifth Avenue, and they were digging it. We went to the Plaza and milled about the lobby for five minutes.
Then we went to Central Park, and all of the people ice skating on the pond were so happy to see us. They started cheering us on. I actually had a genuine Christmas moment. I felt, Okay, maybe Christmas doesn't suck so bad.
Tudor: Thinking about it now, it seems inevitable that SantaCon took off the way it did. It's just too easy. Water it down and liquor it up; everyone gets to act like an ass for the holidays. If the Cacophony Society had stopped with one or two events, maybe it would be a thing of legend instead of the jughead beer swill it has become. But entropy is probably the second law of human nature as well as thermodynamics — without dynamic new ideas all sums equal jughead beer swill.
Law: SantaCon was now in a bunch of major cities, and like any bad idea, other people started to emulate it. We started seeing people host SantaCon in cities where there was no Cacophony Society chapter. Not coincidentally, 1998 was my last SantaCon.

The Cacophony Society may be no more, but their influence on the culture lives on in the form of the various social trends they helped created, including Burning Man, Fight Club and SantaCon.
Law: By 2000, it was pretty apparent that SantaCon would keep happening, with or without the Cacophony Society, and that the event had turned into a bar crawl. By then, the San Francisco Cacophony Society stopped participating in SantaCon, and in 2001, the Cacophony Society dissolved altogether. Cacophony was never more than a mechanism for organizing events, and that was supplanted by the internet. But every few years, I run into a crowd of Santas running around downtown and remember, Oh, yeah, it's SantaCon day.
Wieners: The SantaCons I've encountered in New York have been teeming masses of people who only care about drinking. It's just an excuse to be a yahoo for a day. I'm not saying that aspect didn't exist in the original iteration, but that aspect has overwhelmed the entire event.
Law: It's so ironic that SantaCon is now a frat boy thing, because the people who helped found are the least frat boy people you'll ever meet.
Mikel: Some of the original intent has been lost, but SantaCon is still hilarious. The costuming that occurs each year is hilarious. We've certainly achieved our goal of corrupting the image of Santa Claus.
Law: There was a period of time where I was revolted by the whole event. It was just a mindless mob. I was like, SantaCon? Fuck that. I'm sorry we started it. But who am I to judge? SantaCon is like a football game, you know? A bunch of people getting together to get drunk. And if the hipsters in Williamsburg or the Lower East Side are pissed that the bros from New Jersey and Long Island are coming in for the night, get over it. It's New York.
Mikel: You can't hold onto certain ideas. A lot of people have fun at SantaCon, and that's a wonderful thing.
Wieners: Someone turning up for SantaCon today isn't there to make a difference. And that's fine, but it's a big difference.
Law: Even though I have no interest in it, I still think SantaCon serves a purpose in a weird way. In ancient Rome, the ruling class would stage these annual, Dionysian festivals where the plebeians were given license to overindulge and do whatever they wanted. When it was over, it was back to your job. SantaCon is like a contemporary version of that — a release valve. Young people blow it out for a day, and then go back to their cubicles on Monday.