"Ironic," by alternative rock icon Alanis Morissette, features on the seminal 1995 album Jagged Little Pill. It was released as a single the following year, quickly becoming the highest-charting track of Morissette's career, not to mention a cultural touchstone. Morissette joined Twitter in 2008, and since then has tweeted about "Ironic" just three times, linking to a 2012 performance, a 2015 duet with James Corden in which the lyrics were updated with references to Facebook and iPhones, and, on occasion of its 20th anniversary, the original music video. She has never tweeted about irony itself.

If she seems distant from her biggest hit, that could be as she's just plain sick of singing it, or hearing it, or talking about it. "Ironic" has, for more than two decades, been grist for a nerdy and annoying debate about what actually constitutes irony, and whether the lyrics, which Morissette co-wrote with producer Glen Ballard, misunderstand the concept. Defenders have argued that scenarios like "rain on your wedding day" and "a free ride when you've already paid" fit the criteria for "situational irony," but you're always going to run afoul of guys like Roman on Party Down who believe "Ironic" has all but annihilated the term's original definition. (They're the same people who cringe and whine when when you use the word "literally" in a figurative sense. Real fun crowd.)
Morissette, for her part, couldn't give a shit. "I'd always embraced the fact that every once in a while I'd be the malapropism queen," she's said. "And when Glen and I were writing it, we definitely were not doggedly making sure that everything was technically ironic." Yet the song's outsize impact on the word's usage means that most people who had a radio in the 90s will automatically associate any wry twist of fate with Morissette. We know this because they won't stop telling her, day in and day out, exhaustively. It could be something lifted directly from the song — a story about a man dying after winning the lottery, for example — or something a bit more mundane, like the realization that your bag of "assorted" bagels contains a lone variety. It all bears mentioning.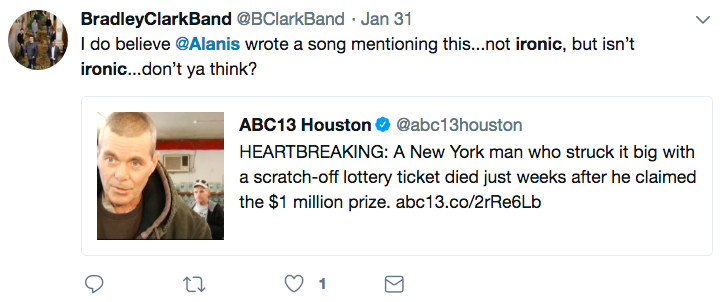 As far as I can tell, Morissette has declined to engage with every last one of these tweets, for exactly as long as she's been on Twitter. Assuming she's an adept user, I think she has the word "ironic" muted altogether. It doesn't matter if these messages are smug and pedantic or upbeat and friendly — Morissette does not reply. Her account is an wall of good vibes, cute family photos, and Thursday Throwbacks, and the controversial legacy of "Ironic" can find no purchase on it. She has ascended to a place beyond irony.
What could it be like up there, in a realm where semantic quibbles cannot touch you? It appears remarkably peaceful, blissed-out and laced with love. Oh, sure, Alanis must have bad moods here and there, and flickers of the righteous feminist fury that helped to make her a star, but for the most part she's just beaming at concert halls full of adoring fans as she continues to tour the world. She's made it, there can be no doubt about that, and the jagged edges of her persona may have softened as a result. One could imagine her cracking a smile (or fuming) at an "Ironic" joke two decades ago; now she demonstrates the serenity of a songwriter whose legacy is secure. The twists in "Ironic" were all tinged with the tragic — defeat snatched from the jaws of victory — and Morissette has a happy life. Perhaps the song has minimal relevance for her today.

Nevertheless, legions will try and fail to bring allegedly ironic circumstances to Morissette's attention whenever they crop up. Twitter creates the illusion that celebrities are accessible — that you can talk to them like acquaintances — when in truth it creates more opportunities for them to ignore you. In the end, that may be the only irony here.