On the night of September 10th, 2001, President George W. Bush slept to the sounds of the warm Gulf water crashing against the white sands outside his penthouse suite at the Colony Beach & Tennis Resort in Sarasota, Florida. The next morning, he jogged around a golf course before heading to a kindergarten class at the nearby Emma E. Booker Elementary School to read a story to eager 5-year-olds. That was where an adviser whispered into his ear that a plane had crashed into the World Trade Center.
In all likelihood, Bush's room at the Colony was finely appointed, with its two floors and corner balcony overlooking Sarasota's beaches. Today, however, the suite has been emptied. White bits of beach chair are strewn upon the tiles where the living room was. In the area where Bush probably slept, only a mattress and a box of tissues remain. All the doors and windows are open, but it's been years since anyone has been inside: The Colony was declared bankrupt in 2009; a year later, it was deserted.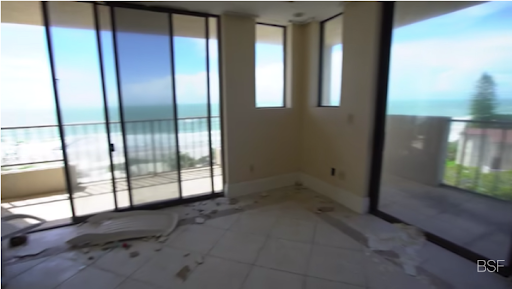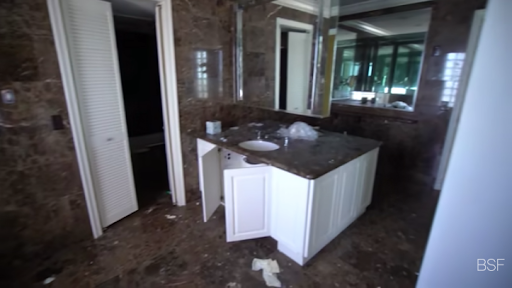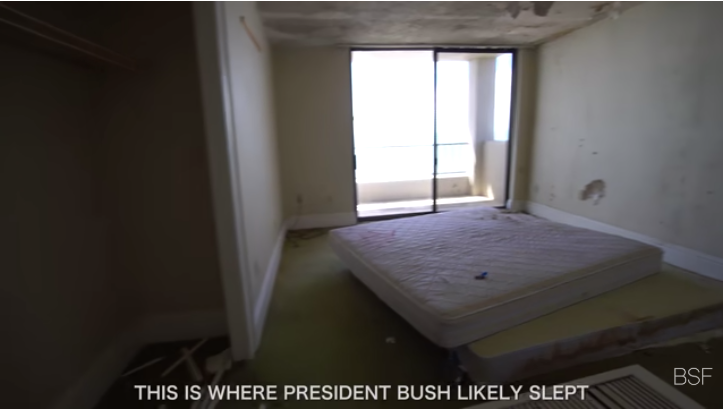 As Jake Williams pans his camera over the barren resort's main kitchen, where massive jars of olives and half-empty bottles of 1800 still sit, it's hard to imagine that all of this has been simply left behind.
Williams visited the Colony in 2017 for a video called "Florida's Unbelievable ABANDONED Beach Resort." In the description, he called it "the most surreal location" he'd ever witnessed. And he's been to a lot of abandoned sites: His YouTube channel, Bright Sun Films, has blossomed into a massive DIY documentary collection with more than 600,000 followers, most of whom are between 18 and 30. Williams himself is just 21.
Each time Williams encounters an abandoned home or a long-emptied storefront, he asks himself certain questions: What happened? Who lived here? Why did they leave? What did they leave behind? His longtime curiosity plagued him enough that in 2014, he began investigating these spaces himself, taking a camera along with him to explore the interiors that seemed otherwise off-limits. Inside, he finds dressers still filled with clothing, empty RadioShack displays or beer cans and graffiti from squatters who temporarily made these places home.
Based near Toronto, Williams has found that the best way to encounter empty properties is to simply scour for them on Google Street View, but he also takes many recommendations from viewers. Often, these sites are abandoned places people carry memories of visiting when they were young — malls, for instance. In the comments of a video tour through Rolling Acres Mall in Akron, Ohio, one viewer writes, "When I was a kid this was the spot to meet chicks. I remember watching this mall slowly die." Says another: "I spent pretty much every weekend at Rolling Acres mall. I remember when the escalator was shut down and the heat was turned off. … Thank you for this. I'm only 32 and I feel old making this comment, but it brings back good memories for me."

It's not always possible for Williams to physically visit each spot. Instead, he has become an excellent researcher, combing through old online articles to find out exactly why a business closed, along with images of now-overgrown and decrepit sites, which he transforms into documentary-like videos. He's given the same treatment to major businesses, too: Circuit City, Nickelodeon Studios and many other establishments that have since gone bankrupt or closed. In addition to his Abandoned series, Williams also creates videos explaining how businesses have failed. With Nick Studios, for example, the Orlando location was closed as viewership declined and a tornado severely damaged the property in 2004.
What makes his videos stand out on YouTube? "It's something different," Williams explains. "A lot of people kind of get this interest [in] a company that was worth billions of dollars 20 years ago but [is now] gone. It just completely collapsed. It's like, how could that be? I guess a lot of younger people too have sort of caught onto that whole thing," he says. It's easy to compare the Abandoned series to the teens creating "mallwave" music — that is, "music optimized for abandoned malls," as my colleague Hussein Kesvani has reported. It's a community nostalgic for a recent past they never witnessed in person. ("The nostalgia is so real you can cry and wish you went back in time," a commenter writes under the video "Neon Wave Mall (Vapor Mix).")
"It's a good representation of how a young person would actually be somewhat interested in past history," Williams says. "Everyone is taught American history in school and everything, dating back to the 17oos and 1800s, but you never really get to dive [into] pop culture history or retail history." As such, empty big-box stores are a frequent topic on Williams' channel. Abandoned theme parks and vacation destinations are also popular. 
Generally speaking, failure and crisis are major themes in his videos: Some locations were abandoned due to the overwhelming cost of repairs after a natural disaster, like Nick Studios in Orlando. Others are a remnant of a bygone era of in-store shopping and a pre-recession consumerist public life; the shells that remain evoke the destruction of climate change and late-stage capitalism.
Interestingly, Williams himself doesn't buy into the nostalgia. To him, it isn't upsetting that a major chain store no longer exists. Instead, it's thrilling to witness the material remnants of these cataclysmic shifts. "Is it really that sad that the world is changing? Eh. I mean, that's sort of up to the person. But for me, it's just fascinating to see how the economy can shift the way people shop or do whatever — how that can change so much about America."